That post format has been going around for a bit and I've been tagged in a few, it looked like a pretty fun post to write, and given that we just passed a new year, it's a good time to reflect on the past :)
Credits to @snook for creating the template: https://peakd.com/myhivestory/@snook/my-hive-story-where-it-came-from-and-the-questions
I'll update the format by adding a few key dates (for me at least):
Key dates:
june 2017: joined hive (steem back then)
august 2017: after giving up on writing on "regular topics", I reboot my blog: name reveal and started writing about code
november 2017: started coding on the chain
december 2017: became an utopian.io moderator
december 2017: Result of my first hackathon with @fredrikaa steemgifts !
january 2018: probably the most important date, steempress is released
feb 2018: CERN steemstem meetup, this was my first official meetup
april 2018: the london cryptocurrency show, it was the first time we presented steempress to an audience
june 2018: following a 15 day trip in norway with @fredrikaa, steempress got a million steem power delegation from steemit
july 2018: Thanks to the delegation, @fredrikaa and I leave our jobs and go full time on steem. We also join the block producing world and create our witness.
november 2018: steemfest poland ! We present there the future of steempress with the comment module.
july 2019: I launch my own wordpress blog to use steempress with: https://brokencode.io/ this also marks my return to writing kind of (although in the end it was short lived)
august 2019: Following a hackathon in norway with fredrikaa, as a witnesses, we decide to do a push for top 20 and get more involved in core development and validation, I do a lot of testing of the hard fork. This was the beginning of my core blockchain work.
august 2020: steempress reaches top 20
september 2019: hard fork 21 got released and with it the steem proposal system (now DHF), which ment devs could get funded for the first time, I release my first proposal to fund an anti-curation tool to auto downvote and kill bidbots and farmers
october 2019: With smts being worked on by the steemit team and given it's enormous scope I submit a proposal to test and document smts. During that time I'll gain a lot of knowledge about the core code and start coding a bit on it.
november 2019: steemfest 4 in bangkok !
february 2020: the tron takeover and hive fork happens. I work closely with everyone to build the soft fork code and later the hard fork that would split us off from steem.
april 2020: My previous proposal having expired, I create a new one to get funding to actually work on hive as a core developer.
may 2020: I organize the first core dev meeting.
march 2021: I create a new proposal to continue working for another year, which is accepted by the community.
The past two years have been a lot less eventful due to the pandemic (which doesn't mean there was less work!) but it's kind of same old same old so I didn't go into too much details here.
How long have you been on the Blockchain?
My account was created in block 13 225 490, 4 years and 6 months ago. It's kind of crazy to think it's been so long, time sure flies.
What was your background in Cryptocurrency when you first came to the blockchain?
I've been involved with crypto since around ~2014-ish (I don't remember the exact date), I originally played a bit with bitcoin to anonymously buy vpns and such. I later started investing a bit on other altcoins. But as I was a student I didn't make bank from being this early sadly haha, I remember I once sold last bitcoin for 600$ because I had to pay for rent.
What was your background in writing when you first came to the blockchain?
Absolutely none, I was never much of a writer (and it shows I think haha). But I joined the blockchain to give it a go.
How many people did you know when you first came to the Blockchain?
No one, I don't quite remember how I stumbled upon steem initially tbh, probably a post on reddit. So I just joined without knowing anyone.
How did you meet people when you first came to the Blockchain?
I think it was thanks to good old steem.chat (the ogs remember :D) there I met @acidyo @fredrikaa @m31 @suesa @reggaemuffin and so many others, turns out fredrikaa was also living in Paris, so we met for a beer, we got giga drunk and the rest was history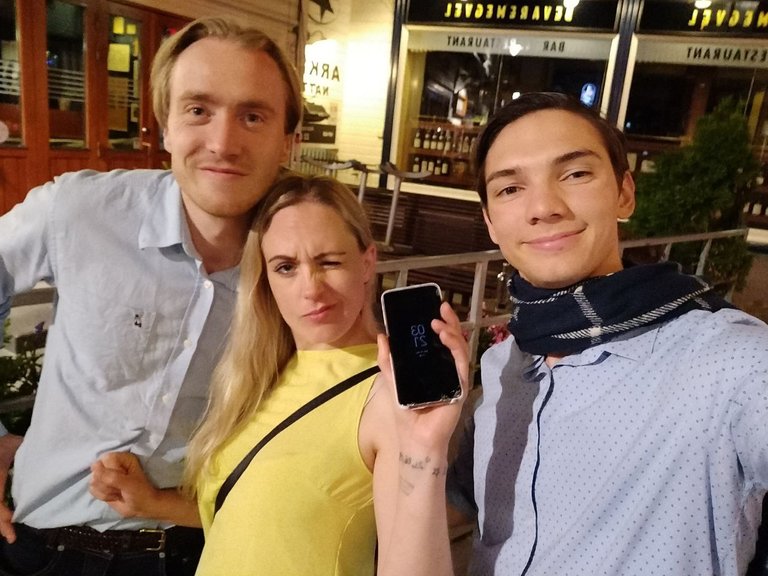 Who did you look up to when you first came to the blockchain?
I don't fully recall, I really like @fredrikaa's writing and he had really cool space stories to tell. Then there was the people @steemstem who were curating (and writing) really great posts.
How would you describe your first three months on the blockchain?
Difficult haha, I was putting a lot of effort into posts that were netting 1 cent on average. I also didn't really realize at the time but I don't really like writing that much, and I had decided to go all it and had a schedule with like 4-5 posts a week hahaha. It's like when you take a new year resolution and go from 0 to 5 days a week at the gym, it's just not sustaineable. I wasn't getting frustrated by the low revenue because I knew it's social media, you gotta build it up, but it was mostly the writing.
Eventually I quit after about two month and I ended up rebooting my blog later on embracing my programming skillset.
Has being a part of the blockchain changed you in any way for the good?
I has changed me in many ways ! I would say I learned a lot about building projects with people, discussing chain politics with some folks who have very very strong opinions, trying to sort the signal from the noise. Having more humility and recognize that you sometimes have no idea what your users want (happened to me a few times with exxp where I was like "but why would you ever want that ?").
What is your favorite memory from your time on the blockchain?
Oh boy difficult to pick one, so I'll pick two by theme:
Best "work" memory:
When we forked off steem, it was an incredible moment where everyone put their differences to the side (and boy there were a lot of differences to be put aside) and worked together to build something great, We all worked out asses off to get the chain off the ground in record time, I remember on the old slack there you would go to sleep and wake up to 2000 missed messages, I was working on the fork with @blocktrades and @netuoso, we were discussing the politics of the airdrop with @smooth, @justine was scrambling to get us on exchanges for free (we wouldn't be on the map otherwise), the rest was working to get the infrastructure like api nodes etc etc. And I'm forgetting a lot of the efforts that was going at the same time.
But that was really a time, where for once, everyone really worked together. I don't know if we'll ever see another time like this.
Best "fun" memory:
still very hard to decide ! steemfest in poland when we got turbo drunk every day with @stoodkev ? That time when I visited @suesa and @reggaemuffin with @fredrikaa ? The CERN visit with all of steemSTEM (my first meetup !) thanks to @lemouth ?
I'll pick the most recent one: Steemfest bangkok ! We were at an after party and @starkerz got me on top of a ladder and got all the attendance to sing happy birthday to me, then @theycallmedan and @starkerz tried to kill me with alcohol. Alas, I'm french, I was born in alcohol
If you could give advice to a new person signing up to Hive what would it be?
Don't expect to just post and be noticed, talk to people, get interested in what others are writing, write comments to get noticed. Join discords and engage with others. Try out the dapps. Right now it's not really a thing because of the pandemic but if you can afford it and are serious about the chain ABSOLUTELY GO TO HIVEFEST, in those 3 days you will meet more hiveans than in a year. I didn't go to steemfest lisbon because I thought the ticket price was not worth it (spoiler alert: it really is, @roelandp does a great job at keeping it accessible for everyone while creating high quality events). And then I spent the following year regretting not having gone to it