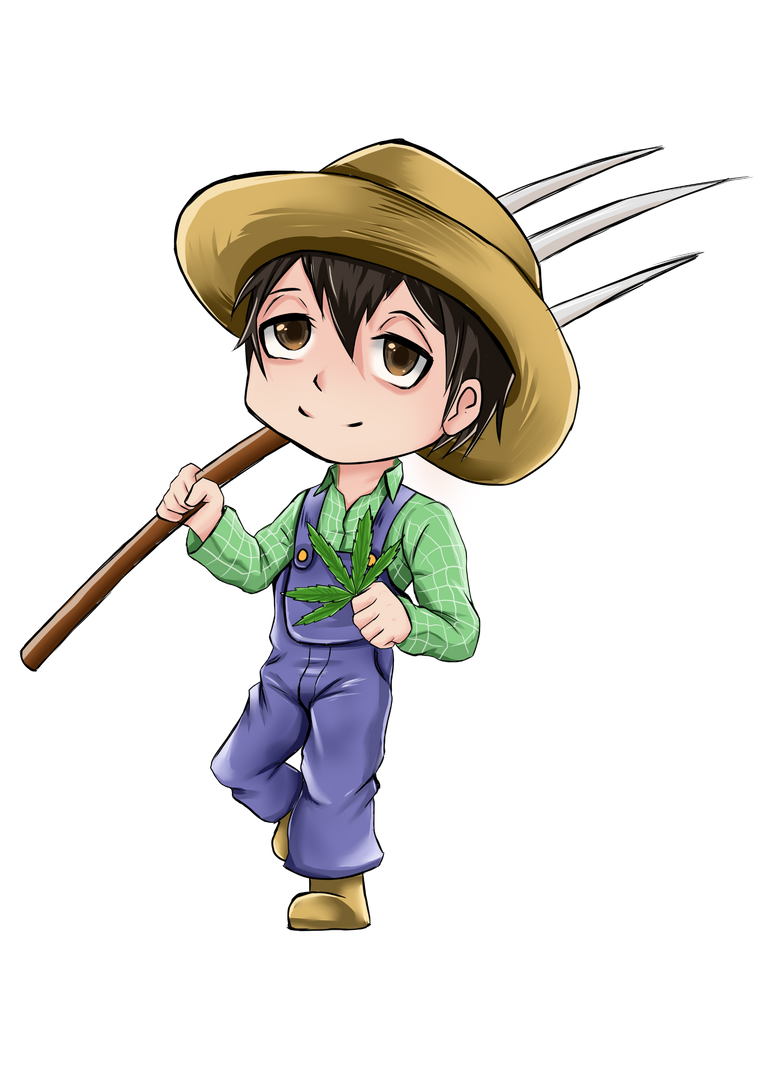 Here is my entrie for Buds of Wrath Contest hosted by @dibblers.dabs. Recently I became member of Pizza Guild (next Monday i'll publish my first report) so I started navigate trough vary initiatives like this one. It's first time I partecipate in a writing contest in English. So, be patience if i write wrong some words. Anyway i hope you can enjoy it.

The Cure
It was a day like any other at Shaggi's farm. The sun was shining, the fields were tended by robots assembled by Shaggi himself and the crops were harvested.
Shaggi sat on the porch as he counted the latest harvest.
That harvest was the most important thing in the world.
Years earlier, a terrible virus had decimated the world's population and many of the survivors had turned into zombies. Cold and slow corpses, who knew no rest and insatiable hungry of humans.
Shaggi was an army scientist at the time and was among the very few to be immune to the virus (some say magic was involved) and when the zombies began to eat the other survivors he decided that he would do whatever he can to find a cure.
He was able to capture a zombie and immobilize him in the laboratory (which is located in the cellar of the farm) and begin to start serums and therapies to cure him. He tried everything, but without success.
Exhausted and depressed by his failures, he decided to roll a joint and relax. He wanted to forget everything for a while. The joint was powerful, made of authentic Ageh. Soon the whole cellar was saturated with a spicy whitish smoke.
When Shaggi recovered a few hours later, he quickly realized that something had changed. The tied Zombie no longer maked noises, he seemed calm. Careful, Shaggi tried to untie it and miraculously the zombie did not try to eat it. On the contrary, he got up and went to the slice of pizza that Shaggi left over, then left the laboratory, not before having taken away two joints that Shaggi had already prepared.
Thus it was, that Shaggi discovered the cure for the Zombies. Of course, their appearance remained the same, they spoke little, but at least instead of eating humans, they had started eating Pizza.
All thanks to weed.
What happens next is history. Shaggi to start growing weed and making joints for other zombies to smoke as a cure. More and more production was needed and so Shaggi built robots to help him in cultivation.
Meanwhile, the first zombie Shaggi had cured proclaimed himself King of the Zombies and founded the Zombie Kingdom where every cured zombie could find a place.
Since the zombies loved pizza, they became expert pizza chefs and began to have business relations with Shaggi: in exchange for the joint that kept the zombies hungry for pizza, they provided Shaggi with all the pizza he wanted.
Sitting on his porch, Shaggi knew that there was still a lot of work to be done, but he was certain that the day when the planet would eat only pizza was getting closer.

Thank you for reading, I hope you enjoy it. Please let me know what you think in comments a crosffingers for me fo the contest!
Will see soon!