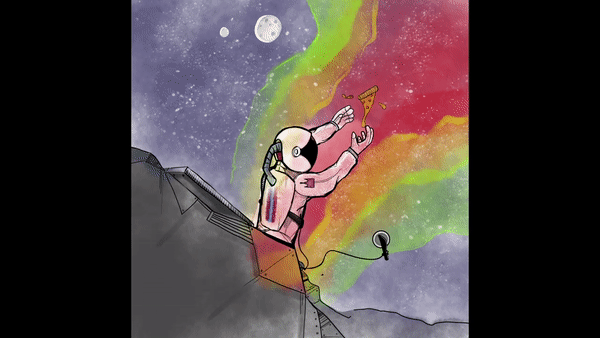 I must rest, and yet I despair that I never will. Ever since we arrived on this planet so many millions of miles from our home my rest has been troubled. No matter how exhausted I have been, no matter how much we have pushed to make our small section of this desolate world habitable, collapsing to my bed after 20 hours of construction and exploration and all the other work that each of us must do for this tiny colony to survive, my legs refuse to be still.
Rest is not possible- the more I struggle to fight the urge the more uncomfortable my legs become until I am practically bouncing off the bed with the vigorousness of their tapping or bouncing or back and forth swish under the sheets.
This is not some malady that I brought with me as some of my comrades are want to believe. I am not some long sufferer of restless leg syndrome trying to make a fuss of my condition now that we are alone amongst the stars to get out of work. I know that others are having trouble sleeping as well... I wonder if they are experiencing something similar and simply haven't said anything about it? The youngest of my comrades thought it was hilarious- the old man complaining about his condition- though I am only forty five, at least I was when we left Earth orbit and we all entered cryosleep. I suppose I am seventy now in truth, though I do not feel it.
Tomorrow we will complete the dome that will house our living space and all of our crops. It is a big first step in establishing a permanent base here so that we can explore the rest of the planet. Thankfully there is liquid water here in quantities that will sustain us and make it easier to make the atmosphere more breathable. It is "sub optimal" for human habitation- that's what they told us before we left anyway. There is oxygen in the atmosphere but too low a percentage for us to breathe for long without blacking out. The bulk of the atmosphere is nitrogen, carbon dioxide, and sulfur dioxide, so breathing it even temporarily isn't exactly a pleasant experience. With time we should be able to shift the balance with the seeds we have brought and atmospheric scrubbers to help reduce the sulfur content and make it breathable. For now we must use rebreathing apparatus to filter the atmosphere and supplement it with additional oxygen.
Even as I write I can feel my legs begin their now customary restlessness, it feels as if they are itching on the inside. Perhaps they simply yearn to explore this planet further, or perhaps to walk home to earth. Some nights it feels as though they have the energy to do so. Perhaps they will calm and allow me rest this night but that would be a first since we arrived.
Truthfully I am only writing this in an attempt to distract myself from the distraction of my legs. Already I have conceded and my foot is jiggling, the tablet I am writing on is bouncing as I do so... I am unable to stop. It cannot just be me...
I heard something. Not a scream, a shout of rage. It seemed to come from the pod next to mine. Val lives next to me. She is much younger than I, only twenty three when we left earth, she was not one of those that ridiculed me when I first spoke about my legs. I grabbed my rebreather and went to check that she was alright. I did not knock. I saw as soon as I entered that I am not alone. She was sat bolt upright in her bed staring at the sheets which were practically vibrating as her legs bounced and jigged beneath them. She looked up and saw me for the first time and simply said "It's been happening to me too. I can't stop them."
I didn't know what to tell her. She looked exhausted. I sat on the floor next to her bed, and without fail my own legs began to bounce and move of their own accord. We talked a little about it eventually. It only happens at night. WHY only at night, robbing us of rest? We determined to find out. To investigate how and why this is happening to us. We agreed to tell no one unless we had seen them suffering in the same way. We now carry a secret with us. Something about this planet is doing this to us. We of the Wandering Legs are determined to find out. Perhaps then... perhaps then we shall be able to rest easy once more.

A quick piece inspired by some of the responses to my request for a prompt in the Discord over at Hive.Pizza Come check out the great community and project being built with regular giveaways, contests, and engagement events.
See you there 😁