Bathing a cat is a thing that I need to know more about. I actually forgot to ask this to the vet last time but before I make some impulsive decision, I would love to know,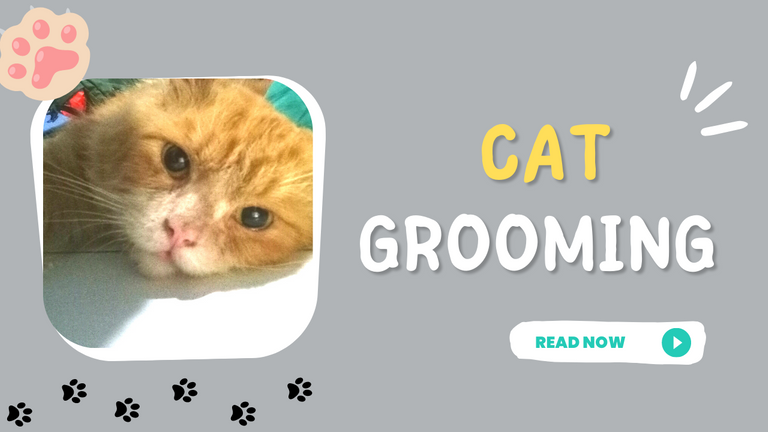 How often do you bathe your cat?
In the past, with our cats, we usually bathed them once every two weeks which I think was sort of OK but but apparently, there is a suggestion that you can bathe your cat every 4-6 weeks and that it also depends on whether they are indoor/outdoor cats. At the same time, I think 4-6 weeks are a bit too long considering that Shiro gets dirty pretty easily. As a background though, He's an indoor cat but sometimes he goes out with me for a short walk. Even when I did not take him out for a walk, his fur looks a bit more greasy. The only time that it doesn't look that way is certainly after his bath.
So, I've been wondering if that also has to do with his food rather than how many times he bathes. I read that unbalanced nutrition can also be the cause, which is something that I've been researching now. In the past, my mom just buys whatever food is available as long as it looks and smells good.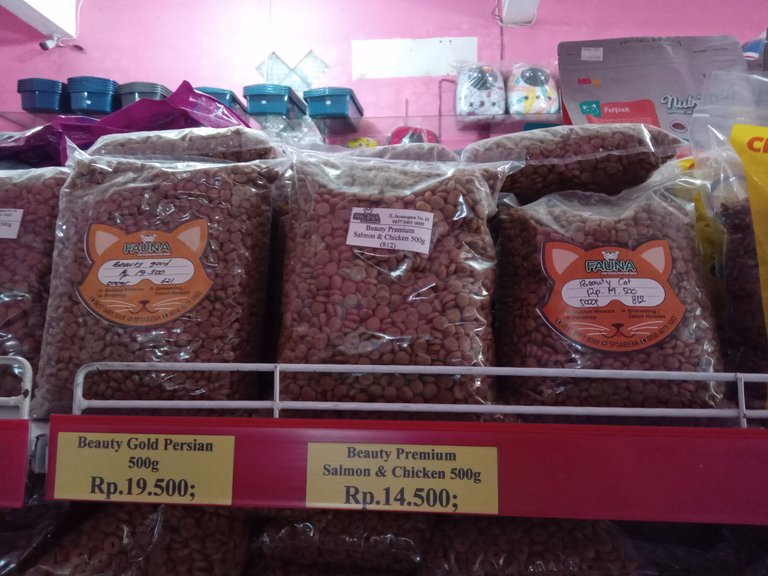 I think that price does not necessarily mean that it has balanced nutrition. So, that's why I told her to also read the ingredients instead buying from cat food like you see above as it doesn't contain any information. She doesn't really read the packaging nor understand the ingredients. I think when it comes to the freelance cat that we have, that's sort of OK but for Shiro, it seems like he needs proper care so that his fur stays healthy.
I also give him a small amount of extra wet food. As you see below, this packaging would last me 3 days and I plan on giving it a bit more variety next time.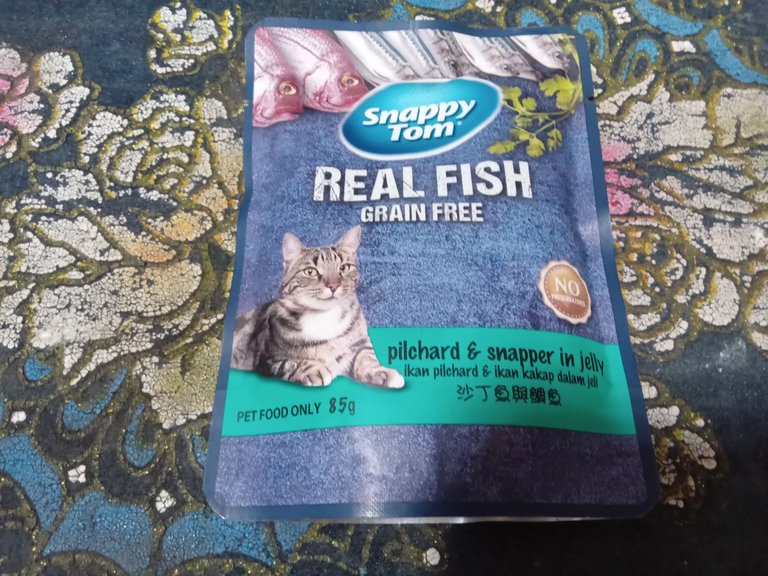 I also realized that some brands have more water content than the other which is another consideration that I am currently making moving forwards. I was reading through this blog and it has some amazing information that I needed Cat Food to Consider When You're Shoppingand perhaps you can learn from it too. Dry food certainly is our #1 go-to choice as it's pretty affordable and nutrient dense but I think that I want to give my cat a bit more nutrition and also, make it a treat especially when I am on the familiarizing stage with him.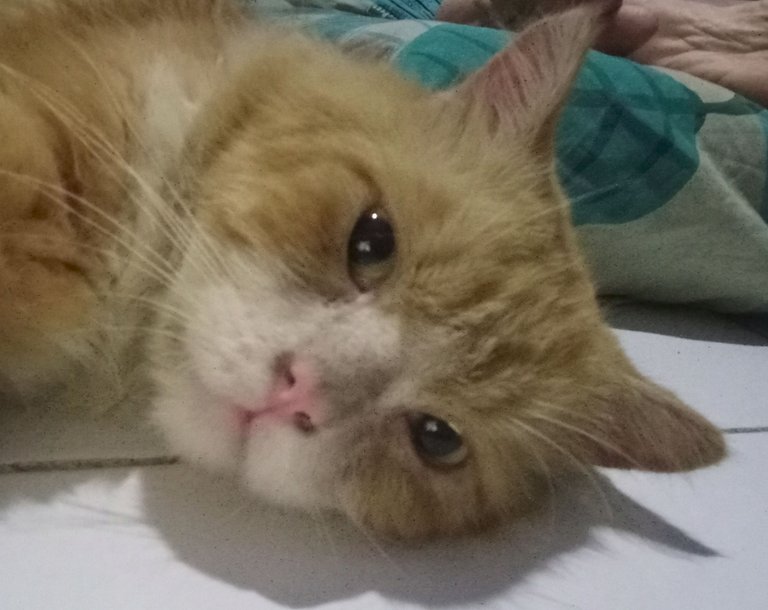 Shiro has been good lately and is now more responsive than before. He would come to any of us if we called by his name, would start sleeping on the couch and enter the room and sleep on the floor. He's also fine with being touched unlike before and the first time I saw him. He is also less agitated and less howling especially during the night. My mom also said that he looks better and is much friendlier towards us. But my mom is still a bit traumatic to hold him though she tries her best to slowly pet him once in a while.

Don't hesitate to upvote for more content like this ! You can also support me below!

---
𝘔𝘢𝘤 𝘪𝘴 𝘢 𝘴𝘦𝘭𝘧-𝘦𝘮𝘱𝘭𝘰𝘺𝘦𝘥 𝘯𝘪𝘯𝘫𝘢 & 𝘤𝘰𝘧𝘧𝘦𝘦 𝘤𝘰𝘯𝘯𝘰𝘪𝘴𝘴𝘦𝘶𝘳 . 𝘈 𝘵𝘺𝘱𝘪𝘤𝘢𝘭 𝘪𝘯𝘵𝘳𝘰𝘷𝘦𝘳𝘵 𝘪𝘯 𝘭𝘰𝘷𝘦 𝘸𝘪𝘵𝘩 𝘭𝘪𝘵𝘦𝘳𝘢𝘵𝘶𝘳𝘦, 𝘣𝘰𝘰𝘬𝘴, 𝘵𝘦𝘤𝘩𝘯𝘰𝘭𝘰𝘨𝘺 𝘢𝘯𝘥 𝘱𝘩𝘪𝘭𝘰𝘴𝘰𝘱𝘩𝘺. 𝘛𝘩𝘪𝘴 𝘪𝘴 𝘩𝘦𝘳 𝘱𝘦𝘳𝘴𝘰𝘯𝘢𝘭 𝘣𝘭𝘰𝘨, 𝘢 𝘳𝘦𝘧𝘭𝘦𝘤𝘵𝘪𝘰𝘯 𝘰𝘧 𝘩𝘦𝘳 𝘸𝘢𝘯𝘥𝘦𝘳𝘭𝘶𝘴𝘵 𝘢𝘯𝘥 𝘵𝘩𝘪𝘳𝘴𝘵 𝘧𝘰𝘳 𝘬𝘯𝘰𝘸𝘭𝘦𝘥𝘨𝘦. 𝘚𝘩𝘦 𝘰𝘧𝘵𝘦𝘯 𝘤𝘰𝘷𝘦𝘳𝘴 𝘣𝘰𝘰𝘬𝘴, 𝘮𝘰𝘷𝘪𝘦 𝘢𝘯𝘥 𝘴𝘦𝘳𝘪𝘦𝘴 𝘳𝘦𝘷𝘪𝘦𝘸𝘴, 𝘵𝘦𝘤𝘩 𝘳𝘦𝘷𝘪𝘦𝘸𝘴 𝘢𝘯𝘥 𝘵𝘳𝘦𝘯𝘥𝘴, 𝘱𝘩𝘰𝘵𝘰𝘨𝘳𝘢𝘱𝘩𝘺, 𝘢𝘯𝘥 𝘱𝘦𝘳𝘴𝘰𝘯𝘢𝘭 𝘥𝘦𝘷𝘦𝘭𝘰𝘱𝘮𝘦𝘯𝘵. 𝘖𝘯𝘤𝘦 𝘪𝘯 𝘢 𝘣𝘭𝘶𝘦 𝘮𝘰𝘰𝘯, 𝘺𝘰𝘶 𝘤𝘢𝘯 𝘧𝘪𝘯𝘥 𝘩𝘦𝘳 𝘵𝘳𝘢𝘷𝘦𝘭𝘪𝘯𝘨, 𝘪𝘮𝘮𝘦𝘳𝘴𝘪𝘯𝘨 𝘩𝘦𝘳𝘴𝘦𝘭𝘧 𝘪𝘯 𝘭𝘰𝘤𝘢𝘭 𝘤𝘶𝘭𝘵𝘶𝘳𝘦𝘴 𝘢𝘯𝘥 𝘵𝘳𝘢𝘥𝘪𝘵𝘪𝘰𝘯𝘴, 𝘢𝘯𝘥 𝘵𝘢𝘬𝘪𝘯𝘨 𝘱𝘪𝘤𝘵𝘶𝘳𝘦𝘴 𝘰𝘧 𝘵𝘩𝘦 𝘣𝘦𝘢𝘶𝘵𝘪𝘧𝘶𝘭 𝘴𝘪𝘨𝘩𝘵𝘴 𝘴𝘩𝘦 𝘦𝘯𝘤𝘰𝘶𝘯𝘵𝘦𝘳𝘴 𝘢𝘭𝘰𝘯𝘨 𝘵𝘩𝘦 𝘸𝘢𝘺. 𝘚𝘩𝘦'𝘴 𝘢𝘯 𝘰𝘤𝘤𝘢𝘴𝘪𝘰𝘯𝘢𝘭 𝘧𝘰𝘰𝘥𝘪𝘦 𝘢𝘯𝘥 𝘭𝘰𝘷𝘦𝘴 𝘵𝘰 𝘦𝘹𝘱𝘭𝘰𝘳𝘦 𝘯𝘦𝘸 𝘢𝘯𝘥 𝘥𝘦𝘭𝘪𝘤𝘪𝘰𝘶𝘴 𝘤𝘶𝘭𝘪𝘯𝘢𝘳𝘺 𝘦𝘹𝘱𝘦𝘳𝘪𝘦𝘯𝘤𝘦𝘴. 𝘍𝘰𝘭𝘭𝘰𝘸 𝘢𝘭𝘰𝘯𝘨 𝘰𝘯 𝘩𝘦𝘳 𝘢𝘥𝘷𝘦𝘯𝘵𝘶𝘳𝘦𝘴 𝘢𝘯𝘥 𝘫𝘰𝘪𝘯 𝘵𝘩𝘦 𝘤𝘰𝘯𝘷𝘦𝘳𝘴𝘢𝘵𝘪𝘰𝘯! 𝘋𝘰𝘯'𝘵 𝘩𝘦𝘴𝘪𝘵𝘢𝘵𝘦 𝘵𝘰 𝘶𝘱𝘷𝘰𝘵𝘦, 𝘭𝘦𝘢𝘷𝘦 𝘢 𝘤𝘰𝘮𝘮𝘦𝘯𝘵 𝘰𝘳 𝘢 𝘧𝘦𝘦𝘥𝘣𝘢𝘤𝘬. 𝘈 𝘳𝘦-𝘣𝘭𝘰𝘨 𝘪𝘴 𝘢𝘭𝘴𝘰 𝘢𝘱𝘱𝘳𝘦𝘤𝘪𝘢𝘵𝘦𝘥 𝘵𝘰𝘰.