We had planned on getting a dog next year, after we had settled into the house a bit more. Well as things tend to work, a breeder my wife had contacted called us unexpectedly. She said that one of her pups placed from a recent litter had some family issues arise and the original planned owner was cancelling, did we want a look? Well of course we said yes, and ended up bringing home our new family member a year early.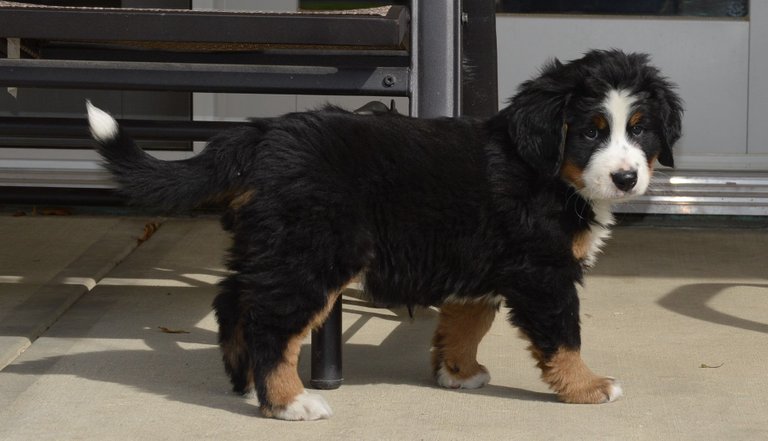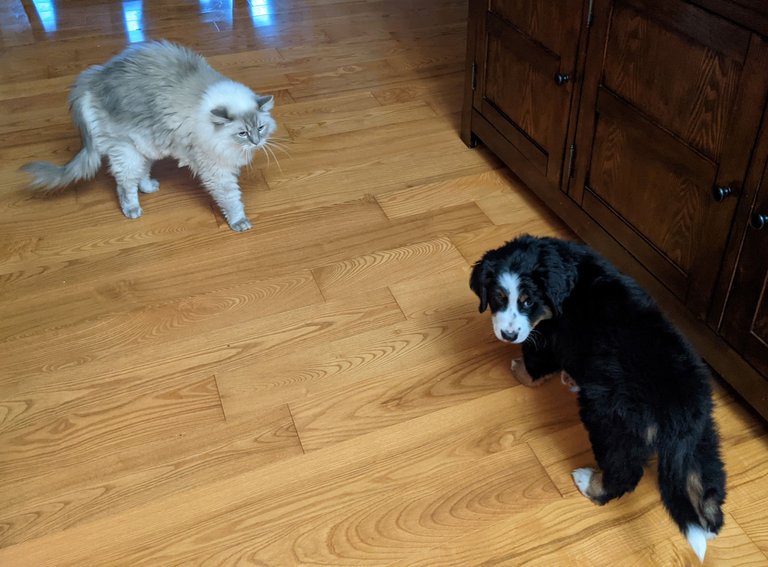 The cats were/are NOT happy about the new addition yet. You can see the initial reaction with arched back and hissing. Not a happy Caturday for them! It hasn't improved much in a day. The cats are sneaking around for looks, but mostly staying on the other floor of the house.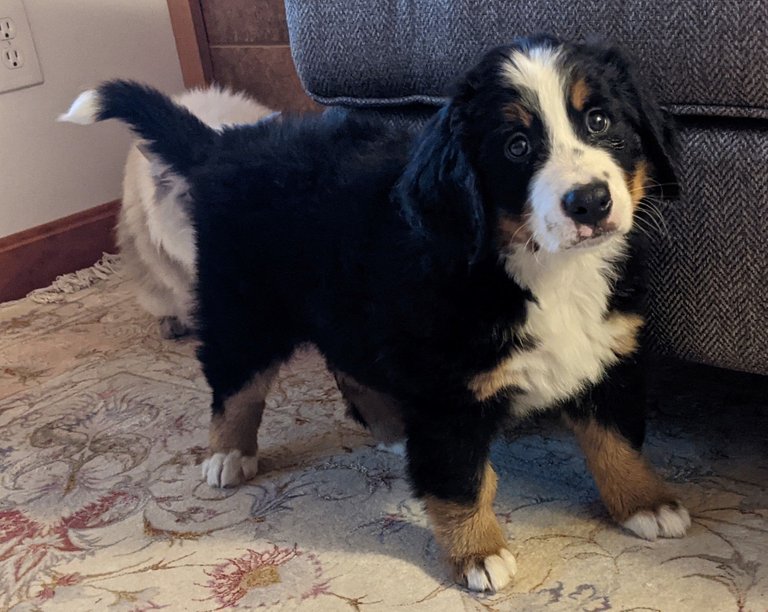 We've done many rescue's in the past, but this one is a purebred from a well-known and respected breeder.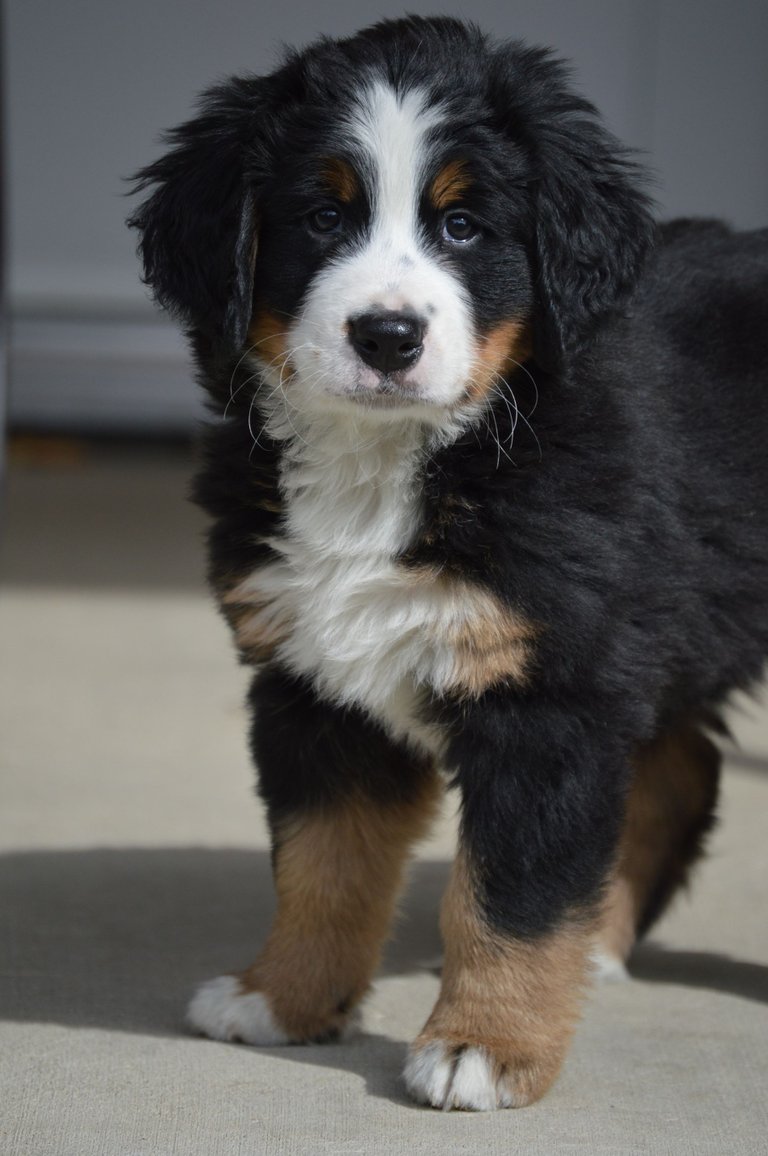 Say Hello to Betty. Betty is an 8 week old Bernese Mountain Dog. According to AKC, Bernese Mountain dogs are large, hard workers, that can stand over 27 inches at the shoulder. They have a tri-colored coat with distinctive markings. They have a thick coat and thrive in cold weather. They were originally used on the farms and pastures of Switzerland. They are generally good with children (our are grown, but grandkids may visit).
This will also be good fit for our yard so that we can be out working and not be surprised by bears, wolves, lions, or other wildlife in the area. Not to mention strangers tend be intimidated as well.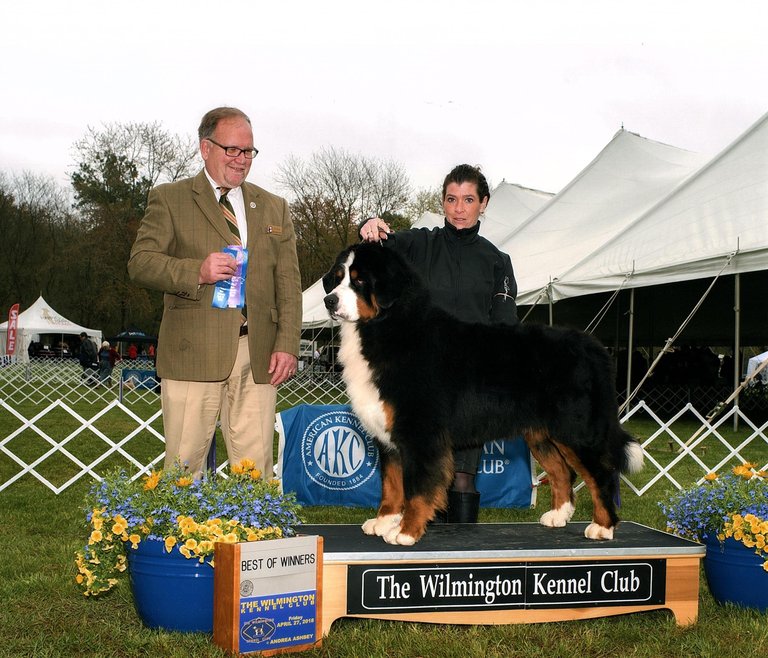 This is her puppy daddy, Buster. Buster is over 135lbs (61 kilos). We got to meet him in person, and he is definitely a big boy, a little heavier than this picture. I was amazed how light on his feet and agile he still was for his size. We're guessing Betty will end up around 100-120 lbs (45-54 kilos) or so like her mother. (Photo courtesy of our breeder).
We're off to a good start on housetraining so far, but she did wake us up at 2am last night with a howl that sounded like there was a wolf in the room with us. I guess she was lonely, or didn't like waking up in her cage alone. (Cage in the bedroom to assist with the housetraining). Either way, it was more voice than we expected and got her a spot next to the bed for rest of the night. lol.