You know, one of the things we really, really miss about England is good old fashioned pubs. They just aren't the same here. So, imagine our joy to stumble on exactly that kind of pub in Franklin, near Glen Huon.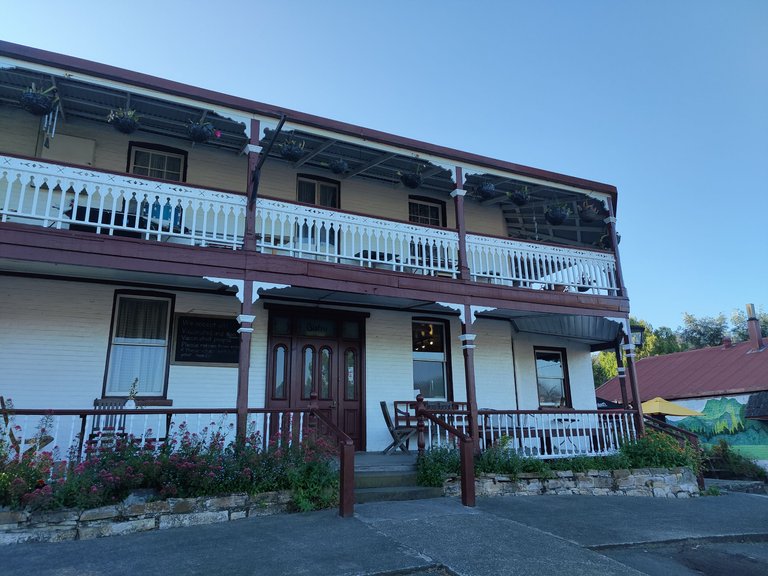 The bartender was an old Bavarian guy who didn't mind a corny joke and clearly let the pub run itself. He had been running it for over 42 years and said it was a cross between a Bavarian pub and an English one, which seemed about right. There were pictures of sailing ships on the walls, other historical photos, and framed ballads. The place had character by the spade.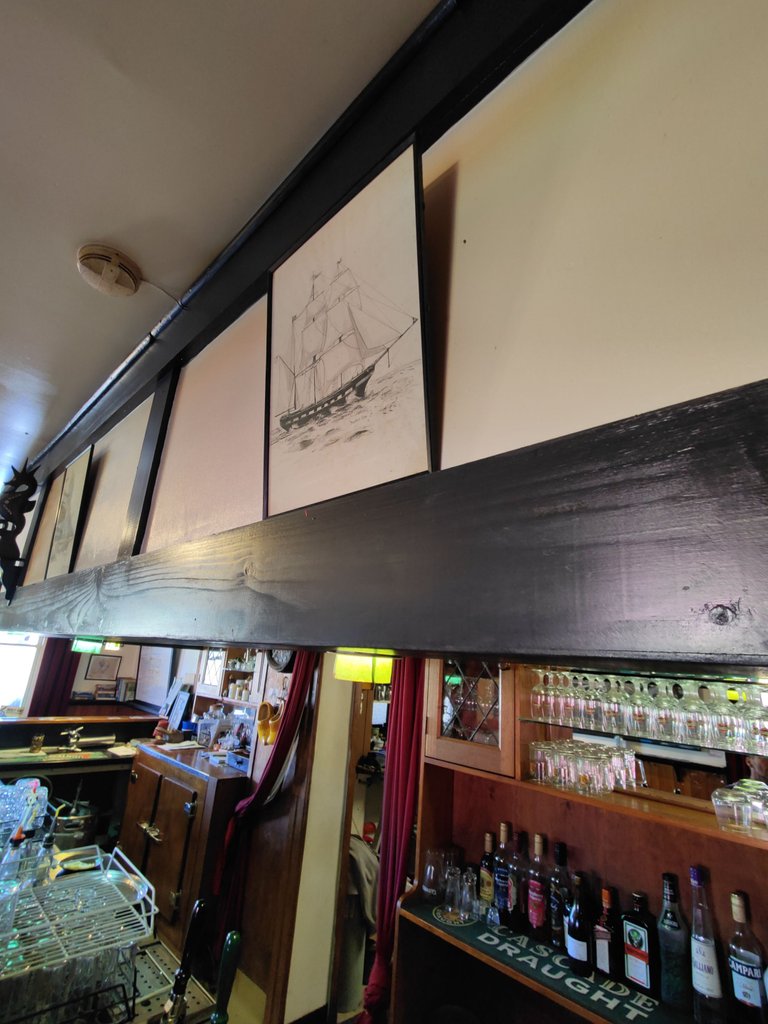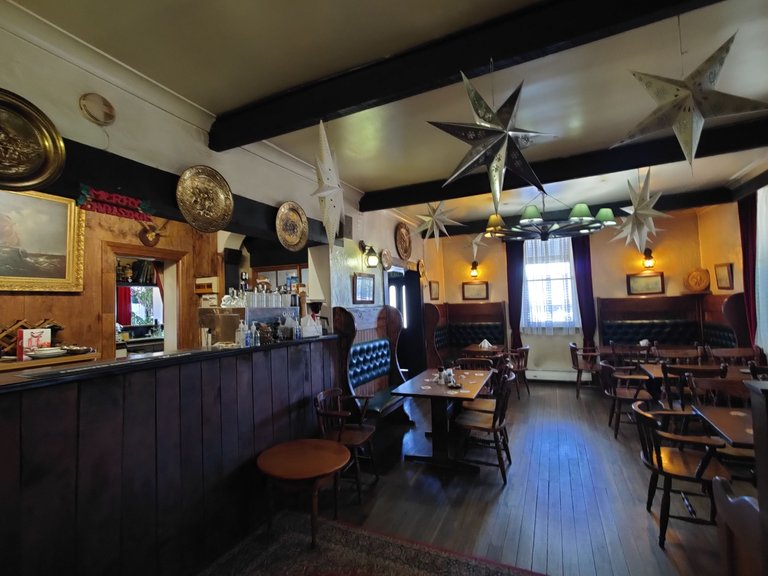 Of course, Jamie was so happy that he couldn't stop at one pint. The guy only had two taps, James Boag and one another, so there wasn't much choice, but that didn't matter so much. Look at the big smile on his face!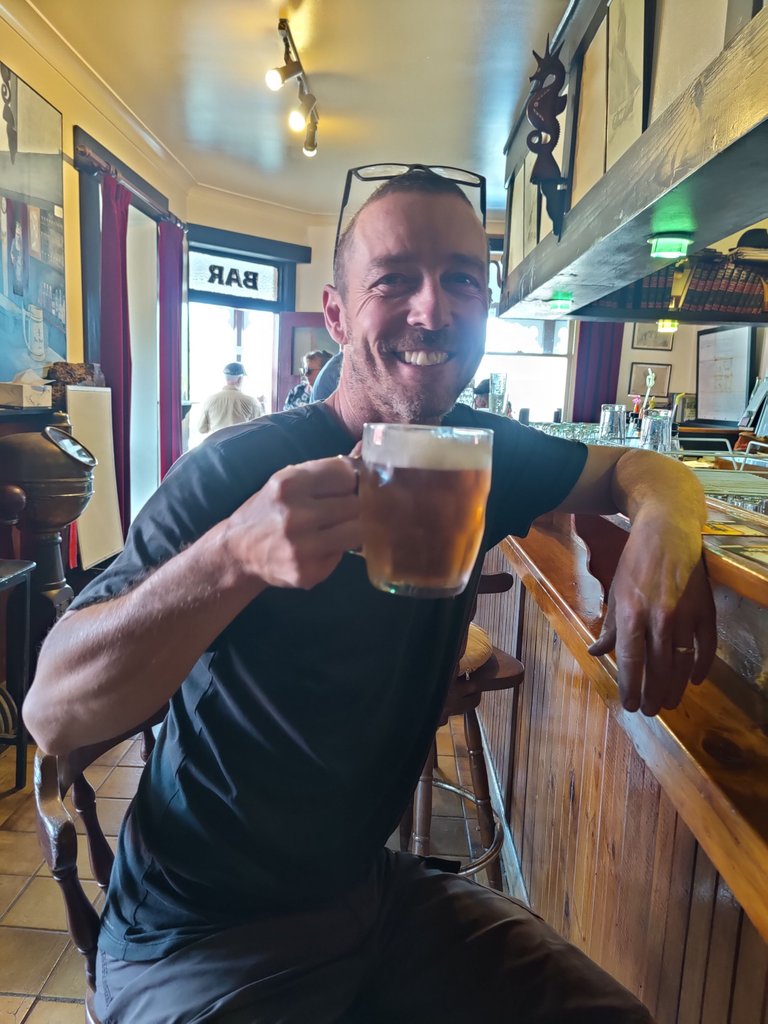 In some ways it was refreshing not to have hipster beers everywhere. It certainly was no nonsense!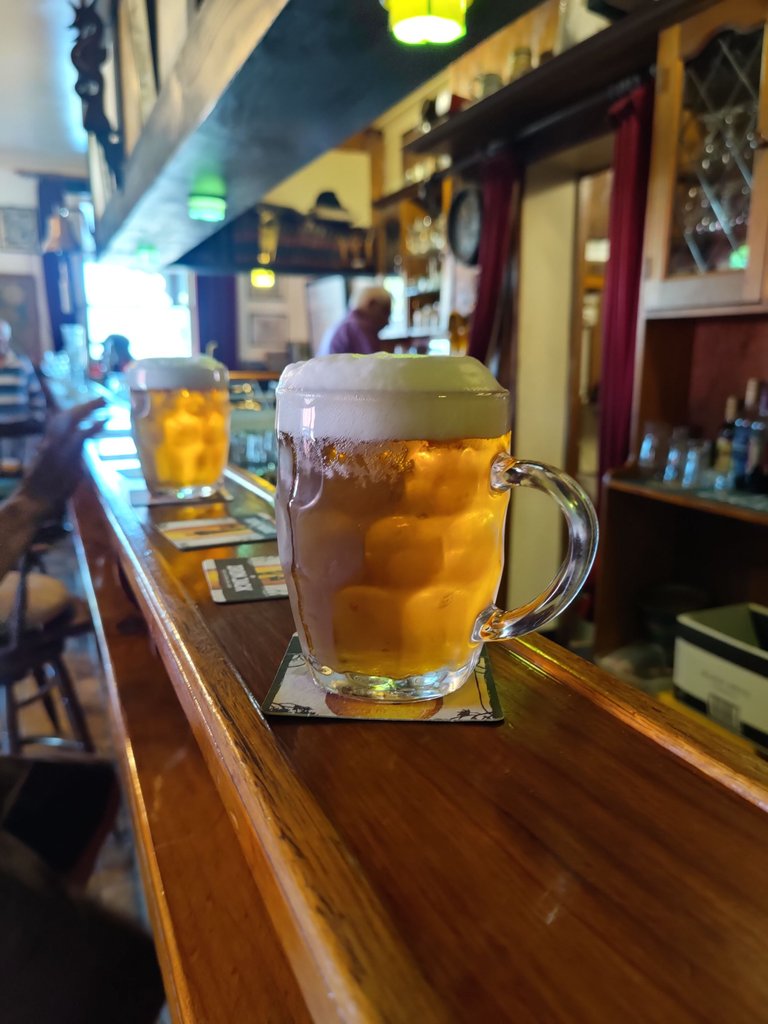 !
The other cool thing was that people could sing, play music, and jam for their dinner. Some old guy in a safari hat played old timer songs on the piano, joined by a young Italian guy on the guitar and even, at one stage, the owner himself on that string chest thingie that picks out a bass line.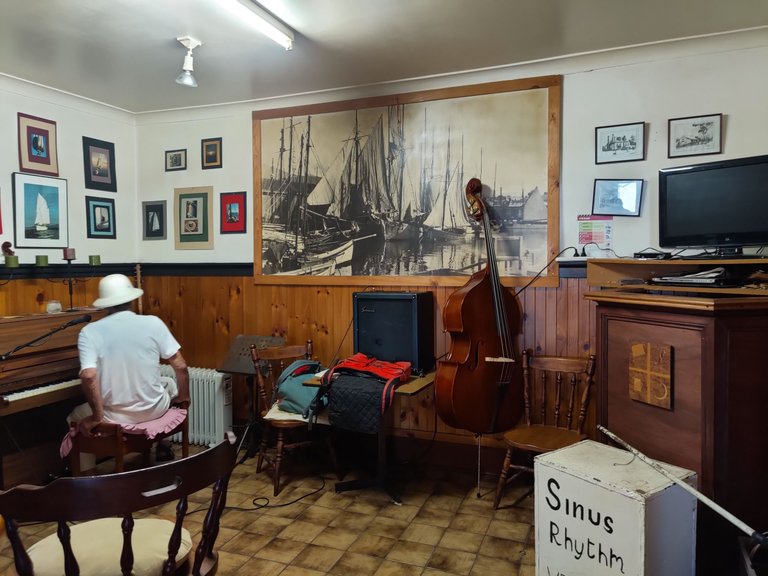 We were lucky enough to arrive at happy hour where the beer is cheaper and all the locals stopped by, some real colourful characters who wanted to chat and tell us stories. The large painting on the wall was literally all those locals who someone had painted in honour of such happy hours.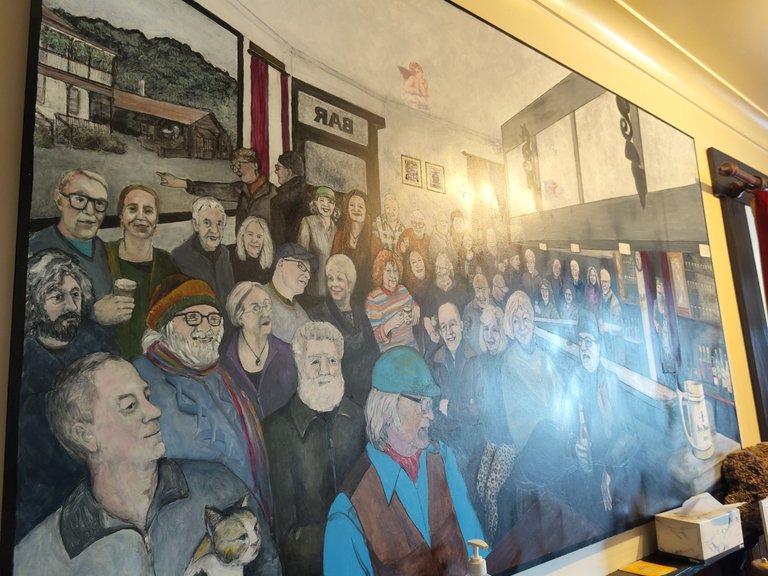 The courtyard was delightfully and colourfully painted with murals.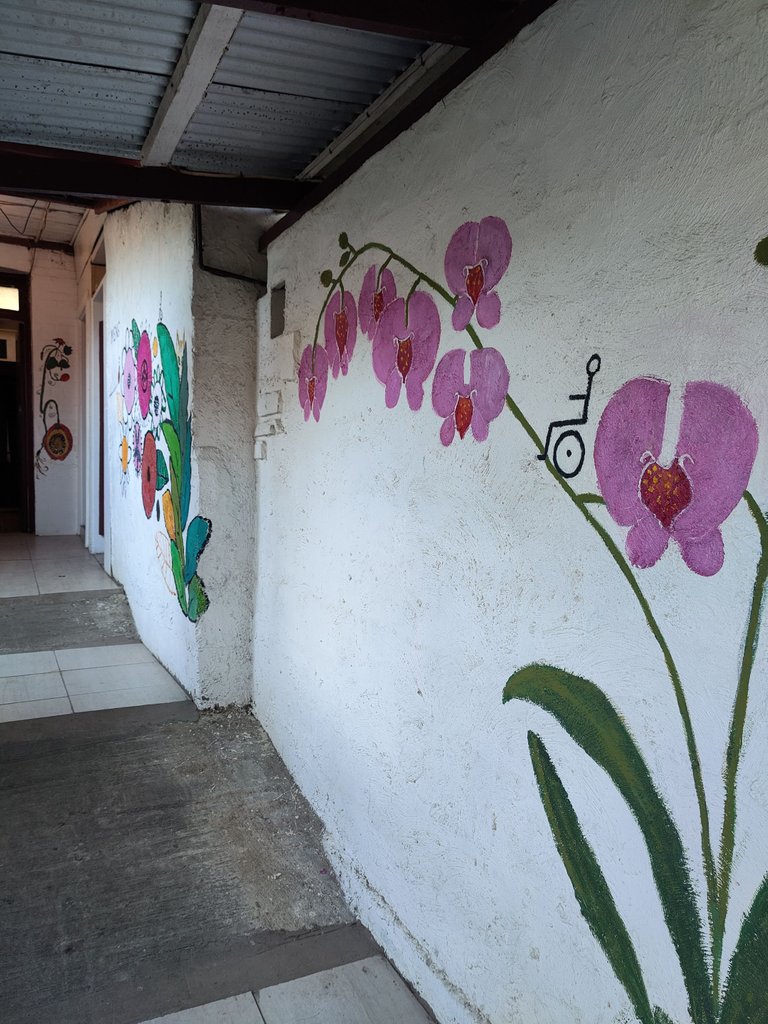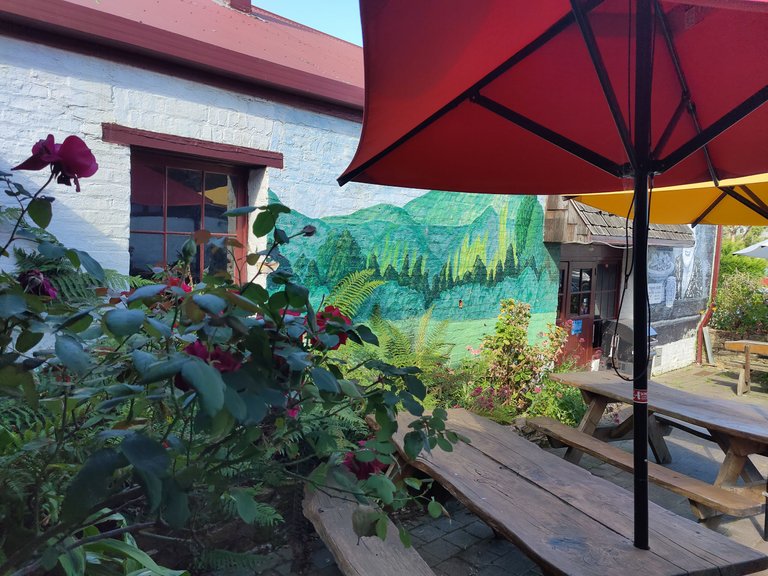 I wondered if they'd been painted by travelers. The place was a bit of a mecca I think for fruit pickers, who came to pick cherries and apples in the area. We stayed with such pickers in the pub garden for $20 for both of us for the night. It was pretty noisy as some came home quite drunk and one played loud music and screamed about his life's woes.
That night we had drunk too much to bother with cooking so we had Thai food down the road. There's a few restaurants in Franklin including fish and chips. It's the only meal we have paid for the entire trip except for some oysters on Bruny Island, but that's for another post.
We would, of course, buy roadside cherries and blueberries in the morning before we left the area. I swear Tassie cherries are the best in the world, sweet and cold and fat.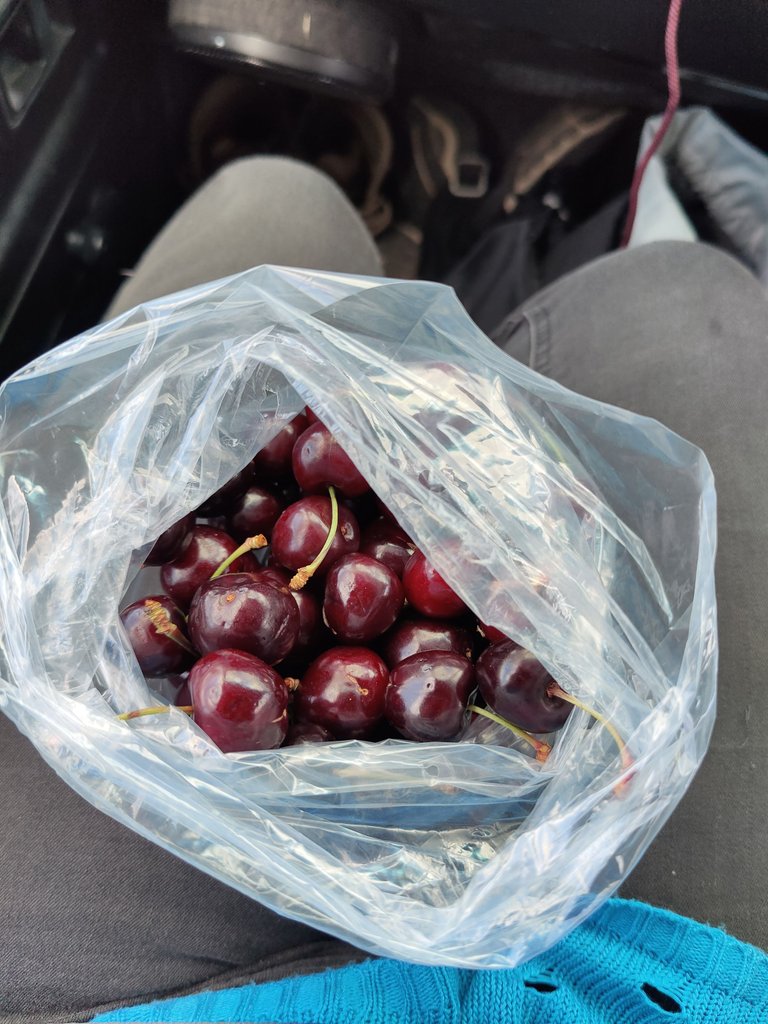 We have been eating fresh blueberries on our muesli every morning for breakfast and I couldn't be happier. So good!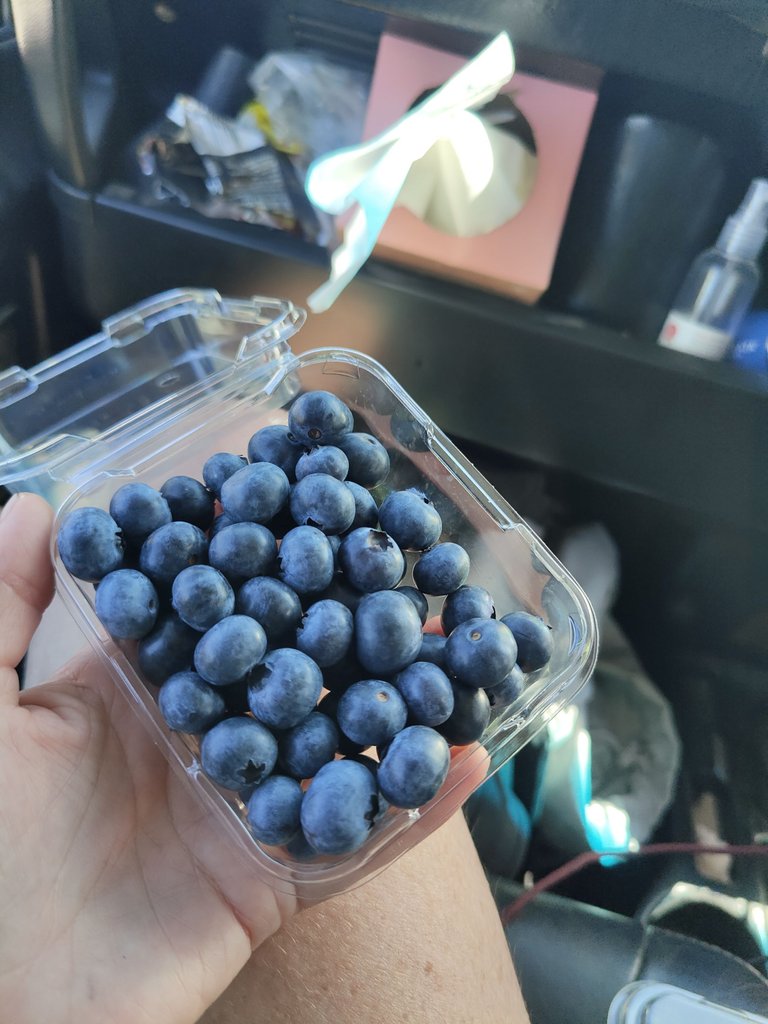 Franklin's a great little town for a stopover if you are headed down to Cockle Creek or the other way toward Hobart. There's also a RV park on the riverside and a wooden boat museum - if you check out Pinmapple.com you'll find my pin from last year when we visited.
From here we did get an offer to stay on a family block down at Cockle Creek but we decided to head to Bruny Island instead, but that's for another post.
I'm so sorry if I don't get back to you all.. another four days and I'm back at home and can pay you all some Hive love then, promise.
With Love,

Are you on HIVE yet? Earn for writing! Referral link for FREE account here