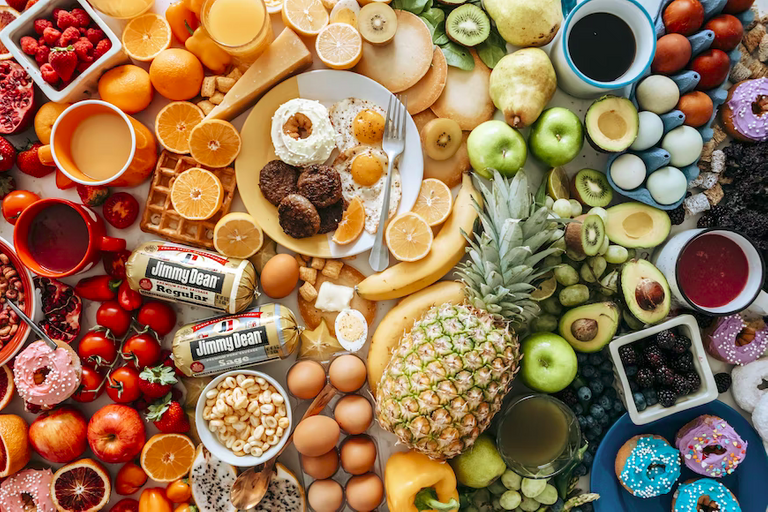 The recent heated topic I came across recently is about the myth of MSG allergy and chinese restaurant syndrome. It appears that these days if you mention you dislike MSG or are not into MSG you are either racist or uncultured for not seasoning your food properly. Some of these people mentioned that those things are there because of racism. I can understand where it's coming from as the name itself is suggesting from that these comes from a certain culture.
~~~ embed:1612632574899392513 twitter metadata:S2ltQ2hpX0NoaWN8fGh0dHBzOi8vdHdpdHRlci5jb20vS2ltQ2hpX0NoaWMvc3RhdHVzLzE2MTI2MzI1NzQ4OTkzOTI1MTMgfA== ~~~the MSG tweet
Growing up in a household that used to use these enhancers and everywhere I go for eating most likely has MSG. It has been a bit of a discovery and a journey for me.As ridiculous as it sounds, I actually have sensitivity to MSG. As a child, I already had a few allergies going on, so what I ate was slightly controlled. I rarely had chips, fast food, and soda was forbidden in our house.
I grew up with cooks and she certainly made sure that the food was on the healthier side. My mom also tried her best but her lunch boxes in the past were giving me some headache and brain fog. The only food I ever like is from my paternal grandmother, she did not add any too much MSG and she has a few food restrictions too. However, I noticed the intensity of my msg and food sensitivity even more when I was at uni and stopped having less control over what I eat. After eating food I bought from outside, I would often fall asleep randomly. Then later on, I would find this when I ate chips and anything that is rich in sodium and has MSG. When I eat too much of them, I would lose a day of not being productive. The intensity I experienced was even more, especially after my brain injury. Although I still eat food rich in MSG, I guarantee that I would lose a day and have something like a food coma going on. But there are many times when I don't have that much control over it. It took a bit of a journey for my mom to understand how MSG is impacting me. In the end though, she understood and now, my mom has removed MSG completely in our cooking. Whenever she buys food outside, I also make sure to not eat it because I did in the past and it ended up making me sick and unproductive.
Sometimes I wonder if I can only eat water 😀 because everything I have cooked so far, behind the scenes, has made me sick. In my day to day life, I just make sure that it's worth the pain I am feeling especially after cooking and eating food. Everything from Coffee, rice, chocolate, eggs, cheese, flour, beer, pasta, even milk have all actually made me feel sick and in pain. The only time I ever feel great is when I eat a rich protein meal or fish, no carbs, no packet seasoning, and sustain myself with lots of water and vitamins pills. Coffee is fine as long as it doesn't have milk and sugar in any form. If it contains both, I mostly experience pain in my joints a few hours after. But again, if it's worth the pain I am experiencing, I certainly will still cook and make them. That's probably the irony of my life where I am a foodie and love to cook but I have so many things I can't eat and experience some sort of pain after cooking them. It's like a drug, you know it has side effects but you're a fiend and you'd always crave for more.
illustration via unsplash

Don't hesitate to upvote for more content like this ! You can also support me below!

---
𝘔𝘢𝘤 𝘪𝘴 𝘢 𝘴𝘦𝘭𝘧-𝘦𝘮𝘱𝘭𝘰𝘺𝘦𝘥 𝘯𝘪𝘯𝘫𝘢 & 𝘤𝘰𝘧𝘧𝘦𝘦 𝘤𝘰𝘯𝘯𝘰𝘪𝘴𝘴𝘦𝘶𝘳 . 𝘈 𝘵𝘺𝘱𝘪𝘤𝘢𝘭 𝘪𝘯𝘵𝘳𝘰𝘷𝘦𝘳𝘵 𝘪𝘯 𝘭𝘰𝘷𝘦 𝘸𝘪𝘵𝘩 𝘭𝘪𝘵𝘦𝘳𝘢𝘵𝘶𝘳𝘦, 𝘣𝘰𝘰𝘬𝘴, 𝘵𝘦𝘤𝘩𝘯𝘰𝘭𝘰𝘨𝘺 𝘢𝘯𝘥 𝘱𝘩𝘪𝘭𝘰𝘴𝘰𝘱𝘩𝘺. 𝘛𝘩𝘪𝘴 𝘪𝘴 𝘩𝘦𝘳 𝘱𝘦𝘳𝘴𝘰𝘯𝘢𝘭 𝘣𝘭𝘰𝘨, 𝘢 𝘳𝘦𝘧𝘭𝘦𝘤𝘵𝘪𝘰𝘯 𝘰𝘧 𝘩𝘦𝘳 𝘸𝘢𝘯𝘥𝘦𝘳𝘭𝘶𝘴𝘵 𝘢𝘯𝘥 𝘵𝘩𝘪𝘳𝘴𝘵 𝘧𝘰𝘳 𝘬𝘯𝘰𝘸𝘭𝘦𝘥𝘨𝘦. 𝘚𝘩𝘦 𝘰𝘧𝘵𝘦𝘯 𝘤𝘰𝘷𝘦𝘳𝘴 𝘣𝘰𝘰𝘬𝘴, 𝘮𝘰𝘷𝘪𝘦 𝘢𝘯𝘥 𝘴𝘦𝘳𝘪𝘦𝘴 𝘳𝘦𝘷𝘪𝘦𝘸𝘴, 𝘵𝘦𝘤𝘩 𝘳𝘦𝘷𝘪𝘦𝘸𝘴 𝘢𝘯𝘥 𝘵𝘳𝘦𝘯𝘥𝘴, 𝘱𝘩𝘰𝘵𝘰𝘨𝘳𝘢𝘱𝘩𝘺, 𝘢𝘯𝘥 𝘱𝘦𝘳𝘴𝘰𝘯𝘢𝘭 𝘥𝘦𝘷𝘦𝘭𝘰𝘱𝘮𝘦𝘯𝘵. 𝘖𝘯𝘤𝘦 𝘪𝘯 𝘢 𝘣𝘭𝘶𝘦 𝘮𝘰𝘰𝘯, 𝘺𝘰𝘶 𝘤𝘢𝘯 𝘧𝘪𝘯𝘥 𝘩𝘦𝘳 𝘵𝘳𝘢𝘷𝘦𝘭𝘪𝘯𝘨, 𝘪𝘮𝘮𝘦𝘳𝘴𝘪𝘯𝘨 𝘩𝘦𝘳𝘴𝘦𝘭𝘧 𝘪𝘯 𝘭𝘰𝘤𝘢𝘭 𝘤𝘶𝘭𝘵𝘶𝘳𝘦𝘴 𝘢𝘯𝘥 𝘵𝘳𝘢𝘥𝘪𝘵𝘪𝘰𝘯𝘴, 𝘢𝘯𝘥 𝘵𝘢𝘬𝘪𝘯𝘨 𝘱𝘪𝘤𝘵𝘶𝘳𝘦𝘴 𝘰𝘧 𝘵𝘩𝘦 𝘣𝘦𝘢𝘶𝘵𝘪𝘧𝘶𝘭 𝘴𝘪𝘨𝘩𝘵𝘴 𝘴𝘩𝘦 𝘦𝘯𝘤𝘰𝘶𝘯𝘵𝘦𝘳𝘴 𝘢𝘭𝘰𝘯𝘨 𝘵𝘩𝘦 𝘸𝘢𝘺. 𝘚𝘩𝘦'𝘴 𝘢𝘯 𝘰𝘤𝘤𝘢𝘴𝘪𝘰𝘯𝘢𝘭 𝘧𝘰𝘰𝘥𝘪𝘦 𝘢𝘯𝘥 𝘭𝘰𝘷𝘦𝘴 𝘵𝘰 𝘦𝘹𝘱𝘭𝘰𝘳𝘦 𝘯𝘦𝘸 𝘢𝘯𝘥 𝘥𝘦𝘭𝘪𝘤𝘪𝘰𝘶𝘴 𝘤𝘶𝘭𝘪𝘯𝘢𝘳𝘺 𝘦𝘹𝘱𝘦𝘳𝘪𝘦𝘯𝘤𝘦𝘴. 𝘍𝘰𝘭𝘭𝘰𝘸 𝘢𝘭𝘰𝘯𝘨 𝘰𝘯 𝘩𝘦𝘳 𝘢𝘥𝘷𝘦𝘯𝘵𝘶𝘳𝘦𝘴 𝘢𝘯𝘥 𝘫𝘰𝘪𝘯 𝘵𝘩𝘦 𝘤𝘰𝘯𝘷𝘦𝘳𝘴𝘢𝘵𝘪𝘰𝘯! 𝘋𝘰𝘯'𝘵 𝘩𝘦𝘴𝘪𝘵𝘢𝘵𝘦 𝘵𝘰 𝘶𝘱𝘷𝘰𝘵𝘦, 𝘭𝘦𝘢𝘷𝘦 𝘢 𝘤𝘰𝘮𝘮𝘦𝘯𝘵 𝘰𝘳 𝘢 𝘧𝘦𝘦𝘥𝘣𝘢𝘤𝘬. 𝘈 𝘳𝘦-𝘣𝘭𝘰𝘨 𝘪𝘴 𝘢𝘭𝘴𝘰 𝘢𝘱𝘱𝘳𝘦𝘤𝘪𝘢𝘵𝘦𝘥 𝘵𝘰𝘰.