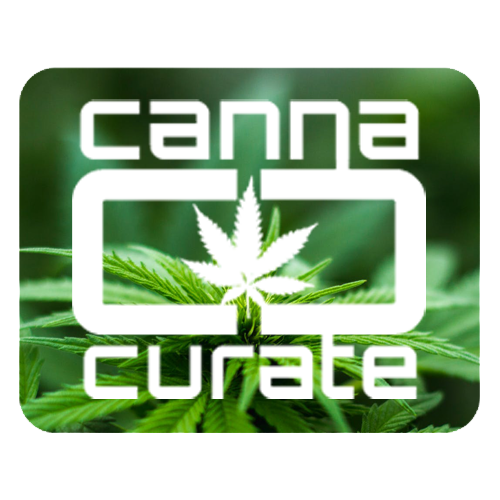 Hello growing enthusiasts! This will be the first post of a series I will be doing about how I grow my mushrooms in monotubs so you can come back and use for a template to do your own if you wish. First off I wanna give thanks to @jonyoudyer for giving me the idea of making a how to post of my mushroom grow! But you don't have to go through this whole process which is a bit of a labor intensive job. You can go to https://www.shroomsupply.com/ that my friend @lancergrows found to buy anything you can possibly need (except the spores) for fungi cultivation. But if you want to do a lot, over time this can get very costly but it's a good way to start out without having to buy the equipment you need. Let's get to it! 🍄🍄🍄
First thing you'll need is to choose your grain spawn. Grain spawn is something you'll need for the mycelium to colonize on and give the nutrients it will need. Most people use the organic Rye berries but I chose to go with wild bird seed because it is very cheap and you can find it at any store with an outdoor/garden section. What I was looking for was the seed without cracked corn and I found this at my local Walmart for around 15 dollars for a 24lb bag. 👇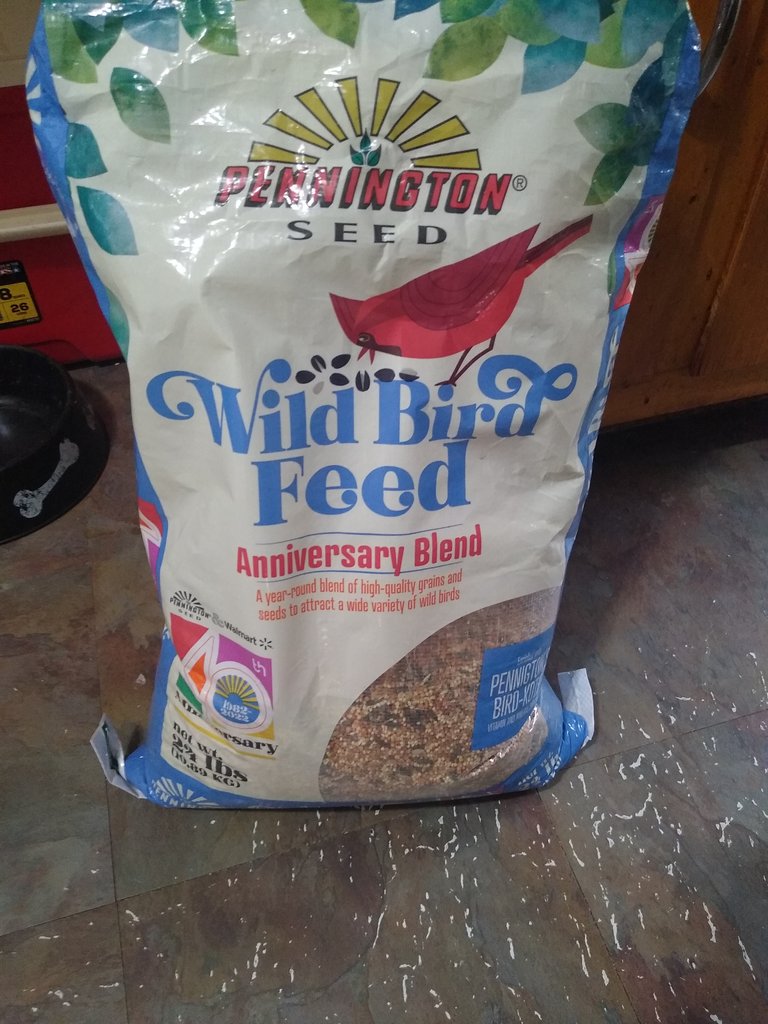 I'm doing quart jars and I empty 5 full quart jars of seed into a clean 5 gallon bucket.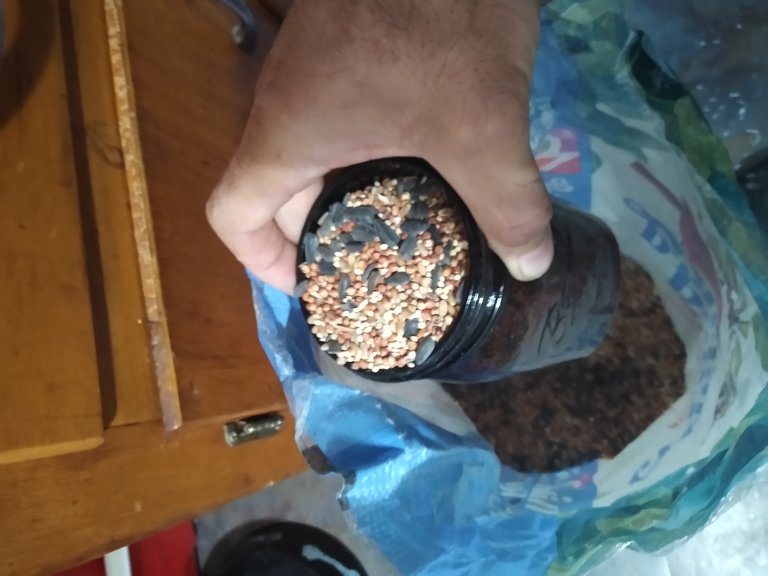 5 full jars ☝️ will give me 8 three quarter filled quart jars. You'll need room in the jars so you can mix the seed when it's about 1/3 colonized to help speed up the colonization process. With the seed in the bucket I fill the bucket with water to about 5 to 6 inches over the seed and mix it with my hand to break up any dirt or debris that is on the seed and get the sunflower seeds to the top of the water as they will float. I scoop the sunflower seeds and other floating debris out as much as I can with my hand and throw them on paper plate and leave them outside for the squirrels and birds to eat. Then I empty all the water and fill it again and mix it with my hand. You're trying to clean the seed as much as you can until the water is clear. It will take 3 to 4 times of doing this for the water to get clean. Once it's clean I leave it with about an inch or two of water over the seed, put the lid on and leave it for 24 hours.
The next day I drain out all the water as much as I can. 👇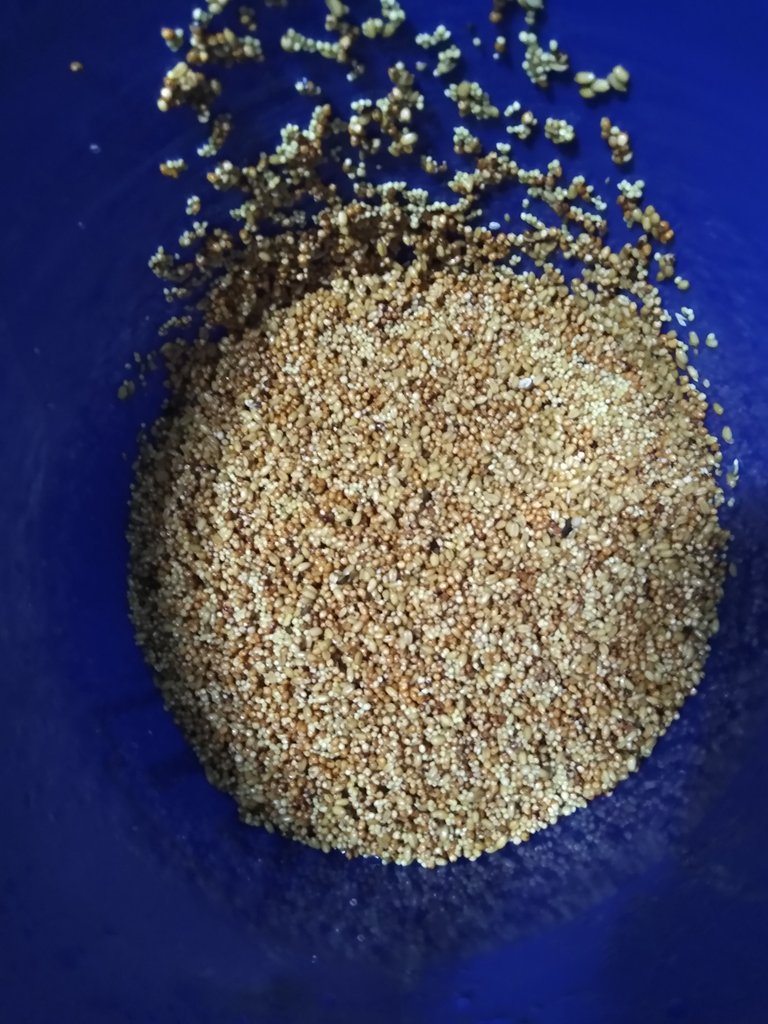 After all the water is drained I spread out the seed on paper towels and cookie sheets. Good thing my wife likes to bake so we have plenty of cookie sheets! 😉 👇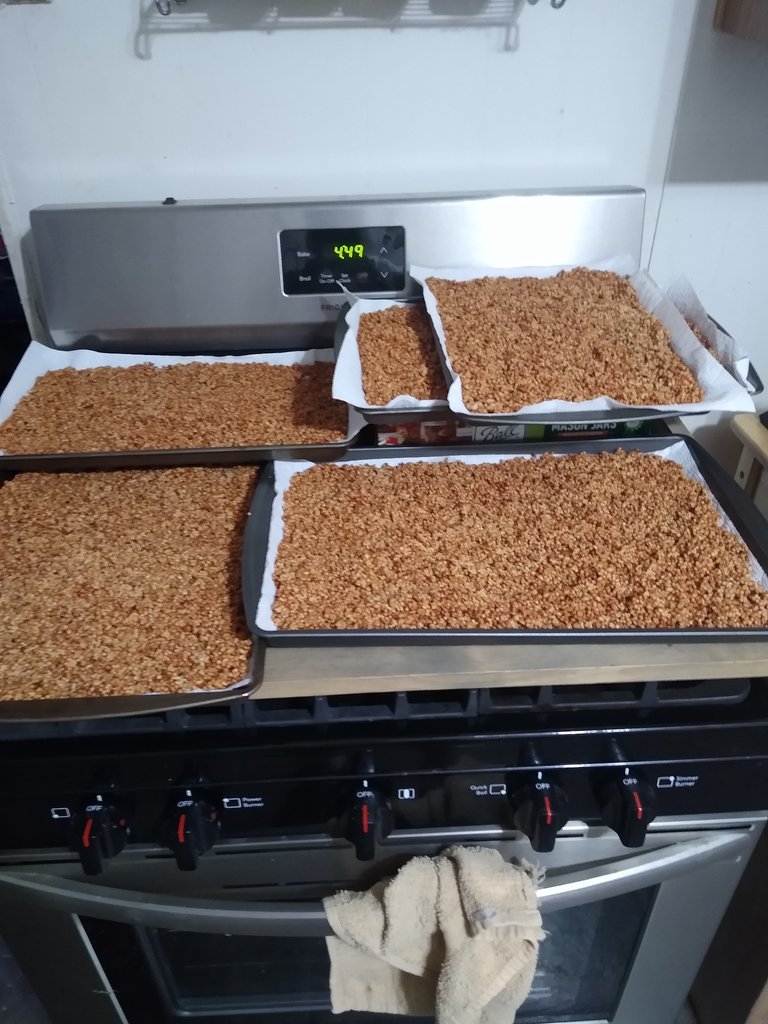 After spreading it out on the pans I like to mix the seed around every 15 minutes or so, so the water can evaporate evenly. In about an hour I will do what's called the tissue test. I take about a spoonful of seed and put it on a piece of tissue or toilet paper. 👇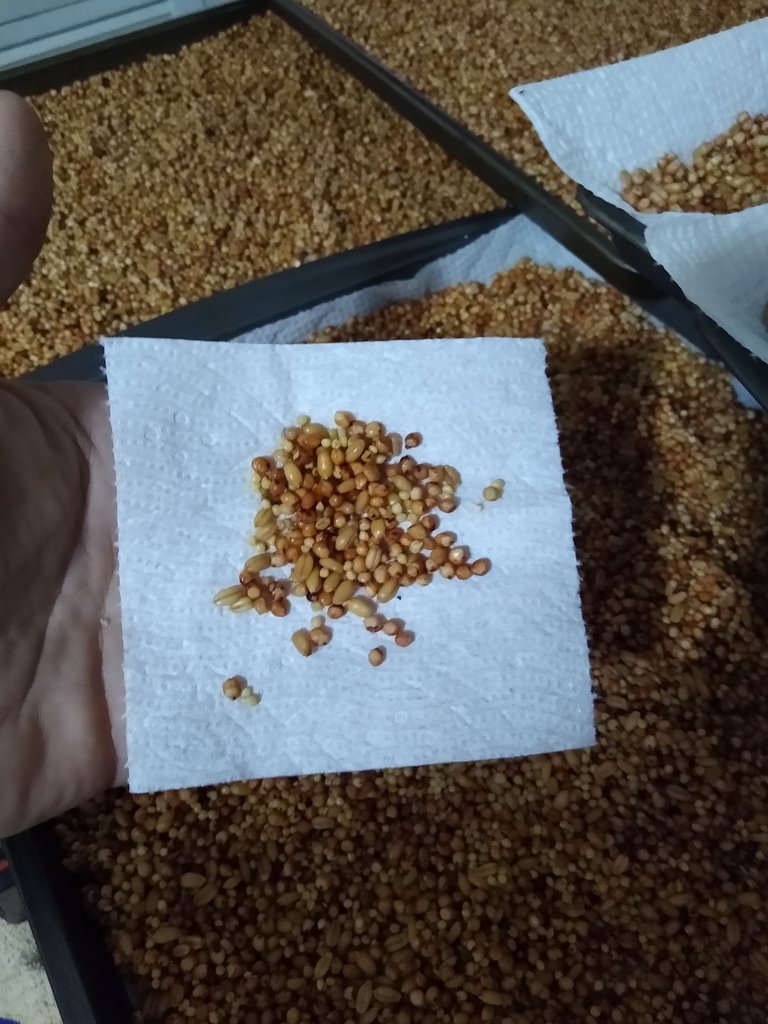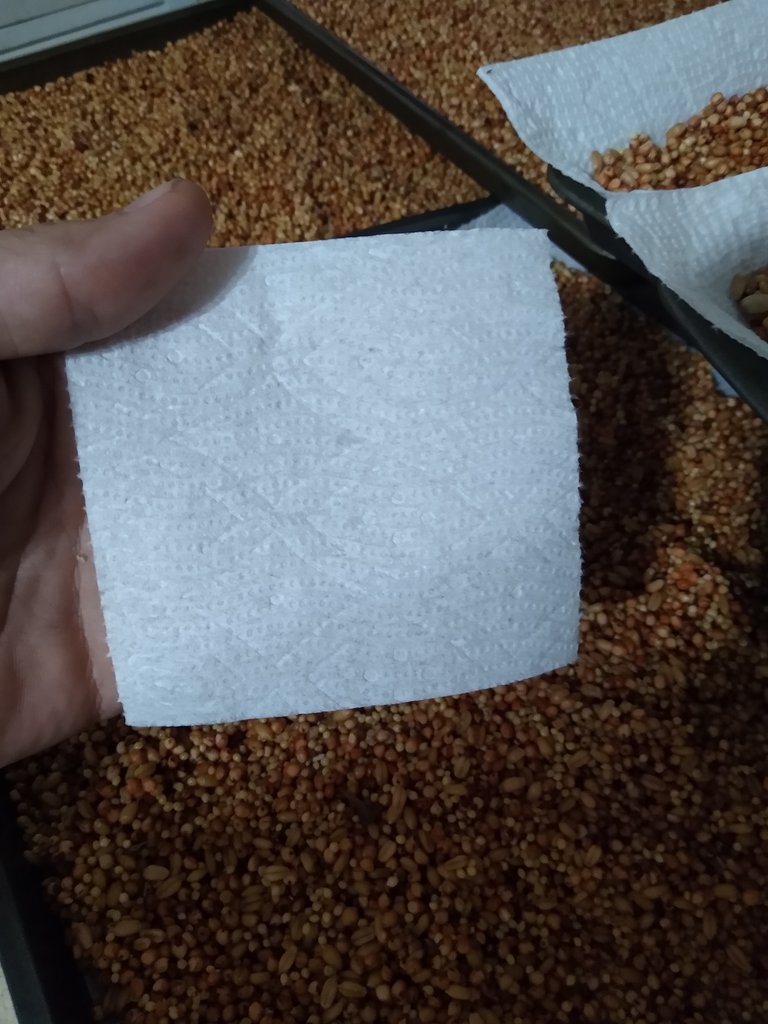 ---
Once you don't see any wet spots on the tissue ☝️ it's time to put it in the quart jars. 👇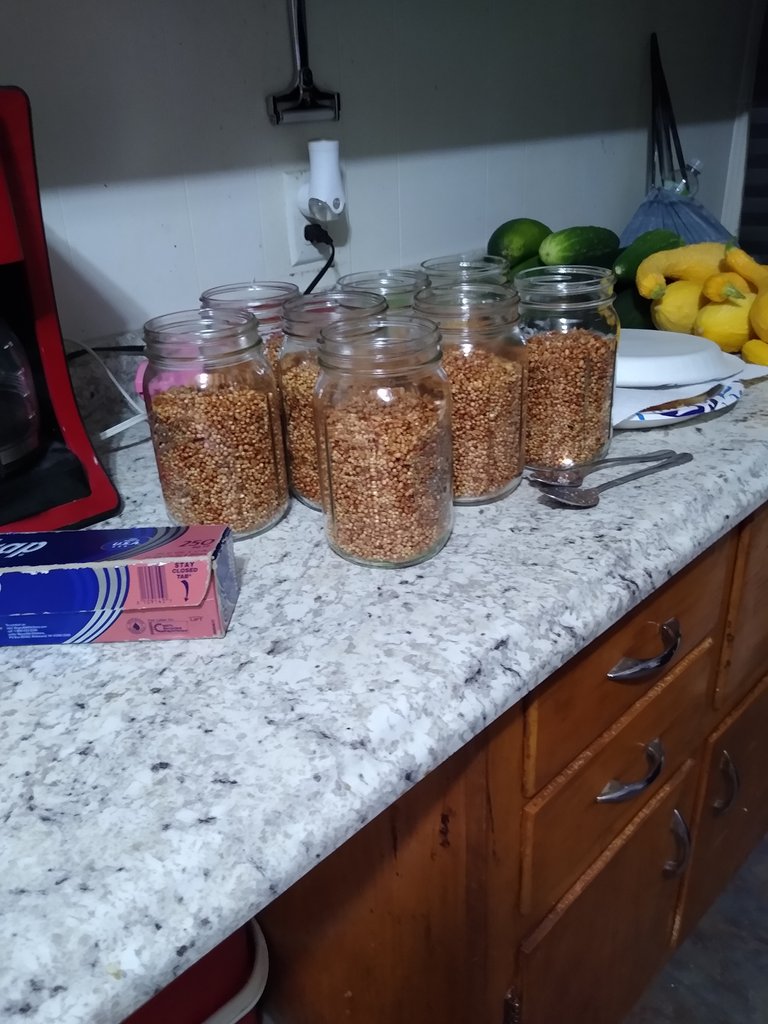 ) The lids I have are customized with a quarter inch drill bit on either side of the lid and an adherable injecting port and and adherable filter over the drilled holes. 👇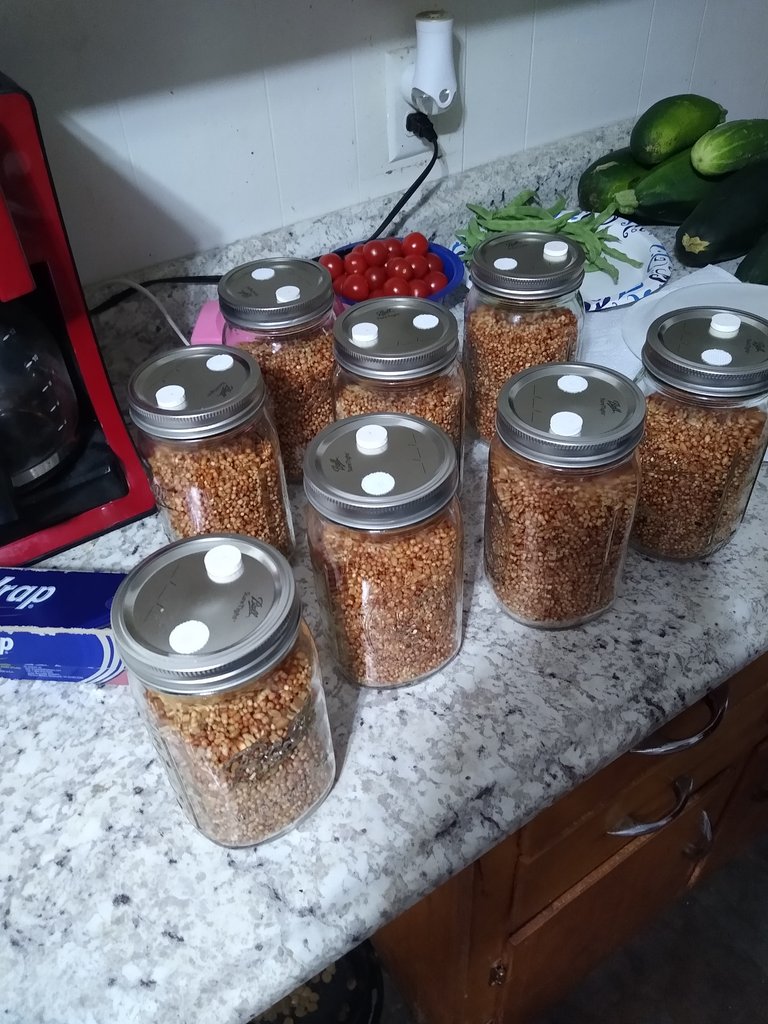 )
I got these from https://microppose.com/ but I'm sure I seen them on the mushroom supply site mentioned above as well. The mycelium needs to breath when it's colonizing. These filters are a 0.3 micron which helps them to breath while protecting it from contaminants.
Next thing I do is get them ready to be sterilized by putting aluminum foil over the lids and I put rubber bands around the bottom of the lid. Not needed but I am over cautious. 👇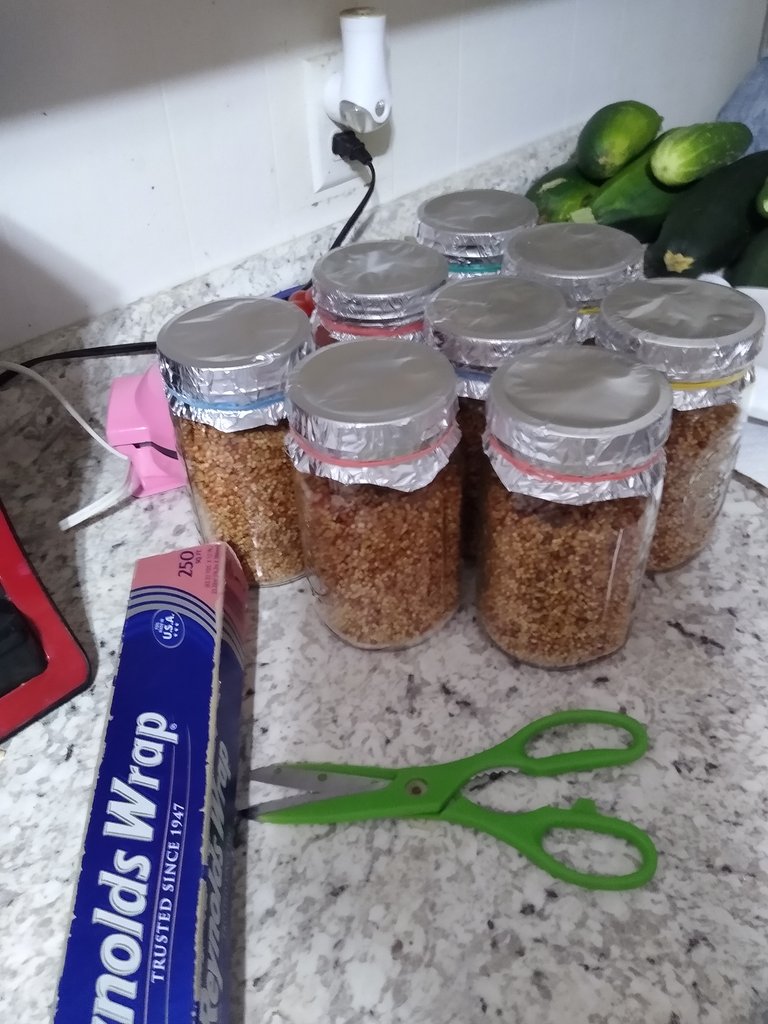 The next step was to get the Pressure Canner/Cooker ready. This PC is a 23 quart capacity that I bought from the local Runnings store for almost 150 dollars and it may be expensive but well worth the money as I do a lot of canning with my garden veggies. Make sure you have a separator in your pot and enough water that it doesn't boil dry. The reason you need a PC is because the boil alone doesn't get hot enough to sterilize the jars. You need pressure to get the right temperature. Once the pot gets to the right pressure at about 15psi you'll need to start a timer for 90 minutes. 👇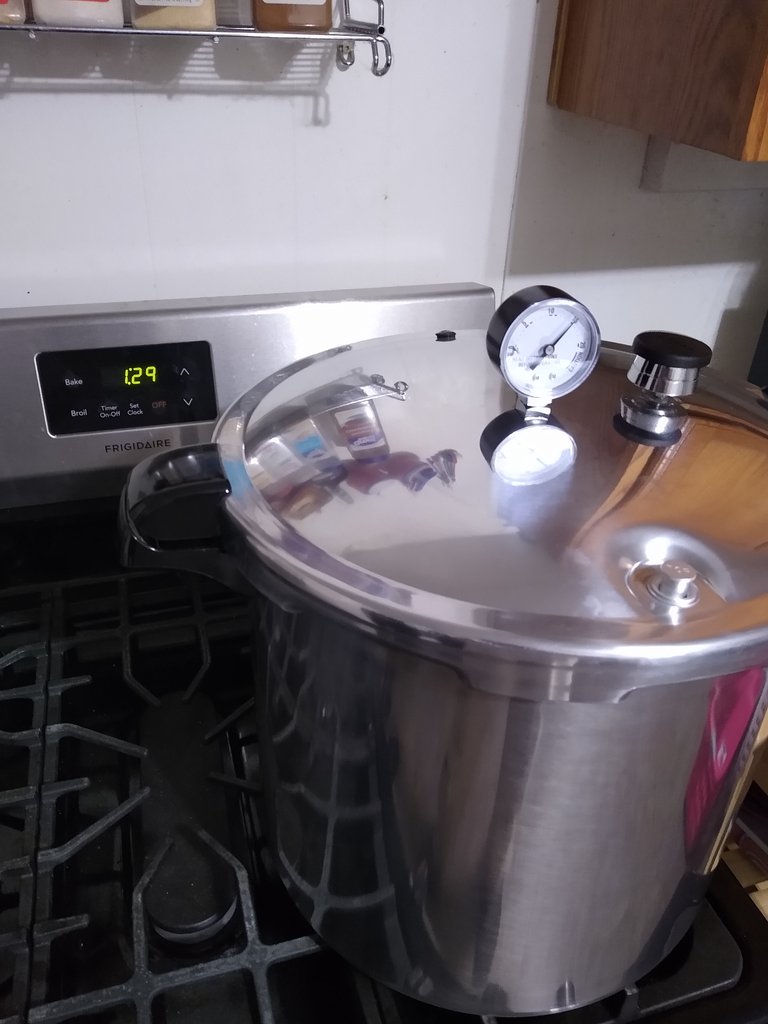 After the 90 minutes is done I let them sit to cool overnight because if you try to inoculate them while they're still hot you can kill the spores of the mushrooms before you even get started. The next steps is when you wanna be as sterile as you can be. The next day when the jars are cooled I take a shower and dress in pants and a long sleeve shirt to cover as much skin as I can. Gloves and a mask should be worn if you have them. I get my still air box which is just a see through tote with holes cut in one side to put my hands through and I clean the inside and out with isopropyl alcohol and wipe down with paper towels.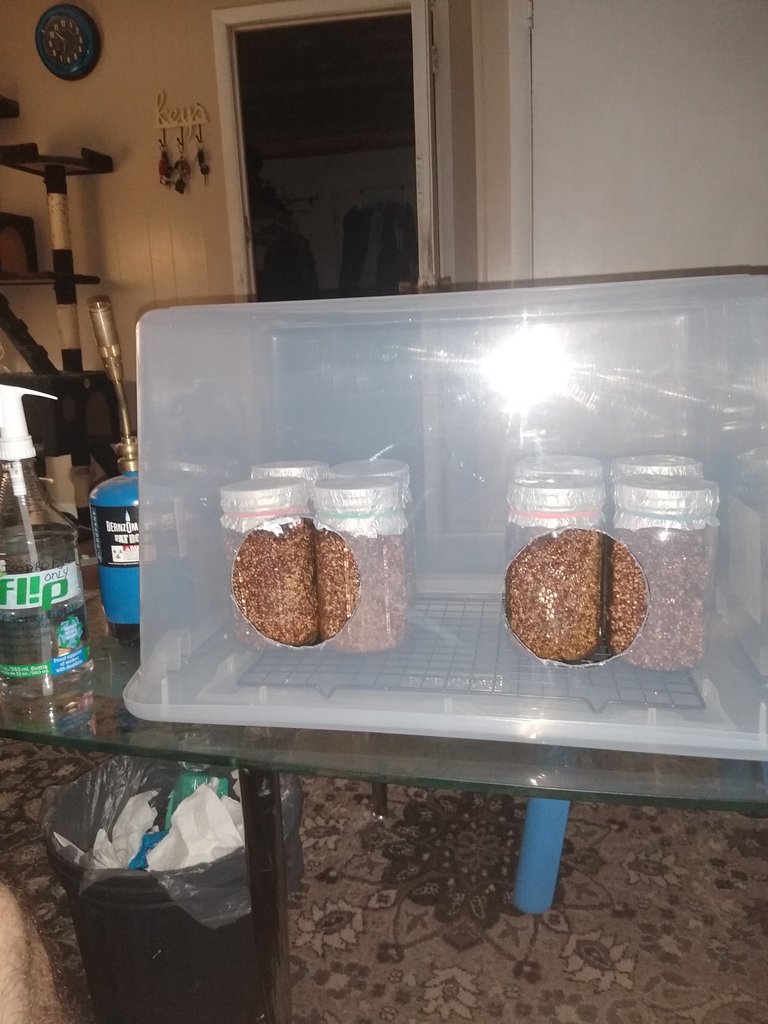 I put the sterilized jars inside the tote ☝️ and get the torch ready for flame sterilization of the syringe needle. After each time I inoculate a jar I flame sterilize the needle until it gets red hot. 👇


After all jars are inoculated.....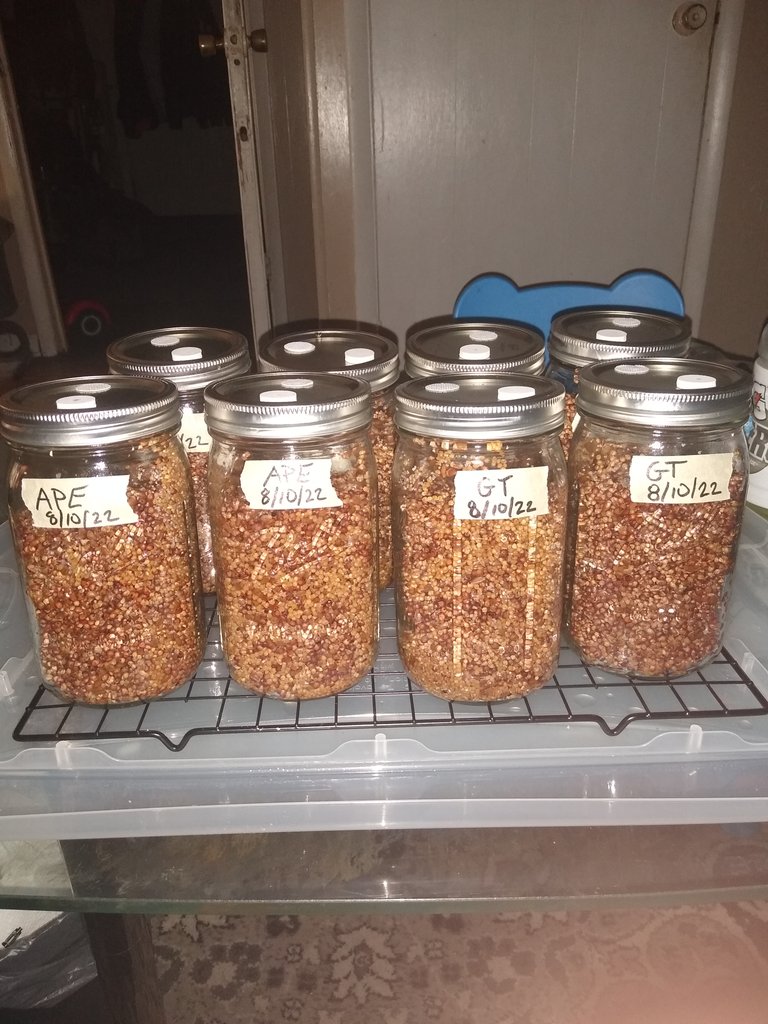 I label and date the jars with masking tape ☝️ to keep track of what they are and when they were done and then they go up in my cupboard until the first mix. 👇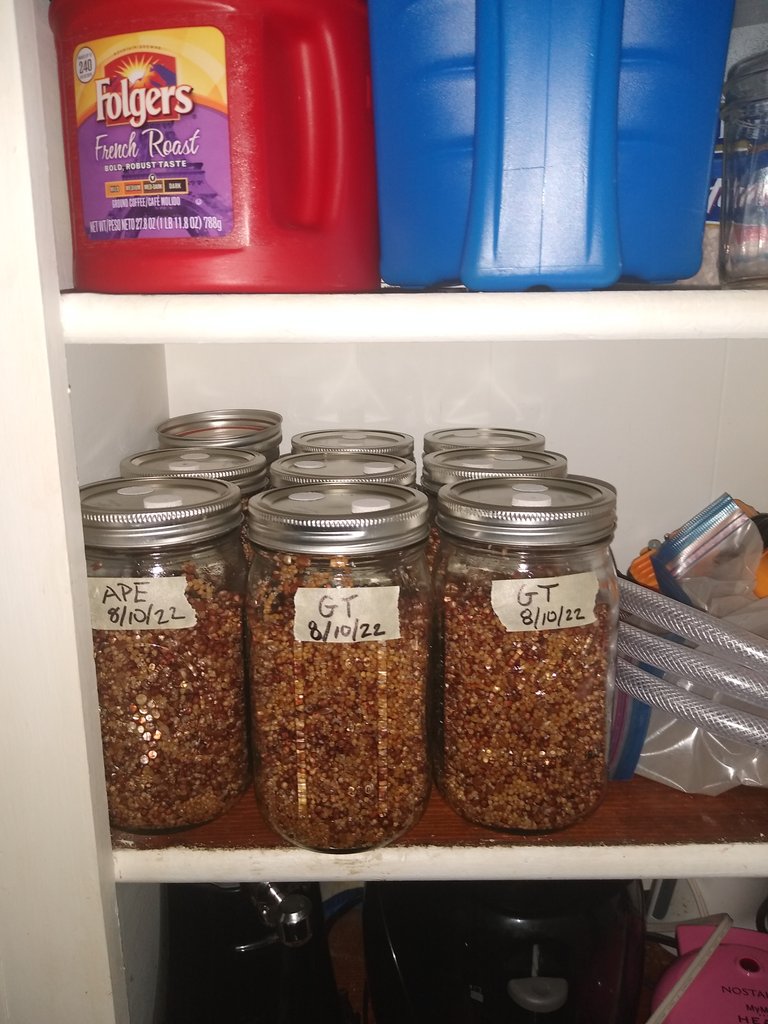 Now I just have to wait a week or two until the jars start to colonize 1/3 of the way. Part 2 will continue then. Until then, thank you for stopping by and look out for the next step.
Mush love everyone!