Exploring British Columbia's temperate rainforests and hunting down waterfalls, canyons and old growth trees is a big obsession of mine. There is no place I feel more at home at than in the forest. This is a collection of 5 images showcasing some of my favorite scenes and places, starting with some old growth trees!
"Grove of Time"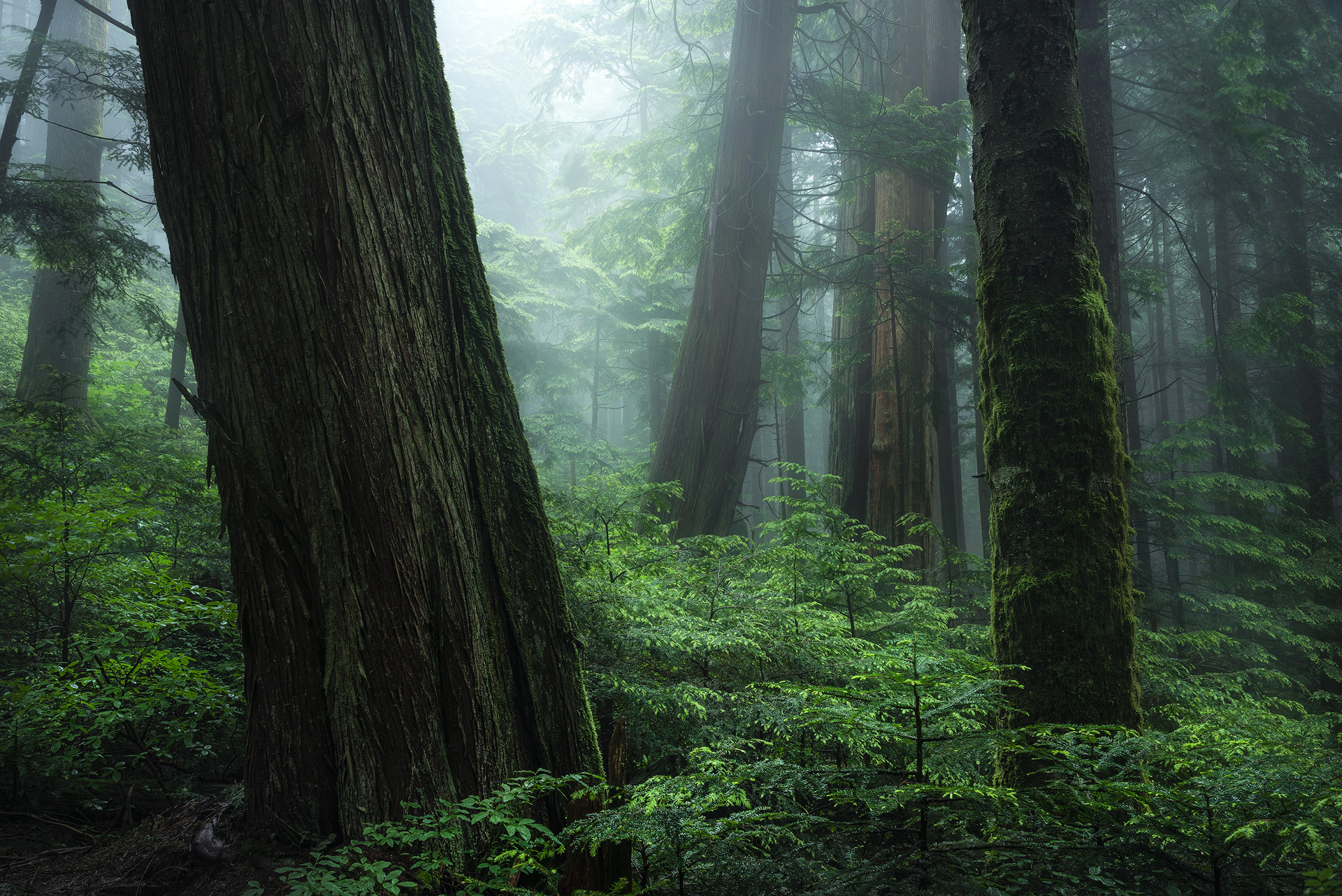 When it comes to old growth trees, I'm particularly obsessed with western red cedars. They're one of my favorite trees due to how large and gnarled they can grow. They dot the trails around Vancouver, although some are very well hidden and require some bushwhacking to find. All of the huge stumps that were left behind from the logging days give a tantalizing hint of what these forests were once like: lush and filled with ancient giants.
Despite it being July, which doesn't typically see much fog, the weather was looking promising for some great forest photography, so my friend and I hit the trails! We explored one section of the mountain for over 8 hours, searching for hidden old growth trees and secret waterfalls in the beautiful mist. We came across three prominent trees that I had never noticed before, and one of them is featured in this image. The farthest tree in this image was huge - we made our way up to it, but the immediate surroundings too messy and chaotic to work for an image. This more distanced view ended up being the best shot I got of it, with a bonus old growth cedar to the left of the big one!
I decided on the name "Grove of Time" for this image because several distinct generations of trees are featured. In the foreground is a younger western red cedar (immediate left), as well as some sapling trees with fresh needle growth. These fresh needle tips are quite distinct with their bright green, and if you take a moment to give them a sniff, you'll find that they smell like citrus! As you move farther into the image, the trees get older, with the one in the back left likely around 300 years old, and then the farthest probably around 450-500 years old! To me the name was also fitting because when conditions are so perfect and the environment so beautiful, time fades away into nothing.
Artistically documenting, preserving and raising awareness of these trees and forests is important to me. Although these particular trees are protected, they still won't live forever and many other old growth trees are being logged every day in British Columbia. Soon I will be returning to this area to revisit them - with luck they will have survived the huge storms we have recently faced in southwest BC.
"Pluviophile"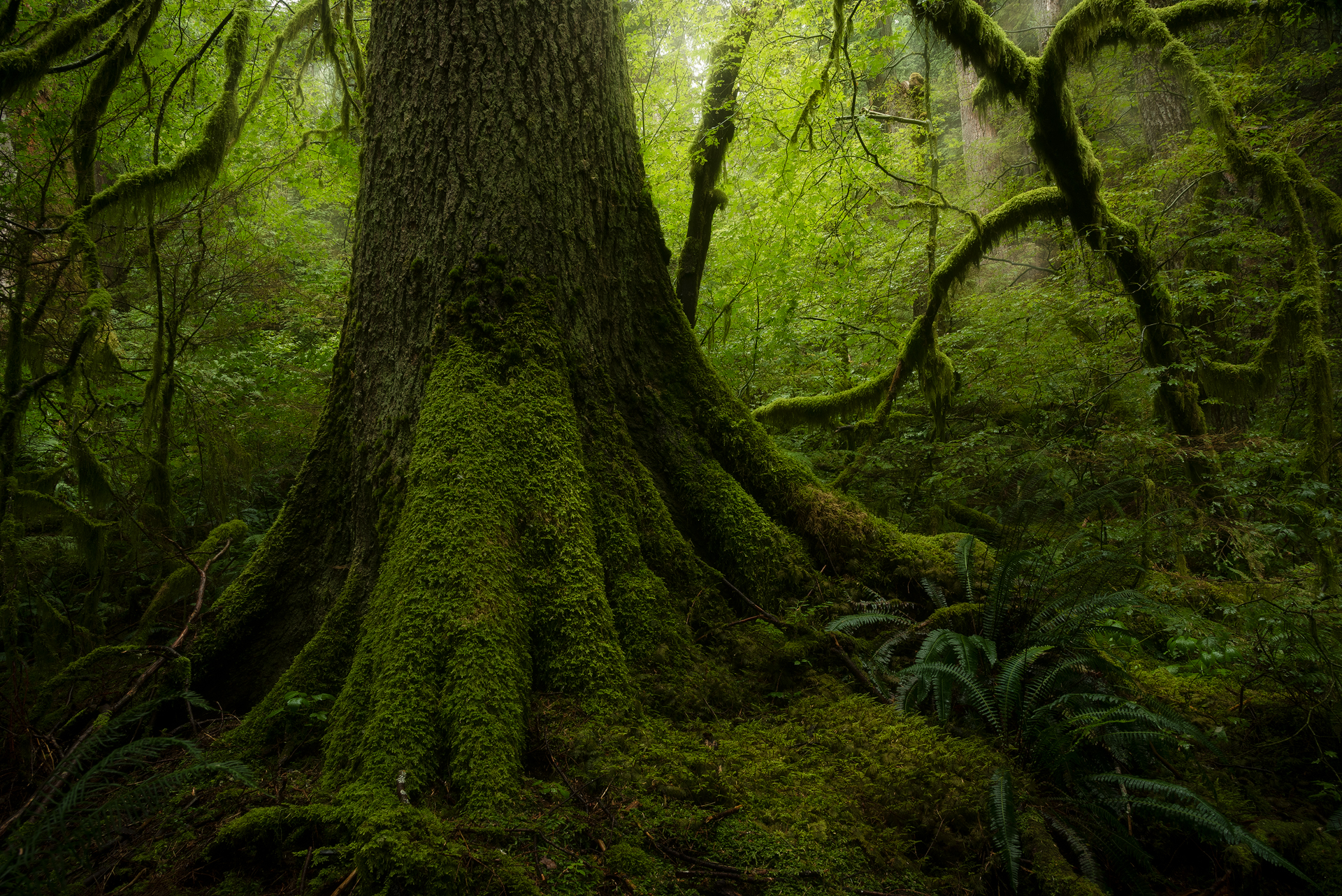 I love the rain, so to say that I missed it this summer is an understatement. The forest fires were awful and the heat was deadly, killing hundreds of people and burning down two towns. Vancouver was forecast to have its first rain in 52 days, so my friend Matt Jackisch and I knew we had to get into this forest. The forecast was on point - it turned out to be one of the rainiest August days on record here!
Our mission: Vancouver's only old growth forest. There are no trails to access it, just river crossing, boulder hopping and good old bushwhacking. But it's worth the effort - there is no forest in Vancouver more beautiful. The amount of green moss and ferns rivals the famous forest in Golden Ears Provincial... except this has lots of big, old Western red cedars and Douglas firs!
We spent about 9 hours exploring and shooting, visiting many old growth trees that are well hidden from the public's eye. We were soaked within the first hour. Yet for some reason it's an incredibly enjoyable and freeing experience - there is a very special feeling of comfort that arises when immersing yourself completely in the outdoors. The amount of green was almost overwhelming.
"Canyon Depths"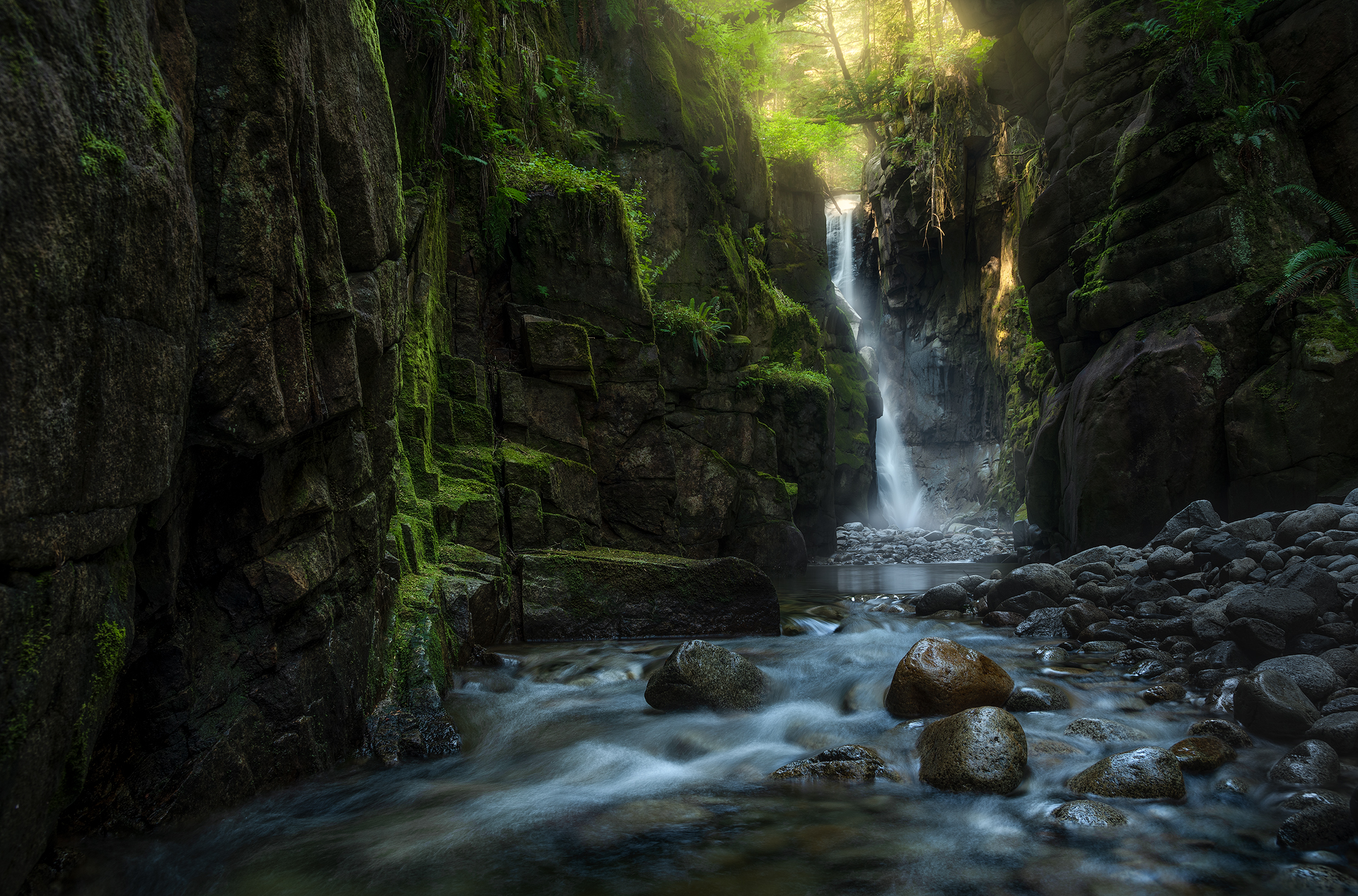 As you might be able to guess, I hate hot and dry weather. It's boring and uncomfortable. But, as with all things, there's a silver lining. There are many canyons in the rainforests around Vancouver and in the late summer, water levels are low enough to safely hike and wade through them! Not many people bother with the effort of exploring canyons, so it's quite special to see these places that receive few visitors.
I had been wanting to get down here for some time, so I invited my friend Blake Randall to see if we could safely reach the bottom of this waterfall. Prior to this day, I had only seen it from above. It's not possible to scramble down to it, and we're not canyoneers, so our only option was to hike to a lower access point in the canyon, and then hike our way up. It involved wading through beautiful pools, clambering over sketchy looking logjams and shuffling along a slippery ledge.
The reward was the beauty along the way, and then the stunning view of the waterfall at the end. In the canyon it gets chilly, even on a scorcher of a day, so I put on a light jacket and savored the view before getting to work. I attempted to make an image even closer to the waterfall than this, but the spray was so crazy that it was impossible to get anything usable. However, moving back proved to be quite nice as I could frame the waterfall with the awesome canyon walls, showing off their carved textures and greenery growing from them. The foreground waterfall worked perfectly for a leading line as well.
After taking some photos, we ate our lunch, savored the view one more time and made our way back out of the canyon. Another day, another great adventure!
"Rainforest Zen"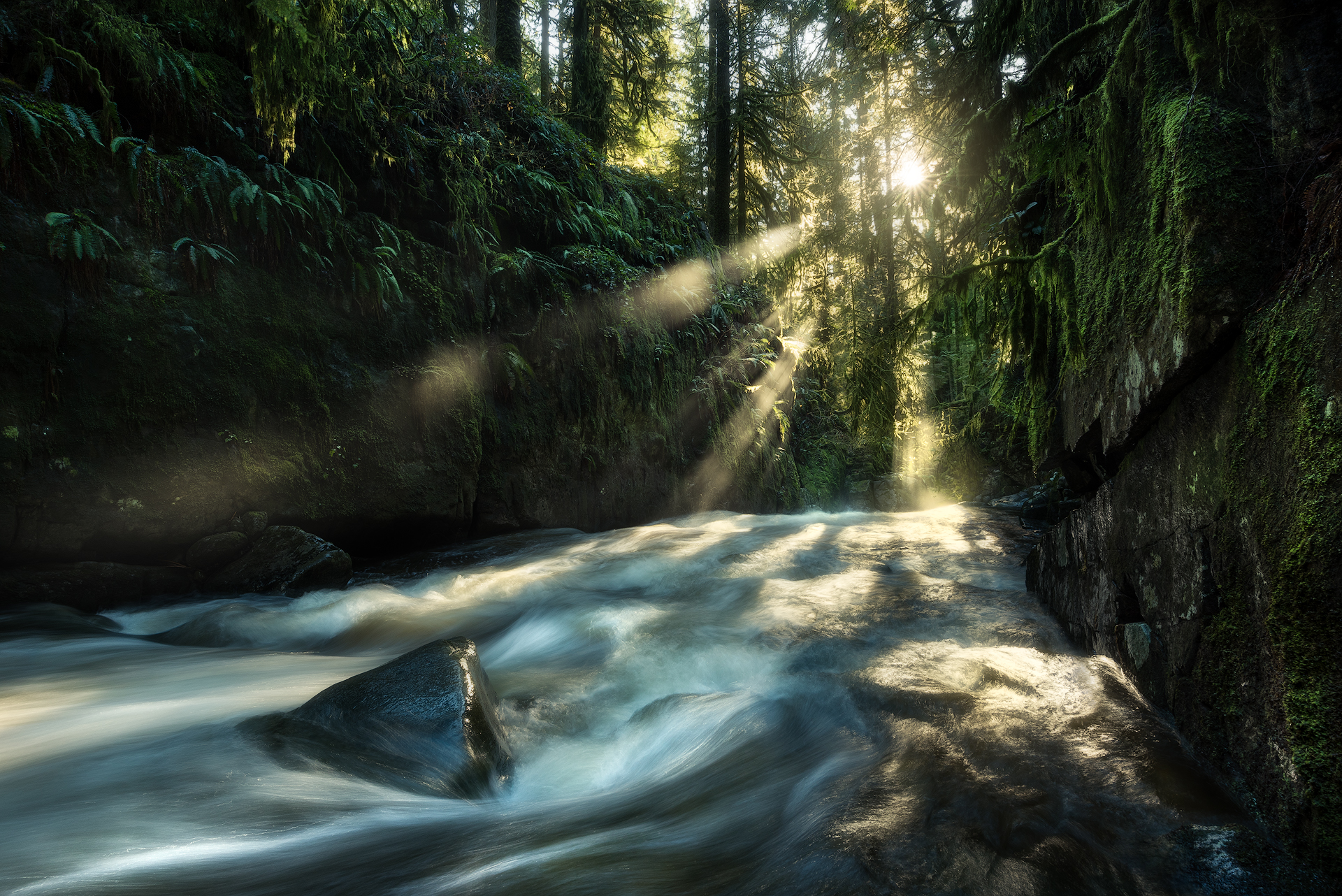 I don't think I could ever get bored of the local canyons. Conditions are always changing, from water flow to the light. During the spring, flow becomes much higher from the snowmelt, and this often leads to beautiful spray rays over the creek! I hadn't been expecting it to happen in this exact spot, I was just making my way along the side of the canyon when suddenly the rays started dancing. Taking care not to drop my pack into the water, I set up my tripod and camera as fast as I could. In the past I've had situations where I set up, and then the good light disappears and doesn't come back.
On this day, luck was with me and the dance of light continued. I took as many photos as possible to get the best rays and patterns in the water. My goal was to use the water as a leading line, and canyon walls as frames. In my opinion, leading lines and natural frames are the two strongest compositional elements that one can make use of!
"Mossy Paradise"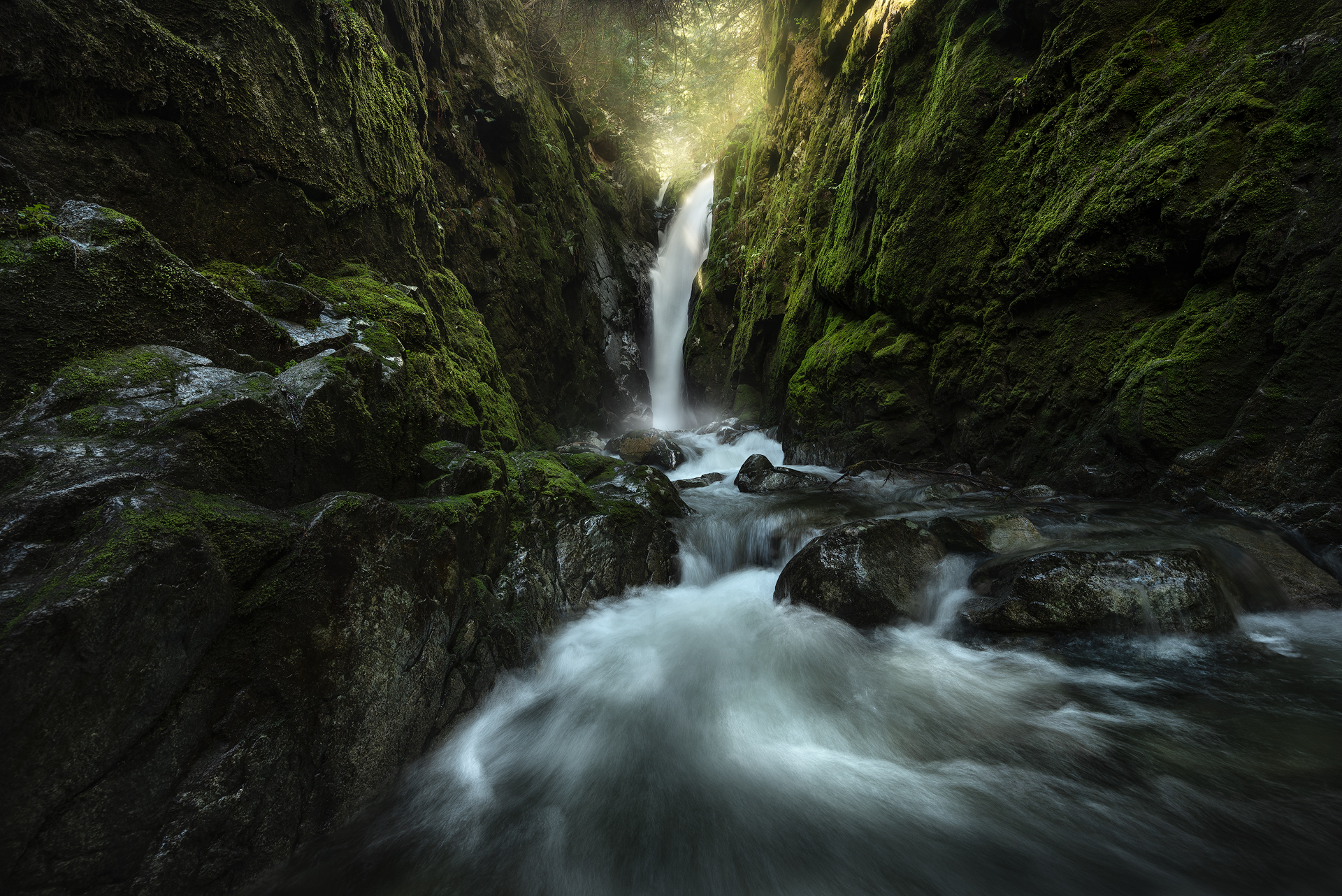 This is one of many secret waterfalls and canyons in the Vancouver area. It's located near another, more famous, waterfall but few know about it! While hiking one day, my friends accidentally stumbled upon it after wandering up hill to another creek. We clambered down a small 10ft cliff and stepped into the most green canyon I've ever seen. As with the previous image, I wanted to make heavy use of leading lines and framing. However, the texture and color was much more important here, particularly in the rocks and canyon walls. To help with the sense of depth and atmosphere, I emphasized the light in the background, making it soft, warm and dreamy. This serves to help contrast the cooler, harsher foreground.
It's truly incredible what you can find simply by wandering off the beaten path and exploring. Since my first visit here, I've come back many times, and discovered even more waterfalls farther upstream. To be explored during a future visit!
--
I hope you enjoyed this post. Please let me know your thoughts in the comments, and share any stories you might have of exploring!