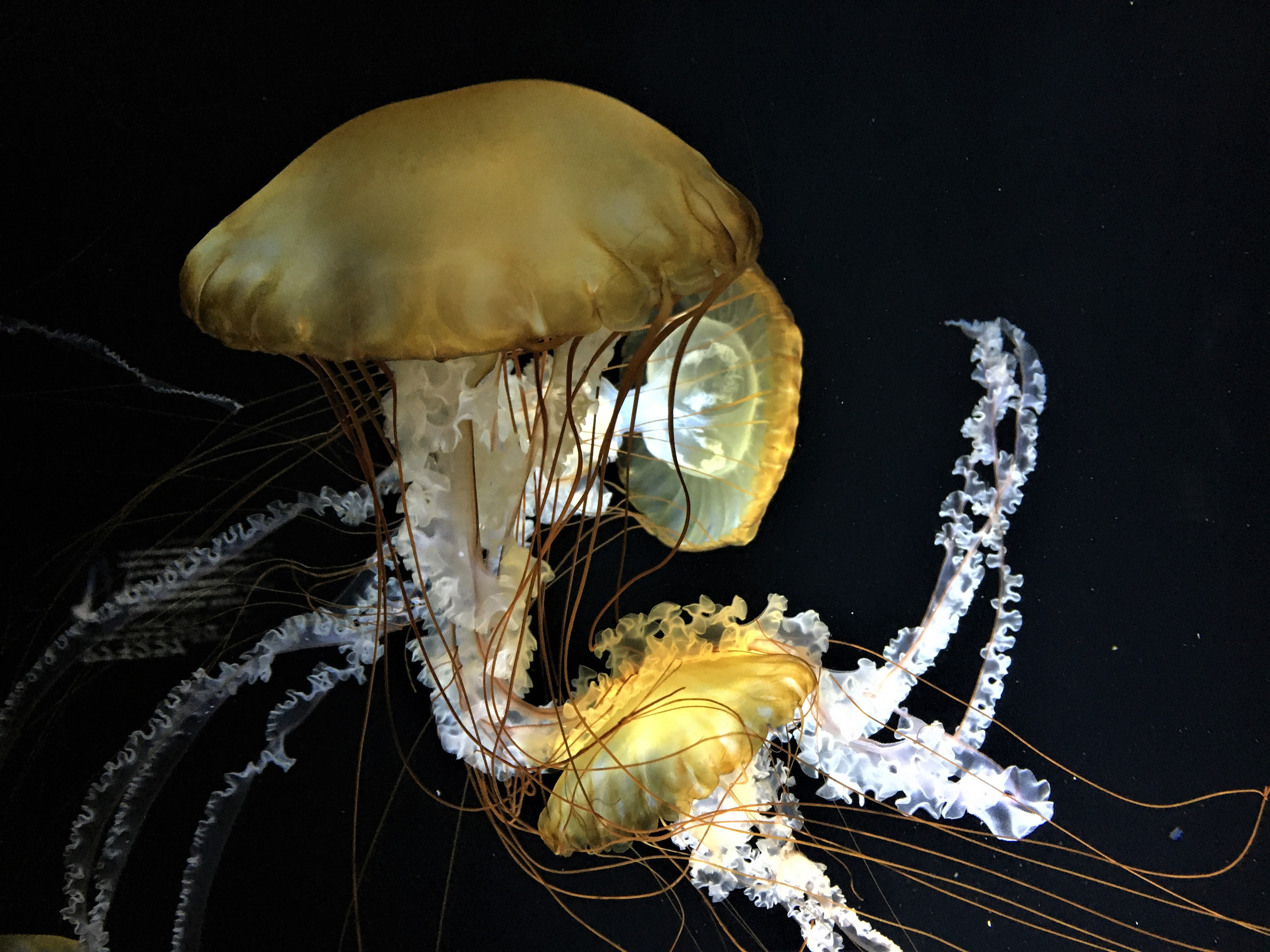 Recently, when we were finally on the road again, and as we drove along the coastal road, we suddenly decided to make another detour and "quickly" go to the jellyfish aquarium. Unfortunately, we had totally misjudged the time, but the detour was still worth it. The targeted 30 minutes turned into more than an hour's drive, but we didn't regret it at all.
This aquarium, located directly at the sea, houses a large selection of different jellyfish, which are really impressive an fascinating in their shape and color. In the sea would rather not meet these miraculous animals, my previous encounters with some members of the jellyfish family were usually a little painful and made me hesitate to stay in the water afterwards.
But behind thick glass windows I can admire and marvel at this little creature quietly and relaxed. No need to freak out and try to escape. It is really fantastic what Mother Nature has come up with to amaze us again.
The longer I look at those beautiful jellyfish, the happier I am to be standing ashore today. And also that it's not quite as warm in our corner of the country as it is further south, and that' why such amazing specimens are fortunately not quite as common in the sea outside our city. During the swimming season, you really only have to start worrying from mid-August. Before that, the sea seems to be free of jellyfish, so you can be sure that this year I will dive into the sea again.
And I will continue to observe jellyfish only behind a glass window and from a safe distance. This is the best way for both of us to enjoy it.
~ PEACE !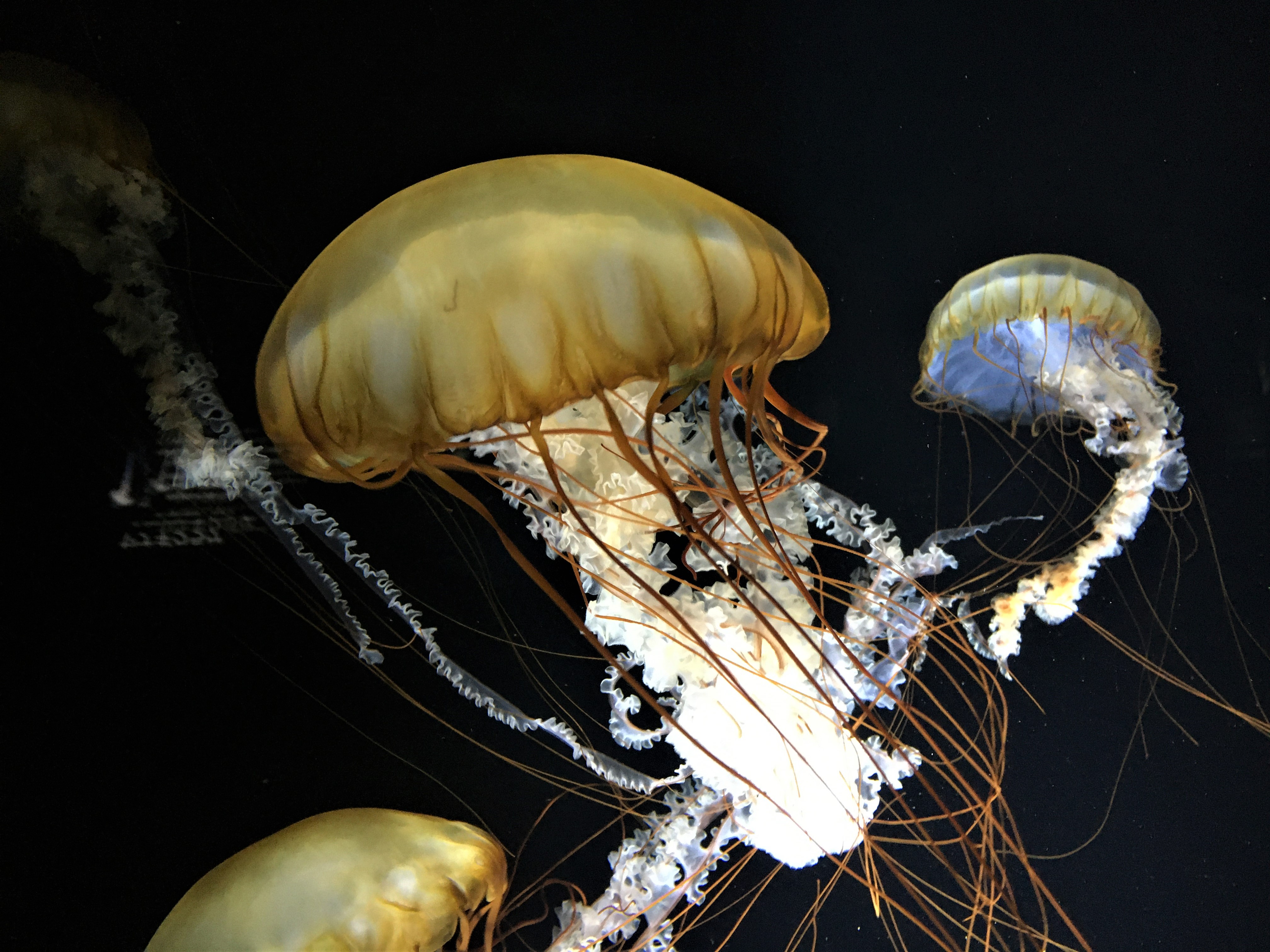 DEUTSCH
Vor kurzem waren wir endlich mal wieder unterwegs und hatten uns, als wir die Küstenstraße entlanggefahren sind, kurzfristig entschlossen, noch einen weiteren Abstecher zu machen und noch "schnell" zum Quallenaquarium zu fahren. Zeitlich hatten wir uns dabei leider total verschätzt, aber der Umweg hatte sich trotzdem gelohnt. Die angepeilten 30 Minuten wurden dann zu mehr als einer Stunde Fahrtweg, aber bereut haben wir es nicht.
Dieses direkt am Meer gelegene Aquarium beherbergt eine große Auswahl von verschiedensten Quallen, welche in ihrer Form und Farbe wirklich beeindrucken und begeistern können. Im Wasser möchte ich diese wundersamen Tieren lieber nicht treffen, meine bisherigen Begegnungen mit einigen Vertretern der Quallenfamilie war meist ein wenig schmerzhaft und hat mich danach zögern lassen, im Wasser zu bleiben.
Aber hinten dicken Glasscheiben kann man dieses Tierchen ganz in Ruhe bewundern und bestaunen. Es ist echt fantastisch, was Mutter Natur hier wieder hervor gezaubert hat, um uns Menschenkinder zu verblüffen.
Je länger ich mir diese Vertreter der Quallenfamilie anschaue, desto froher bin ich, heute hier an Land zu stehen. Und auch, dass es in unserer Ecke des Landes nicht ganz so warm ist, wie weiter im Süden und deshalb im Meer vor unserer Stadt solche tollen Exemplare zum Glück nicht ganz so häufig anzutreffen sind. Während der Schwimmsaison muss man sich eigentlich nur ab Mitte August anfangen, Sorgen zu machen. Zuvor scheint das Meer quallenfrei zu sein, so das ich mich auch in diesem Jahr wieder in die Fluten wagen werden.
Und Quallen beobachte ich dann weiterhin lieber hinter einer Glasscheibe und aus sicherem Abstand. So können wir das beide am besten genießen.
~ PEACE !