Very good morning to all friends, I hope you are super well and this is a week full of many good things for everyone, today I am very euphoric because days ago came one of my favorite months in the work and artistic area, halloween is here and this is my first session friends, I made it last night and also edited it in the early morning because I was very very anxious about this, I never plan 100% my ideas and I like to start with something and let everything flow, yesterday afternoon I told my mom that I wanted to eat pizza and well in the middle of the preparation when I was making the dough, that normally is left to rest so it can grow and when I was in the process I saw it and took it and kept some because I imagined that with that same dough I could use it to make some worms, in my mind it was going to be easy hahaha, but as I said, I wanted to let everything flow in the middle of the process and so it was, I made a kind of decomposing body, a corpse or a zombie now that I think about it hahaha, but I'm really very happy with the result friends, while I was editing it I was euphoric because I feel proud of how it turned out, here I leave part of the result.
Muy buen dia para todos amigos, espero estes super bien y esta sea una semana cargada de muchas cosas buenas para todos, el dia de hoy me encuentro muy eufórico porque hace dias llego uno de mis meses favoritos en el área laboral y lo artístico, halloween ya llegó y esta es mi primera sesion amigos, lo realice anoche mismo y edite tambien en la madrugada porque estaba muy muy ansioso de esto, nunca planifico al 100% mis ideas y me gusta más empezar con algo y dejar que todo vaya fluyendo, ayer por la tarde le dije a mi mamá que quería comer pizza y bueno en medio de la preparación cuando estaba haciendo la masa, esa normalmente se deja reposando para que crezca y cuando estaba en su proceso la vi y tome y guarde un poco porque me imagine que con esa misma masa me podría servir para hacer unos gusanos, en mi mente iba a ser facil jajaja, pero como les dije, quería dejar que todo fuese fluyendo en medio del proceso y asi fue, hice una especie de cuerpo en descomposición, un cadáver o un zombi ahora que lo pienso jajaja, pero de verdad que estoy muy muy conforme con el resultado amigos, mientras lo editaba estaba eufórico porque me siento orgulloso de como quedo, aca les dejo parte del resultado.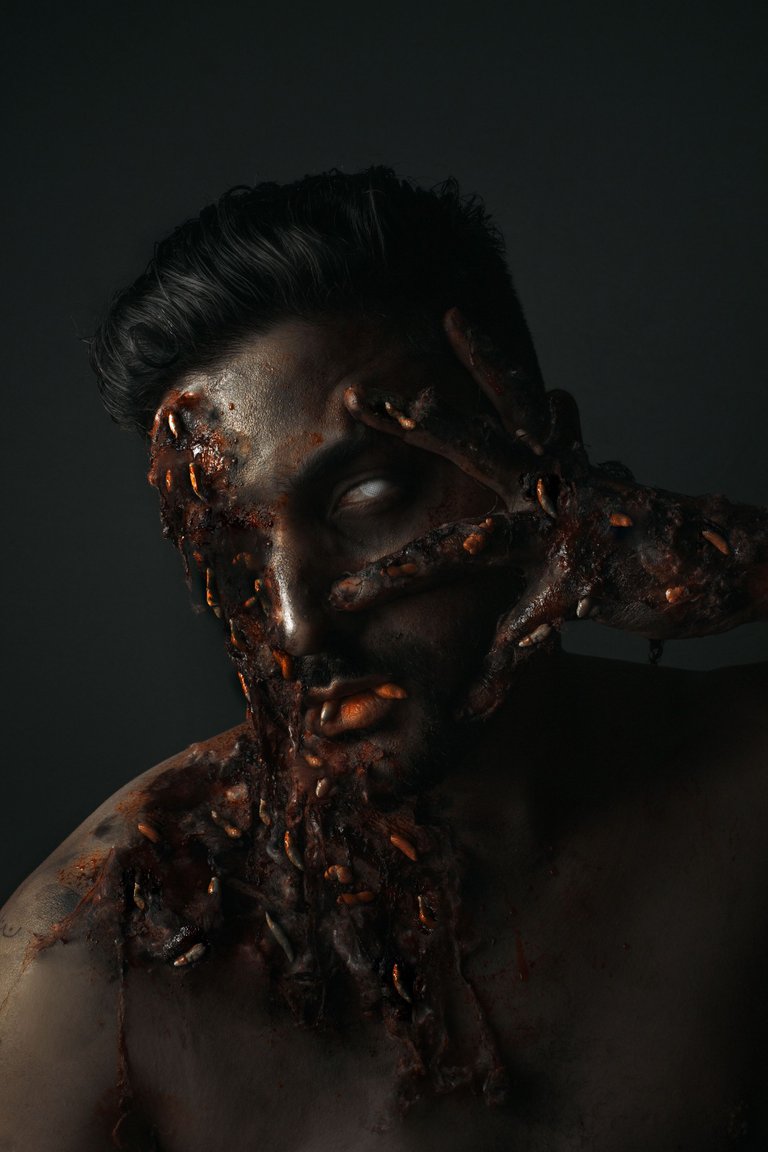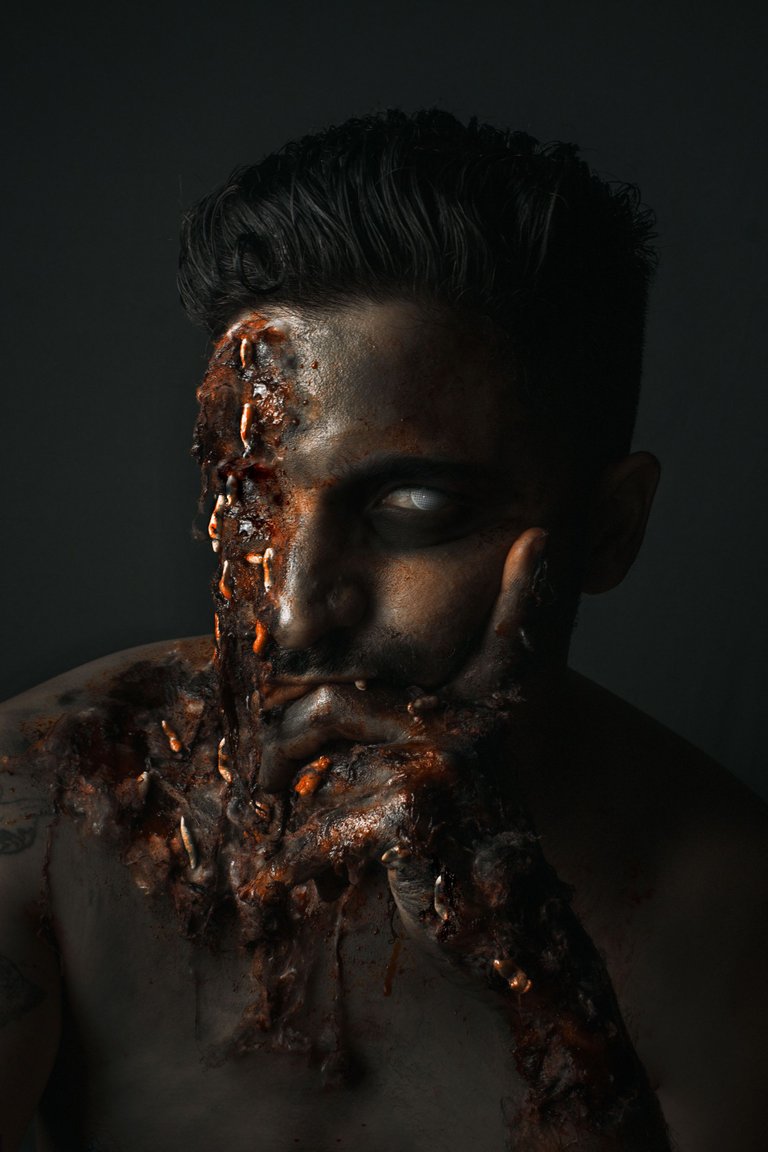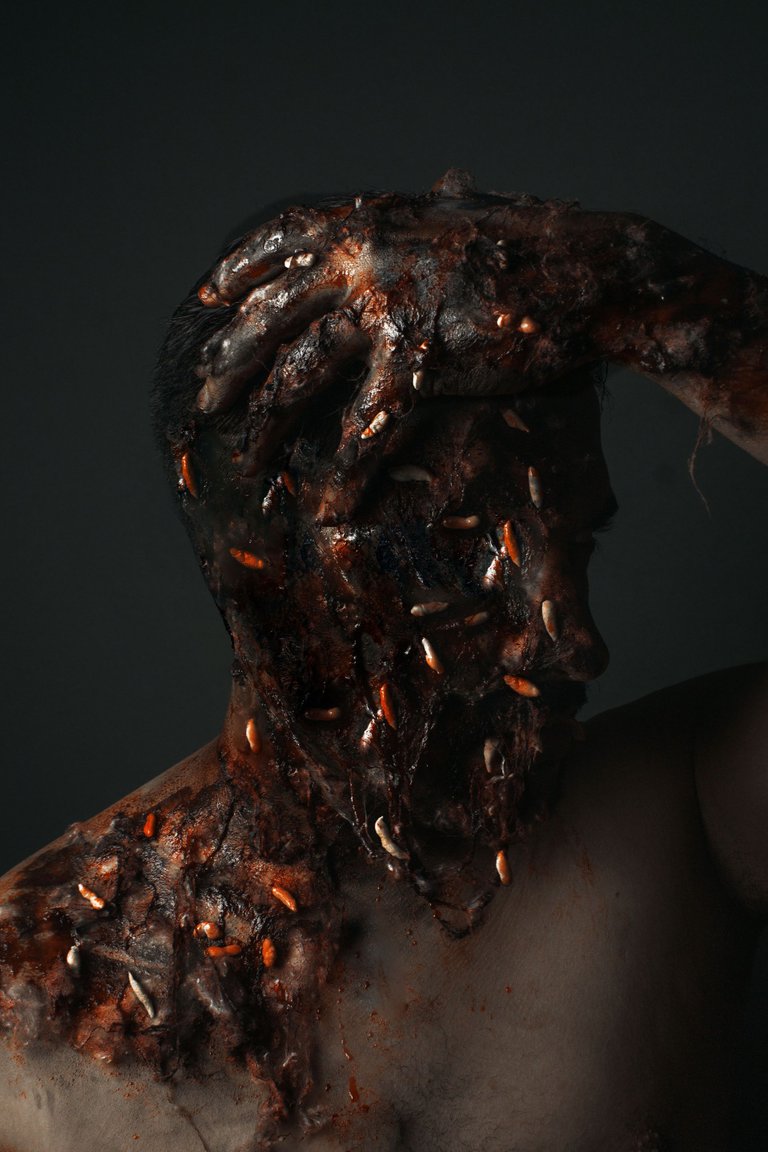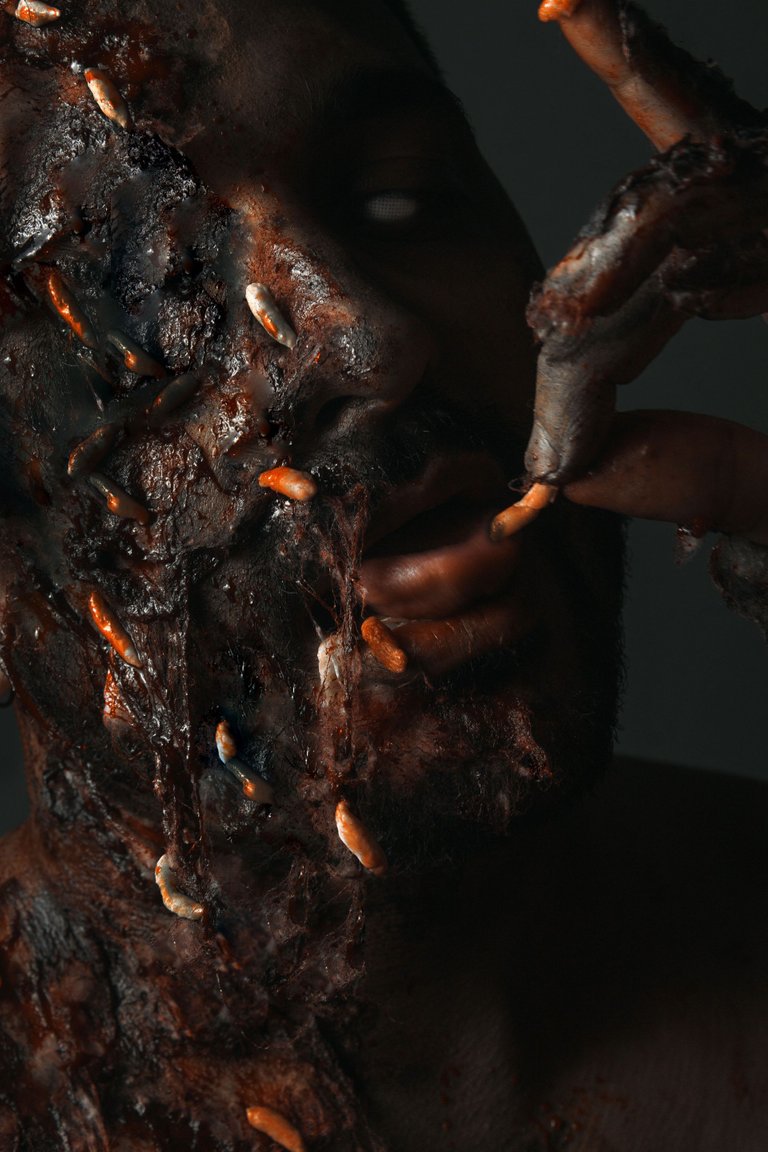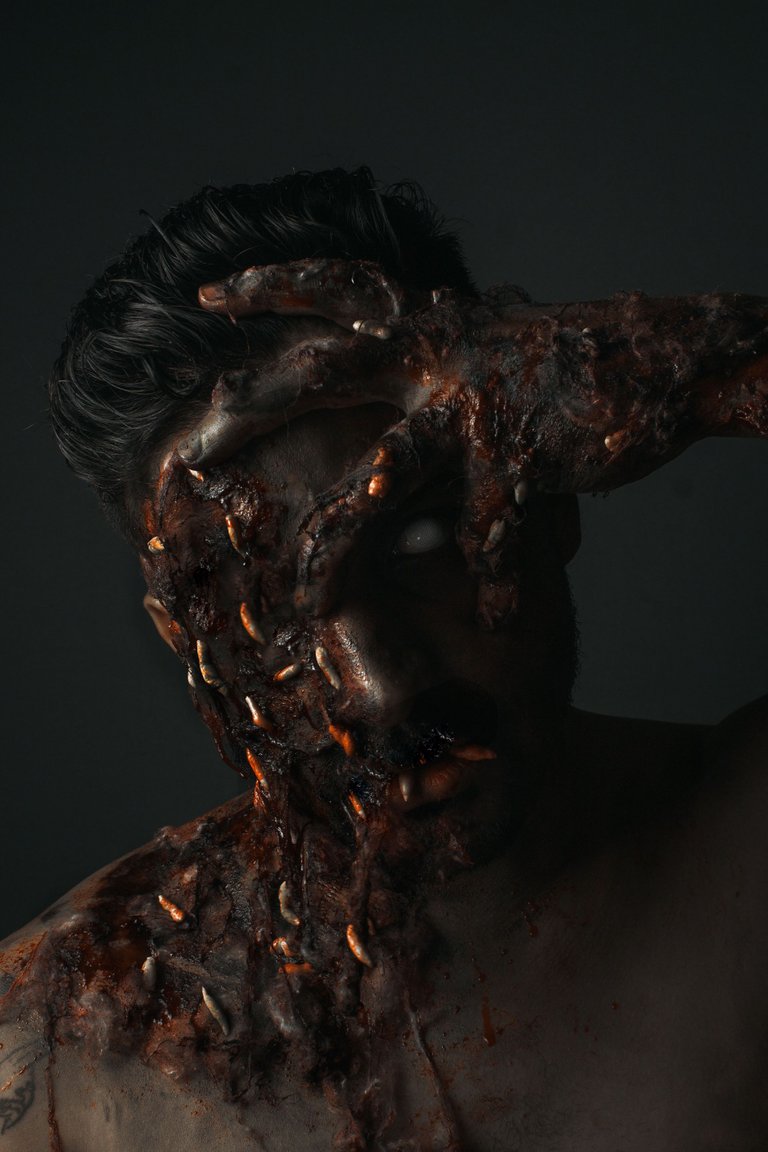 This is my third consecutive year that I make art with halloween, since then to be honest this year more than anything I feel the social pressure because I had not reached the first day of October and already people write me to ask me what I was going to do this year, or if I was going to do something and really there were several people who asked me for that and that for me is a social pressure at its maximum expression hahaha but deep down I know it's because people like my art, they like my work at this time and I love it too and to please them of course, my work in halloween I describe it more macabre, bloody, scary. . Because that's what halloween is for me, terror and many people don't like it either but well, to each his own art and this is mine.
Este es mi tercer año consecutivo que hago arte con el halloween, desde entonces para serles honesto este año más que todo siento la presión social porque no había llegado el primer dia de octubre y ya las personas me escriben para preguntarme qué iba a hacer este año, o si iba a hacer algo y de verdad fueron varias personas las que me preguntaban por eso y eso para mi es una presión social en su máxima expresión jajaja pero en el fondo se que es porque a las personas les gusta mi arte, les gusta mi trabajo en esta época y a mi me fascina tambien y complacerlos claro, mi trabajo en halloween lo describo más macabro, sangriento, tenebroso.. Porque eso es lo que es halloween para mi, terror y a muchas personas tampoco les gusta pero bueno, cada quien con su arte y esta es la mía.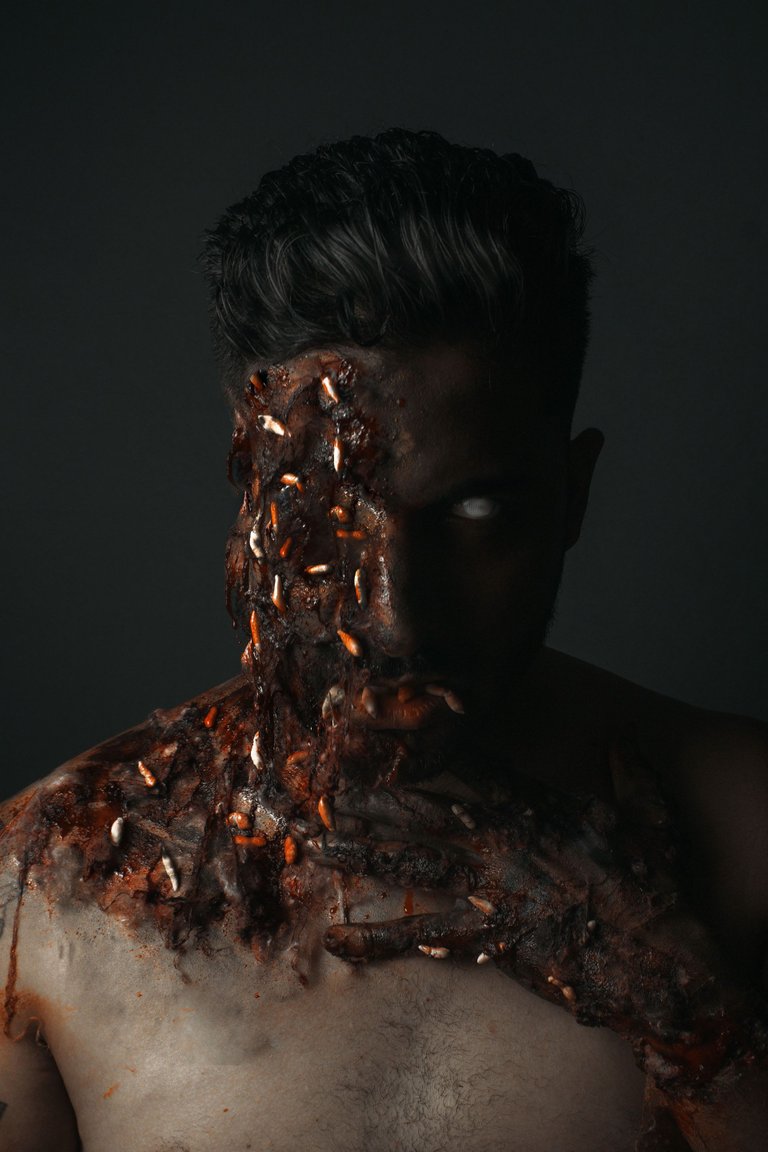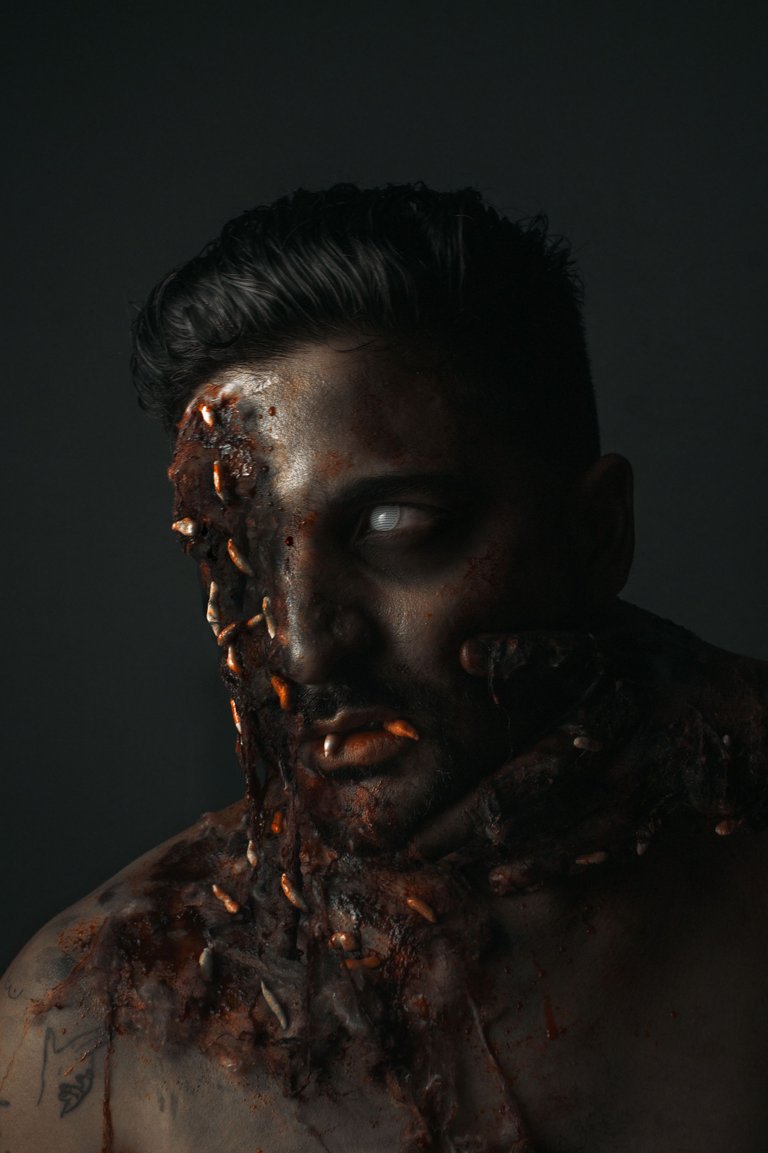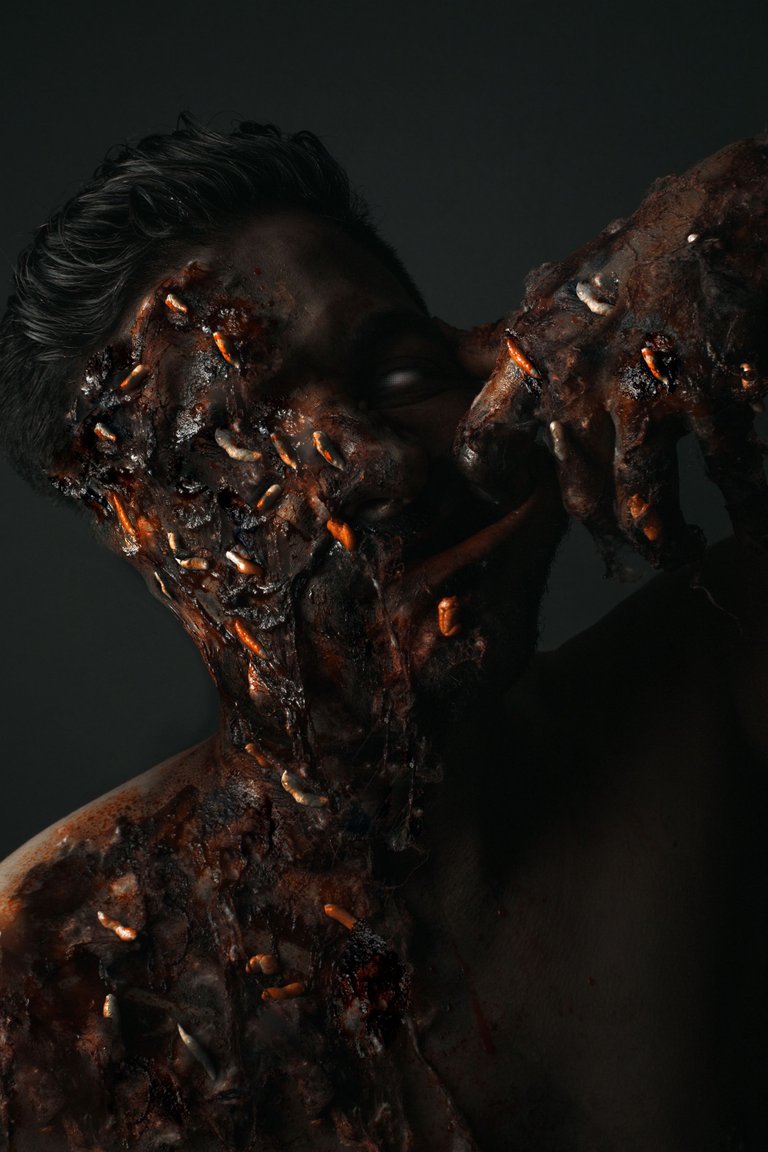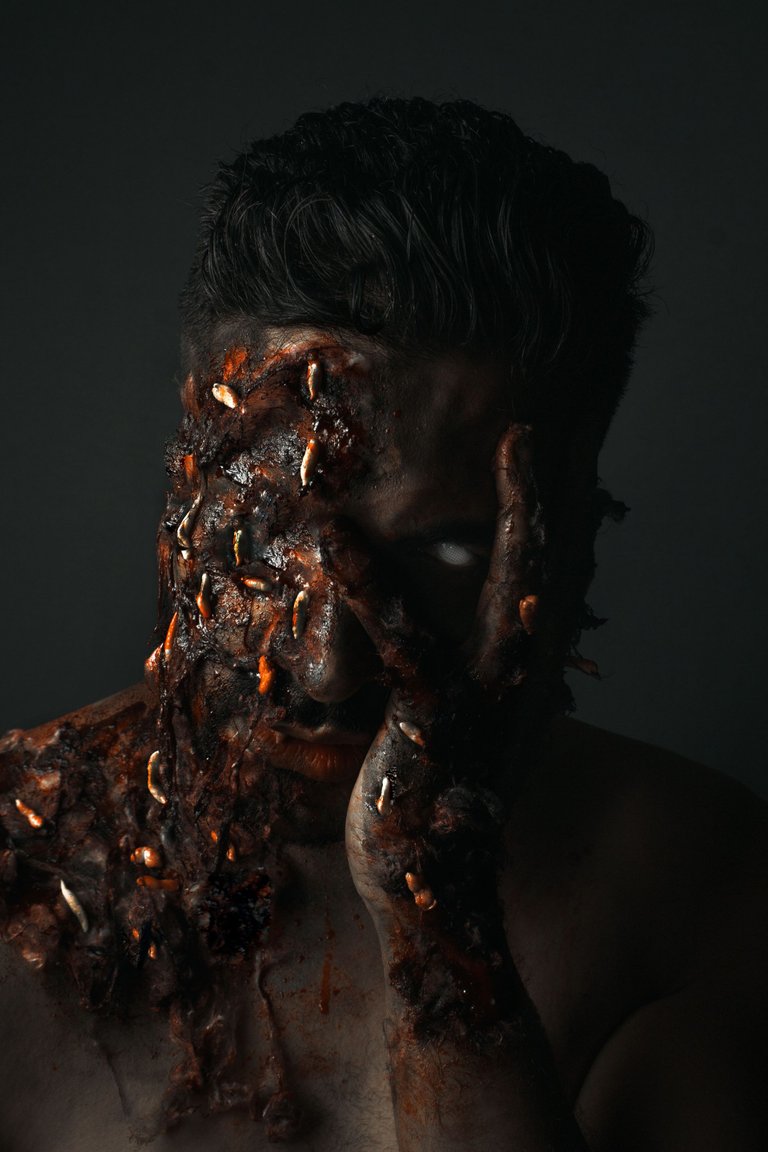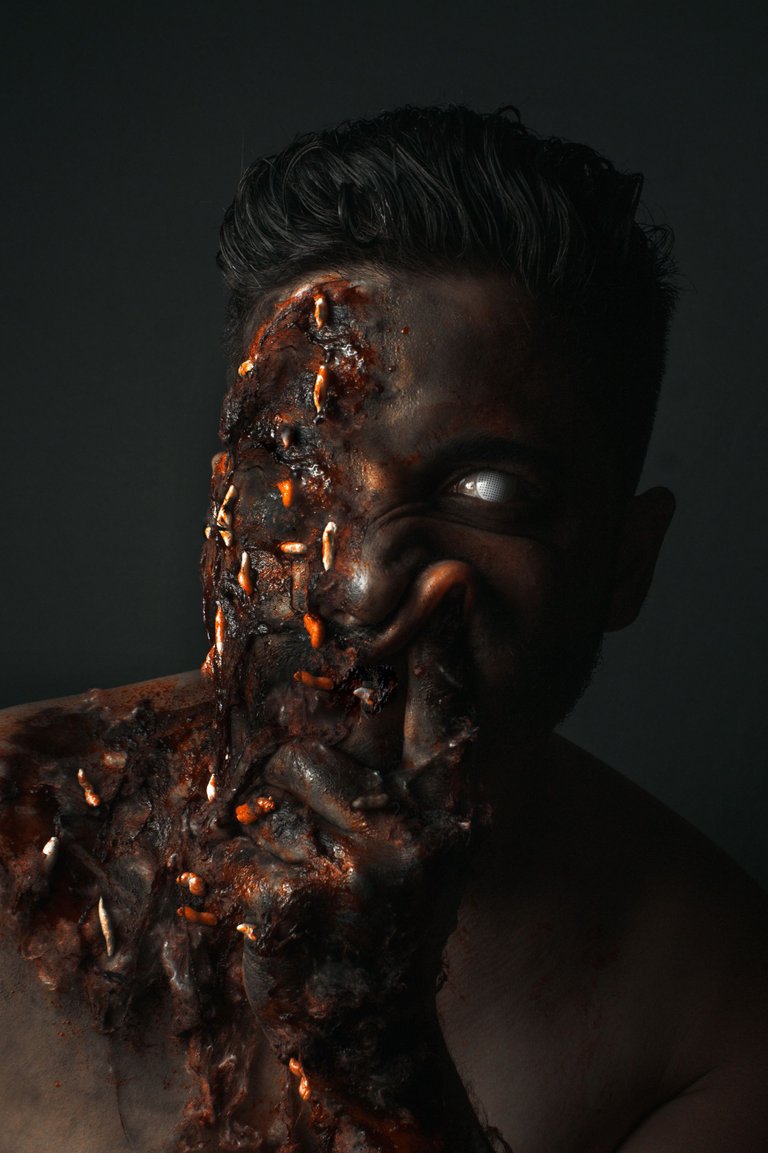 I missed also this self portrait session, I had some time without being my own model and well friends, as always here I leave you some videos of me eating my worms as part of what was the behind the camera and some photos of it before starting and when I finished with some selfies of my phone as it looked before editing and the camera, in real time then, it looked super friends, also as always I leave you some before and after editing which is one of my favorite parts because it is where everything flows more and is the creative part I also love this friends, I hope you really like it and if so let me know that I really want to read you, I send you lots of good vibes and the best of energies, see you in the next one.
Extrañaba tambien esta sesión de autorretratos, tenía algo de tiempo sin ser mi propio modelo y bueno amigos, como siempre aca les dejo unos videos comiendome mis gusanos como parte de lo que fue el detras de camara y unas fotos de la misma antes de empezar y cuando termine con unas selfies de mi telefono como se veía antes de editar y de la cámara, en tiempo real pues, se veia super amigos, tambien como siempre les dejo unos antes y después del revelado de edición lo cual es una de mis partes favoritas porque es donde todo más fluye y es la parte creativa tambien adoro esto amigos, espero les guste de verdad y si es asi dejenme saber que quiero leerlos de verdad, les envío muchísima buena vibra y la mejor de las energías, nos vemos en el próximo.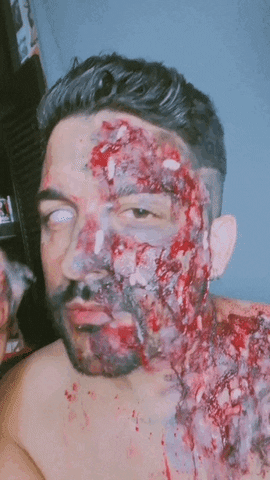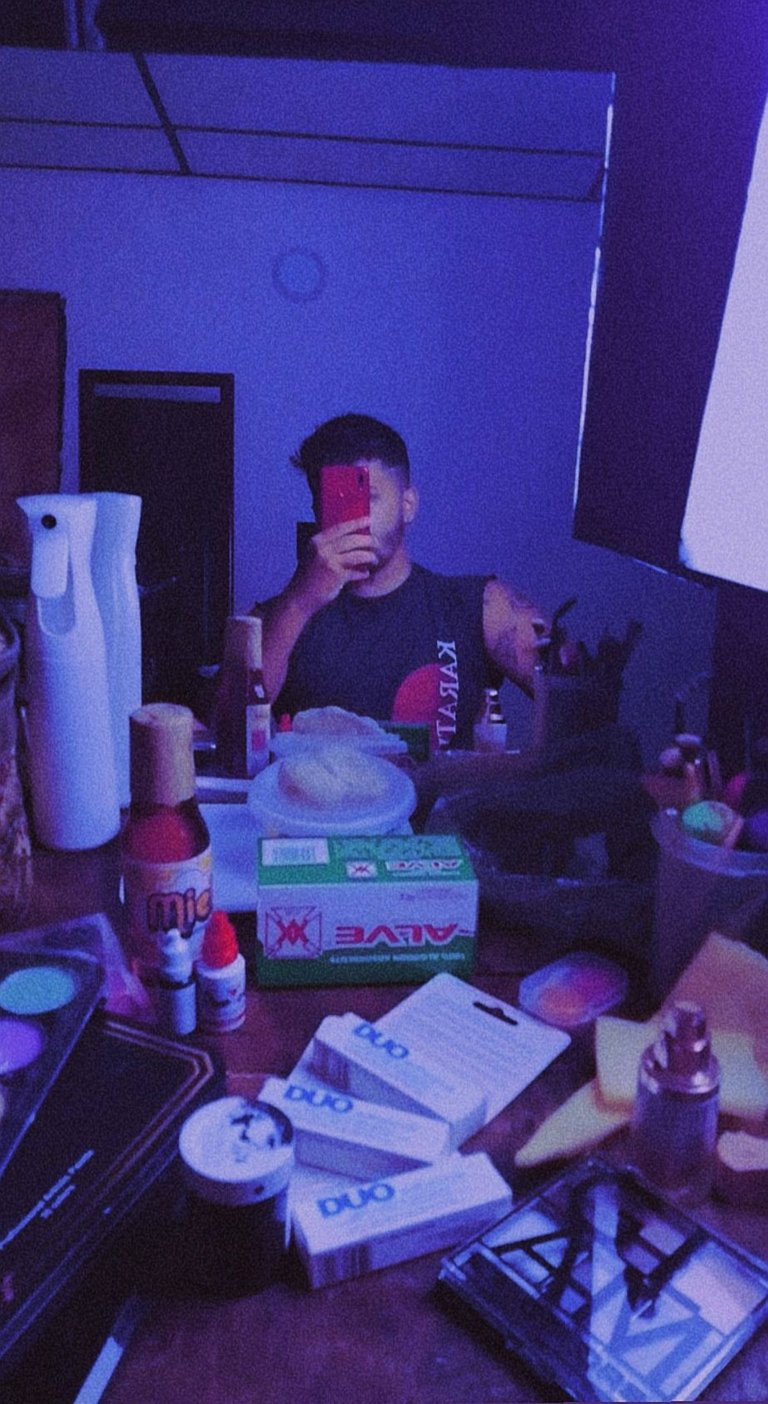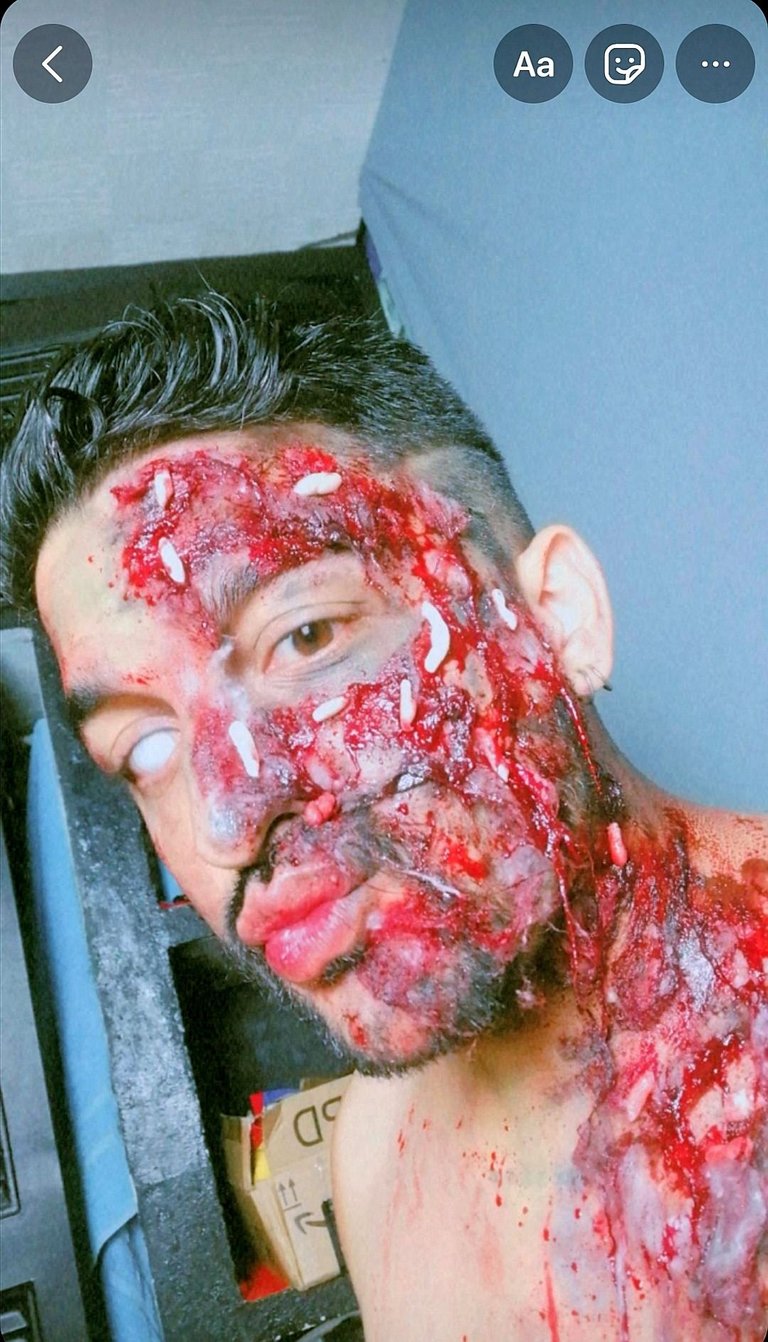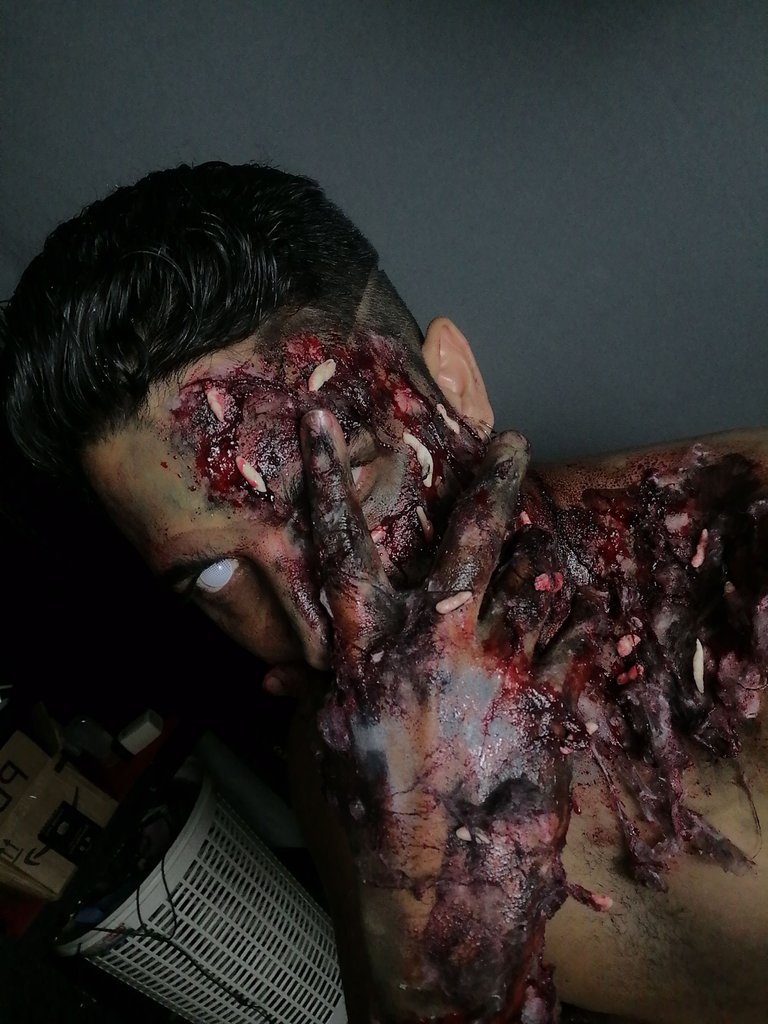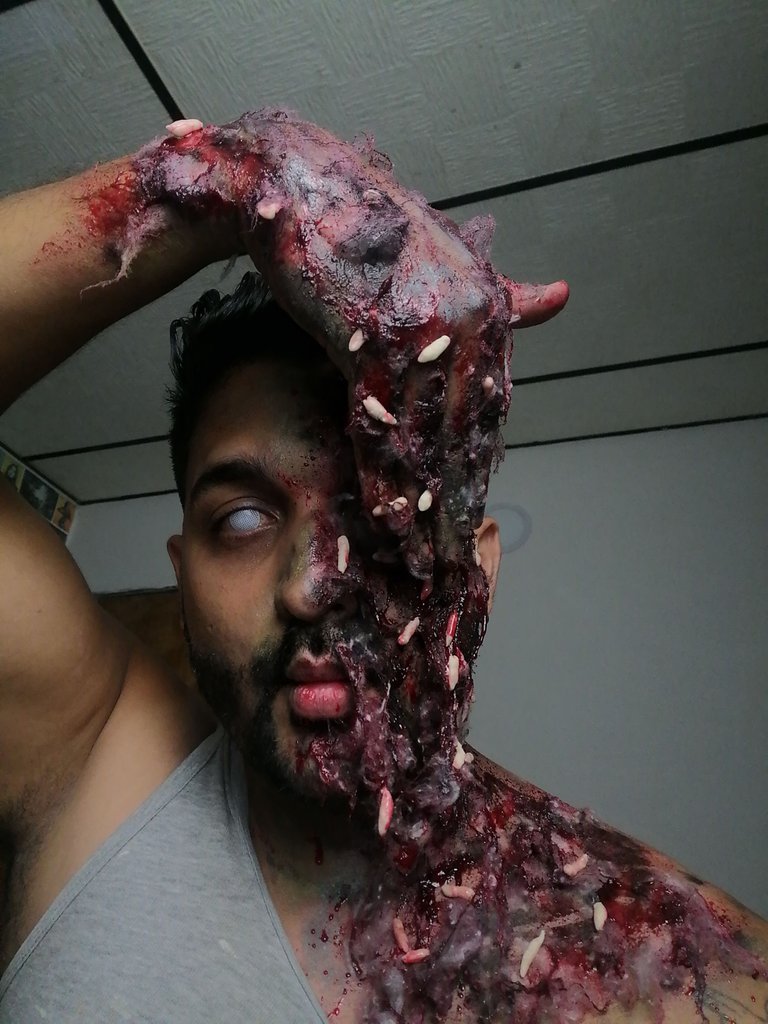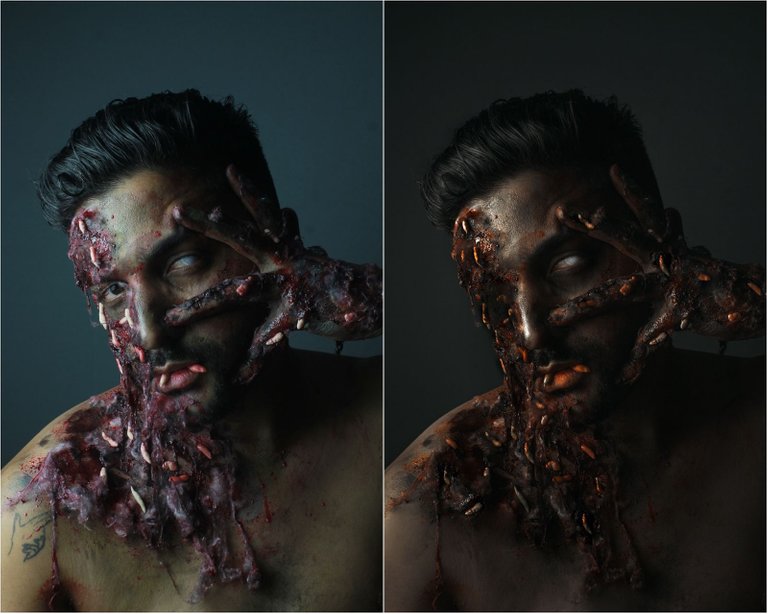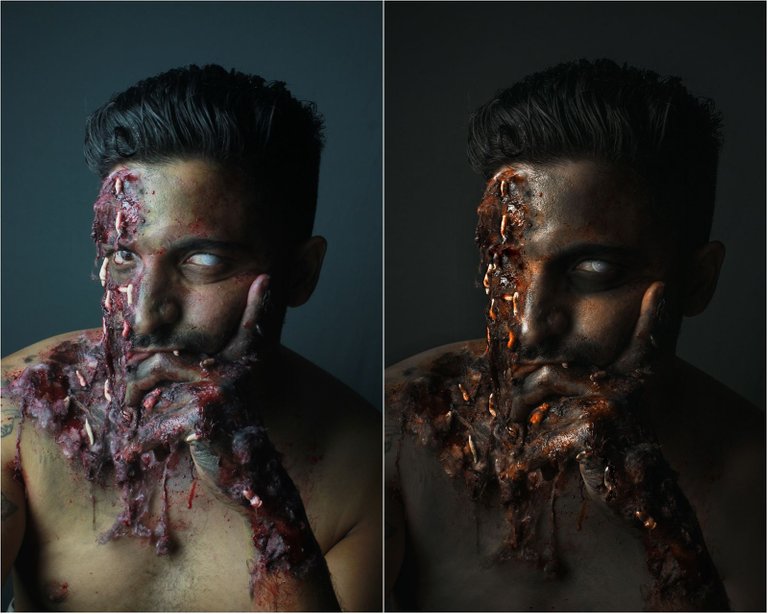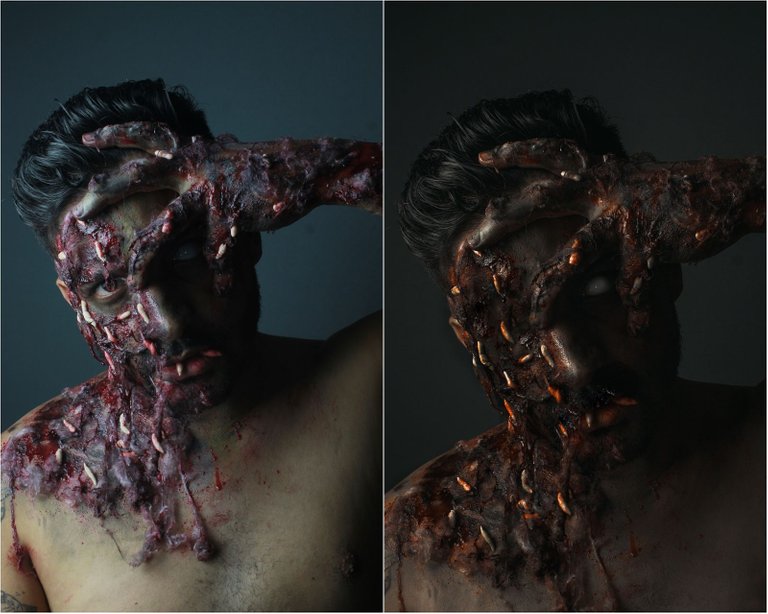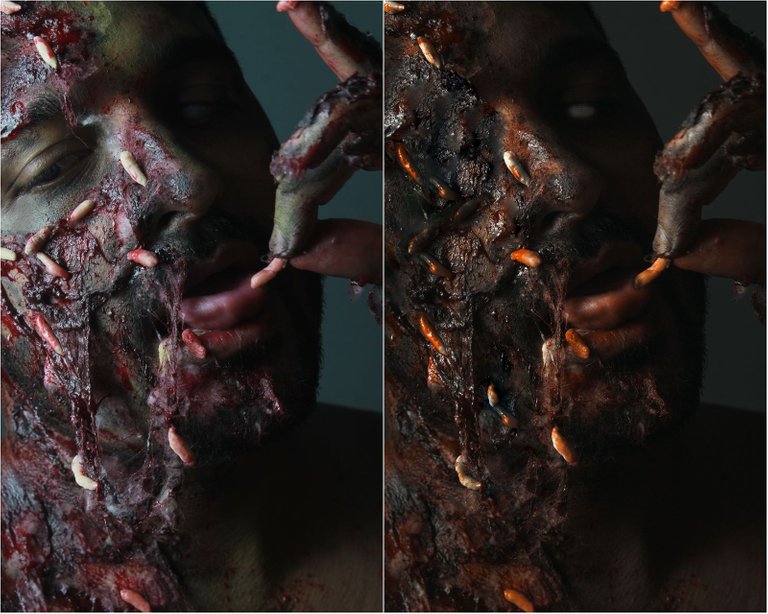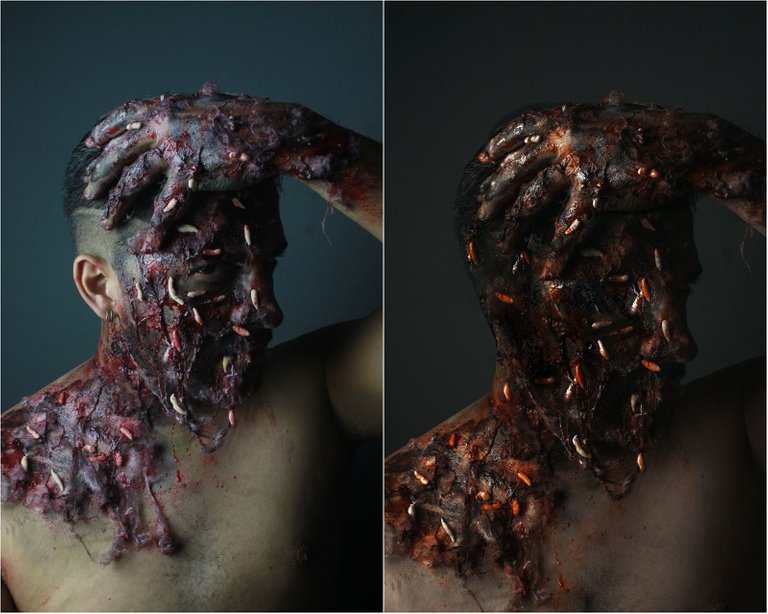 Account where I upload my personal content | Cuenta donde subo mi contenido personal
José Luna
Account where I upload my professional content | Cuenta donde subo mi contenido profesional
Jlphotographyart
Cámara utilizada en esta sesión: Canon EOS REBEL T3
Objetivo Canon: 18-55mm
Programa de edición: Adobe Photoshop CS6
Camera used in this session: Canon EOS REBEL T3
Canon Lens: 18-55mm
Editing program: Adobe Photoshop CS6