~ Autumn Adventure ~
We will pick up where we left off in my last post Show & Tell. We were really just getting started to share the images taken from the walk a couple of days ago. But before we begin, i wanted to say thank you for all the well-wishes about my health and having just recovered from a few weeks of covid. Thank you.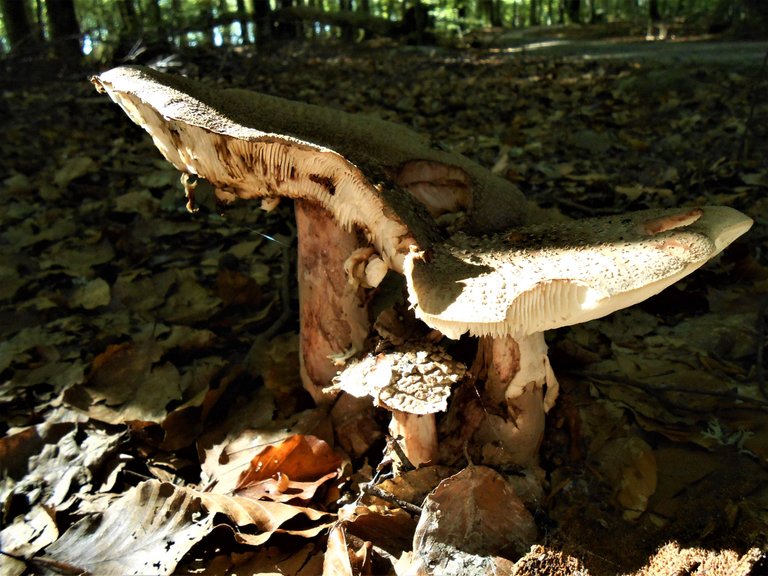 I didn't capture these first 3 shots as well as i would have liked. The sun was beaming down just on this cluster of shrooms. I couldn't get the settings right enough before i had to run and catch up (like usual)! There were snail slime trails all over these things. I could tell some slugs had been feasting!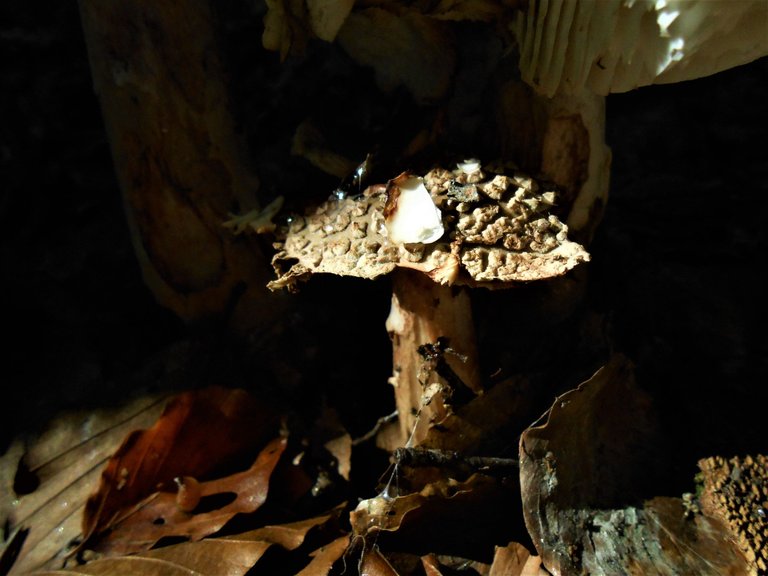 Overall, even with some minor adjustments in the editing these shots were too washed out in my opinion. But, the specimens were too cool to pass up sharing.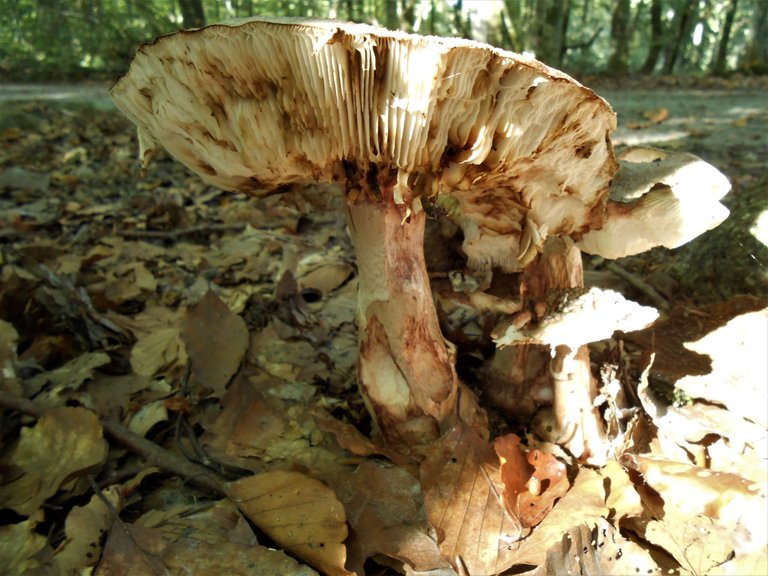 Then i came across this corpse of a fruiting body and now i know why. You can definitely see the glittering and translucent snail/slug trails.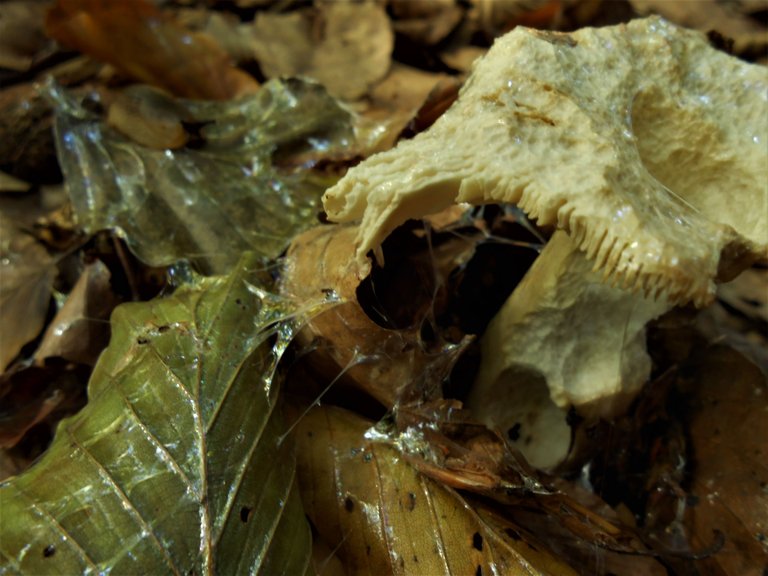 I didn't capture the trails in all their beautiful splendor but it wasn't for a lack of trying. Either way, you can tell there was definitely some munching going on recently.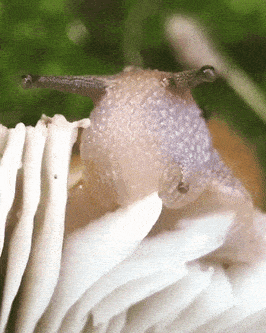 Hungry
---
~ Shedding Some Light ~
One of the great fundamental tips in photography, and in battle, is to shoot with the sun, or light-source, at your back. This way you get the fully illuminated subject matter in your frame and/or you don't have the light negatively affecting your lens and photos.
However, i did the opposite this day. In some shots like the ones above so far... it didn't always work out in my favor. But for other shots, like the ones in my last post and the photos you will see below... it worked quite well.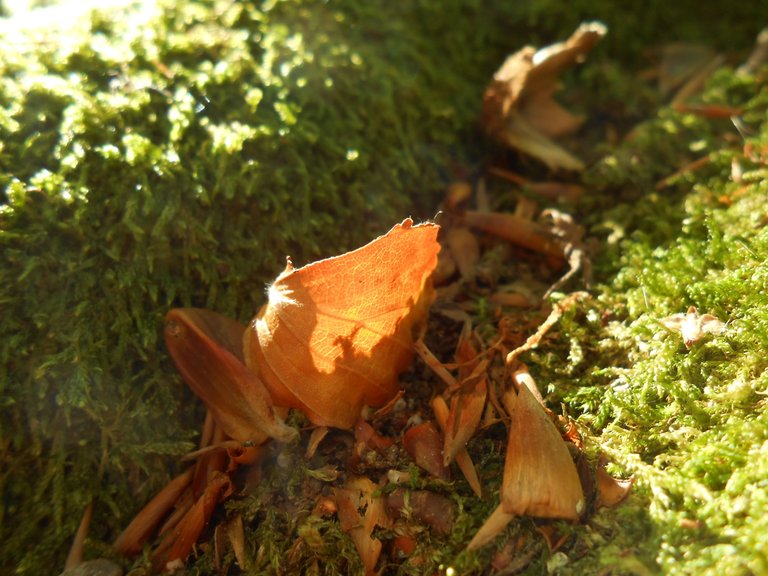 They usually say you have to know the rules before you can break them properly! hahaha You will see some more with this approach in the lighting later on. Since there was so much of a canopy on our walk i decided to look for where the light dappled through and to try and shoot only in those illuminated spots. This made for some excellent contrasts.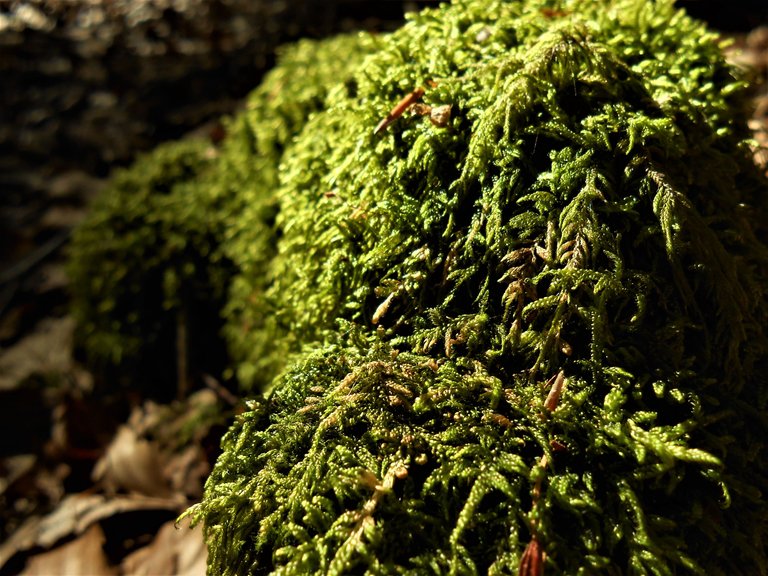 The next photo isn't my favorite shot but i wanted to get the mushroom at the top in frame with the leaf at the bottom that was almost the exact same color. These mushrooms usually stick out because of their creamy white color.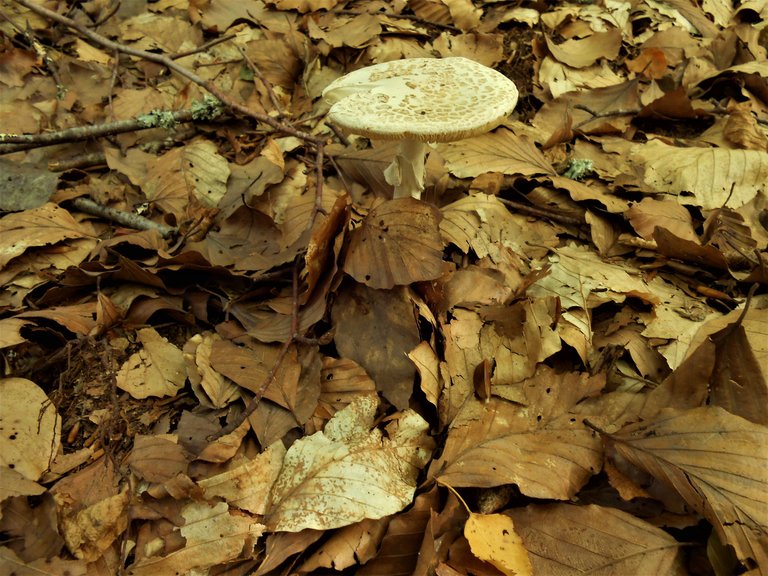 But apparently this time of year they blend right in with some of the more aged fallen leaves. As the leaves decentigrate and lose even more of their color... this pale cream color matches right up with the fungus.
To an unsuspecting eye or just from a peripheal glance, this mushroom would be assumed as just another of the fallen leaves. It would have been super easy to miss this but i'm glad i didn't.
I have often wondered how a mushroom could mirror a particular kind of leaf as camoflauge when it has no eyes or way of percieving color, as far as i am aware. I have felt and thought the same about plants as well.
It makes sense that an animal or insect would see something in their environment and then adapt over time to have a great chance of successfully surviving. Many insects mimic other animals and plants to adapt to their environments... but i'm always fascinated when it happens in reverse.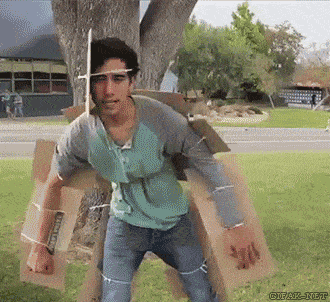 Hidden In Plain Sight
Plants don't have eyes and can't see, so how would it know to mimic a color of an animal or insect? How could a mushroom know which leaf to look like compared to the others to know which one to successfully emulate? I guess it's kind of like the chicken or the egg question.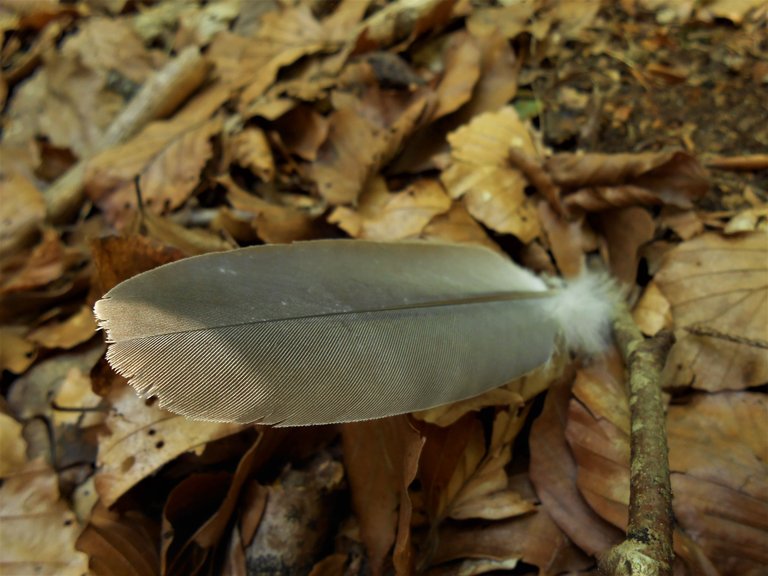 I found many feathers on this walk. So, eventually, i started to shoot them too. I used to collect all the good feathers a came upon. Since i never figured out what to do with them i quit that a while ago. I did carve a few into some quill pens. That was cool. I posted about it a few years ago here on the chain.
---
~ The Nature of Things ~
This time of year is usually my favorite. The Fall feelings when the change comes is something that takes me all the way back to childhood. The warm tones when the leaves turn, the cooler breeze that distinctly ushers in the season, and the slow descent into Winter all give me a sense of nostalgia. The fact it happens every year is pretty amazing.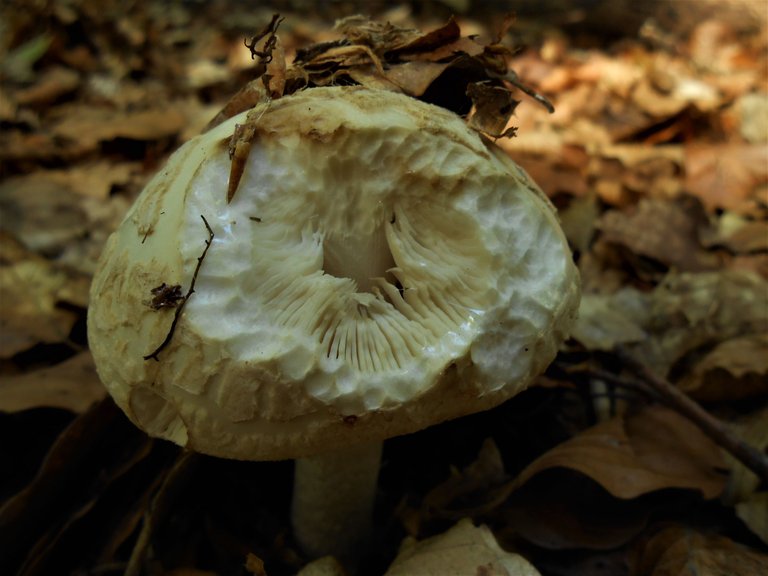 I wouldn't call it the opposite of Spring but more or less the climax of it. To see how things transition in nature is a beautiful thing to be aware of and it's helped me to more fully appreciate it as i get older. How many more Fall season will i have the pleasure to experience? Not enough is the only answer i know to be true!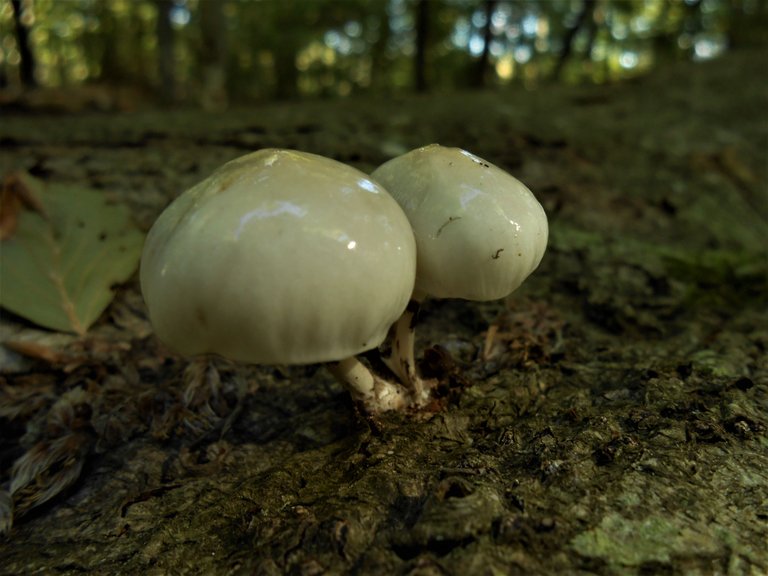 These little slime-ball mushrooms are usually some of my favorite to look at but i find their beauty to be extremely difficult to capture and share. I can never seem to get the glistening as well as i would like.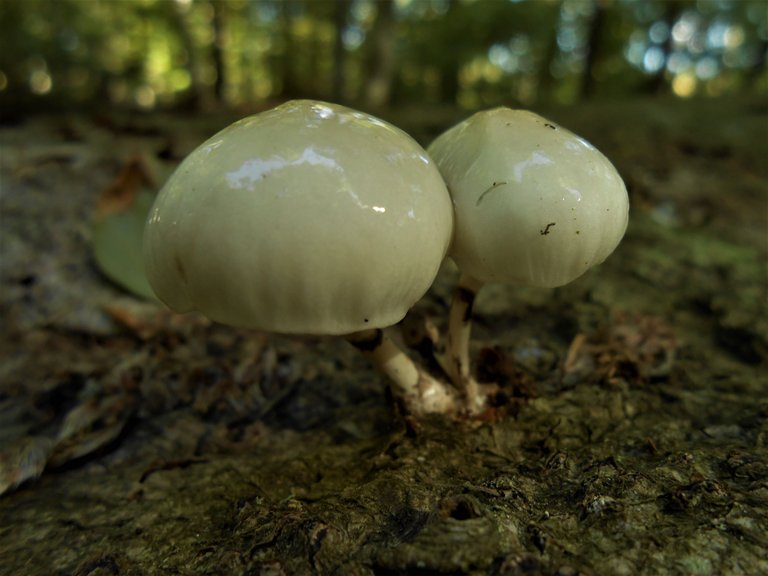 Sometimes, when i see a really cool photo opportunity with interesting mushrooms, i spend a lot of time to try and capture the first ones i see. You never know if you will see any more once you move on. I find it funny when i see a zillion more after spending so much time on a lesser specimen. But, better to be safe than sorry.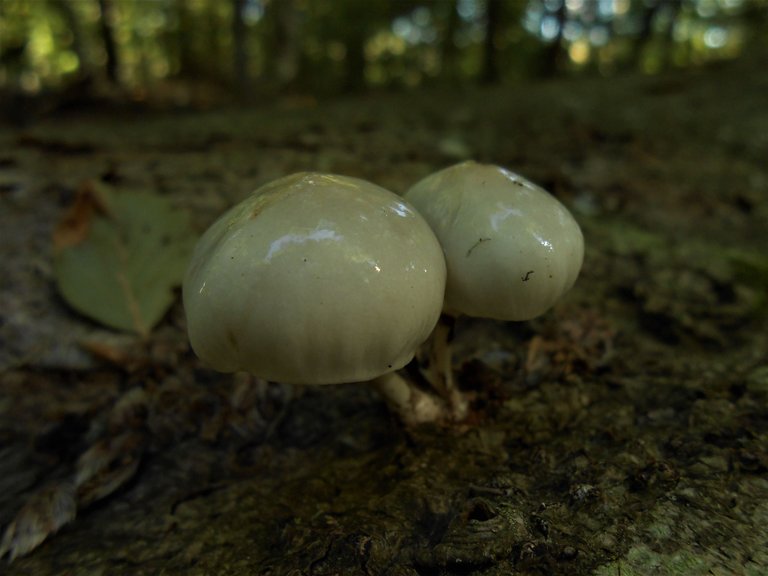 I spent a lot of time to get those images above to find a fallen tree a short distance away that had a whole colony of these slime-ball shrooms!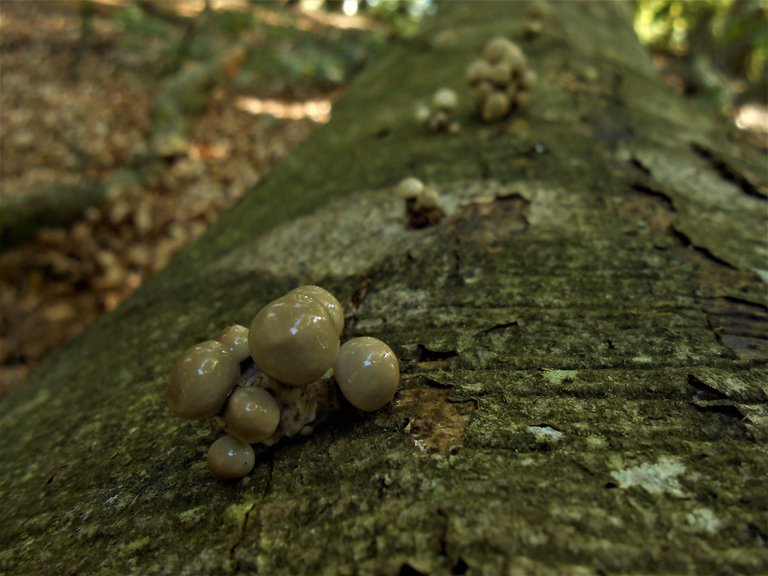 To be honest, i could have shot these slime-balls for a much longer time... but alas, i was far behind once again! hahaha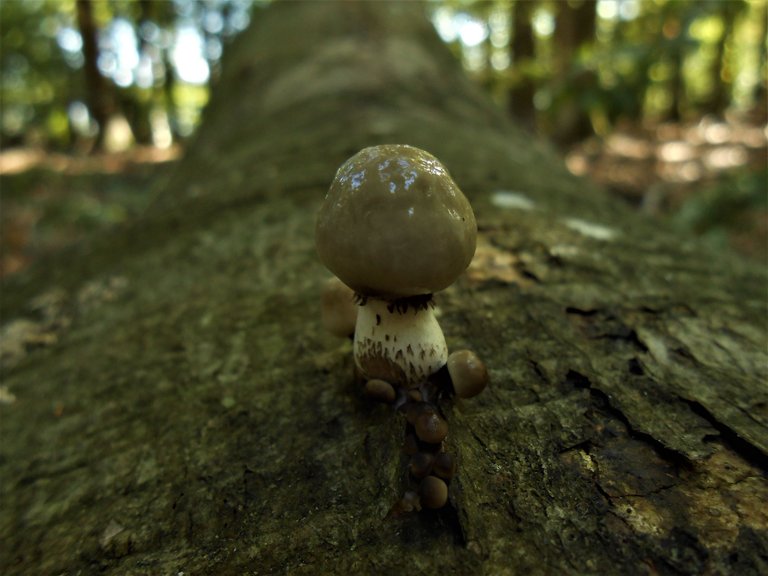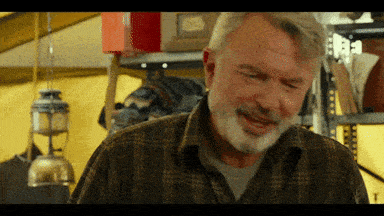 Catch UP!
I think it was at this point in the walk where i really began to get the settings correct on my camera for each circumstance. I can tell i am a bit rusty in that department. It's not always my crappy camera's fault.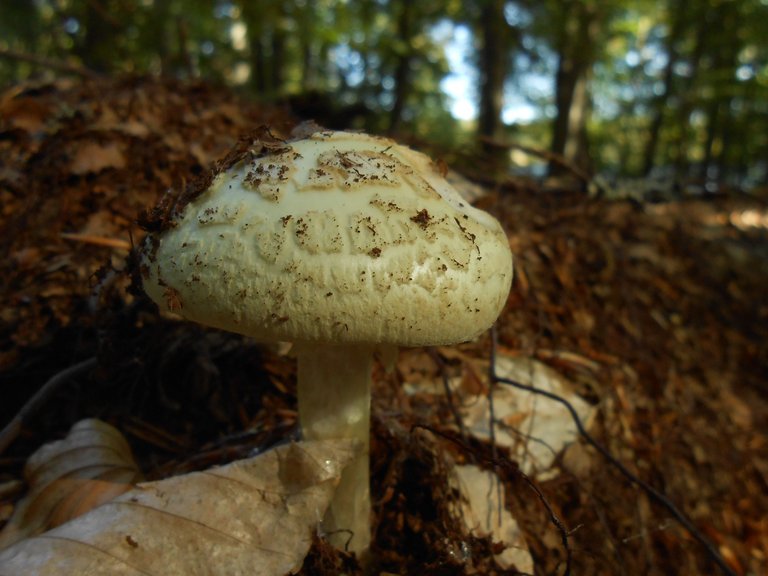 Sometimes, it can take a while to get back into the nature of things when you are out of touch with it. I am just thankful for an endless pleathora of beauty and opportunity here in nature.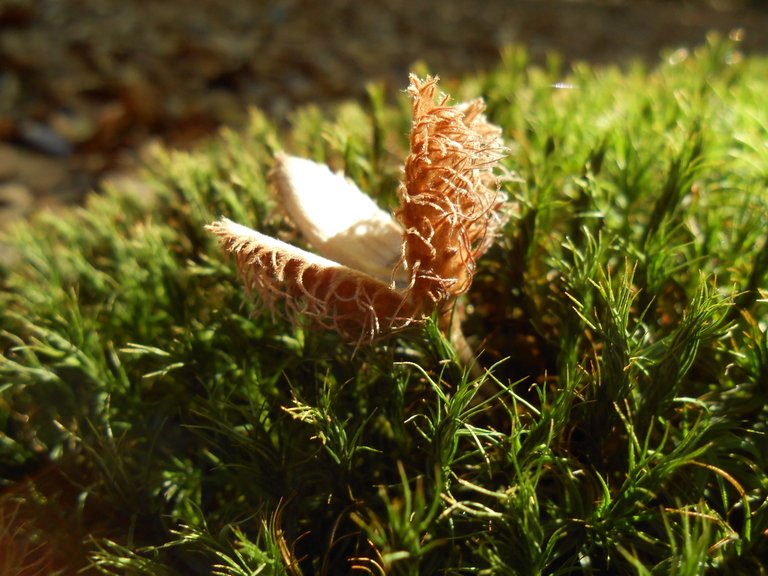 The contrast of the leaves filtering the beaming sunlight compared to the deep and rich green of the moss made for some spectacular Fall shots, in my humble opinion.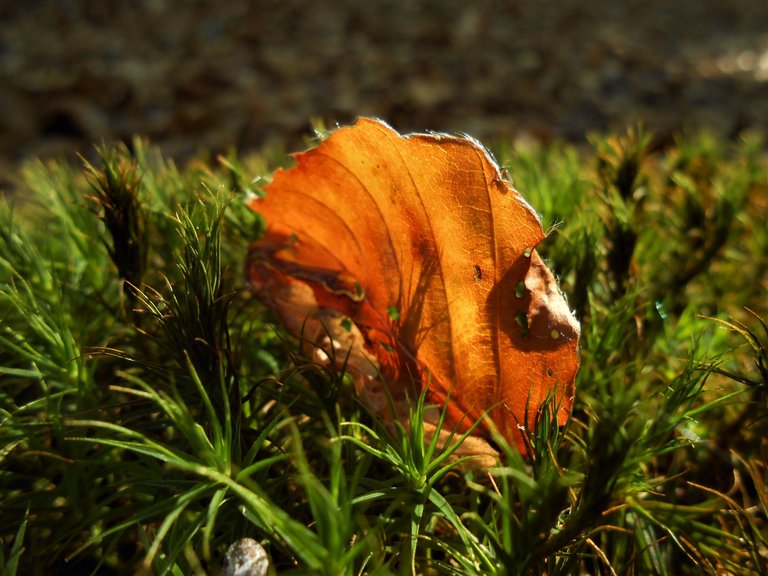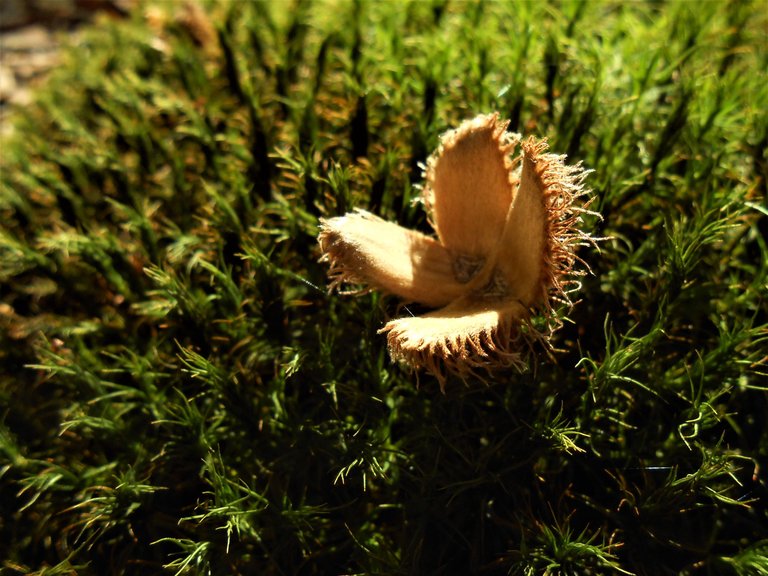 ---
~ Moss is Still Boss ~
I mentioned about the moss and about one of my favorite action figures growing up in my last post. Most of my better moss shots are in that post but once again here is Mossman, a villian from He-Man, down below.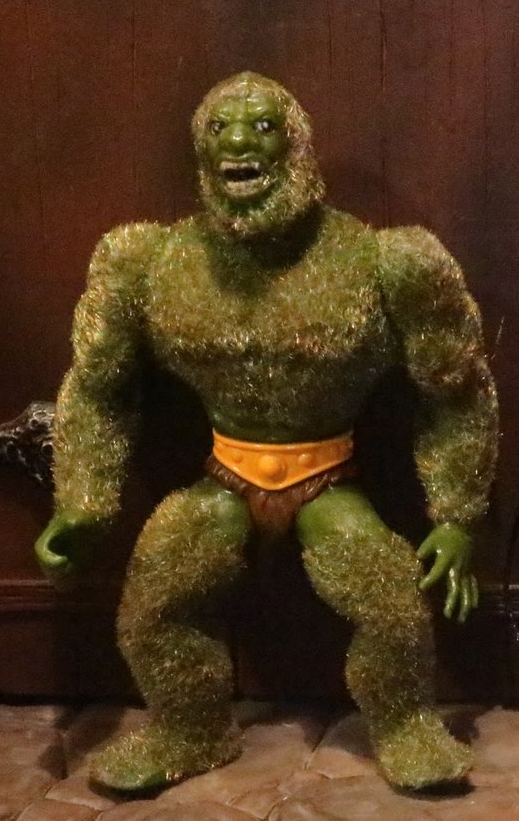 Moss Man
And to my surprise we had a MossMan sighting on our walk! hahaha
Actually, i see MossMan but some may see an Orangutan or Bigfoot in the moss below.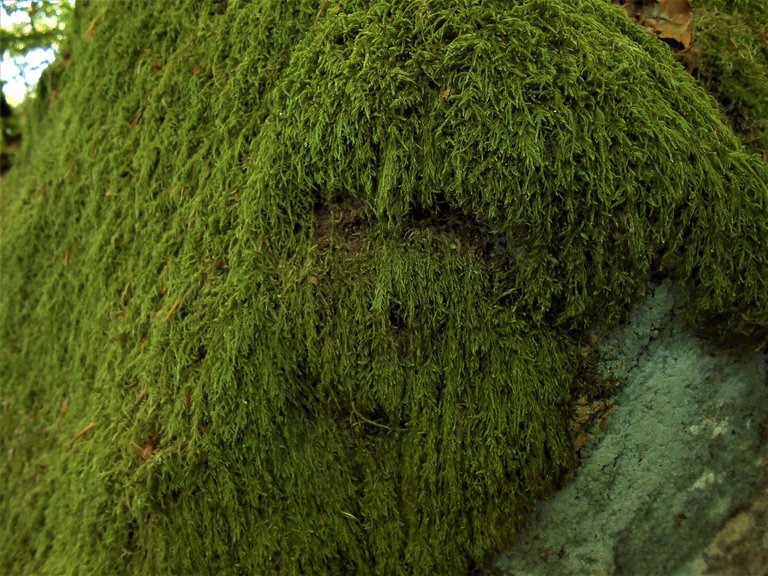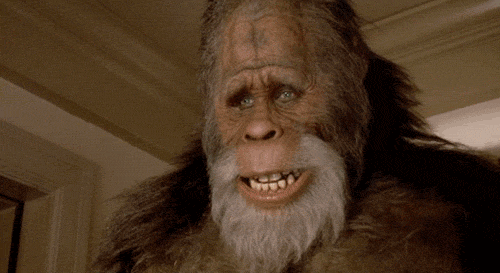 Harry, meet MossMan

It wasn't that windy... but feathers can be tricky to shoot.
The kind of mushroom you see below always reminds me of leather! I love the rich brown tones and the sleek look the cap has. I would love to make a wallet of the cap skin... if only it was durable enough. hahaha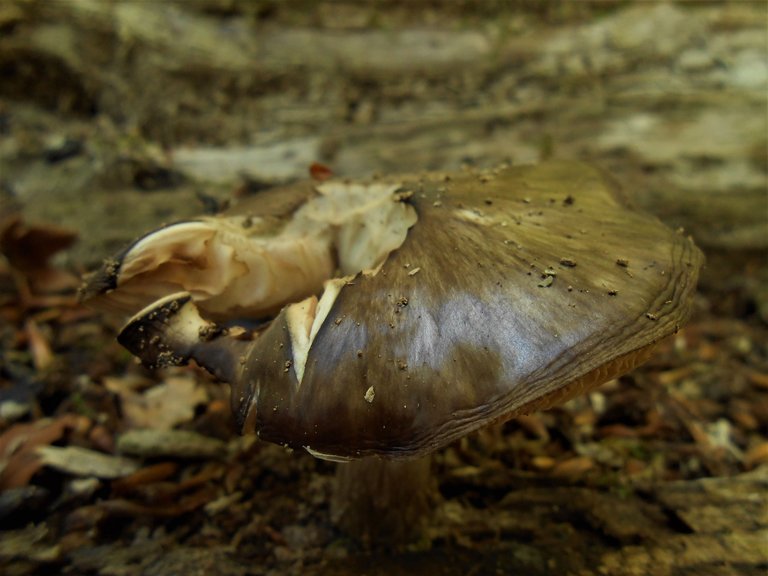 This little feather had a nice ambient blueish cast to it's white that i thought gave it a very soft and delicate look.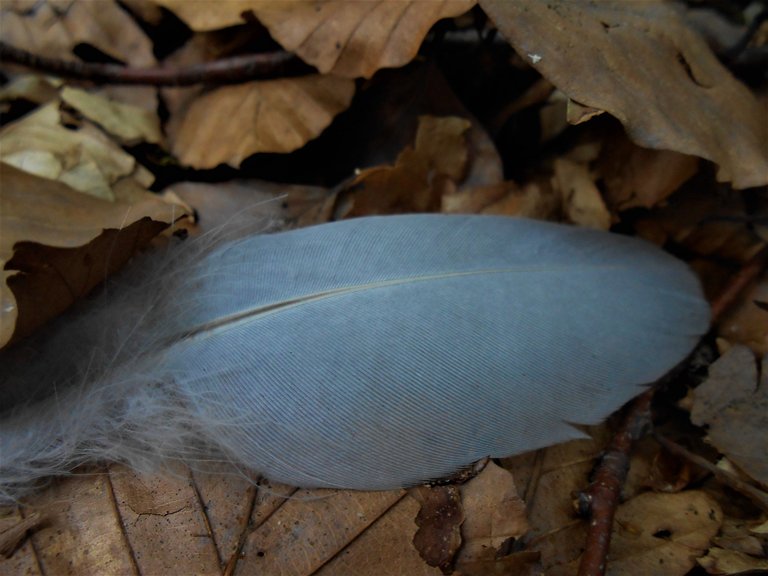 ---
~ Far From The Tree ~
One thing that i absolutely love about Sweden here is the abundance of fruit trees. There are many wild apple and cherry trees around here. I love walking by and seeing apples growing in the trees. As it turns out, on the home stretch coming back, we have quite a few apple trees along the way.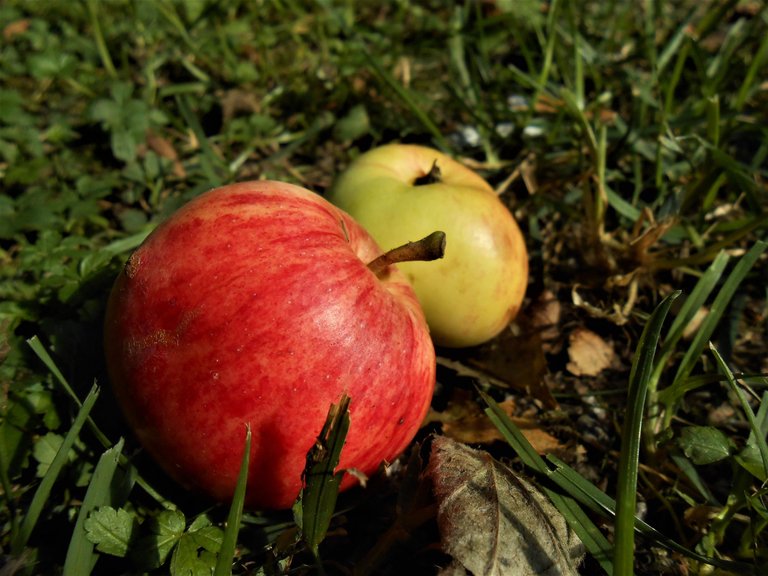 It was my pleasure to capture some of the beauty of these fruits and share it with you all. I have never seen such beautiful apples in nature before. Usually, they are just in stacks at the grocery stores when i see apples.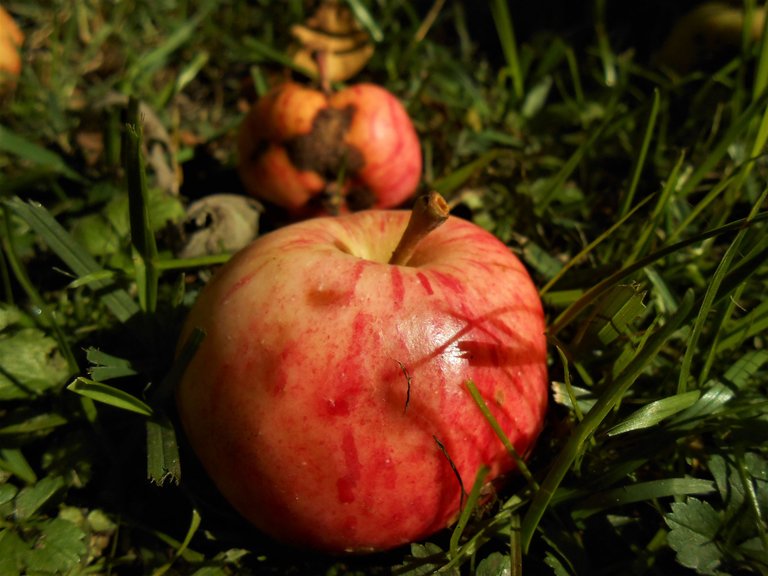 I've always heard you never eat an apple (or fruit in general) that has fallen to the ground. I wasn't really concerned about eating or tasting these fruits so much as i was with trying to get a few decent shots.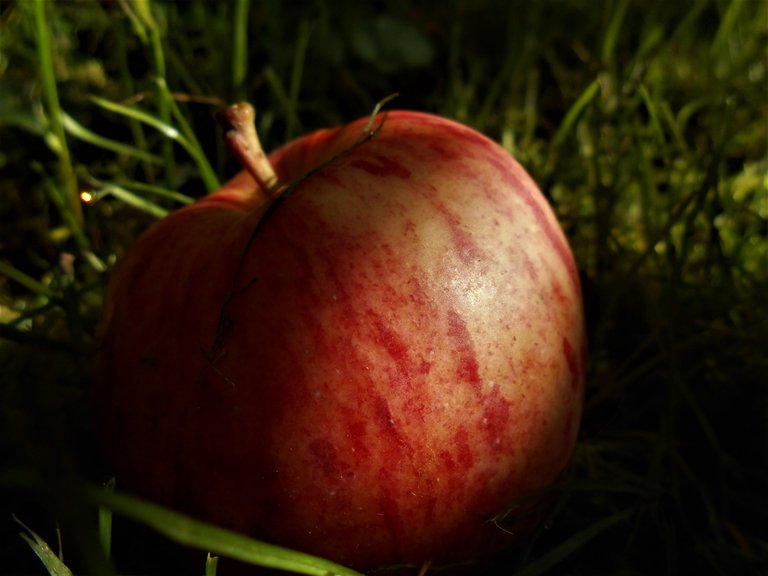 They always say The Apple Doesn't Fall Too Far From The Tree. Now, i have seen that first-hand... even if there were a few scragglers!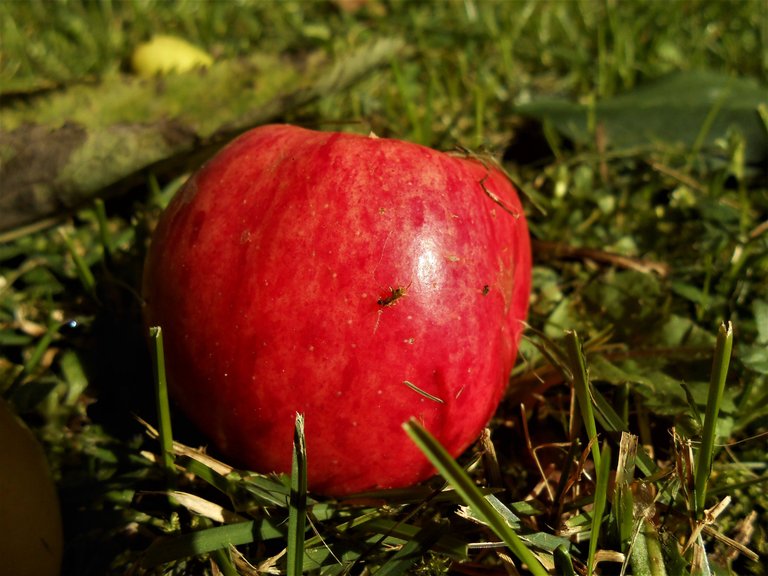 I could have stayed and taken many more shots of these fallen apples. Many if not most of the grounded ones were rotting and that would have been some fun stuff to snap.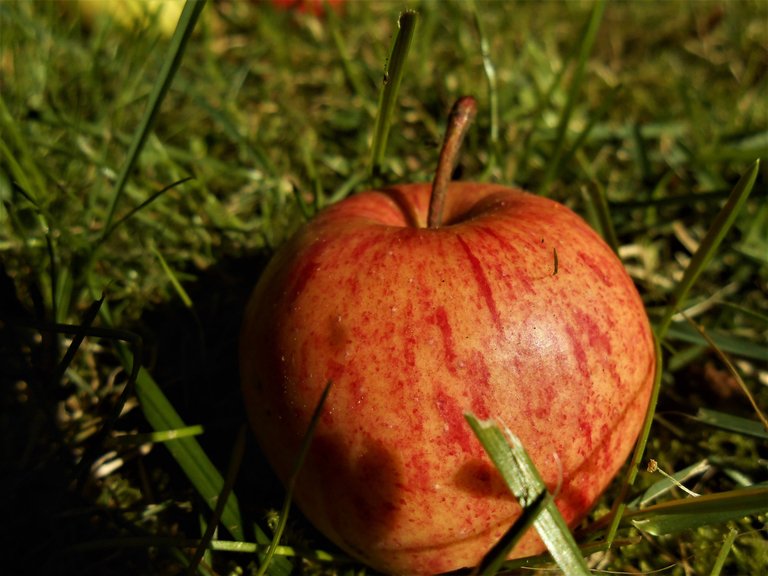 However, i was short on time at this juncture and needed to keep pace.
Hustle
---
~ Flower Town ~
Well, it's not really a town but close by there is a little community of small plots. This little community has these tiny houses that nobody lives in on these tiny plots of land and it's basically just for gardening.
Each of these tiny Swedish properties have a proper Swedish garden with all kinds of flowers and fruits and vegetables growing. I will have to make a post just about that place... but for now, here are some shots from there as i passed through.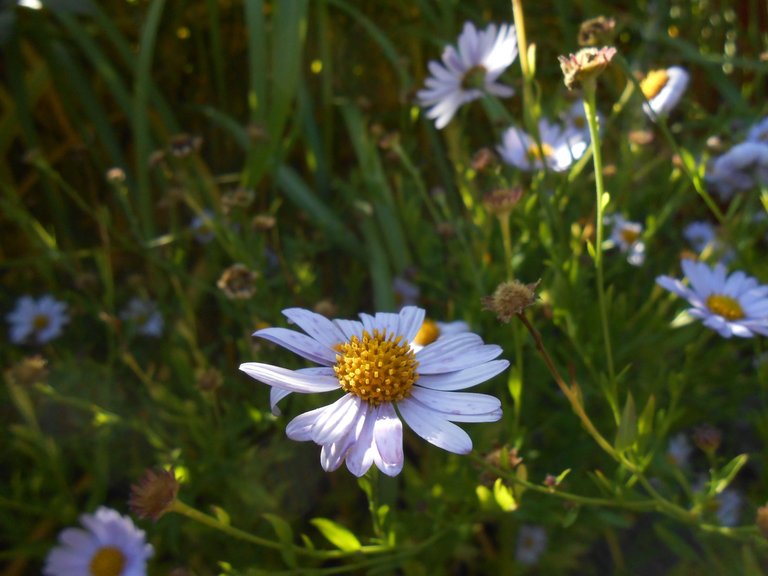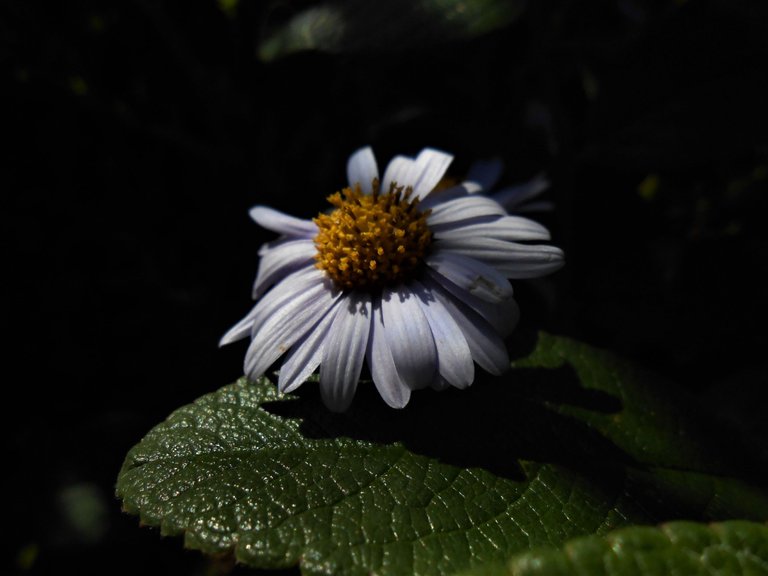 I found this cool looking apple in one of the trees close to the fence of one of the properties. I never encrouch on anyone's property but i will shoot from the public areas and this strangely shaped apple caught my eye.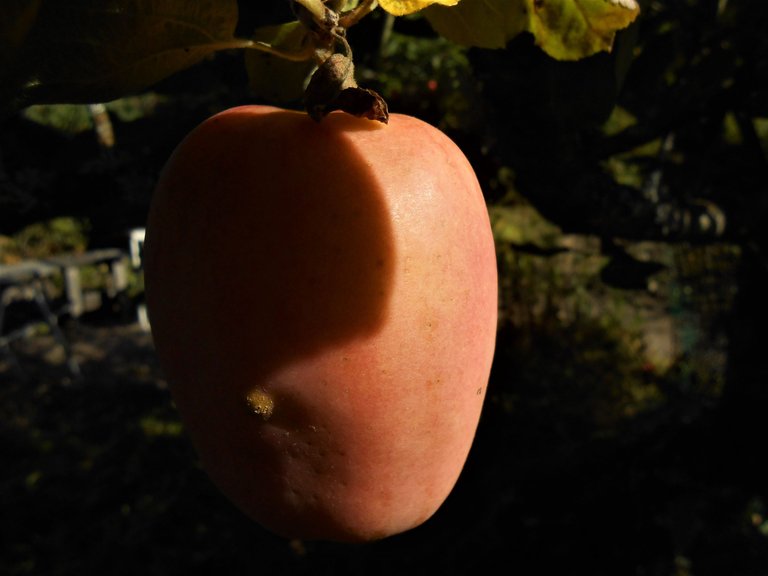 This apple was more of a peach color, which caught my eye and the shape did too because it's almost like a box. It was taller than it was wide... but i don't know how it will end up looking once it finishes growing.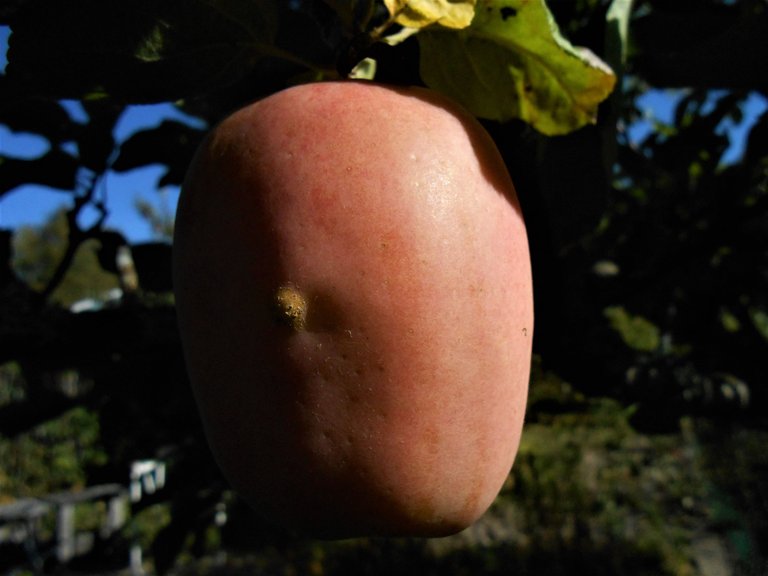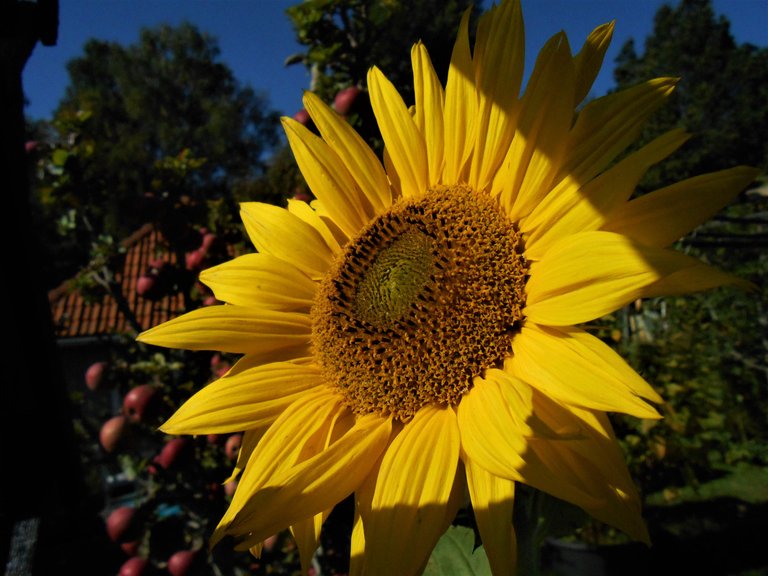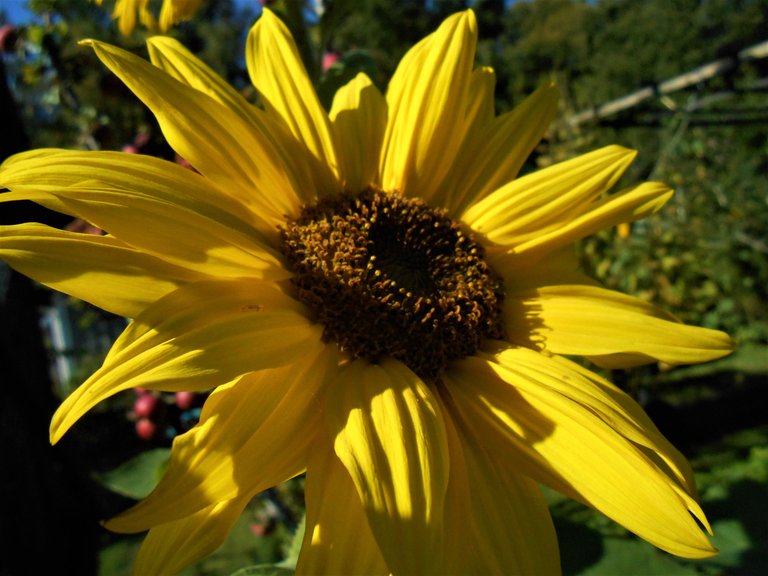 I don't remember seeing a tree near this fallen apple.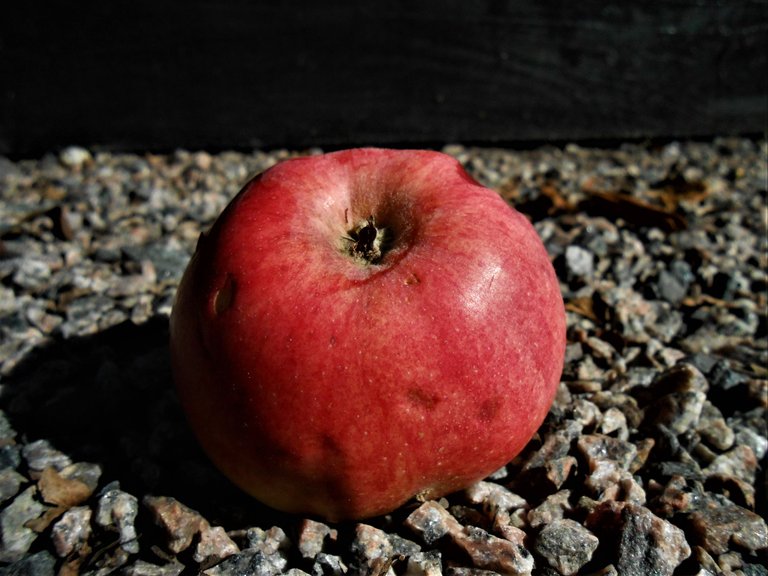 Then there were these cool tomato plants growing on one person's entrance. I tried to get a couple of shots of the color changing. They reminded me of mini watermelons.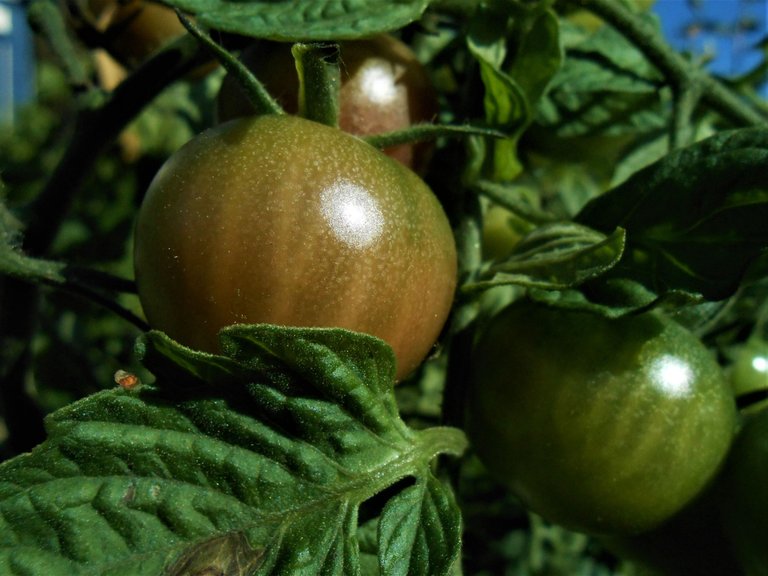 I love the background in this next shot very much.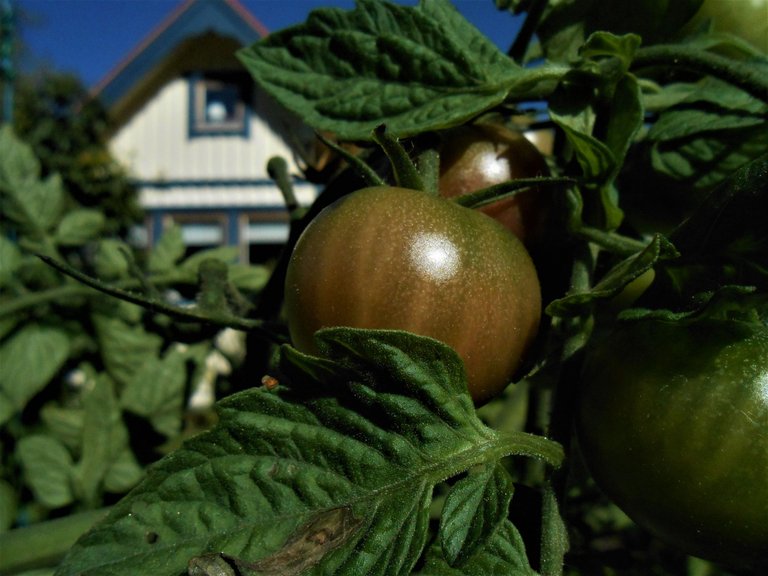 These red leaves are one of prettier early color changers for plants.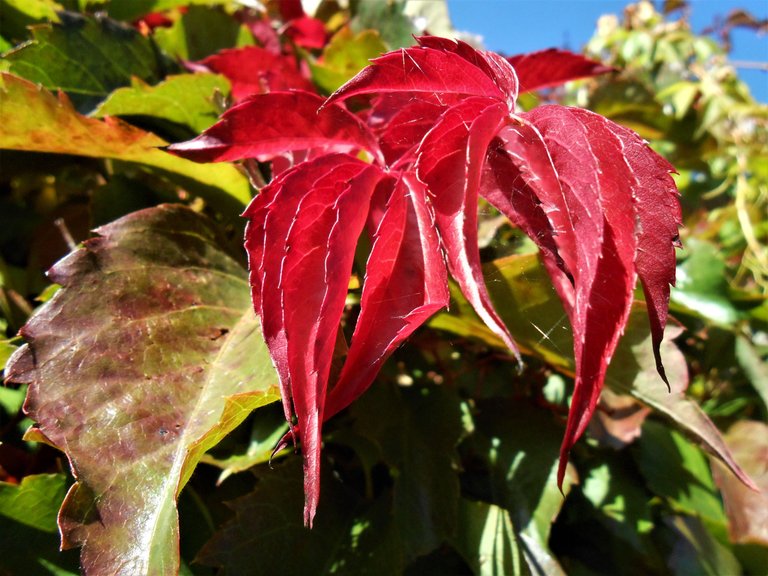 I have no idea what this next one is flower wise... but i love this next shot!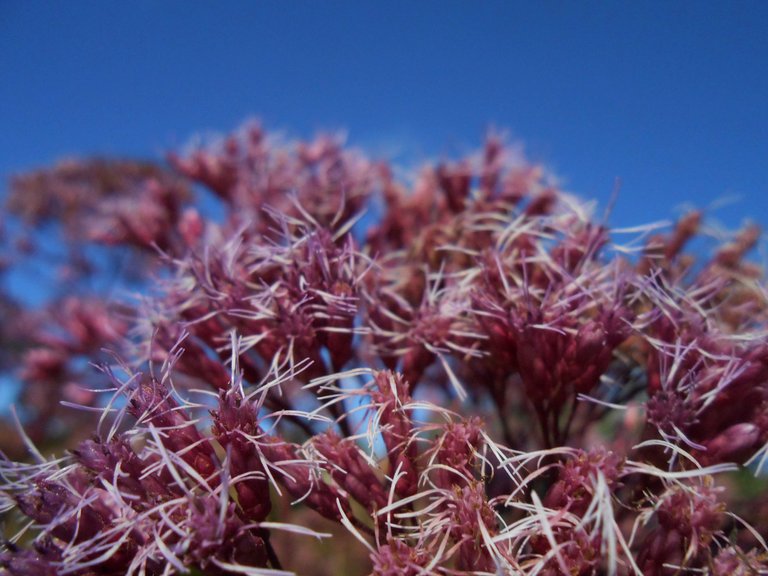 I found some more apple trees!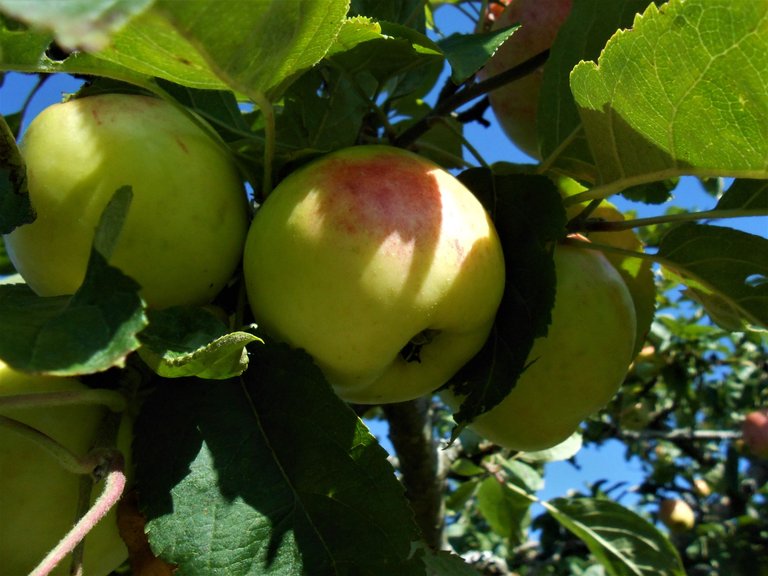 Not the best shots but i think it's cool to see the apples still hanging tough. I saw one extremely healthy tree that had the most red apples of all... but it was in someone's backyard and too far away to spend time trying to capture.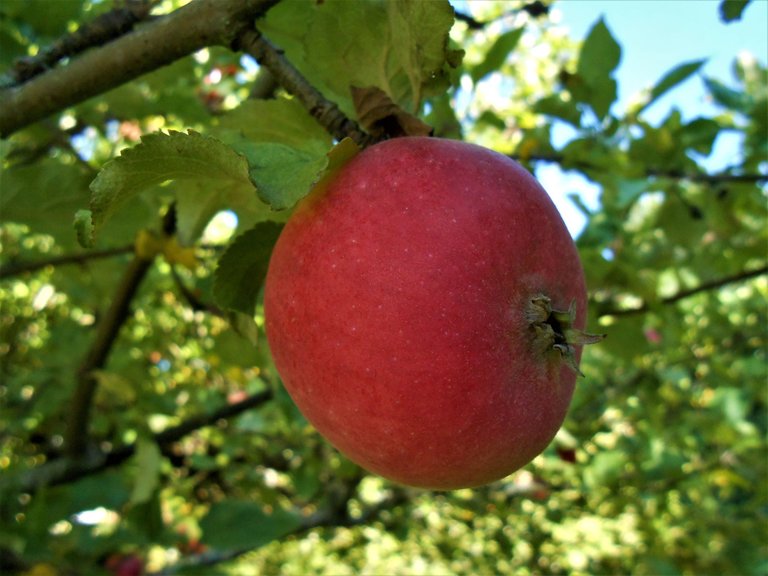 Then, in the grass i saw these little dudes. They looked like tiny tomatos. I think they may have been berries that fell out of a tree... but it looked like it was growing out of the grass. I usually try not to distrub the subjects of my shots. So, i didn't give it a tug to find out... i just let it be.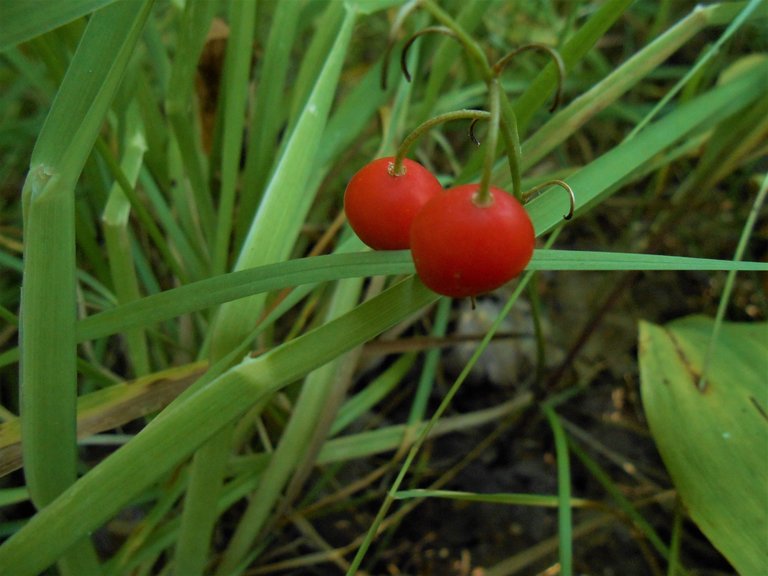 Since this post is getting quite long and i have quite a few more images to share i guess i will end this post in Flower Town. I promise i won't be so long winded in the next and last post of this walk.
I do appreciate you all stopping by to check out my photos and i also appreciate those that read the post and take the time to comment. I would always love to know which shot or shots you like the most.
I hope you all are having an awesome weekend. Thanks again and take care. See ya next time! Cheers
Thanks For Joining Me Today