This week's #KISS question is one that really resonates with me because I've been trying to figure out how to deal with my seemingly 'maximalist' hobbies. I've been able to find a middle ground with one, I'm still trying to work my way around another, and there's one I've mostly given up on.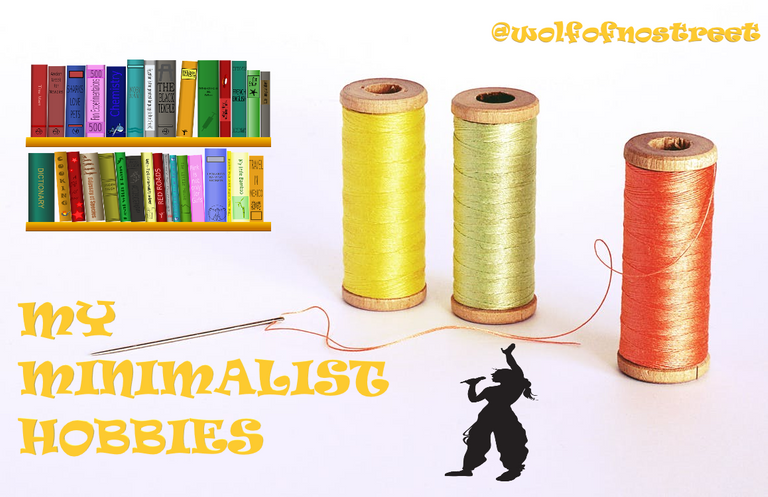 Pexels, edit by me on
A Minimalist Book Lover
It took me a while to be minimalist about it but I can say that I finally am a minimalist book lover. It was a gradual process that took years and it wasn't compulsion or anything of that sort. I always used to buy books because I loved reading, back then I used to buy at least one book every week.
I enjoyed reading these books but they were taking up so much space. I didn't even have a shelf for them, they just kept piling up in my woven baskets and then on the floor. I was critical about everything else occupying so much space but my books 😄
Anyway, there was no super-strategy actually. I loved these books and I was always excited about others being excited about books. My strong hoarder spirit softened when I started seeing it from the aspect of sharing with others the joy I felt in these books.
I stopped being stingy with them and would 'borrow' them out to friends and acquaintances knowing fully well I wasn't getting them back. I thought about it this way, how many books am I really going to re-read in this lifetime? It felt right to share a piece of me with others (fellow book lovers of course, not a random person that had no regard for them).
Slowly, I had fewer books and I currently don't have more than five hard copy books with me right now. I moved out of my parents' home last year and I think I have about 30 books over there that I left on purpose.
My life is currently in transit so I'm not at a point where I can fully commit to having a collection of books in my own space as I've always envisioned. That's why I picked up the habit of reading e-books. It wasn't easy at first because you know, all book lovers prefer hard copies, but I eased into it eventually.
For now, I enjoy reading on my phone and I get to re-read any of my old favourites whenever I like. I am also a minimalist with my digital library and I try not to have so many books on my to-be-read list at the same time.
The downside to switching to a digital library is that I could lose it in a second. Like, I recently lost all the books in my library because my phone was faulty and it had to be formatted for repairs. It was painful to lose all of it but I was able to shrug it off because I already dealt with my physical books that way.
So yeah, you can have a book addiction and still be minimalist about it.
A Minimalist Needleworker?
Sewing is one hobby I seem to have dropped. It's only a hobby when you do it regularly right? In the last one year I've only used my sewing machine twice and that is just crazy each time I think about it.
The problem is simply me not wanting to own more clothes. I don't need the clothes so it's just going to be extra stuff I won't wear crowding my wardrobe. When I left my parents' home last year, I gave out 90% of the clothes I had sewn for a year to charity.
They were all project works I had done in sewing classes and they were a lot. There is literally no minimalism with me being a tailor if I'm being honest. If I wanted to try out all the styles I want, I would have too much fabric around me and I can't deal with that.
This is the reason I stopped this hobby. I bought a doll so I could make miniature pieces instead but I never got to go on with it. Now I just clean my machine when it gathers dust and imagine all the clothes I could have made.
I haven't figured out how to be minimalist about sewing, it irks me but one day I will find a balance.
The Easy Hobby
Now this is the most minimalist of them all, anyone can do this and feel content not having to do a lot. I don't get to spend any money, take up any space, and I feel really content and at peace with it. I'm talking about singing. I just open my mouth and sing, so easy!
Even when the time comes when I fully immerse myself in this hobby by setting up my own home mini-studio, it still wouldn't be a lot or too much to handle.
Other minimalist hobbies I have are blogging and gardening. They're also clutter-free and not too much to handle.
At the end of the day, one can probably be minimalist about most hobbies, it's all about intentionality and finding a balance with all of them so they don't go overboard.
What do you think about my minimalist hobbies and strategies in maintaining them? You can join the conversation here.
---
---
Discord - wolfofnostreet#4939
Twitter - wolfofnostreet_