Today I am taking part in another The Minimalist weekly topic - you can check it out HERE. I really like topics like this and I am happy to share my thoughts within this community.
---
Confidence, or the lack of it, is something I have been struggling with my entire life and it's not just about my physical appearance but pretty much any aspect of my life, I was never confident in anything. Looking back at different stages of my life, I definitely do see a lot of improvement in my self-confidence and dealing with anxiety which helps me moving forward as I know it's something I can work on and improve. It's definitely not easy and it takes time but it's not impossible. Since it's not one of those things you do once and you're set for the rest of your life, it can be hard to evaluate how far we've come and sometimes one little thing can push us ten steps back so I would say gaining self-confidence is a process that is always ongoing, same as any other aspect of self-work. This also means we can never be late to improve ourselves and take control of the things we can control to live a better life.
---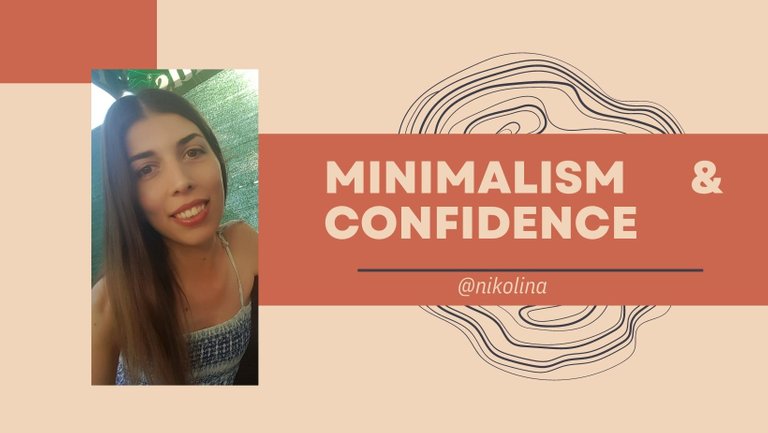 ---
For me connection between minimalism and confidence was not visible at first. I was inspired my minimalism in terms of evaluating my physical possessions, keeping things that bring me joy/I actually use, having a more organized space that is easy to keep tidy and clean and that would calm my anxiety. Essentially, I wanted to care less about stuff so I can focus on other things. All this led me to pay more attention on my mental health and I had a great periods of time where I quit Social media, did a lot of gardening, reading, journaling and just had a great time. All this happened during lockdown which is crazy to think about now - the fact I was mentally doing so good during such a crazy time.
---
Without me discovering minimalism and being inspired by it and me just trying to get out of my comfort zone and deal with my anxiety, I don't think I would make any progress in self-confidence and overall self-improvement. If someone told me only few years ago that I would enjoy going to a coffee shops or cinema all by myself, I wouldn't believe it. It's such a small thing, but to me it means a lot! I am also a lot more comfortable in my own skin once I truly realized that I am not what I own and that material things are just that - things. They exist to make our lives easier, better and more comfortable but I always try to think who am I aside from what I own. There is a saying that goes something along the lines of owning you material possessions and not letting them own you. I think this is such a liberating realization. Connection between minimalism and confidence is maybe invisible at the beginning or maybe it's not your goal with starting a minimalist journey but it is definitely a huge blessing in disguise!
---
I also want to say that, compared to few years back, I did get a little bit more things I didn't have before such as K-pop albums and few other K-pop related things, a few books, more cosmetics and such... I think that I caught myself on time in terms of over-consuming and started to remind myself of all the things I mentioned above. Yesterday I wrote a post about a reset routine and habits I feel like I need to focus on and that goes so well with today's post as I also feel ready to go through my things again, get rid off some stuff I no longer need/want, put more focus on my mental health and confidence will come along with it.
---
---
Thank you so much for reading and feel free to join The Minimalist community and their weekly #KISS topics!
---