Jazz from the British Isles for the rest of the world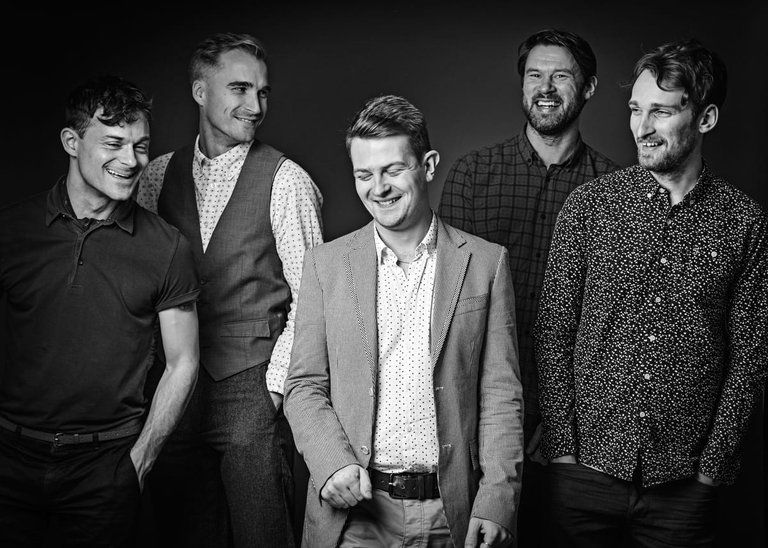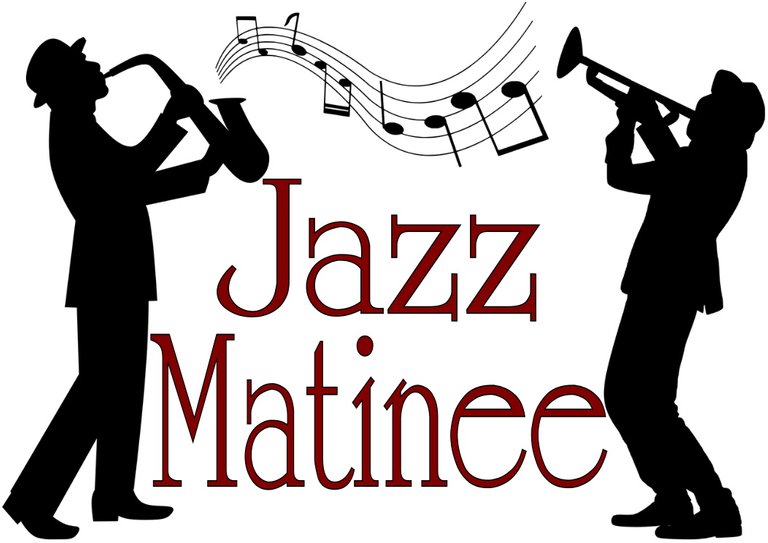 So completely perfect imperfect
Until just before the opening of the doors for today's jazz matinee, it wasn't really clear who would be on stage this Sunday. The fact that it's The Jazz Defenders who will be providing the musical entertainment makes me particularly happy, as it's been a long time since we've had the pleasure of welcoming jazz musicians from England.
---
Bis kurz vor dem Öffnen der Tore zur heutigen Jazz-Matinee stand nicht wirklich fest, wer am heutigen Sonntag die Bühne betreten wird. Dass es nun The Jazz Defenders sind, die für den musikalischen Genuss sorgen werden, freut mich insbesondere deswegen, da wir schon lange keine Jazzer aus England begrüßen durften.
To be completely imperfect seems to me to be a challenge worth adopting as a leitmotif for life.
George Cooper, one of the British Isles' most gifted jazz pianists, formed The Jazz Defenders with Jake McMurchie (tenor sax), Nick Malcolm (trumpet), Ian Matthews (drums), Will Harris (bass) and George Cooper (piano/keyboards).
---
Perfekt unperfekt zu sein, dies scheint mir die Herausforderung, die es sich lohnt, für das Leben als Leitmotiv einzubauen.
George Cooper, einer der wohl begabtesten Jazz-Pianisten auf den Britischen Inseln, gruppierte Jake McMurchie (Tenor Saxofon), Nick Malcolm (Trompete), Ian Matthews (Schlagzeug), Will Harris (Bass) and George Cooper (Piano/Keyboards) um sich und gegründet war: The Jazz Defenders
This is probably not just about managing the legacy of Horace Silver, Art Blakey Lee Morgan or Hank Mobley. The Jazz Defenders take soul-jazz to the next level without forgetting where the roots of hard bop lie in the soil of Blue Note.
---
Hier geht es wohl nicht darum, schlicht und einfach das Erbe von Horace Silver, Art Blakey Lee Morgan oder Hank Mobley zu verwalten. The Jazz Defenders bringen den Soul-Jazz auf die eutige Ebene, ohne zu vergessen, wo im Hard-Bop die Wurzel in der Erde von Blue Note verankert sind.
No stranger to the music industry is George Cooper, pianist and the man largely responsible for the compositions of The Jazz Defenders.
His collaborations with composer Hans Zimmer, violinist Nigel Kennedy, U2, Slum Village, The Haggis, Lack of Africa and the Abstract Orchestra are proof of this.
---
George Cooper, Pianist und maßgeblich verantwortlich für die Kompositionen von The Jazz Defenders, ist aber auch kein völlig unbekannter in der Musik-Branche.
Davon zeugen die Zusammenarbeit mit dem Komponisten Hans Zimmer, dem Geiger Nigel Kennedy, U2, Slum Village, The Haggis, Lack of Africa oder dem Abstract Orchestra.

If you want to know more about The Jazz Defenders, you can find the necessary information here: https://www.thejazzdefenders.com/
---
Wer noch mehr über The Jazz Defenders erfahren möchte, der findet die nötigen Informationen hier: https://www.thejazzdefenders.com/

And that closes the doors for today's jazz matinee. I am already looking forward to seeing who I will be able to invite to the stage next Sunday. But until then, I'll leave you with a list of the artists who have already performed at the Jazz Matinee.
---
Damit schließen sich für heute die Pforten zur Jazz-Matinee. Ich selbst bin bereits gespannt, wen ich am kommenden Sonntag auf die Bühne bitten darf. Bis es jedoch soweit ist, überlasse ich euch noch eine Auflistung der Künstler, die sich bei der Jazz-Matinee bereits die Ehre gaben.

All Jazz-Matinee performances
Alma Naidu, Alune Wade, Bebo Best & The Super Lounge Orchestra, Big Bad Voodoo Daddy, Blue Note Tokyo, Breakdown Brass, Carlos Reisch & The Jazz-RAPertoire, Club des Belugas, Cory Henry, De-Phazz, Dominic Miller, Eartha Kitt, Emmet Cohen, Fixi & Nicolas Giraud, Gare Du Nord, Galactic, Gypsophilia, Imperial Tiger Orchestra, Ina Forsman, Indra Rios, Jazz meets Pop, Jazzkantine, Jembaa Groove, Jungle by Night, Karen Souza, Kinga Glyk, Lady Blackbird, Lars Kutschke, Lee Ritenour, Lizz Wright, Madeleine Peyroux, Maik Mondial, Malika Tirolien, Martin Grubinger, Monkey House, Muito Kaballa, New Cool Collective, Paco de Lucia, Robin McKelle, Snarky Puppy, St. Paul Peterson, The Bahama Soul Club, The Crusaders, The Jazzrausch Bigband, The Souljazz Ochestra, Triosence, Trombone Shorty, True Loves, Wynton Marsalis & Eric Clapton