There Has Been a Change
After much deliberation and consideration, we have decided to change the place from Gatlinburg to Nashville! Considering how this is shaping up, it would only make sense to be in Music City, USA to honor the musicians! Plus, since most people will likely be flying in to this bigger airport, it will save significantly on travel expenses and time spent with each other. That's what it's really all about, the experience with others and sharing the joys of it all. So, let's maximize that.
Nashville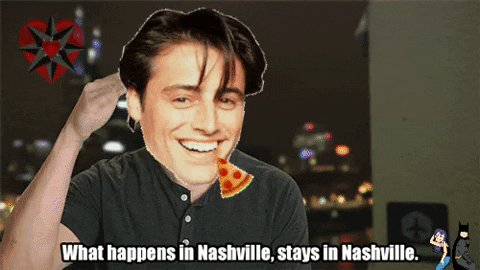 Nashville, Tennessee, is often referred to as a 'small town trapped in a big city'. It doesn't really matter what part of the city you are in, there is never music very far away. And, it's not just country. There is everything from rock to bluegrass to jazz to blues to hip-hop to opera. Hopefully, you will get a taste of what 'southern hospitality' is as people really are quite friendly and helpful down here. They love to listen. Quite often, you'll run into 'famous' people just casually carrying on, I hung out with Weezer and Papa Roach after a concert one night! Just because we all ended up in the same place.
Have you ever heard the term 'Southern Comfort'? It's not just a drink, it's relative to the massive array of delicious foods that Nashville has. And yes, @thebeardflex, there is a Mellow Mushroom here too! Did you know that Cotton Candy and The Goo Goo Cluster were invented/created in Nashville? And, though not quite as hilly as Gatlinburg, there is still plenty of gorgeous scenery like the Cheekwood Botanical Gardens and Cumberland River landscapes.
---
Back to the Music
The 'Main Event' of this year's Block Party, is shaping up to be a concert with our main man from @nfttunz! We currently have @iamdarrenclaxton, @d-vine, @junkfeathers, @double-eagle and @polarmystro all coming to perform for us! In Music City, nonetheless. We're going to be making history with this one ladies and gentlemen. I mean, how often does this chance really come around?
We Want You!
We still have about a week before I close the doors for names on the docket to play for us. We are aiming for the 9th of September (would Saturday the 10th be better?) to be our primary night of festivities for The Block Party. So, this is a call out to all musicians across the blockchain to get your name on the ticket. I would love to have one or two more for everyone to enjoy this fall. You want to come play with us? Drop a comment down below or reach out to @enginewitty on discord.

We try honor those that are using our family tag - #thealliance. These Block Party II posts are getting some attention and I also include my three picks for curated content between now and the last issue. The three creators are beneficiaries of these posts. What would be a good percentage for these lovely humans?

Want to support the fam too?
You can!
Visit with us in the Castle!
-or-
Vote our community Witness!
-or-
Follow #thealliance curation trail!
-or-
Delegate to the family account - @thealliance!
50HP - 100HP - 500HP - 1000HP - 5000HP - 10,000HP - 50,000HP