Hello friends! Long time no see! All this time I was busy with a new music program and finding myself in this world. Life circumstances prompted me to seriously take up my musical career and the musical career of my wife and move on.
I have made a plan of action that will lead us to success. I want to share my plan with you, as it can be useful for newcomers to the world of music. You have to invest effort and money. Nothing without this.
What does a musician need to do to present himself to the world?
Video presentation
It's just a must have! This is the first thing a potential employer will ask. If you don't have the funds to shoot something in a studio with a professional camera, shoot a video with a regular camera. Just do it.
Rules for a good presentation:
clean background
Concert wear
good light
Good sound recorded with the audio card.
Business card
First, it's a business card. This is what you should have with you. A business card immediately shows a potential employer or the owner of a concert venue that you are a serious person.
A musician's business card should contain your name, contacts and a QR code for your presentation or YouTube channel. People should be able to quickly access your music. It is important.
You don't have to pay a designer to make a business card. You can easily find business card templates on the Internet with the right sizes and edit them for yourself.
my business card looks like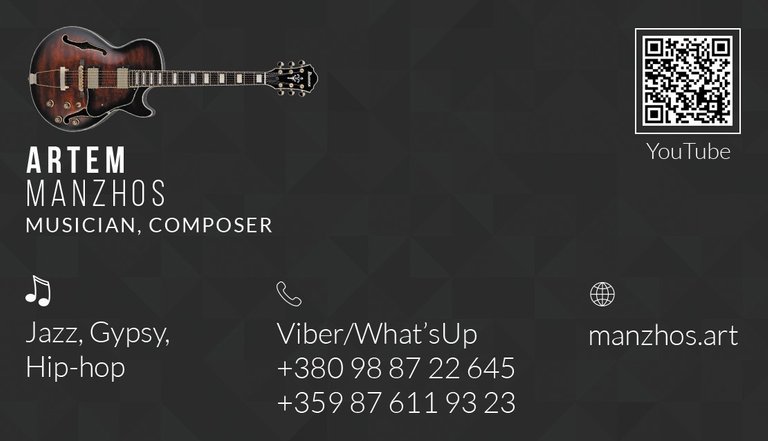 Web Site:
The second best thing to do is a personal website. The site may contain more detailed information about you, a brief biography, and photos from performances.
my site looks like https://manzhos.art/
The name and domain of the site are my real name and surname. If you want to have a beautiful domain, you can write me.
Photo session in the studio with a photographer
What I did not do, but I consider it necessary.
Photos taken in the studio will be useful for creating posters for future concerts. If you do not have sufficient funds to hire a professional photographer, you can write to the Facebook group of photography lovers of your city. Very often, novice photographers do free photo shoots for a portfolio or photo shoots for donations.
If you have something to add, I will be glad to your comments. See you in the next posts!
Follow me:
Hive: https://peakd.com/@gulia.peito
YT: https://www.youtube.com/channel/UC3gCUh0bwv6MWe70fIRmD7g
Odysee: https://odysee.com/$/invite/@ImprovizForLife:9