---
Hive Music Festival
Semana #8 / Ronda #2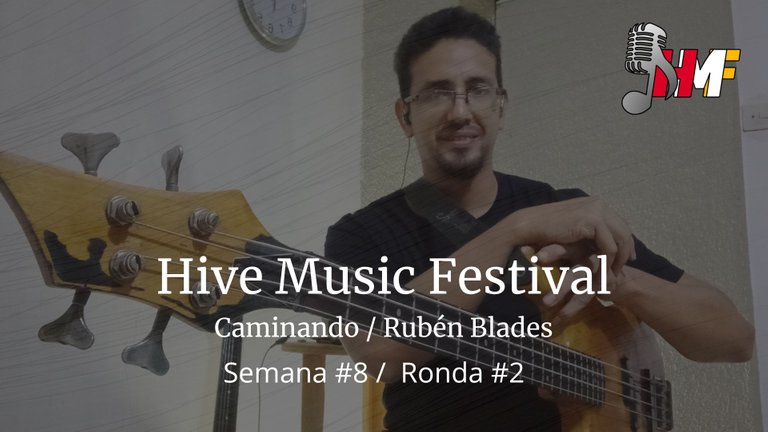 Que tal, Hivers. Hay muchas canciones que llevan mensajes, cuentan historias e incluso pueden ser terapéuticas; todas estas últimas presentaciones en el festival han sido de géneros y estilos variados y hoy le toca a la salsa, pero no es una salsa tradicional, es de un artista que solo de escuchar la música, podemos detectar de quien es, hablo de "Rubén Blades" un cantante, compositor, político y actor panameño, que ha creado una gran cantidad de éxitos y uno de ellos es "Caminando", porque caminando se aprende en la vida, este tema nos muestra una forma de ver la vida, una metáfora de cómo enfrentar la vida, buscar siempre la forma de ver más allá. Uno de los estilos que no frecuento es la salsa pero disfruté muchísimo hacer este cover para el festival de música de Hive. Esta demás decir que Rubén, es uno de los músicos y compositores de música latina más reconocidos en el mundo y uno de mis favoritos, indiscutiblemente. Su estilo es característico y realmente impactante, llevando a este estilo caribeño a otro nivel y es muy interesante sui forma de hacer música, y claro hablar de uno de sus más grandes éxitos, como lo es "Pedro navaja" una increíble obra maestra. Espero pronto también realizar para este magnífico festival algún tema de "Héctor Lovoe" otro de los grandes entre los grandes del género latino.
Howdy, Hivers. There are many songs that carry messages, tell stories and can even be therapeutic; all these last presentations at the festival have been of various genres and styles and today is the turn of salsa, but it is not a traditional salsa, it is of an artist that just listening to the music, we can detect who he is, I speak of "Ruben Blades" a Panamanian singer, composer, politician and actor, who has created a lot of hits and one of them is "Caminando", because walking you learn in life, this theme shows us a way of seeing life, a metaphor of how to face life, always look for the way to see beyond. One of the styles that I don't frequent is salsa but I really enjoyed doing this cover for the Hive music festival. It goes without saying that Ruben, is one of the most recognized musicians and composers of Latin music in the world and one of my favorites, indisputably. His style is characteristic and really impressive, taking this Caribbean style to another level and it is very interesting his way of making music, and of course to talk about one of his greatest hits, such as "Pedro Navaja", an incredible masterpiece. I hope soon to also perform for this magnificent festival a song of "Hector Lovoe" another of the greats among the greats of the Latin genre.

Espero les guste esta presentación en la octava semana para "hive music festival" y le doy las gracias a @eugelys, @ilazramusic y @edwardstobia por haber creado este festival y darnos la oportunidad de poder mostrar nuestro talento en hive. Mi video fue grabado en esta ocasión con mi redmi Note 9 y el audio en el programa para captura y edición de audio Reaper; para la edición de video utilice el programa de edición de video Adobe Premier, esta demás decir que son herramientas excelentes para una mejor calidad en el momento de hacer nuestro trabajo como creadores de contenido.
I hope you like this presentation in the eight week for "hive music festival" and I thank @eugelys, @ilazramusic and @edwardstobia for creating this festival and giving us the opportunity to show our talent in hive. My video was recorded this time with my redmi Note 9 and the audio in the audio capture and editing program Reaper; for video editing I used the video editing program Adobe Premier, needless to say that they are excellent tools for better quality at the time of doing our work as content creators.

Gracias por ver mi presentación y nos vemos en la próxima semana con una nueva entrada en este Hermoso Festival.
Thank you for watching my presentation and see you next week with a new entry in this Beautiful Festival.
---
Thanks for watching and see you next video
ver y hasta un próximo vídeo

---
▶️ 3Speak