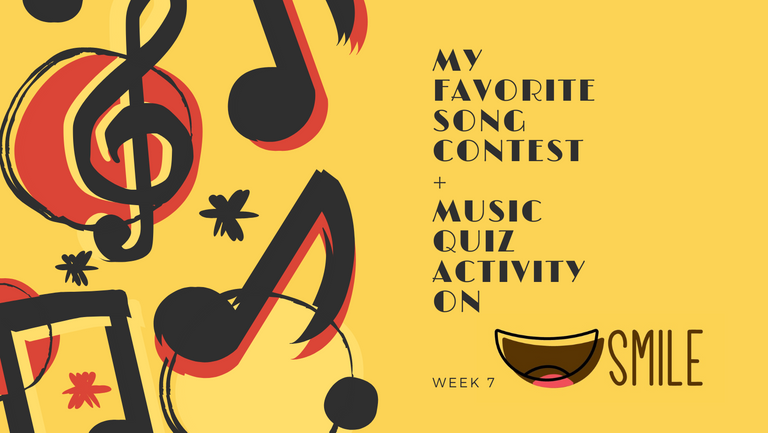 Hello everyone! :D As some of you know, @smi-le is a project and a place (Discord Server: https://discord.gg/nRm2CKp) to share, meet new people and receive proposals from authors who want to create an initiative and have nowhere to do it, but also it is a home to contests and activities. This is a server I became very fond of since its early stages and that I'm thankful I belong to.
Today I'm bringing to you the week 7 of a contest inspired and sponsored by this fun and awesome place, and also the reminder of week 7 of our Music Quiz server activity.

¡Hola a todos! :D Como algunos saben, @smi-le es un proyecto y un lugar (Servidor Discord: https://discord.gg/nRm2CKp) para compartir, conocer gente nueva y recibir propuestas de autores que quieren crear una iniciativa y no tienen donde hacerlo, pero también es una casa de concursos y actividades. Este es un servidor a que le tome cariño desde sus primeras etapas y al que estoy agradecida de pertenecer.
Hoy les traigo la semana 7 de un concurso inspirado y patrocinado por este lugar tan divertido y agradable, asi como tambien el recordatorio de nuestra semana 7 de la actividad Music Quiz en el servidor.

My Favorite Song Contest - Week 7
This is a weekly contest where I ask the participants to submitt their favorite song about an specific topic I will provide plus the reason why you choose this song.
Don't worry, here comes the details...
Concurso Mi Canción Favorita - Semana 7
Este es un concurso semanal en el que le pido a los participantes que comenten su canción favorita sobre un tema específico que les proporcionaré más la razón por la que eligieron participar con esa canción.
No te preocupes, aquí vienen los detalles...

Week 7 topic 👇
The future
Tema Semana 7 👇
El futuro
---
Rules
In order to participate in the "My favorite Song" Contest you must do the following:
Post a YouTube or Spotify link to the song you chose to participate with in the comments section of this post.

Besides the link, you must also write the reason why you choose this song (an anecdote, story, feelings, etc.) the more you write the more chances you have to win.

The song must be about the following topic: The future.

You must leave your comment before 11:59 pm UTC of Friday June 11th.

Mention an user to invite him/her to partake in the contest.

Reblog and vote this post, then follow @smi-le and @elcomentador.
Reglas
Para participar en el concurso "Mi Canción Favorita" debes hacer lo siguiente:
Publicar en la sección de comentarios de este post un enlace de YouTube o Spotify a la canción con la que hayas elegido participar.

Además del enlace, debes escribir el motivo por el que has elegido esa canción (una anécdota, historia, sentimientos, etc), cuanto más escribas más posibilidades tendrás de ganar.

La canción debe ser acerca de la siguiente temática: El futuro.

Debes dejar tu comentario antes de las 23:59 UTC del Viernes 11 de junio.

Menciona a un usuario para invitarl@ a participar en el concurso.

Rebloguea y vota este post, luego sigue a @smi-le y a @elcomentador.
---
Winners & Prizes
I'll choose 3 winners. The top 3 best songs and explanations on why they chose that particular song will receive an upvote from @elcomentador.
1st place: 100% upvote
2nd place: 85% upvote
3rd place: 50% uptove
BONUS: Some outstanding participations will get a 0-5% upvote


Congratulations to @elblogdearly, @hojaraskita and @edpalma12! I really digged these songs and loved how they expressed the relationship between the songs and flowers.
The story of @elblogdearly reminded me that there are people as romantic or more romantic than me! With a song that talks about what seems like a "telepathy love" Arly also tells us that it could be adapted to a long distance love story, that you can love either from near or far and that this is what the song represents. Then one of the most romantic anecdotes I have ever read. The song is quite catchy and I remember it being played a lot not so long ago, I think this song is as cute as giving flowers.
@hojaraskita shares with us a song that takes us back to the 90s, a decade whose generation Nadia believes is the generation in love; she also tells us how she has learned to sing it over the years and how much it inspires her. This song talks about both facets of love, about how beautiful but also painful it can be, like a rose with thorns.
@edpalma12 tells us about the beautiful memories with his grandparents that he treasures, like the three of them together in the car listening to this song by Juan Luis Guerra, a popular singer who I think has such a good vibe and his music is so good that I think it is almost impossible for anyone not to like it. Ernesto invites us to listen to it while he tells us how it reminds him of his grandparents and makes him feel their love.
Ganadores y Premios
Elegiré 3 ganadores. Las 3 mejores canciones y explicaciones sobre por qué escogieron esa canción recibirán un upvote de @elcomentador.
1er lugar: upvote del 100%
2do lugar: upvote del 85%
3er lugar: uptove del 50%
BONUS: Algunas de las participaciones mas destacadas obtendrán un upvote del 0-5%


Ganadores de la Semana 6:
¡Felicidades a @elblogdearly, @hojaraskita y @edpalma12! Realmente me gustaron sus canciones y como ellos expresaron la relación entre estas y las flores.
La historia de @elblogdearly me hizo recordar que sí existe gente tan o mas romántica que yo! Con una canción que habla sobre lo que parece un "amor de telepatía" Arly también nos dice que podría adaptarse a una historia de amor a distancia, que se puede amar ya sea de cerca o de lejos y que esto es lo que representa la canción. Luego una de las anécdotas mas románticas que he leído en mi vida. La canción es bastante pegadiza y recuerdo que sonaba mucho no hace tanto tiempo, creo que esta canción es tan linda como regalar flores.
@hojaraskita nos comparte una canción que nos lleva de nuevo a los 90s, una década cuya generación opina Nadia es la generación enamorada; también nos cuenta como ha aprendido a cantarla con los años y lo mucho que la inspira. Esta canción habla sobre ambas facetas del amor, sobre lo hermoso pero también doloroso que puede ser, cual rosa con espinas.
@edpalma12 nos cuenta sobre los lindos recuerdos que atesora con sus abuelos, como el escuchar los tres juntos en el auto esta canción de Juan Luis Guerra, un cantante popular que opino tiene tanta buena vibra y su música es tan buena que creo que es casi imposible que a nadie le guste. Ernesto nos invita a escucharla mientras nos comenta como le recuerda a sus abuelos y le hace sentir su amor.
---

Click the banner to get redirect to the SMILE server.
---
Music Quiz activity - Week 7
In the @smi-le server we like to have recreational activities to keep it active and moving, and how not to mention? to encourage engagement between users as well.
One of these activities is the Music Quiz
A fun activity hosted by me each Tuesday and Friday.
Actividad Music Quiz - Semana 7
En el servidor @smi-le nos gusta tener actividades recreativas para mantenerlo activo y en movimiento, y cómo no... para fomentar el engagement entre los usuarios también.
Una de estas actividades es el Music Quiz
Un actividad divertida organizada por mi cada Martes y Viernes.

If you want to join this activity, know what it is about and what the prizes are, please read this post.
Si quieres unirte a esta actividad, saber de que se trata y cuales son los premios por favor lee este post.

The top 3 players with higher scores were @isamorales, @generra-abraham and @nineclaws. Congratulations! We hope you had enjoyed this game and space, and we look forward to seeing you participate again!
Ganadores de la Semana 6:
Los 3 mejores jugadores que acumularon mas puntos esta semana fueron @isamorales, @generra-abraham y @nineclaws. ¡Felicidades! Esperamos que hayan disfrutado de este juego y espacio, ¡esperamos también verlos participar de nuevo!


---
So, the SMILE server team and I cordially invite you all to participate in the upcoming sessions of this week 7 at 11:30 pm UTC! And don't forget the more you participate the more points you can get!
Así, el equipo de SMILE y yo te invitamos cordialmente a participar en las próximas sesiones de esta semana 7 a las 23:30 horas UTC ¡Y no olvides que cuanto más participes más puntos podrás conseguir!

Thanks for reading till here! I hope to see you on the Music Quiz on Discord as well as reading your comment and listening to your song in this post! 🎧
¡Gracias por leer hasta acá! Espero verte participar del Music Quiz en Discord asi como ¡leer tu comentario y escuchar tu canción en este post! 🎧


Powered by sponsor @elcomentador

Thanks for the help of the @aliento project

Click the banner to get redirect to the SMILE server, or https://discord.gg/R2zbb3a.
---
All the illustrations, banners and dividers are made by @tripode in Adobe Illustrator.
Captures taken from Discord Server SMILE
Aliento banner made by @eddiespino
---




Icons from Icons8
---