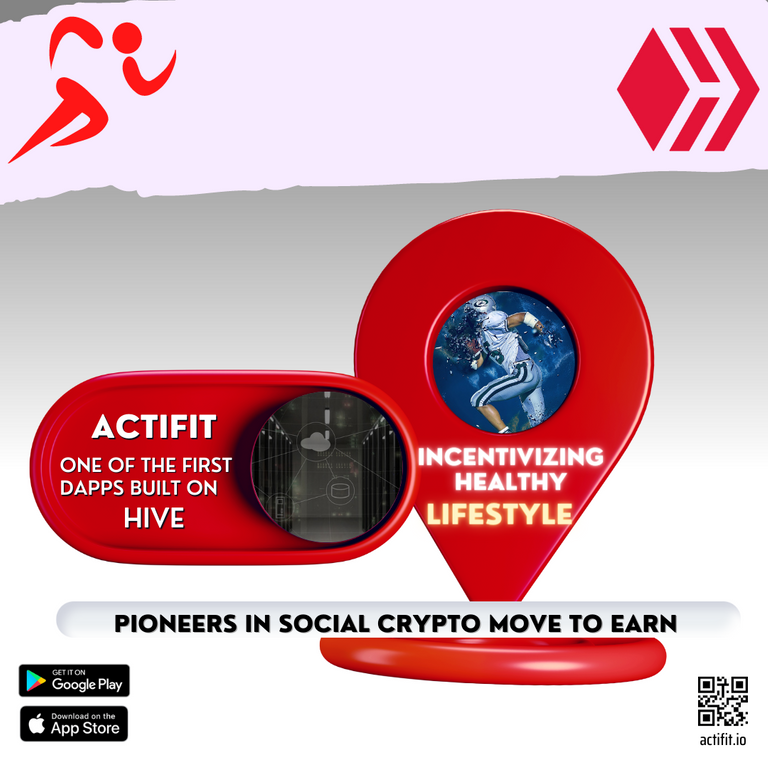 Actifit Background
Actifit is one of the first dapps built on top of hive. We have been running for more than 4.5 years now on Hive as our core blockchain, with 260+ Daily Active Users (DAUs) and 600+ Monthly Active Users (MAUs). We have practically been pioneers in social crypto move2earn, prior to all the hype that started several months back, with the launch of several large-scale VC-backed move2earn projects including Step N, Jump N,...to name a few.
Actifit comes with a unique set of features and differentiators from other players in the market. The basic idea for actifit is auto-tracking your steps, and posting via actifit app to earn rewards. The ecosystem has grown massively, with tons of features throughout the years, and a major android app revamp in the last few months.
Actifit has always been community-focused. Our vision since the beginning has been two-fold:
Changing lives: Helping our users live a healthier lifestyle
Help Hive strive: Bringing hive to the masses as the ultimate web3 experience.
For the above purposes, we have been continuously building and developing actifit across our different platforms, including web, android and ios.
We are humbled with the amount of life-changing stories we read on actifit content, as Actifit provides users the means to improve their lives and earn by tracking their day-to-day activity.
Actifit On Hive
We have always envisioned hive as a much bigger platform than a blogging portal, more so a hub to build and grow dapps, which is one of the main reasons we kicked off actifit on hive.
Actifit runs on hive as its core blockchain. Meaning, you are required to have a hive account to use actifit. All your posts, activity tracking, rewards, custom transactions are validated by using the hive blockchain.
Actifit community on hive is among the top communities in subscribers (7,000+), active users (600+), and interactions (6,500+).

Actifit has always been supportive of hive and projects built on top, but also vocal in promoting hive, especially on social media.
We have also been running our actifit hive witness for several years now. We take part in testing out hard forks prior to being released.
We continuously support new initiatives on hive, and collaborate with other projects.
We are one of the earlier adopters of hive-engine, we helped testing out the second-layer chain prior to release of block production and run several nodes of witness and api accordingly.
We also take part and support initiatives lead by @threespeak and collaborated by @disregardfiat (honeycomb), including dlux/spk network/ragnarok.
Currently, actifit supports fully on hive:
a web-based hive front end for actifit content, including full hive content support and functionality (posting, voting, comments,...)
a front-end wallet support for hive & hive-engine and limited mobile wallet.
an account creation service for actifit/hive.
a referral system for signups
We also run a large infrastructure for actifit and hive services which amounts to 20+ servers covering below aspects, and which we are continuously growing, currently covering:
hive witness server
hive seed server
hived full node api server
hive-engine witness server
hive-engine full node api server
spk network validator server
ragnarok validator server
image hosting server + proxy image server for actifit user content images on hive
notification server for actifit content on hive (posts, comments, rewards, ...)
several bot servers/services (reward cycles, tipping, voting, ...)
several api + database (offchain) servers for actifit specific content
2023 Plans
We are deploying this DHF funding proposal as our first DHF proposal to help actifit grow further and faster. Being part of a social web3 blockchain as unique as hive, and being a community-funded move2earn project is a key differentiator in the market, compared to other VC backed projects as mentioned above.
Actifit team currently has 12 members, with duties covering product planning, development, abuse detection, curation, moderation, support, social media and business development.
Our core development has mostly been handled by @mcfarhat, with assistance at times by hired part time resources. Yet due to cost being inhibitive, and the current market situation, we could not maintain long term commitment for additional resources. We want to push in that direction with your help, so that we can better afford growing actifit bigger and faster, while continuing to offer and expanding our hive focused services.
We are proponents of open source, and our code base has always been and will always be open source and can be found on github
.
We believe Actifit has all the great components as a leading move2earn social project, and this ties massively to growth on hive, similarly to how splinterlands has grown, and hopefully other hive initiatives (@threespeak, @leofinance, ...) will.
Below is a highlight of some of our plans for the upcoming year:
Create a new social engagement experience on both web and mobile completely built on hive.
Implement full hive blogging support (increasing our front-end support).
Introduce new signup/account creation options.
Improve wallet experience (already in progress on web, pending on mobile)
Integrate other hive login options
Improve web and mobile UX/UI experience.
Integration/collaboration with more hive projects & initiatives (planned for now integration and support for 3speak shorts, posh tweet rewards, and leo threads to name a few).
Integrate new wearable support to actifit sync.
Revamp of iOS actifit version
Additional infrastructure deployment & growth, particularly focused in support of hive and underlying projects.
Conceptualize and kick-off implementation of Teams & Challenges to actifit.
Hive RPC control and Testnet support under actifit web.
Dashboard for node monitoring and availability status for hive and actifit API nodes.
Implement new gamification concepts for actifit.
and much more...
Requested Funding
We are looking to get funding to help cover the items highlighted above. As a breakdown:
Current infrastructure cost (400$ monthly)
Devops cost (600$ monthly)
Developers cost (web, android, ios: 3 x 1,700$ monthly)
Graphics cost (800$ monthly)
We are therefore looking at a monthly asking of 6,900$, which equates to 230 HBD per day across year 2023.
Please note that we have used a very conservative calculation trying not to overload DHF, on the basis to cover some of the needed costs.
As we usually do, we will provide continuous updates on our progress and growth.
If you have any comments/suggestions/ideas, we are more than happy to discuss..Actifit has only grown based on community feedback.
Support This Proposal
Actifit Links
Thank you for your trust and your support!