Cross-Chain Connectivity Phase 1 Launch!
We are excited to be launching the first phase of cross-chain connectivity, enabling AFIT and AFITX on BSC (as well as LP tokens AFIT-BNB and AFITX-BNB) to reward you on actifit!
Yes that's right, while our prior reward element took into consideration AFIT / AFITX available on actifit wallet, hive-engine, steem-engine, all your holdings are now unified in a single place under your Actifit wallet, whereby you can visualize tokens you hold on a relevant BSC wallet.
Keep in mind in order for the data to show, you need to input your wallet under "Your BSC wallet" in the actifit wallet page.
Additionally, now that the connectivity is in place, this reflects on your user rank. More on that in the section below.
Below sample display of holdings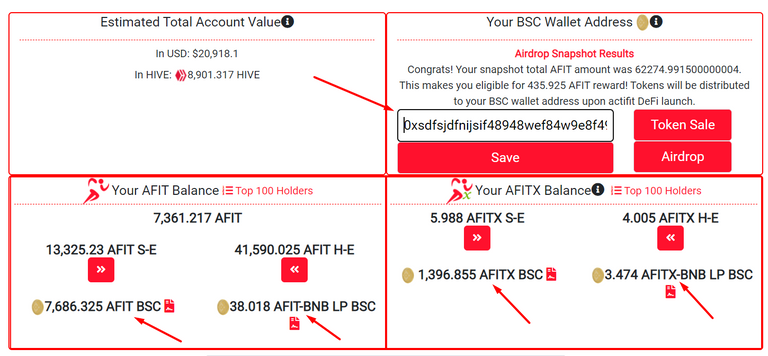 Improved Dynamic User Rank + BSC-Based Rewards
As highlighted above, we have creating an integrated approach with BSC chain, so as the balance of your AFIT/AFITX and relevant LP tokens is now properly fetched and calculated.
This enabled us to initiate the first BSC-Based Rewards on Actifit, whereby your user rank now takes into consideration your AFIT/AFITX/LP holdings for extra rewards, as follows:
AFIT on BSC: The amount of AFIT you hold on BSC is accounted for, with a multiplier of 2. Meaning if you own 1,000 AFIT on BSC, for the user rank calculation, this is 2,000 AFIT.
AFITX on BSC: The amount of AFITX you hold on BSC is accounted for, with a multiplier of 2. Meaning if you own 100 AFITX on BSC, for the user rank this is 200 AFITX.
AFIT-BNB LP on BSC: The LP tokens are the liquidity providing approach on BSC. Putting your AFIT-BNB pair will give you back LP tokens. For those special tokens, and as extra reward, the multiplier used is x3, meaning if you have 100 LP tokens, those will be treated as 300 AFIT on your user rank.
AFIT-BNB LP on BSC: Similarly to the above LP tokens, the AFITX-BNB ones are also treated with a 3x multiplier. Meaning your 100 LP tokens are treated as 300 AFITX on your user rank.
Add to that, we have also adjusted our user rank calculation, so that it is affected by any change in your AFIT holdings. Previously we had ranges, whereby you needed to jump into a new range for your rank to increase, now with this new change your rank can increase within the range itself, and keep growing as you pile up more and more AFIT.
Below is the new calculation mechanism for the AFIT holdings.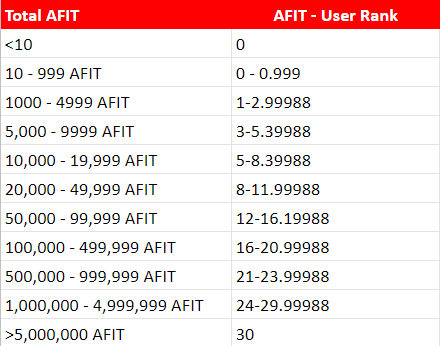 For more details about the user rank calculation, you can visit your rank page on actifit. The approach above is still not reflected in terms of AFIT calculation, and will be updated in the coming few days.
Actifit DeFi Progress
Our smart contracts have taken some time for completion, as we are trying to include as many lucrative options & rewards as possible for our investors, identifying new ideas and reward potential in the market, and the continuous innovation occurring in the DeFi space.
And as per the immutable nature of smart contracts, and to avoid the use of proxies, we are working on setting up the smart contracts on BSC to include the most amount of features, while being and as expandable as possible, of course taking into consideration high levels of security and audits.
The plan is to finalize the smart contract within the month of December for a preliminary launch of Actifit DeFi workouts & shakes.
If you have any special features you would like to see as part of Actifit DeFi, feel free to suggest them in the comments below, or share them on our discord in the suggestions channel.
User Key Screen
Many of our new users who are not very familiar with hive are facing some issues with keeping track of their posting/active/... keys and are even unable to login after the first registration.
To make this process easier, we setup a new page for "Forgot my posting key?" link, that takes the user to a screen whereby by inputting their username and password, are able to fetch the rest of their keys, and then login or take whatever action they need using the keys.