Buying, Powering Up, & Distributing HIVE
In alignment with our token sale process, yesterday we have bought back from the market a total of 4,619 HIVE.
Those HIVE were used for 2 targets:
Distributed 1,281 HIVE to eligible Actifit Token Sale participants of the HIVE community via @actifit.rewards account.
Powered Up 3,338 HIVE / HP to @actifit account to use in increasing our users rewards.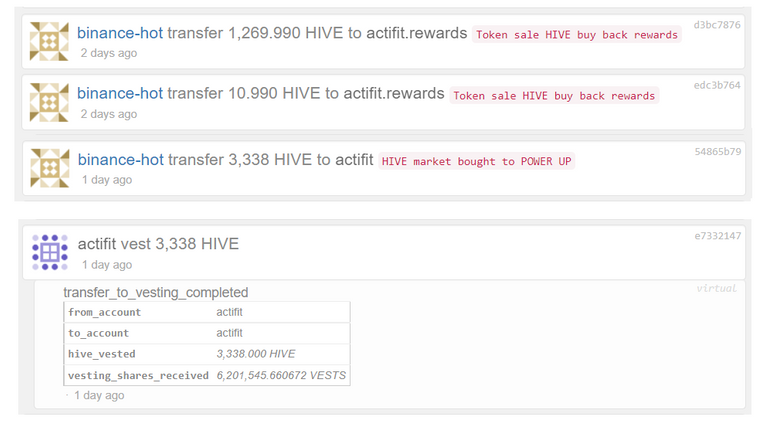 Exchanging your EBAFIT & EBAFITX is Now Available
To all our early bird token sale participants, and to allow those who wish to exchange their EBAFIT and/or EBAFITX for AFIT/AFITX right now, we have setup proper liquidity pools on both pancakeswap and actifit defi so that you can directly perform the swap over there.
To perform the swap, you will need to add custom tokens EBAFIT (0xf79821c256fa7dabdedc007e1880230317ae4b44) and/or EBAFITX (0xf8e9128a0c200cbc1ac23886ae1b550dc283de07) on either portal.
You can simply use the following links for direct setup:
You do not need to perform this action right now, you can wait to have the new EBAFIT and EBAFITX pools available as part of Actifit DeFi which would have extra rewards when launched, yet exchanging your tokens for AFIT/AFITX will allow you to add liquidity to the AFIT & AFITX / BNB pairs and earn extra rewards as of now for all exchange activities on relevant pairs.
Stay tuned for more upcoming updates. Let's GO!