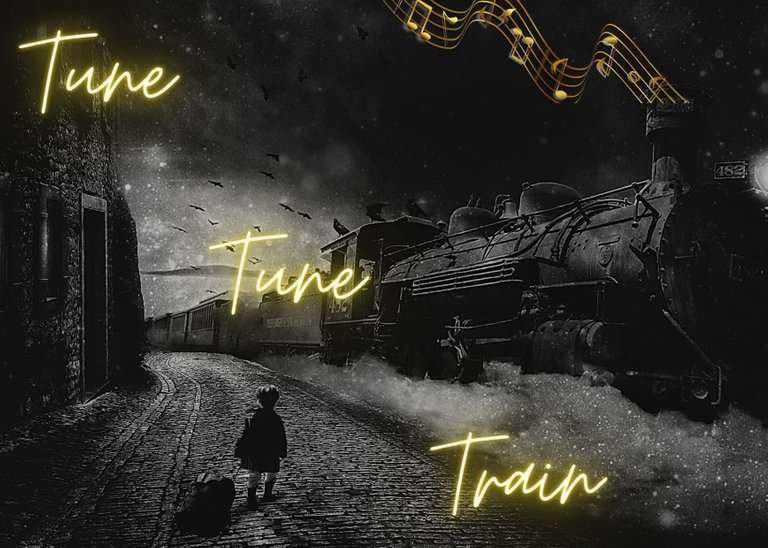 The Tune Tune Train keeps rolling:
The Tune Tune Train is a challenge I came up with based on the Three Tunes Tuesday format. I will give you three great songs and you can win a $1 Ecency boost if you tell me what connects the songs.
A connection can be: they are all about flowers, they have the same drummer, they all sing about Pink Mushrooms, or they are all kids from famous parents. Just to give an idea of what a connection might be.
It´s up to you Dear Reader to figure out what connects the Tune Tune Train.
Or wait till I solve the riddle in next week's post.
And these were last week's songs:
Nick Phoenix - That won´t stand
Merethe Soltvedt - LÚNA
Thomas Bergersen - Lament for our Children (Feat. Kate St. Pierre)
Last Weeks Clues Were
There is no I in Team? So if these were the I´s who was the team?
The second hint mentioned that you needed to stay away at least a couple of feet from Dante´s Inferno, otherwise known as hell!
Two Steps Away From Hell, could I make it any easier?
These three people are a team called Two Steps Away From Hell! The group widely featured in my Midnight Gems session last week:
Midnight Gems 2.0 - The written Radio Show - Episode 17 "Cinematic Eargasms"
We Have NO Winner
Sorry, Not Sorry!
Here we go again!

All Aboard!
The Tune Tune Train keeps Rolling!
Are You Ready To Riddle?
Definitely not perfect, but damn for those romantics among us. If this is what was sung before you deliver that wedding ring.... omg I would not dare ever divorce!
Daxner3 feat. Brassaranka and Carmen Quartett - The Book Of Love (Cover) Peter Gabriel
Merethe also is still standing strong, although I need to slow the train down a little so we can take our time to be amazed. She has done so much already, in so many different styles.
Well, I needed a cover of an amazing classic to fit this train, I went through at least 20. Some with tens of thousands of views, but the one that jumped out to me was this one....with only 85???? views.
I´ll be your mirror cover. Pedro, Car y Cris.
You like Games?
You like playing my Twisted Games? Well my game is twisted, and you need to figure out the twist.
TFJØRA - Twisted Games
This week's hint is simple: Huge Hint to make it easy. I just gave you a mirror of a mirror, of two songs that need to be connected to the third. It´s that simple!
---
Let me know in the comments if you figure out what connects these three songs.
First to get it right, gets a nice Ecency Boost!
The connection and winner will be featured in next week's #TTT
Previous Tune Tune Train Rides: