Shhhhh.
Shhhhhhhhh.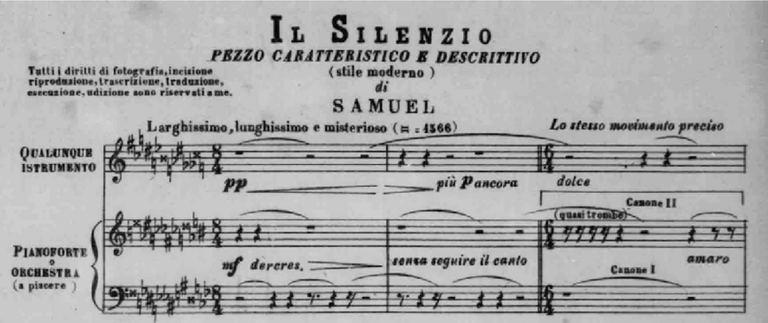 Some moments later we "hear" absolute silence. We needed that irritating sounds at the beginning of this text to have some silence. You know that... when the librarian wants to draw attention to the fact that silence is the greatest treasure between the bookshelves in the library. Or you are sitting in the audience of a concert hall and the concert is just about to start and people are still chatting... so always, there is someone that will try to shush the mass. Noise and silence seem opposite, but in fact, can silence exist without noise, or vice versa?
It is maybe not a new topic among musicians and composers. Not new at all, sound and silence must be in tune and in harmony to serve the greater purpose. To create music. It's like our life and our daily activities. I know by myself, I talk and talk, and maybe sometimes too much and with different intensity, but I also know how to keep quiet (...uhm...when I sleep). I also know how to listen to others, if a problem, a story, anecdote, music that my students play me... then I really keep quiet and I am focused on that. Respect the space that the other needs to express itself, well I try it at least. In a similar way, silence in music has great importance too. It is the essential part of it.
How this silence thing was brought to our attention recently? Well, in the latest Spread the Vibes post by @edje, Nils Frahm played, as the first track of his newest album Old Friends New Friends, a piece titled 4:33 A Tribute to John Cage. Very well-known piece among pianists. Although Nils created a beautiful album, that you should check out in need of chilling, my first reaction went towards John Cage and his aforementioned piece 4:33. I even had the idea to "prepare" that piece as my response to the challenge, but I decided not to (still have to clarify in my mind what and how my response will be brought). But not to go far away from the silent matter. We can relate to John Cage's creation as the most known piece of that kind and it is pretty surprising to listen to the performance of it, but please take seats if not already, even more surprising fact is that he was not the first to do that! There are some "silent" compositions that existed before his one... And, you guess, they sound similar... music through silence :) However, we are talking here about a different concept. Not anymore just the importance of the silence in music, but also a humoristic approach that some composers took and what sounds represent them. John Cage gave a very interesting thought about noise, sound, and silence... and quoted the German philosopher, Immanuel Kant, that there are two things that dont have to mean anything: music and laughter!
So, some of the other examples I found are just in written form, I couldn't find a "recording" of them. For example, a very complex written score, with many details, instructions, but full of signs of musical silence, with the title : Il Silenzio: pezzo caratteristico e descrittivo (stile moderno) by Samuel. It is supposed that Samuel is just a pseudonym for Edgardo Dell Valle de Paz (1861-1920) and the piece was written in 1896 and published in the Year 1. Vol. 1. Nº11. Supplement of the journal La Nuova Musica. The cover photo is an excerpt from the music scores, photo source here.
"Samuel was attempting a different means of writing one of his humorous critiques on musical society, mainly in Florence. All the techniques used are well developed and extremely diversified for a piece having no pitch and with a skill that only Erik Satie could match at that time. He highlights and questions every compositional cliché that was in vogue during the period among traditional Italian composers and the growth of modernist avant-garde arts, using humor as a mechanism of critique".source
As we see, humour played a big role in the creation of this concept... as can we call it music? Ok, I will give it a go and accept it as music and a way of expression as well as the next piece we are facing here. Written in 1897 by a French humorist and writer, Alphonse Allais: Funeral March for the Obsequies of a Deaf Man. In fact, there are just 24 measures without any sing in them. Empty measures. The composer instructed: "Great sorrows being mute, the performers should occupy themselves with the sole task of counting the bars, instead of indulging in the kind of indecent row that destroys the august character of the best obsequies."
So what are your impressions about this Funeral March? :) If you are not sure, we can go to the next example, where we could also see how silence is performed, by this pianist that appears in the next video. The composition In Futurum, is composed in 1919 as a third movement of a five-set piece Five Picturesques. Composer Erwin Schulhoff. If we watch the video we can see that the scores are written with many details. The part of the left hand is written in the treble clef, and the right-hand part is in the bass clef, so it is why the pianist sometimes has to cross his hands. His left hand should cross over the right hand. Being a pianist myself, I can say that it would be interesting for me to perform this piece In Futurum.
Do we like now more the concept? If you are still not sure about that, well, let us move to the next example. The composer of this piece, Monotone-Silence Symphony, written in 1949 is Yves Klein, Here, we can hear some sounds, indeed! A 20-minute long chord, interpreted by an orchestra and choir followed by 20 minutes of long silence, also performed by the same musicians. To understand better, I am not sharing here the whole piece that lasts for 40 minutes, but a short explication of what this piece is about. Experience! The reverberation of the sound in the silence.
What would be the conclusion of this post? Well, first of all, I am moving from the topic of music and sounds now to my own experience these days as I felt a bit of silence from me in terms of posting. All I wanted to do was not any good, in my opinion, hunted by some inner doubts and insecurities, then I didn't have time, then I was without focus, then... Many then-s produced a silence from me, and the result is just more silence in this post. Ok, music will come too hopefully in the near future, but silence is the main protagonist here. Getting back to the real matter, how do you see now the importance of silence in music? Do you think, we can hear music from it? Can we have that deep pleasure listening to pure sounds, silences, and all the combinations of them out of time and measure and out accepted ways of expression? Hope you feel that it is a positive answer from me. So, what about you?