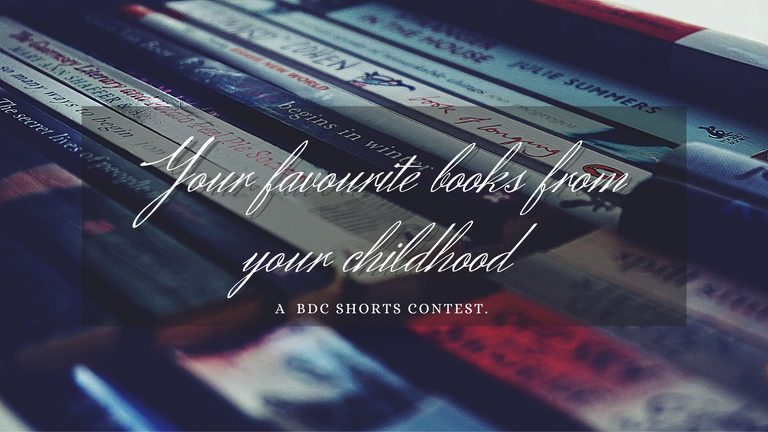 Source
That's right, people! In collaboration with BDC, we have arranged our first ever contest for you all!
It's been a while bdc has held any contests, so receiving permission to organize one on their behalf is undoubtedly an exciting conquest! We are delighted to be able to do this, so without further delay, let's get into it!
Topic for the contest

Ahhh, books!
Even if most of us aren't avid readers, we all surely have had that one story that stood out to us since the early days. From urban Fairytales to old Disney classics, from chilling thrillers like Sherlock Holmes to exciting Adventures like Robinson Crusoe, we all have at least one book that has caught our attention. And for this contest, we want you to write about just that.
So, jog up your memories and find those stories that shaped your childhood and kept you awake at night, and let's all reminisce just a little bit together!
The details and conditions of the contest are given below:
Winners and prizes.
This contest will have 3 winners, and, we are giving away a total of 50 HIVE in prizes. They will be distributed as follows:
First Place — 25 HIVE.
Second Place — 15 HIVE.
Third Place — 10 HIVE.
Terms and Conditions
The entries should be written only in English.

Entries should not be less than 450 words.

Only one entry per contestant will be counted as valid. And do not use the tags and the title more than once.

The post title should include ["BDC CONTEST"]. For example, "BDC CONTEST-Your Title Here."

Use #BDCcontest among your tags.

Tag a friend: Invite someone to participate. And Include a link to this post somewhere in your entry.

After you have posted, comment below with a link to your post so that we can find you.
Submission Deadline
Submission is due within 15th April, Friday, at 10:00 AM GMT+6 sharp.
Entries will not be accepted after that.
Evaluation Process:
Failure to follow any of the aforementioned conditions will cause an automatic disqualification.

Please refrain from using vulgarities, profanities, and obscenities and stick to the Topic.

Anyone found to be using reward app will be automatically disqualified.
The winners will be announced after the deadline has ended.
Well, that's it, everyone! Happy writing!