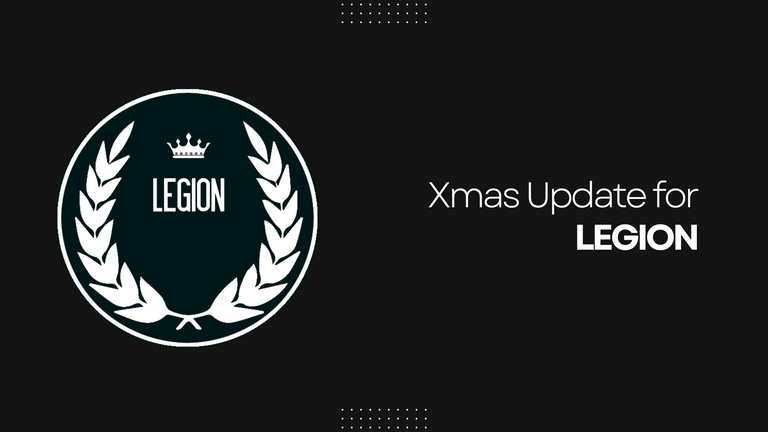 Looks like we are nearing the festive season where people relax and eat a little bit too much Turkey, or in the case of @r0nd0n, buy $1000+ worth of Steak! Yum!
We wanted to bring you some good news for Xmas and New Year but it seems like we have been presented with a problem that myself and @stickupboys had to spend at least a few days hashing out.
The original plan was to burn all the Legion that our sell wall had attracted over this month therefor reducing the circulating supply, but it seems that none of you are interested in selling. Not at the moment anyway. We had actually anticipated at least a fray of sells at the beginning as people cash out for xmas, but none, nada. Nothing.
Well done. I didn't expect that.
What that means is that we're accumulating a large sell wall (I'm hoping to reach around 10,000 hive by 1st Jan) and no-one is using it. Which is good, I mean I'm not complaining. But we still want to reward our holders and future buyers in some way whilst we wait on utility - I mean right now we're just riding out the worst of the bear.
What we have decided to do is that we will disperse at least 50% of the sell wall to holders on the first of Jan. That means if we manage to accumulate 10k hive, then we'll shove at least 5k hive into the drips pot for everyone that holds some Legion.
As an example if we were to do this now with 5000 hive worth of drips then with a true circulating supply of 43,427 Legion (currently as I write this) then everyone would get 0.12 Hive per Legion.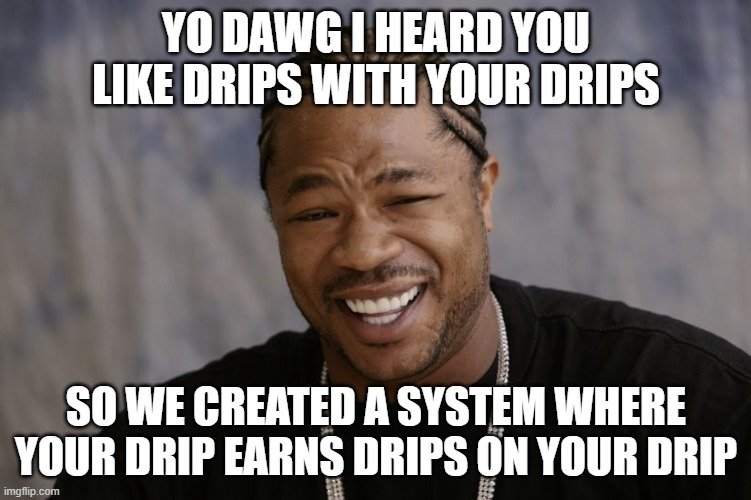 After the bear I will say that Brofund WILL be buying lots of Legion too - so BRO will benefit from this hive drop in the future -- as we will drop any APR we get onto BRO holders. 100% of it. Right now though, BRO pays out Legion, upvotes & weekly hive so we will grow that in the background.
The main thing is that we will concentrate on building Legion to fully funding that wall and the monthly share backs. Currently we are just holding our own until the bear market eases off a little. Then we will get onto looking at Utility.
As for @stickupboys they are fully immersed into building their first utility off Legion and by the end of the year plan to have a full suite of games. The very first one is being built as we speak.
Currently you can buy @stickupboys products over on nftmart and they have listed LGN as a token they use.

This isn't a penny project, I've already done the calculations. I'm super bullish for the next year.
Addressing some concerns
It has been thrown at me over this last week that this is a money grab -- which in all fairness it could be seen that way if taken at face value. I mean there are 790,000 Legion up for sale there, that's a LOT of hive, right? What the hell is this if not for a money grab?!
Okay, so the biggest mistake I made with BRO is that I invested a lot of my own money into it and now I don't know who, why, where, how or when. I was lucky enough to bring on @stickupboys onto my team to line manage the projects we run and he is a stickler for documentation and recording, and it made me realise that even if I was to split up the @brofund I would not have a clue how much I put in. Not to worry though, as @trumpman keeps reminding me, I will eventually have a large stack of my own BRO.
To solve this problem I minted a very large amount of Legion. I don't plan to sell that amount, however anytime I pay for something out of my own pocket to advance Legion then I will buy the appropriate tokens off the market. That way Legion will get the appropriate funding and I will get an appropriate slice of the pie. I had to do it this way because I don't get a share. I didn't like that I could mint myself a large amount of tokens which could jeopardise the project as @acidyo has rightly pointed out in the past. If I spend my own money then I'm more likely to value it more.
I'll put my own money into it like proper bricks and mortar businesses do.
So, think of this as a way of letting you get in at the very bottom of everything. Think of this as me letting you in when we're still at the round table discussing what we're going to do. So if I hear anyone say to me in 2024,
"Man, I wish I got into Legion when I had the chance"
I'll wring your f**kin neck because I gave you a year lol.
Cine is completed!!
After almost a year of frustration, moving from dev to dev, trying to understand how devs operate, and how sometimes they don't operate -- we have finally upgraded the front end.
We're close to launching this sucker, but not before we release a roadmap. God-like Police Admiral (or something like that lol) @papacrusher has his own plans with Cine that we want to bring to the table. Yes, we're looking at apps for that too. We realised quite early on that a blogging platform wont quite cut the bread if people have nowhere to use their tokens.
We'll also be looking at reselling our work for any tribe that wants to get in on the action because we know how costly and horrible this process can be.
Any BRO updates?
Hmm, no, not right now. I guess we can calculate BRO drops for any excited people out there. Let's see:
Oh, that's an easy one. Right now BRO is dropping LGN at 1 BRO to 2 Legion and that's not including the weekly hive and the upvotes.
So, basically. A merry Christmas to you all!!