Hello friends!
Today I want to show you my new work - these are beads made in a style that resembles Murano glass. Since in my work I used polymer clay with a translucent effect, I managed to achieve this result.
This is what the beads look like: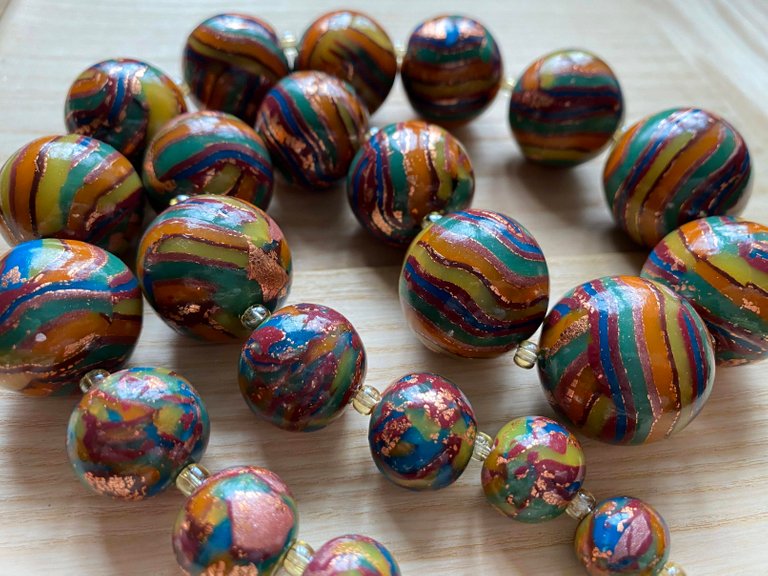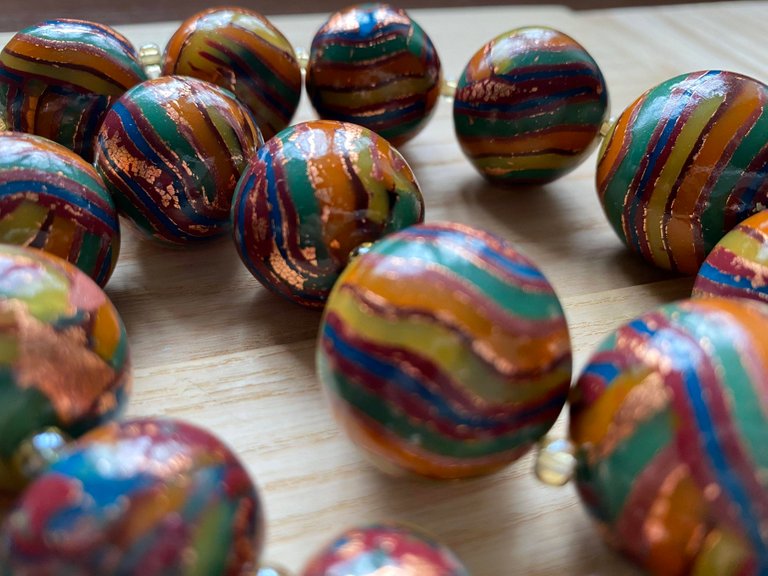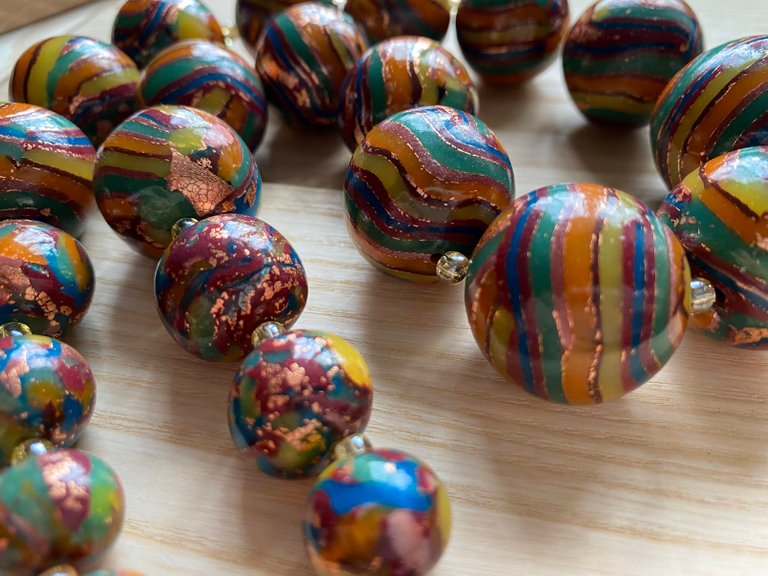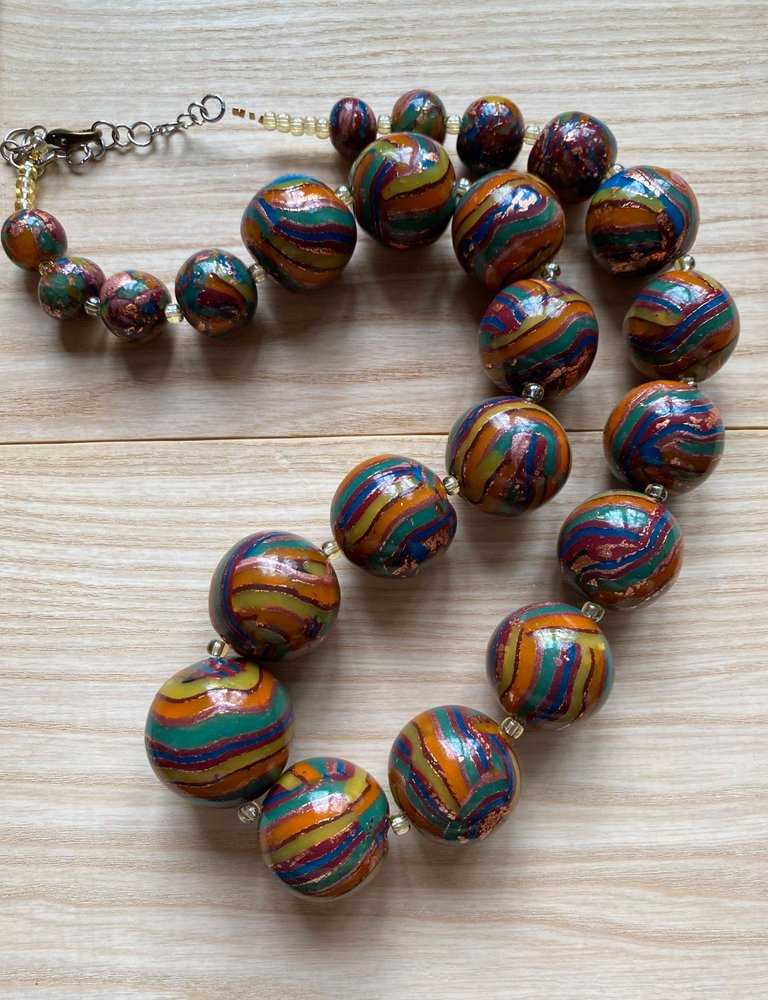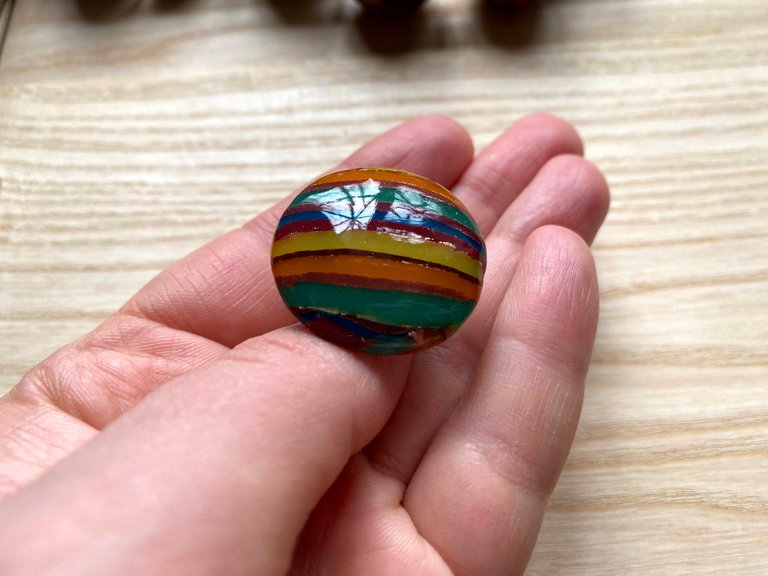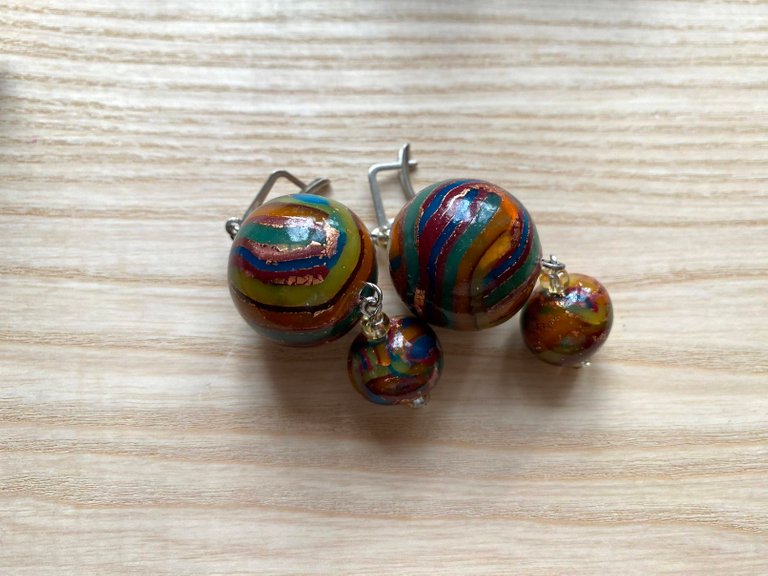 Another one of my works in the same technique: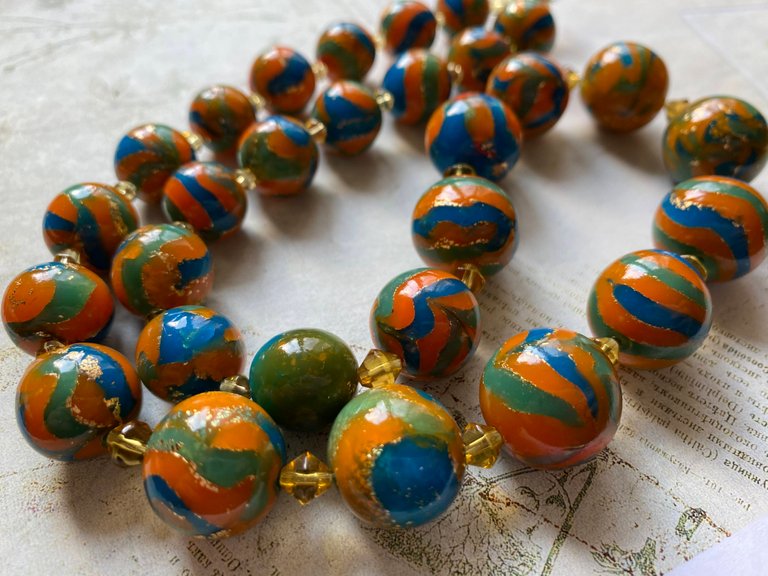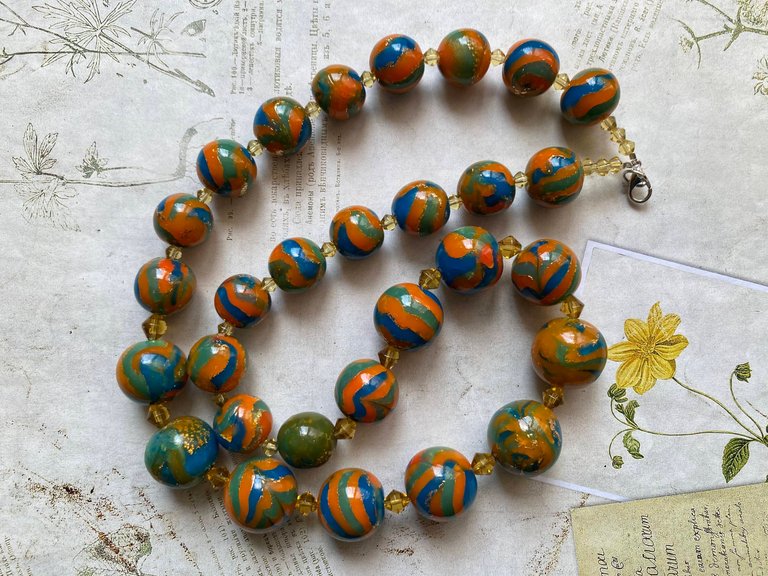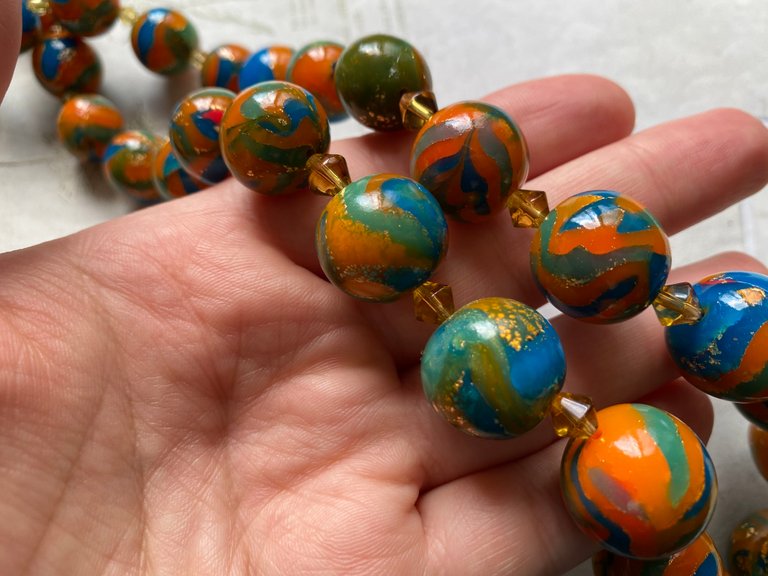 But let me tell you about everything in order :)
Murano glass has glorified Italy as the birthplace of a unique craft. For many centuries, it has not gone out of fashion, but only gaining popularity. It was Venice that gave the world artistic glass. No one has yet been able to surpass the Venetian masters. Murano glass carries a daring spirit of creativity, a unique philosophy, history and unique style. In the production process, the craftsmen do not use synthetic dyes. The colors of the products are given by natural minerals, which are added in the form of a powder to the initial mixture: lapis lazuli, alexandrite, malachite, garnet and others. Iron oxide stains the glass mass green, copper oxide gives a red tone, tin oxide milky white, an admixture of gold - ruby, cobalt - blue. Gold and silver tones are achieved by adding gold and silver grains of sand. Murano glass, thanks to unique decoration techniques, a variety of shapes and unique shades, makes the product lively and emotional.
There are a variety of techniques for making Murano glass, but I tried to make these beads look like agate Murano glass - glass, the layers of which are differently arranged and differently colored, make up patterns like agate.
Polymer clay is a unique material for creativity, because it can be used to make products in completely different styles, as well as create works that will imitate natural materials, minerals, and so on.
Required Tools and Materials
I want to draw your attention to the fact that the main material that I used is polymer clay. It comes in different brands, and its properties may vary. These beads require regular opaque polymer clay, but also mandatory translucent effect polymer clay.
I also want to emphasize separately that you will need a special varnish for polymer clay. All the charm of these beads opens after baking and varnishing in 2-3 layers.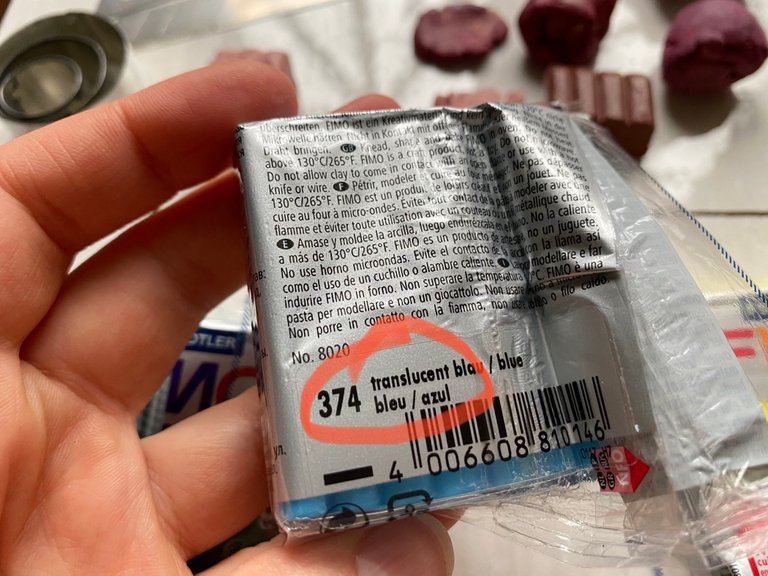 To work you will need: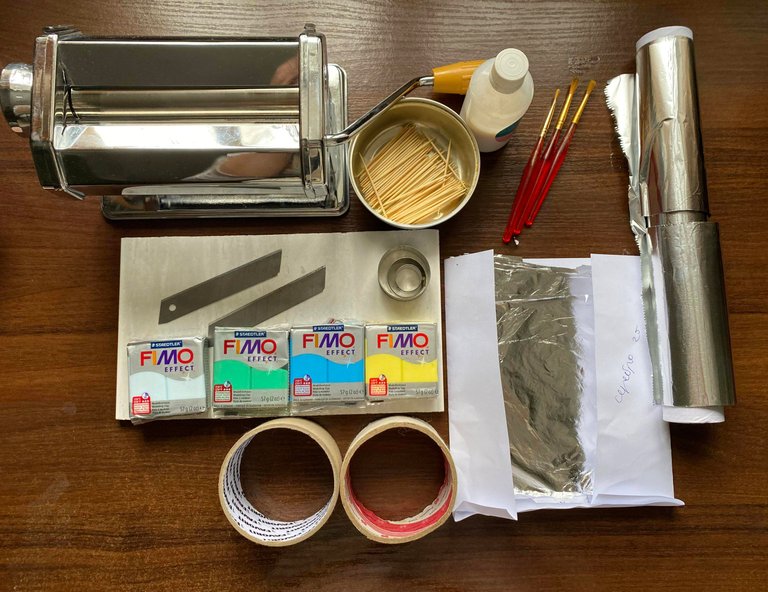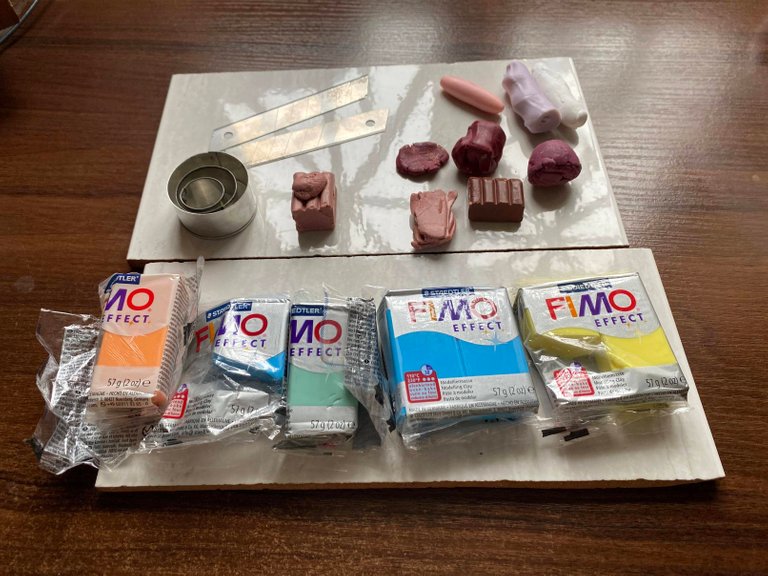 polymer clay
work surface (glass or sheet of paper, tile). For many years I have been using the most ordinary tile for work. It is convenient to work on it and then you can bake decorations in the oven.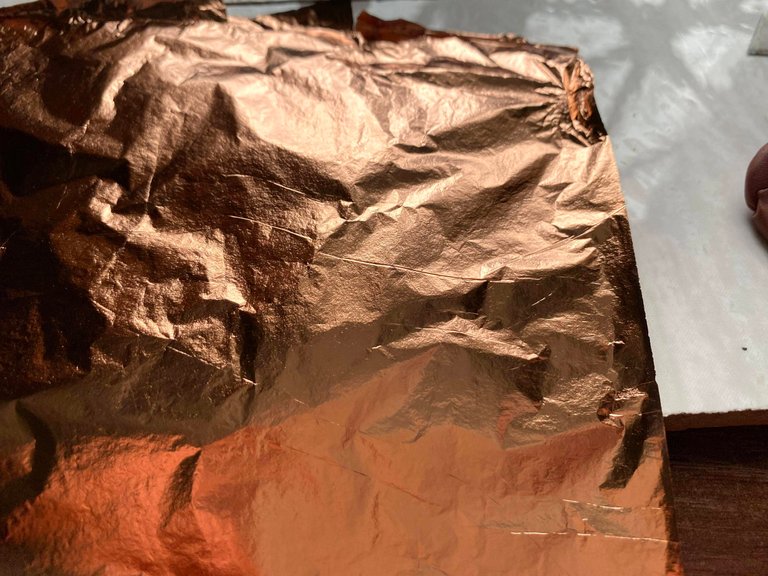 potal (the thinnest foil available at a nail supply store or art store)
pasta machine or rolling pin
stationary knife, blade or scalpel
toothpicks
regular baking foil
varnish for polymer clay
brushes
Cardboards from scotch tape or dish sponge (used to stick toothpick beads into them)
wet wipes to wipe hands and clean up debris in the process
oven. Polymer clay jewelry is always baked in the oven. Basically, the baking temperature is 100-130 degrees (for different manufacturers of polymer clay, the baking temperature is different, so you need to carefully look at the packaging). Baking time - up to 30 minutes. Well, if your oven has a convection mode, then the decorations will bake evenly and be very durable in use.
pliers or half nose pliers for assembling and attaching fittings
accessories for assembling jewelry
line
beads or beads for additional decor
Difficulty level: This technique is suitable for those who have at least a little experience in sculpting from polymer clay. It will be difficult for a beginner to cope.
Working time: Bead molding takes about 3 hours. Varnishing and assembly of the finished product will take another 1.5-2 hours.
Step 1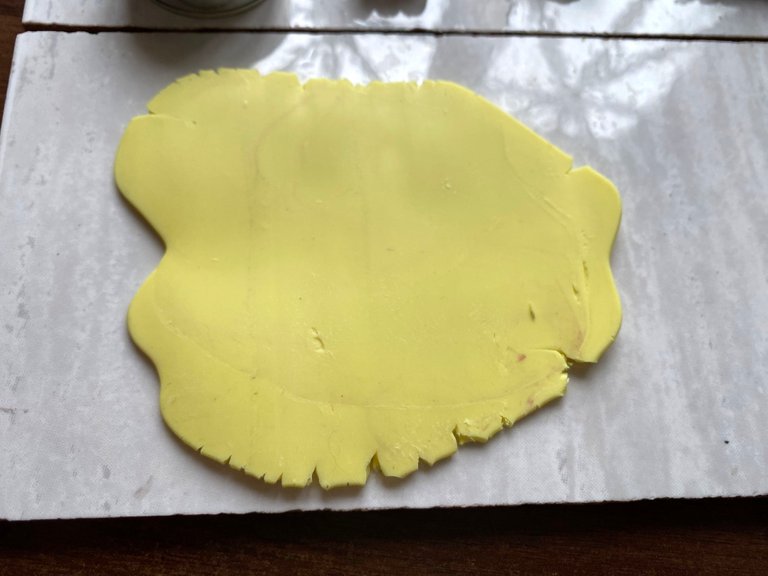 I roll out polymer clay of a lemon translucent color into a layer about 2 mm thick.
I want to draw your attention to the fact that next I rolled out all the colors of polymer clay into layers of different thicknesses. This is necessary so that the finished product looks more interesting and the desired "agate" effect is obtained.
Step 2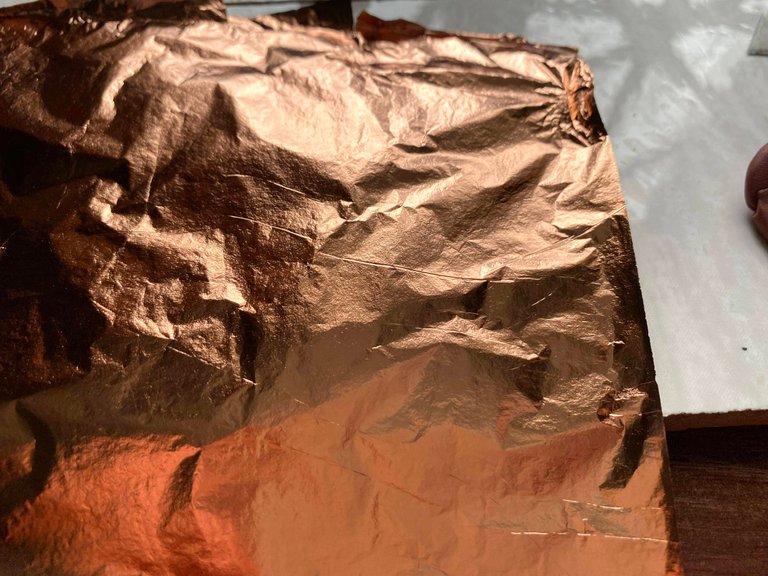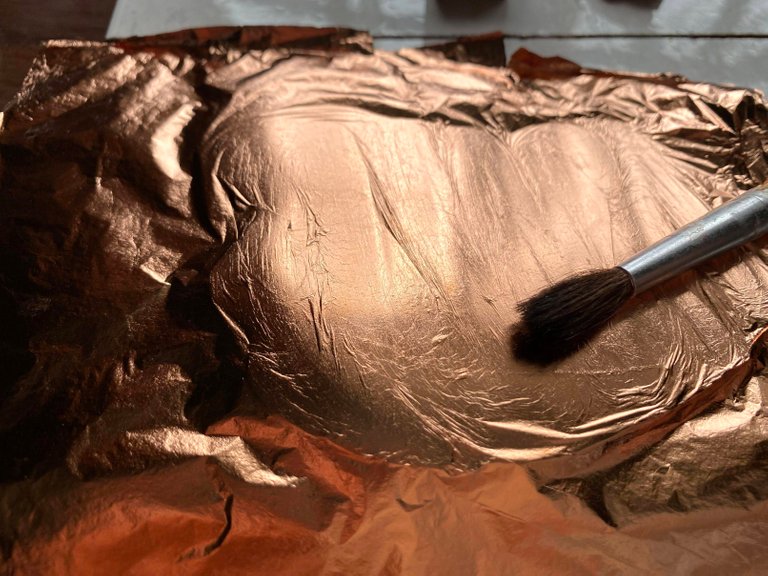 I put a potal on a layer of polymer clay and smooth it gently with a brush. Potal adheres very well to polymer clay. If it breaks a little in the process, it's okay, you can put the pieces on clay.
Step 3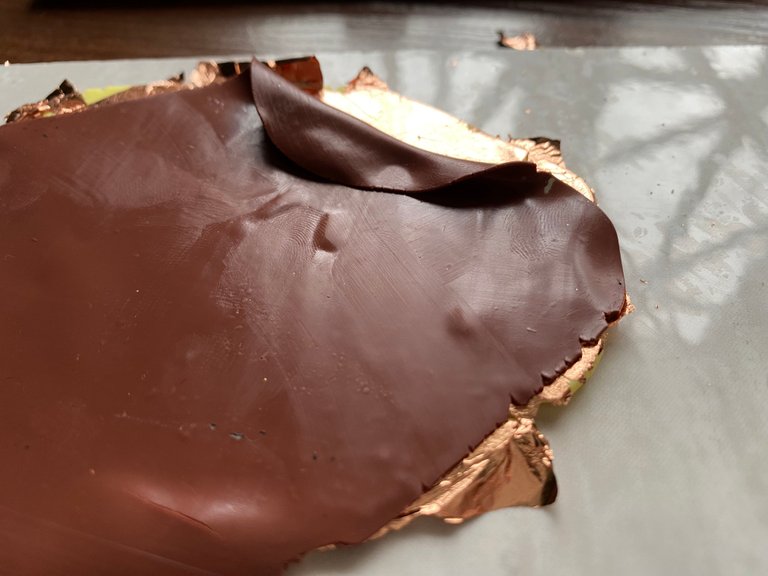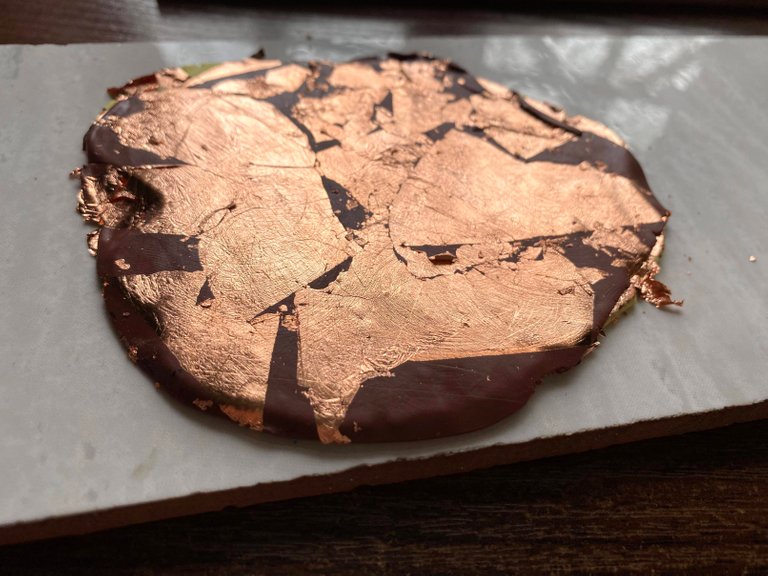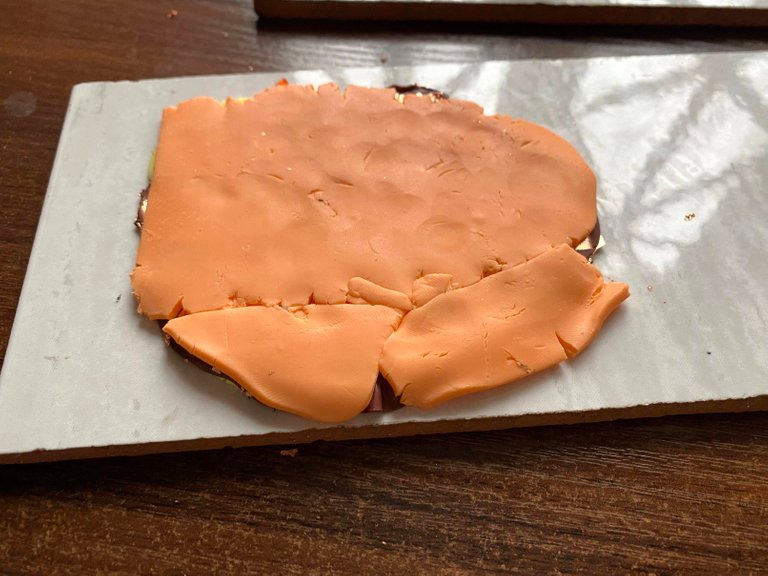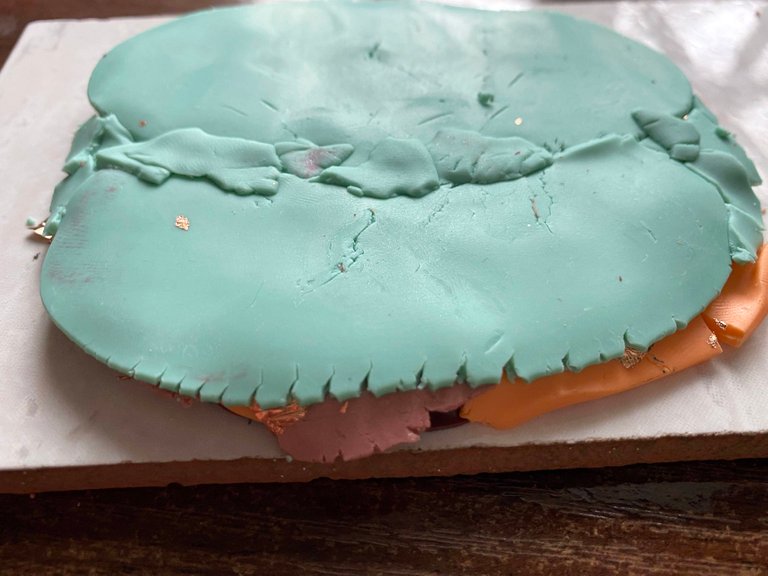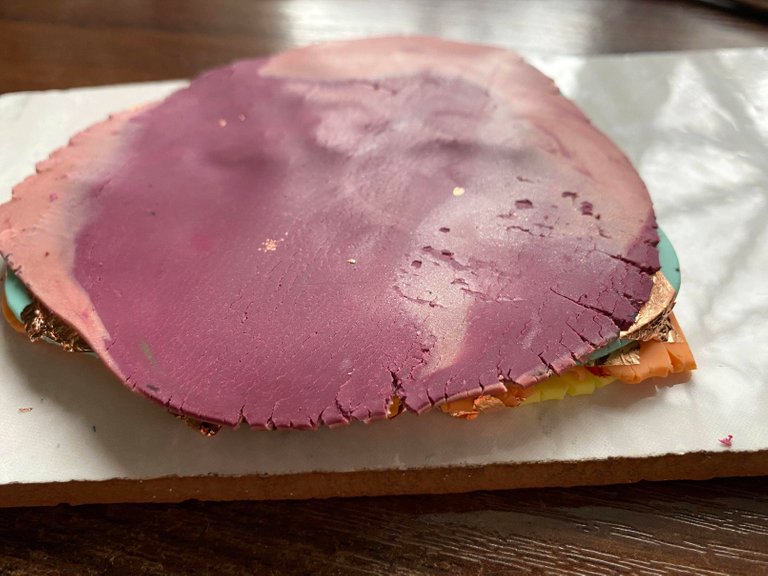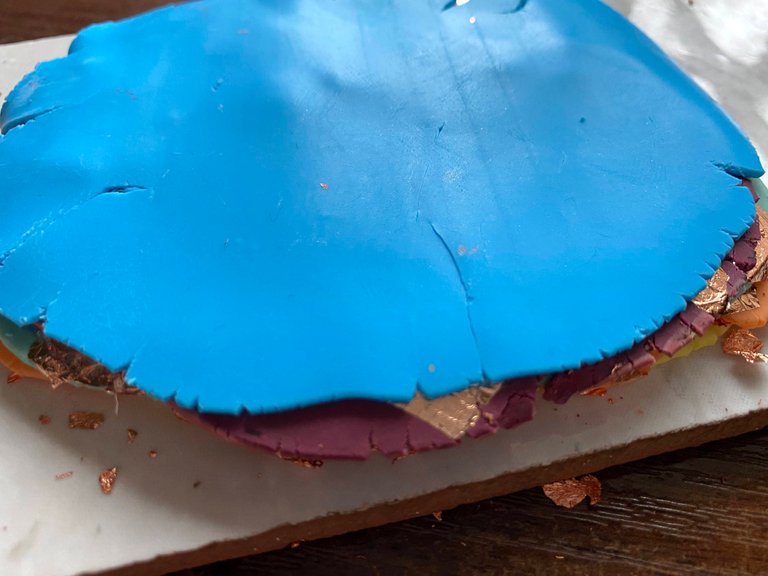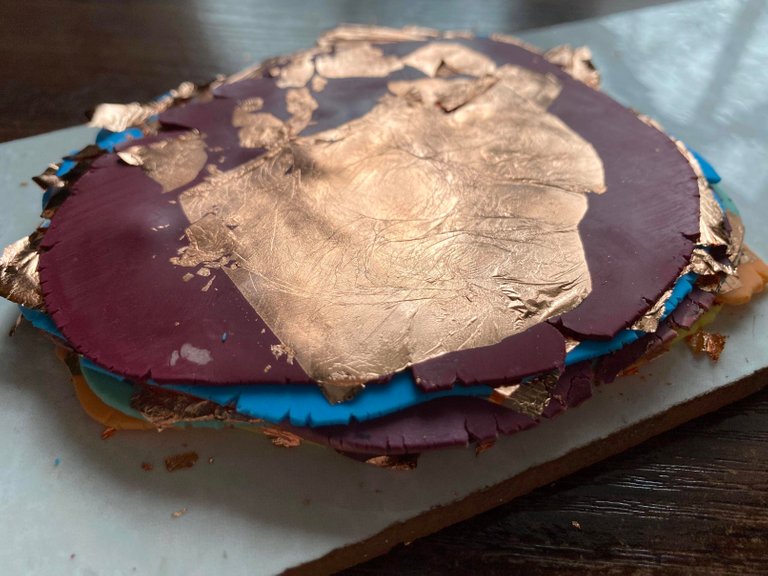 I continue to alternate layers of different colors of polymer clay with potal. I think that the process is clear from the photo.
Step 4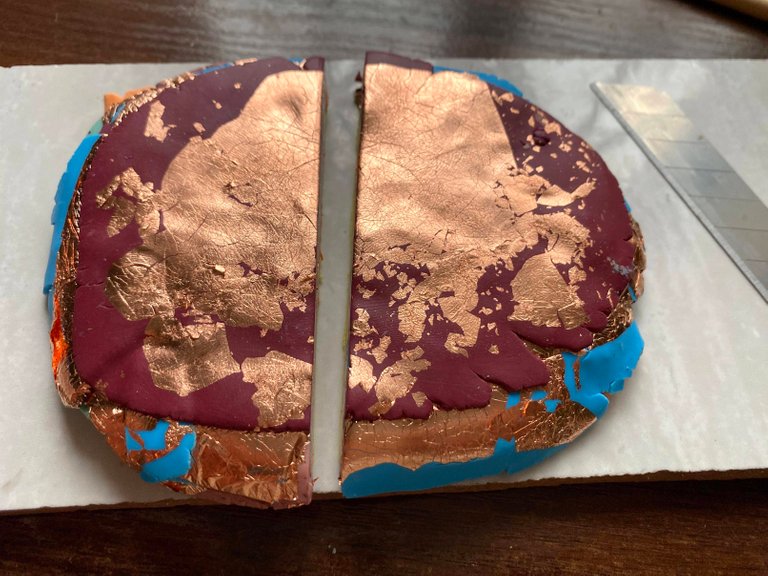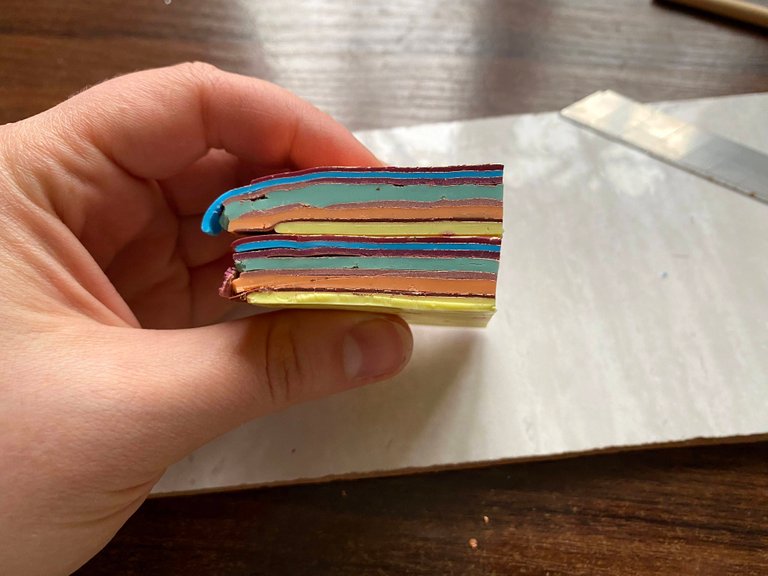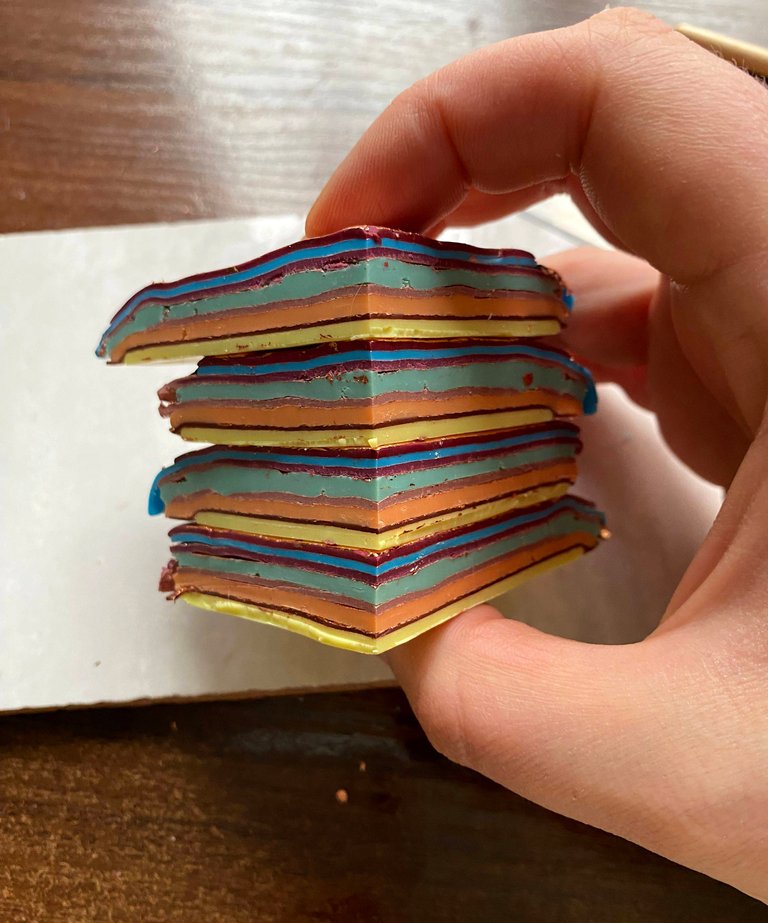 I cut the resulting "cake" into 4 parts and put them one on top of the other.
Step 5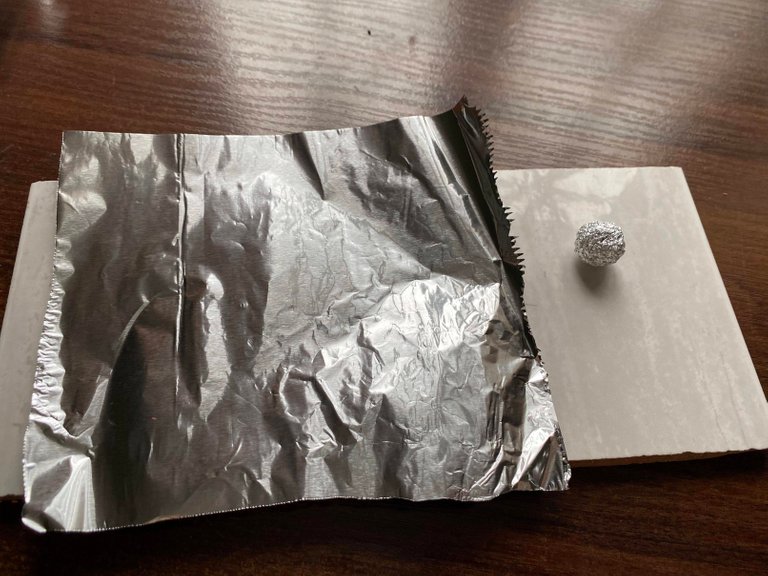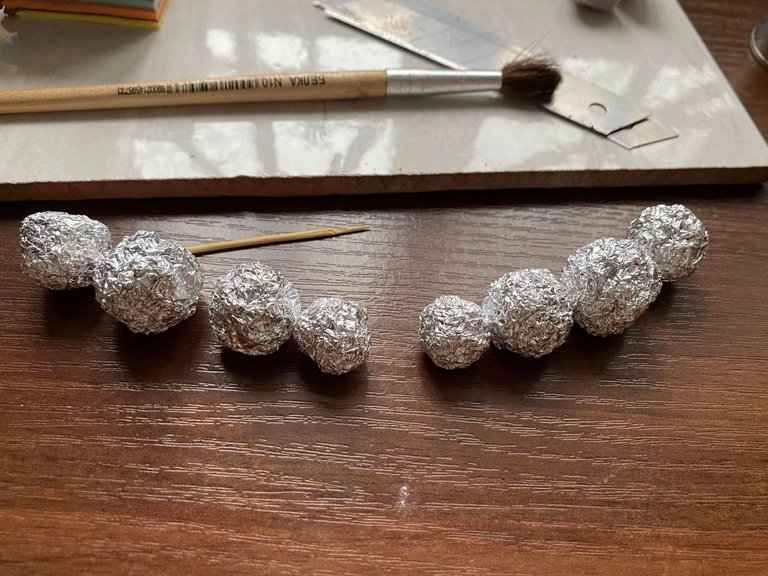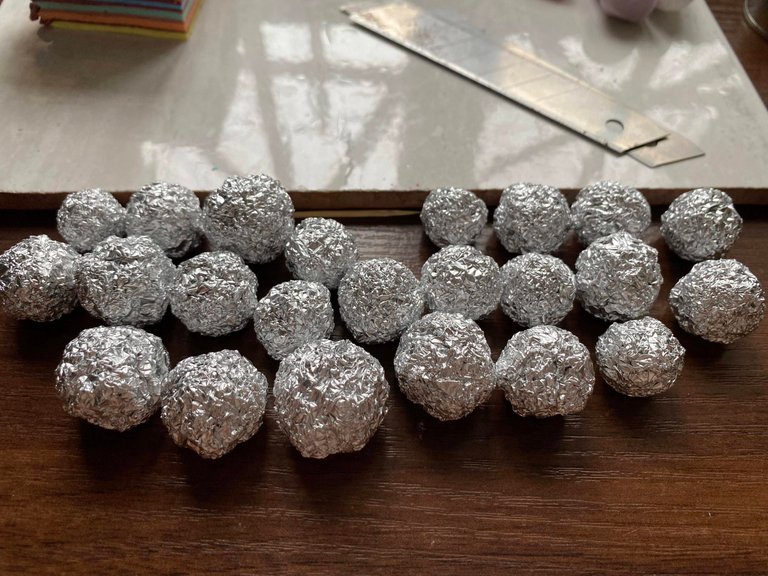 I prepare the centers for future beads by rolling small balls of different sizes from ordinary baking foil. You can not do this, but sculpt beads only from clay. But, when a foil ball is inside the bead, this has advantages, because polymer clay is saved this way, the finished product is not so heavy, and also, when baking, the foil heats up and the bead is evenly baked inside and out.
Step 6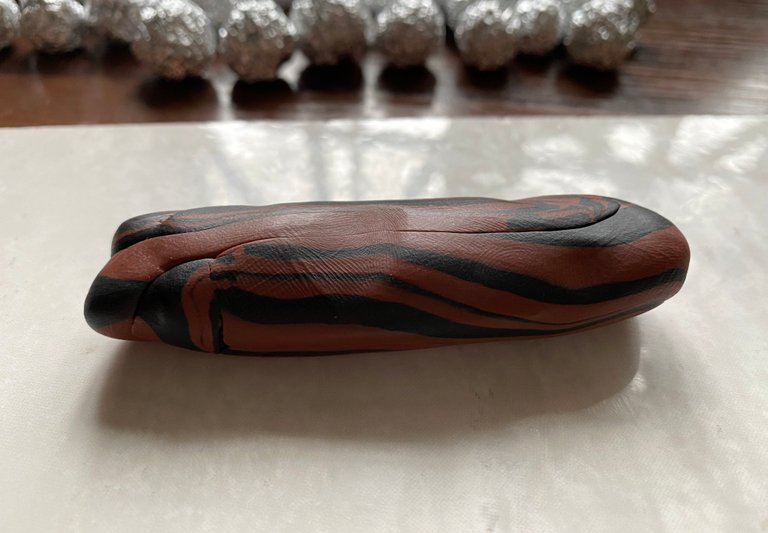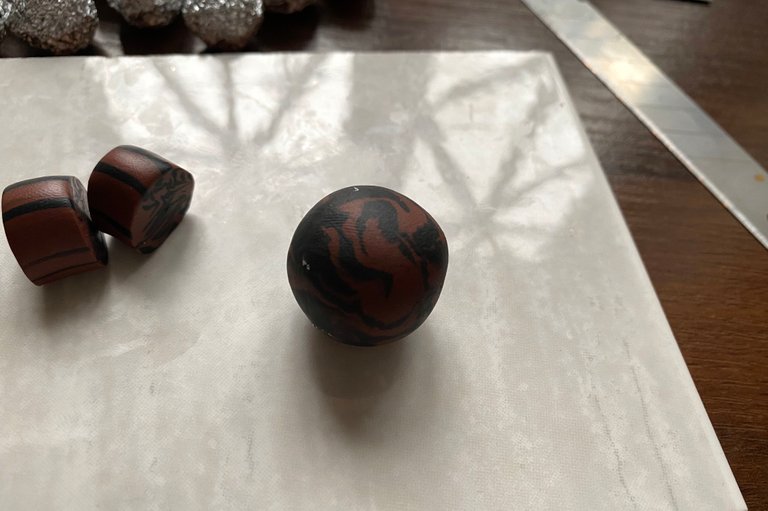 Next, you need to wrap the foil balls with a thin layer of polymer clay. You can use polymer clay of any color or a mixture of sculpting residues, as this layer will not be visible.
Step 7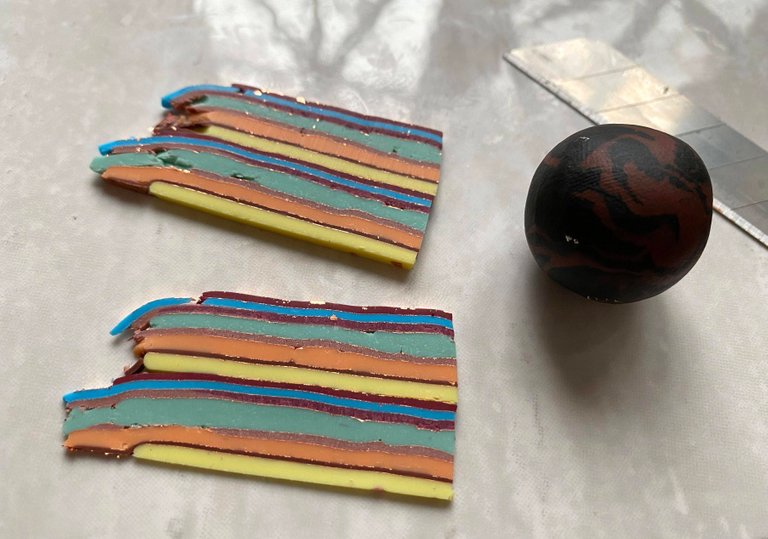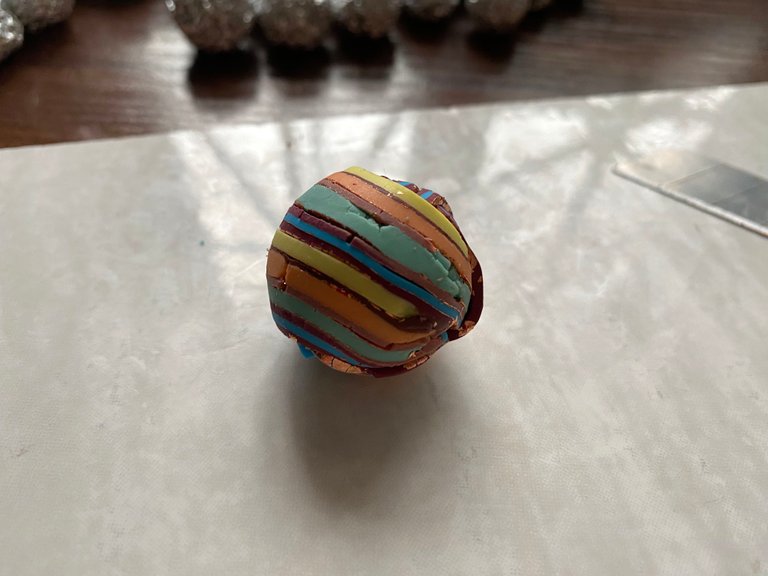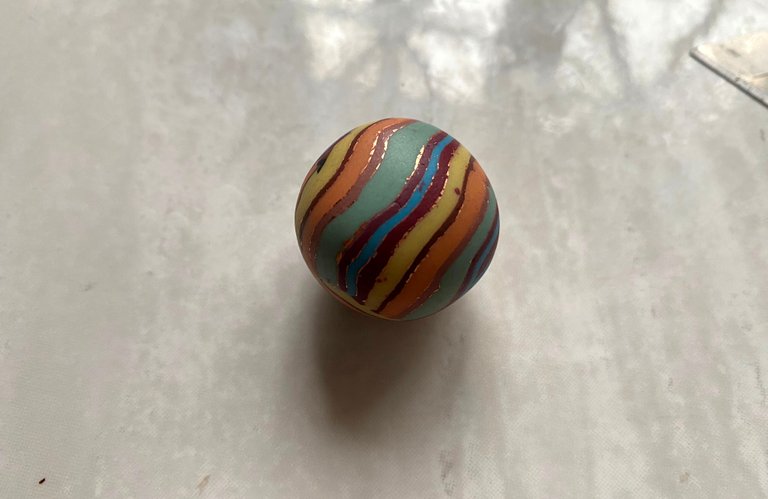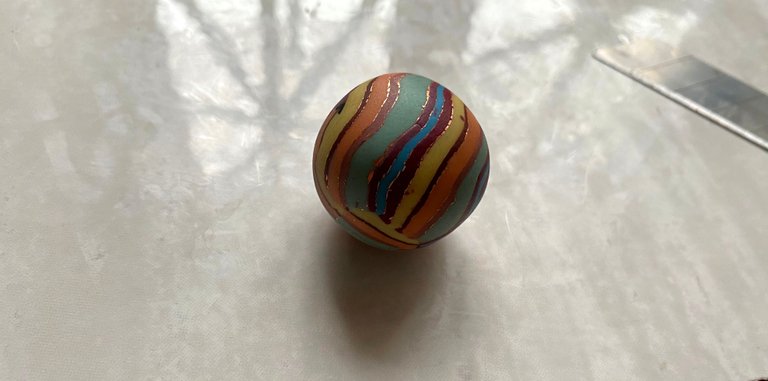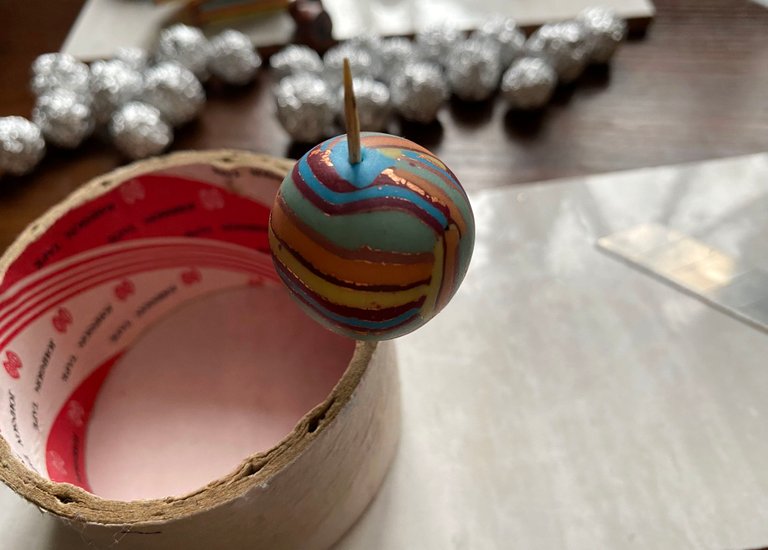 Bead formation. I cut off thin strips from a colored striped layer, with which I wrap the bead from all sides. I roll the ball in my hands until all the cracks are smoothed out.
When the bead is even and round, I make a hole in it with an ordinary toothpick. I don't take out my toothpick.
I like to use ordinary round tape boxes for baking beads. It is convenient to stick toothpicks with beads into them.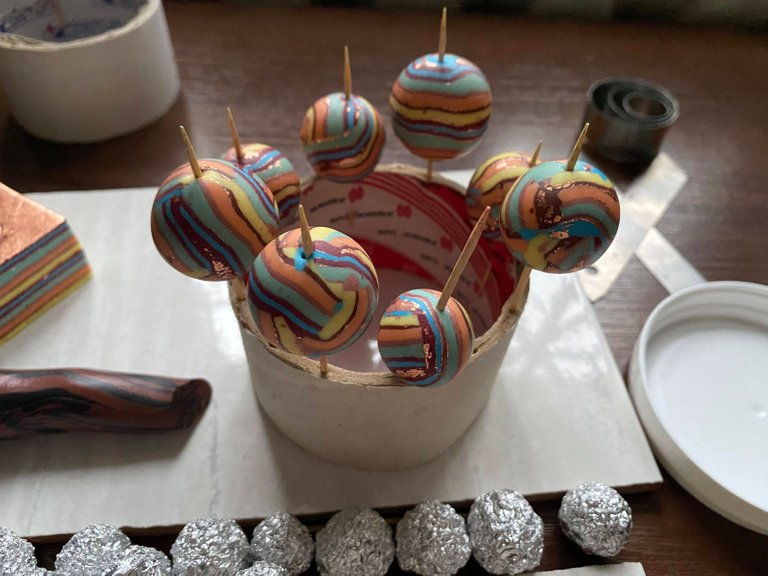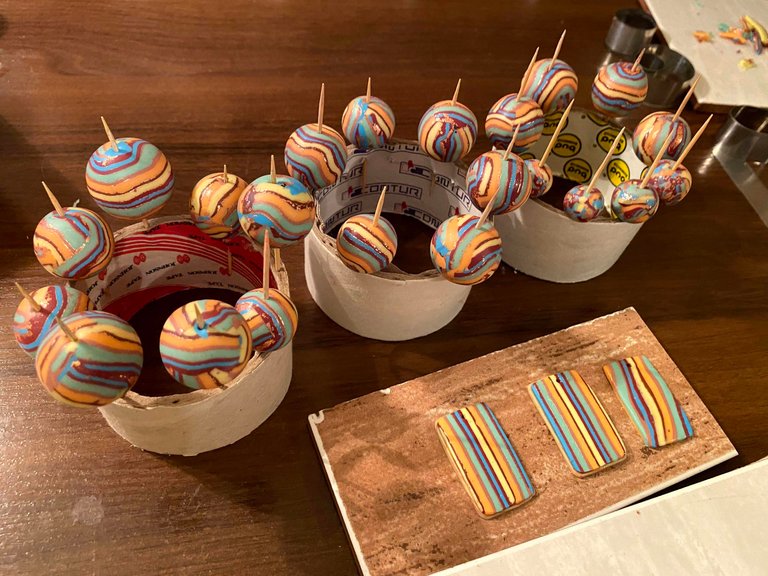 Step 8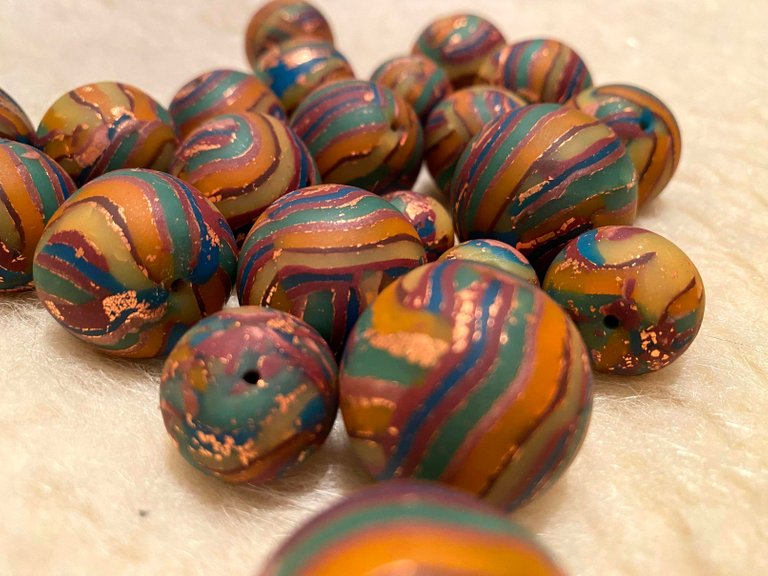 Baking beads in the oven. Each brand of polymer clay has its own temperature and baking time, so you need to be careful and follow the instructions on the package.
Pay attention to how the beads became after baking. The translucent clay changed its color and the translucent effect began to appear.
Important! When you take the beads out of the oven, you need to remove the toothpicks from them while the beads are still warm. If the bead cools down completely together with the toothpick, it happens that it is simply impossible to remove the toothpick later and you will have to drill it out with a drill. Therefore, in order not to add unnecessary work and grief to yourself, it is better to get toothpicks on time, that is, from still warm beads.
Step 9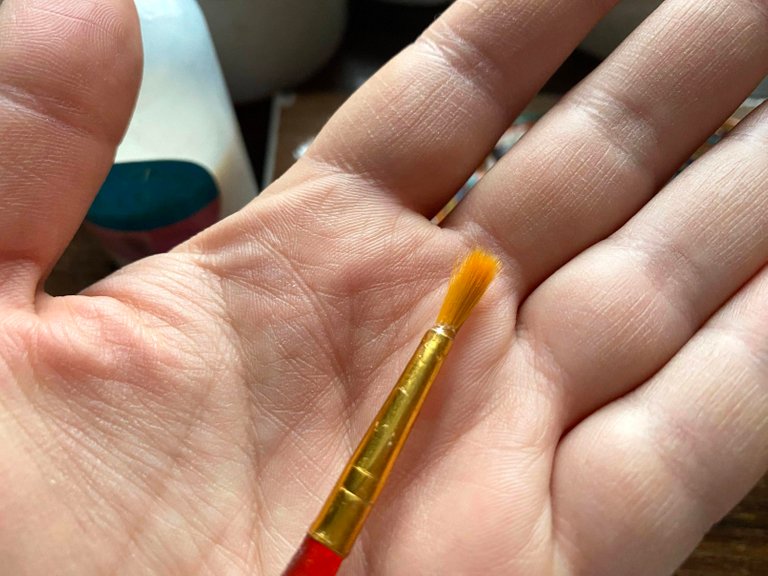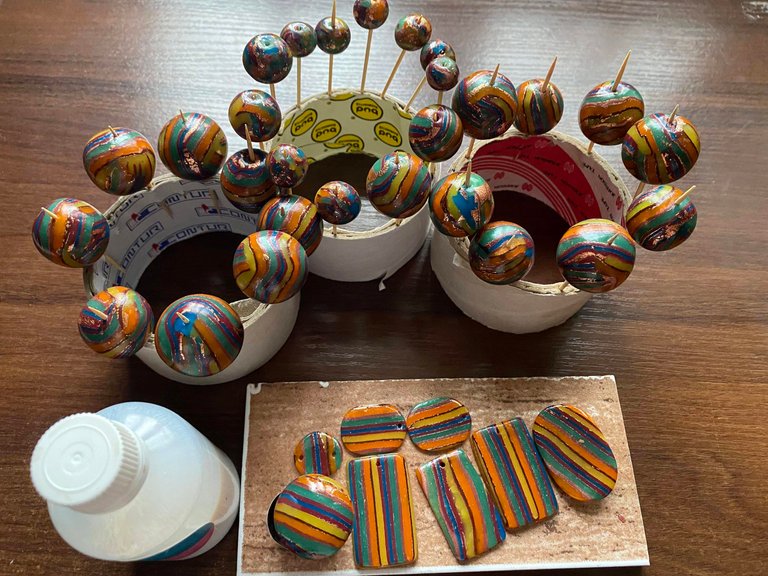 Lacquering. To do this, use a special varnish for polymer clay and a regular brush.
You need to varnish the beads in 2 or 3 layers, because one layer is not enough to reveal their beauty.
Only after the varnish has dried will you see the full picture and beauty of this sculpting technique.
Step 10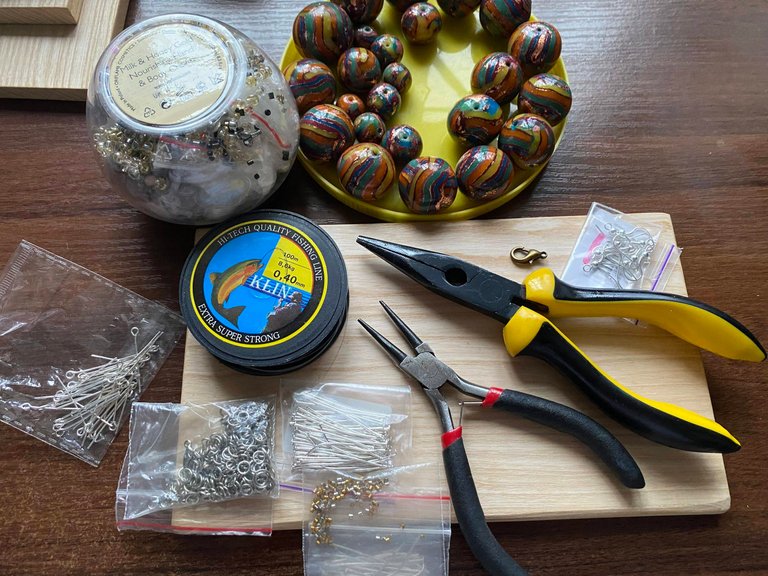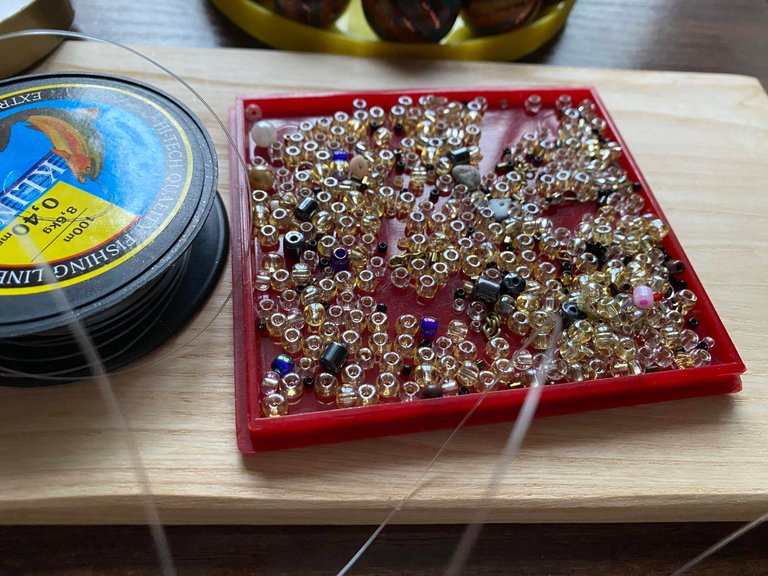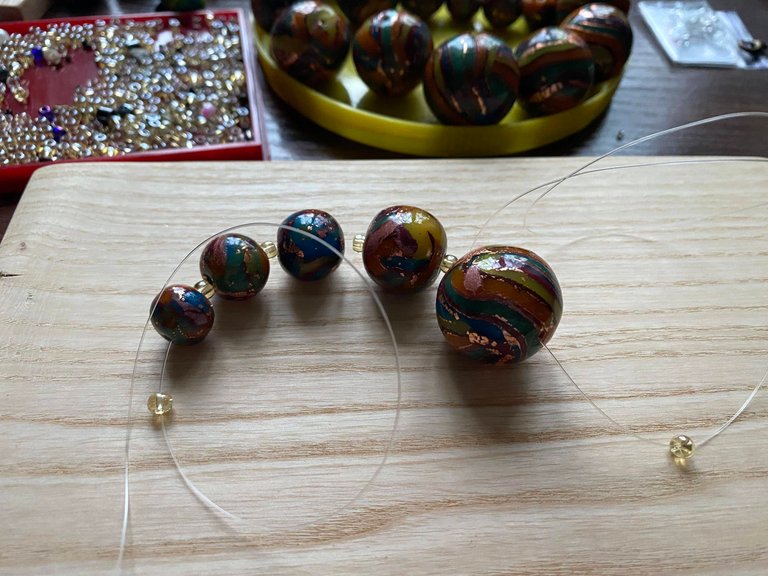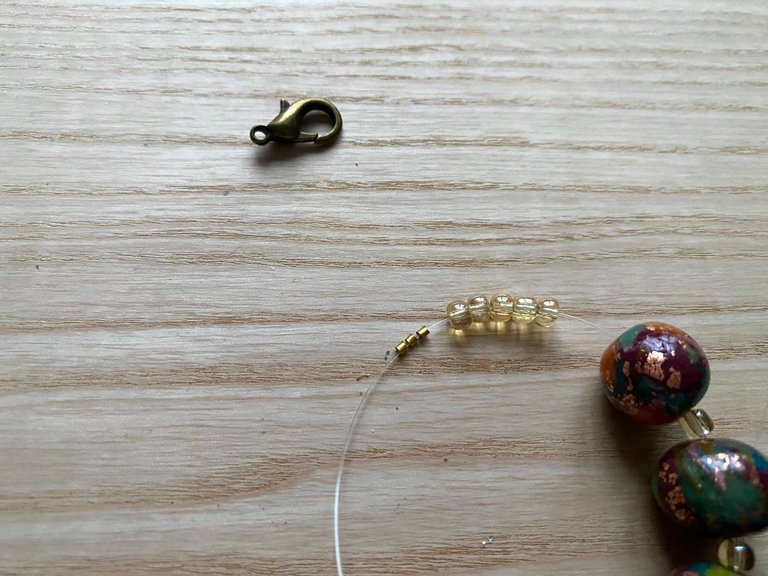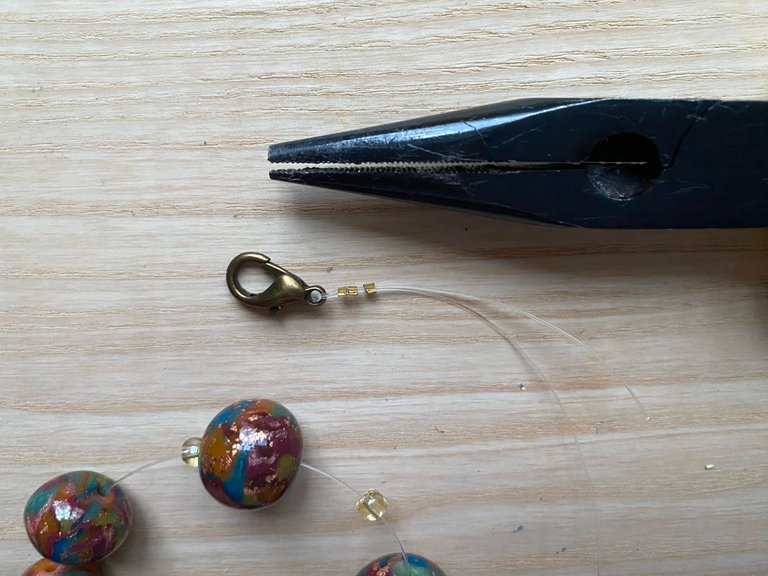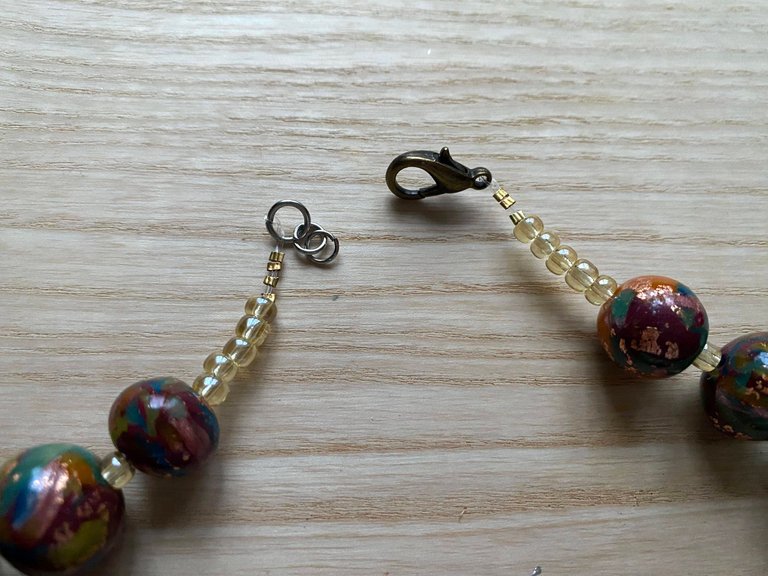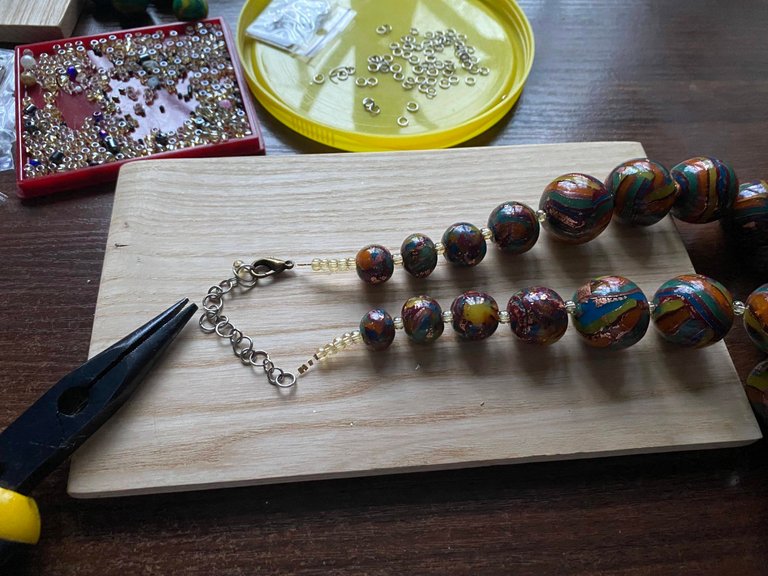 Product assembly. I collected beads on an ordinary fishing line. The photo shows how I designed the lock on the product - in order for the carabiner lock to hold well, I used three metal clips or crimps on both sides. Crimps look like very small cylindrical metal beads, they are put on a fishing line, and then clamped with pliers.
---
That's all! Beads are ready! They have an interesting feature - in different lighting, due to the fact that I used a lot of different colors, they look different. Therefore, I add photos in electric and natural light.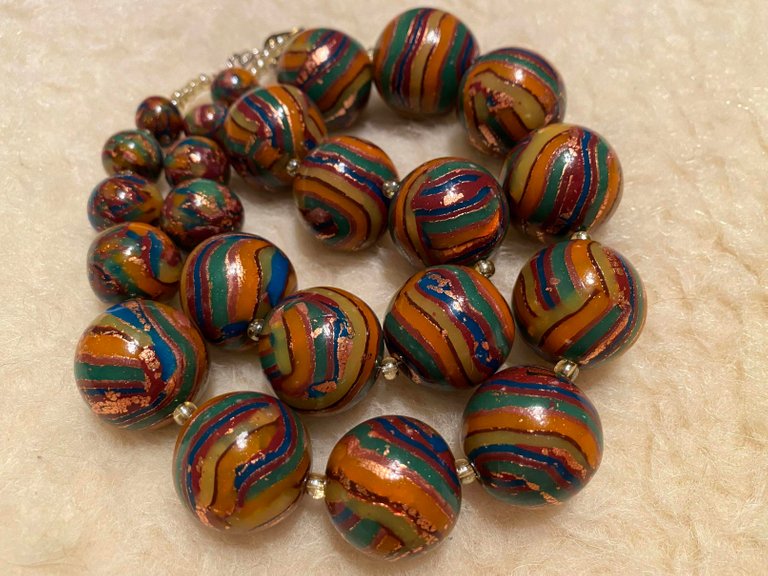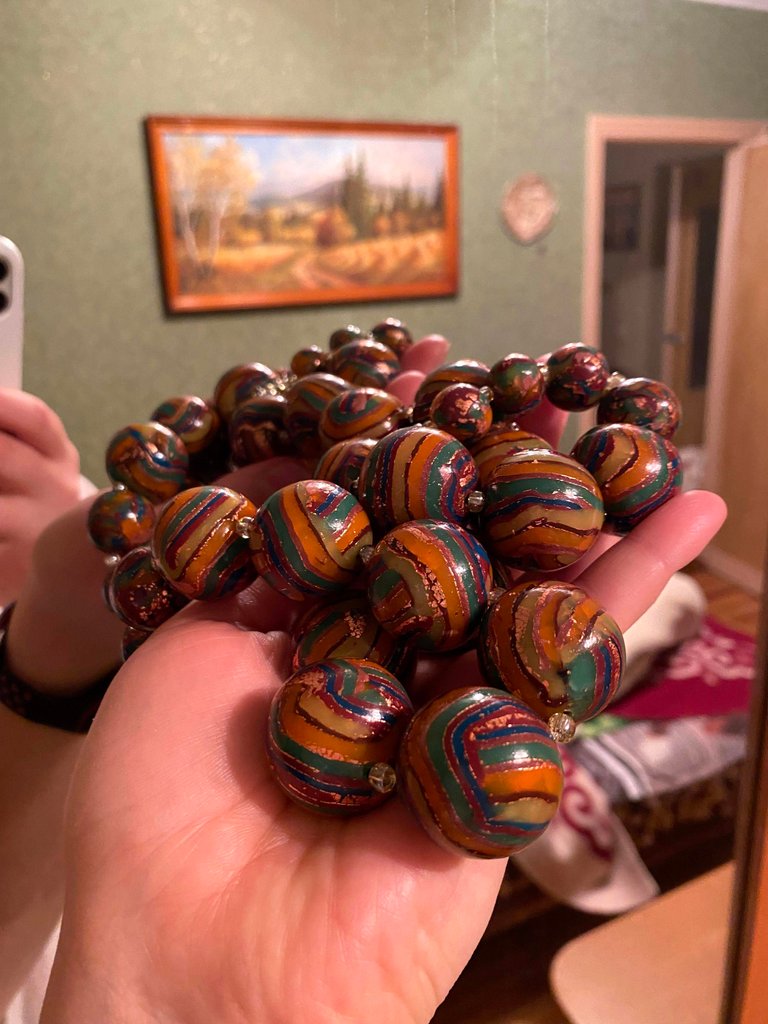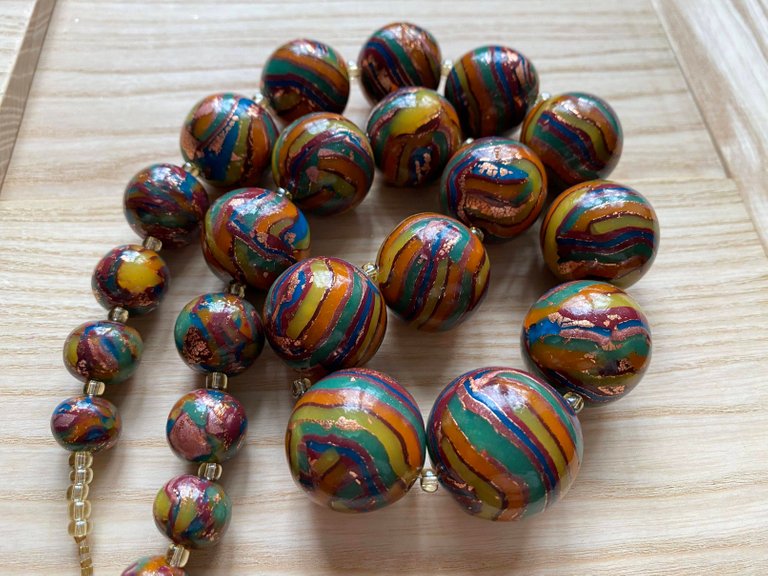 I wish you all creative success and inspiration!!!
Thank you for attention!
Best regards, @elenka