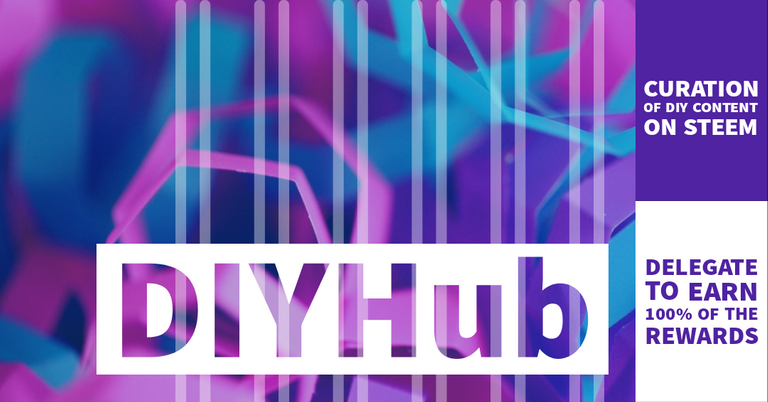 Welcome to our official announcement of DIYHub - the new curation initiative on the steem blockchain!
Make sure to continue reading unitl the end to know exactly who we are, where we are coming from and what kind of experience we provide for the DIY scene on steem! If you want to know more about us or participate in this project, feel free to join the official DIYHub community on steem!

OUR VISION
The main goal of this curation initiative is the encouragement of creators to share their DIY/Art projects on steem without us making any financial profit off of that.
We fully rely on delegations but we also give 100% of the curation rewards back to every single delegator. Additional to that we are supplying our DIY Tokens to our curators and winners of the upcoming contests in our DIYHub community. Every week we will publish a summary of all the curated posts of the last couple of days related to a specific rotating theme. (Art, Nature, DIY and Music).
THE TIME BEFORE @DIYHub
Our initiative previously started with the name @diytube which has been a curation project focusing on Do-It-Yourself content especially posted on d.tube since October 2018. The team of 13 amazing curators selected over 2500 videos over the last couple months to support various creators in the categories:
ART: digital art, drawing/painting, make-up, tutorials

DIY: cooking, crafting, homesteading, repairing

MUSIC: covers, original, tutorials

NATURE: gardening, health, outdoor / survival
The basic model of diytube is a non-profit curation initiative. That means all curation rewards are going back to our delegators without accumulating any rewards in our own wallet. We've created the DIY Token on steem-engine.com to reward our curators and to use those tokens as prizes for contests and other promotional actions. Also our delegators receive tokens on a weekly basis.

BROADENING PERSPECTIVES
The initial idea was to support DIY creators on DTube to push the engagement on DTube itself while motivating the creators. This plan has been pretty successful but because of the masses of non-video content about DIY, hobbies and homesteading we decided to leave this narrow view and expand our perspective on written posts, photography, podcasts and much more about DIY and your self-made things.
We are looking forward to support more creators, receive more resonance of non-video content creators and of course collect more delegations of people who believe in our vision to support the DIY scene even further.
We are open to collaborate with every community, project, initiative and dApp to create awesome contests and all other ideas you amazing people have. If you are interested in a collaboration, just join our discord and get in contact with us!

TECHNICAL DETAILS
The curation service itself constists of a discord server + bot and a few automated scripts being executed in specific intervals via a cloud service called pythonanywhere.com. The whole source code is written in python3 and we are using the amazing beem library by @holger80.
The payout formular for our delegators is pretty simple:
You will earn the exact same percentage of our rewards related to your percentage of the total delegation. We take author and curation rewards into account for this and rewards in SP will converted in STEEM.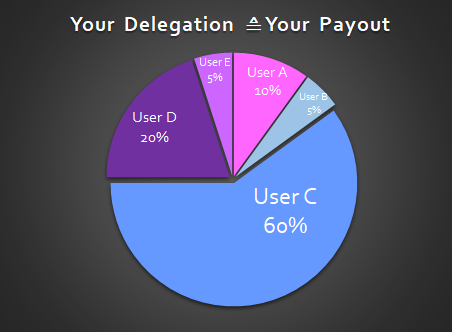 For example: If you delegate 250 SP to our service which has 5000SP in total - you will earn 5% of our rewards every single week. STEEM POWER rewards will automatically count as STEEM rewards of course.
Addiditonal to this you will earn 0.1 DIY Token per percent. In the above example you would earn 0.5 DIY Token every week.
We have no hidden details here. If you have any question or suggestion let us know. We are open for every input which can make our initiative a benefit for every actor in the ecosystem.

UPCOMING EVENTS
After our main launch and the first changes to make the service more consistent and fail-proof we will announce weekly contests with changing themes. To not miss them, make sure to join the DIYHub community.
PROMOTE YOUR POSTS
if you post in the DIYHub community and follow the guidelines of our initiative you will be considered for a curation by our team. The curation is never guaranteed but I experienced that we are happy about every knowledge you provide with your content.
SUPPORT US AND THE DIY-CREATORS
If you want to support DIY creators, musicians, homesteaders and other artists feel free to delegate your desired amount to @diyhub. The moment you delegated your power, we consider you in the weekly payout.
You can use the following links to start your delegation:
25 SP | 50 SP | 100 SP | 250 SP | 500 SP | 1000 SP
Additional to this we would like to welcome you in the DIYHub community. By joining you will receive 1 DIY Token every month as a free gift!

THANK YOU
We highly appreciate every single one of our previous and our upcoming delegators, the whole curation team and the creators for who we are running this project. This service could never exists without you and your help. It is a joy to work with all of you on this amazing blockchain. Here is the current list of our friends:
curators: @kaerpediem @blind-spot @emsonic @priyanarc @old-guy-photos @hafizullah @roger.remix @steemer-sayu907 @tibfox
delegators: @steemer-sayu907 @solominer @quochuy @priyanarc @mariannewest @hmetu @hafizullah @blind-spot @alamin33 @tibfox
If you are part of the delegator list of @diytube please make sure to switch your delegation to the new account @DIYHub.
We hope to help making the steem blockchain a place full of knowledge, creativity and useful tutorials!