Hola, holaaa! Saludos para todos mis Artistas Creativos de la joyeria, como cada vez que iniciamos una nueva semana mis deseos porque la comiencen con animos, alegria, entusiasmo, muchas energías positivas y cargadas de amooor.
Cada día me siento más contenta de poder comentar, compartir y mostrar mis publicaciones en está grandiosa comunidad Jewerly. Hoy les traigo mi manualidad creativa, la cual será mi participación en el nuevo concurso que los hive-189504 invitan para agasajar a esa persona tan especial y que todos queremos felicitar en el día de San Valentín. Para ello elaboré una delicada gargantilla de corazones con la letra "L".
Y, los invito a seguir leyendo, para que vean el paso a paso de cómo la hice:
Hello, hello! Greetings to all my Creative Jewelry Artists, like every time we start a new week I wish you to start it with encouragement, joy, enthusiasm, lots of positive energy and full of love.
Every day I feel happier to be able to comment, share and show my publications in this great Jewerly community. Today I bring you my creative craft, which will be my participation in the new contest that hive-189504 invites to entertain that special person and that we all want to congratulate on Valentine's Day. For this I made a delicate heart choker with the letter "L".
And, I invite you to continue reading, so that you can see the step by step of how I did it: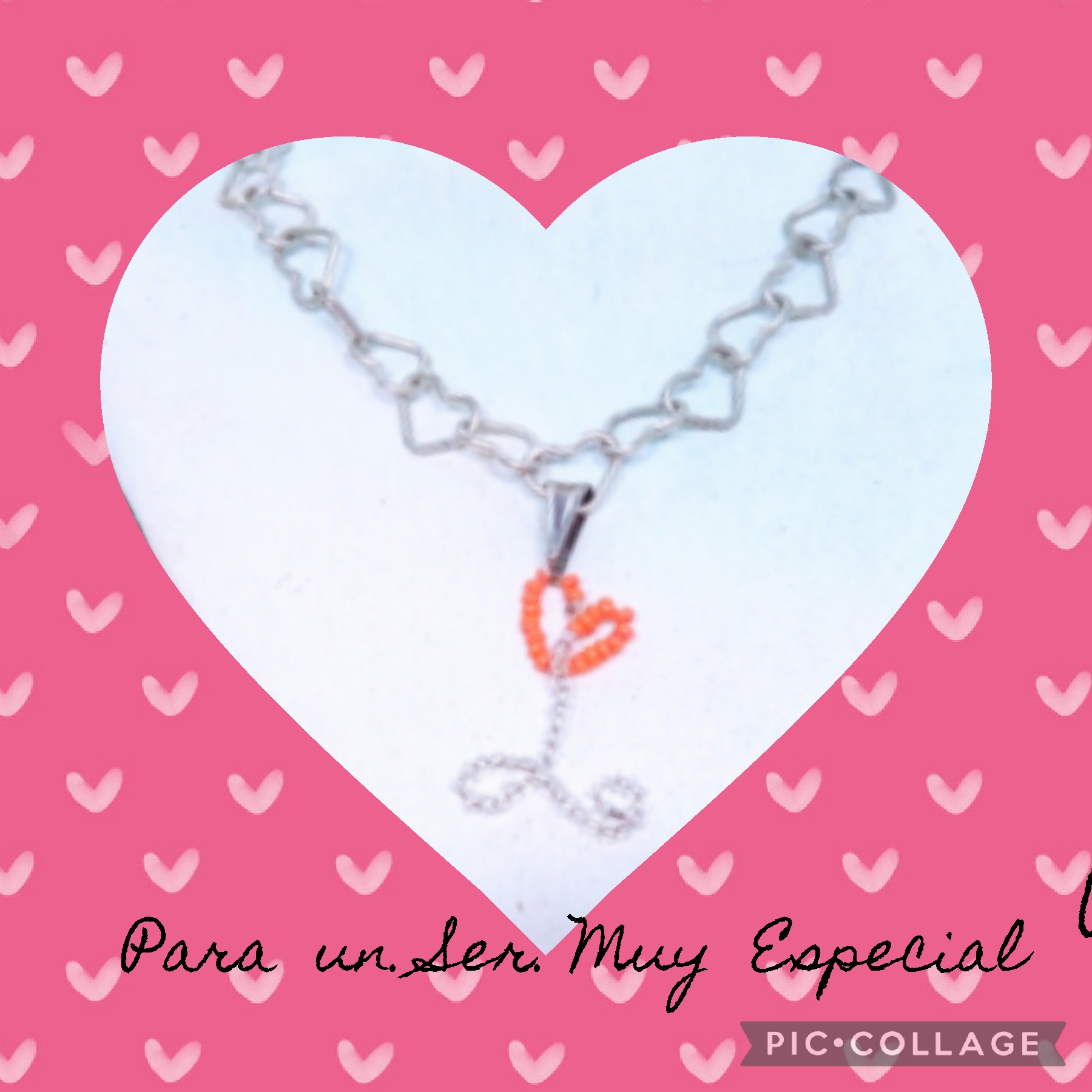 Escogí la letra "L" como dije de mi gargantilla por ser la inicial del nombre de mi hija, para ella la elaboré y se la entregaré el 14 de febrero por ser la persona merecedora de todo mi amor, la que me hace vivir y agradecer a Dios por toda la dicha que siento de tenerla a mi lado, es el motor de mi vida, el aceite que lo lubrica, y aunque les parezca cursi, la palabra "Amor" cuando me toca describir mis sentimientos por ella me parece pequeña, pues debo agregar que también me ha dado una extensión de su vida una linda nieta que todavía me hace sentir más dichosa, con ellas celebro el Día de San Valentín y agradezco a la vida la celebración de todos, toditos los días.
Gracias Mi Amor por existir. Te Amo.
I chose the letter "L" as I said on my necklace because it is the initial of my daughter's name, I made it for her and I will give it to her on February 14 for being the person deserving of all my love, the one that makes me live and thank to God for all the happiness I feel from having her by my side, she is the engine of my life, the oil that lubricates it, and although it may seem corny to you, the word "Love" when I have to describe my feelings for her seems small to me, Well, I must add that a beautiful granddaughter has also given me an extension of her life who still makes me feel happier, with them I celebrate Valentine's Day and I thank life for everyone's celebration, every day.
Thank you my love for existing. I love you.
PARA REALIZAR MI PROYECTO EN ESTA OCASIÓN USE LOS MATERIALES SIGUIENTES:
*Mostacillas transparentes.
*Mostacillas color ladrillo.
*Alambre de bisutería
delgado.
*Alfileres de plata.
*Pasador de plata para
colgar el dije.
*Dos grapas de presión.
*Pinza punta redonda.
*Pinza plana de presión.
*Pinza de corte.
TO CARRY OUT MY PROJECT ON THIS OCCASION I USE THE FOLLOWING MATERIALS:
*Transparent beads.
*Brick colored beads.
*Jewelry wire
slim.
*Silver pins.
*Silver pin for
hang the pendant
*Two pressure clips.
*Round tip pliers.
*Flat pressure clamp.
*Cutting forceps.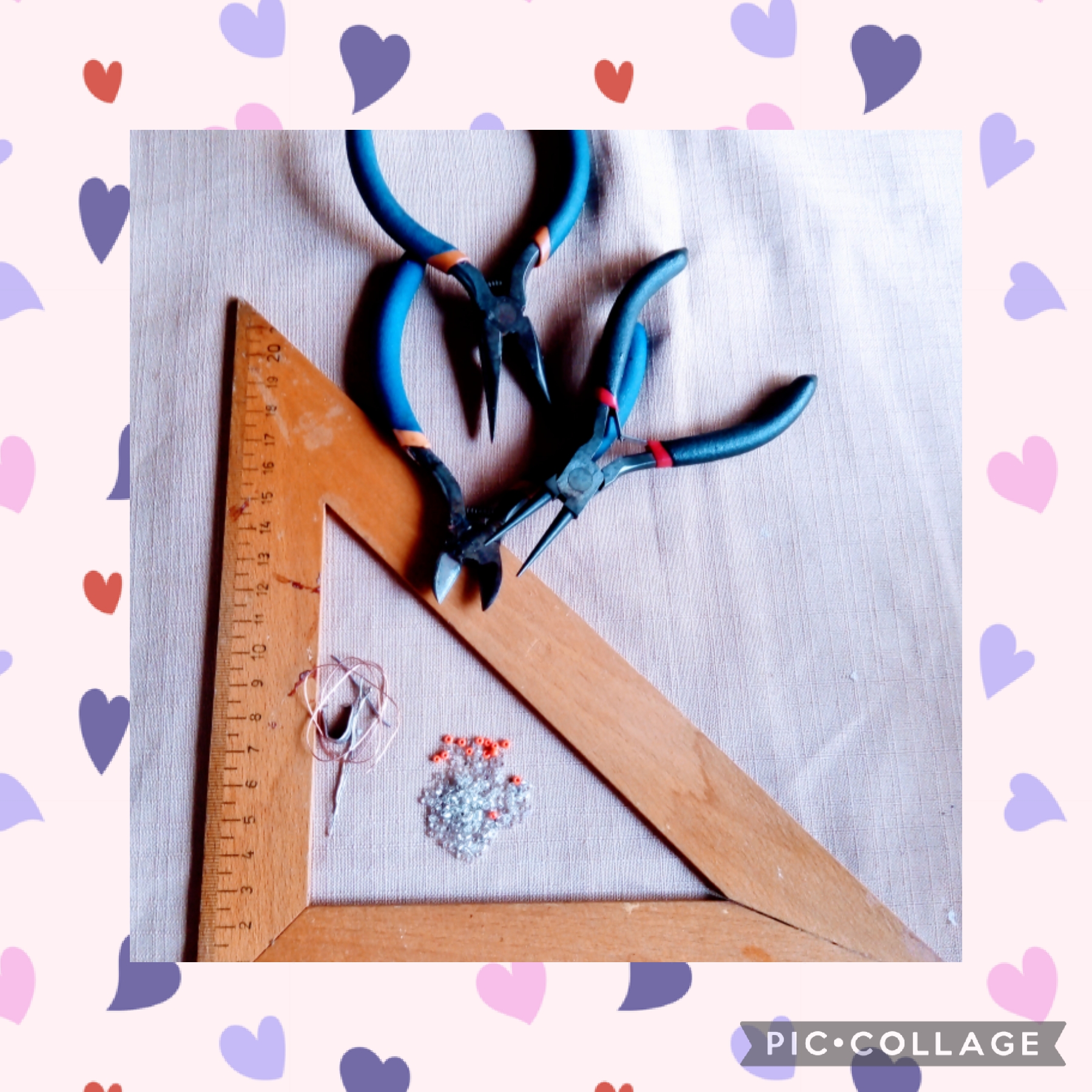 LOS PASOS QUÉ DETALLO PARA REALIZAR MI MANUALIDAD FUERON LOS SIGUIENTES:
PRIMER PASO:
Para elaborar el primer paso, tomo la regla, mido diez centímetros del alambre y corto usando la pinza de corte, una vez que tengo listo el alambre empiezo a insertar las mostacillas transparentes, igual que en las fotos.
THE DETAILED STEPS TO MAKE MY MANUAL WERE THE FOLLOWING:
FIRST STEP:
To make the first step, I take the ruler, measure ten centimeters of the wire and cut using the cutting pliers, once I have the wire ready I begin to insert the transparent beads, just like in the photos.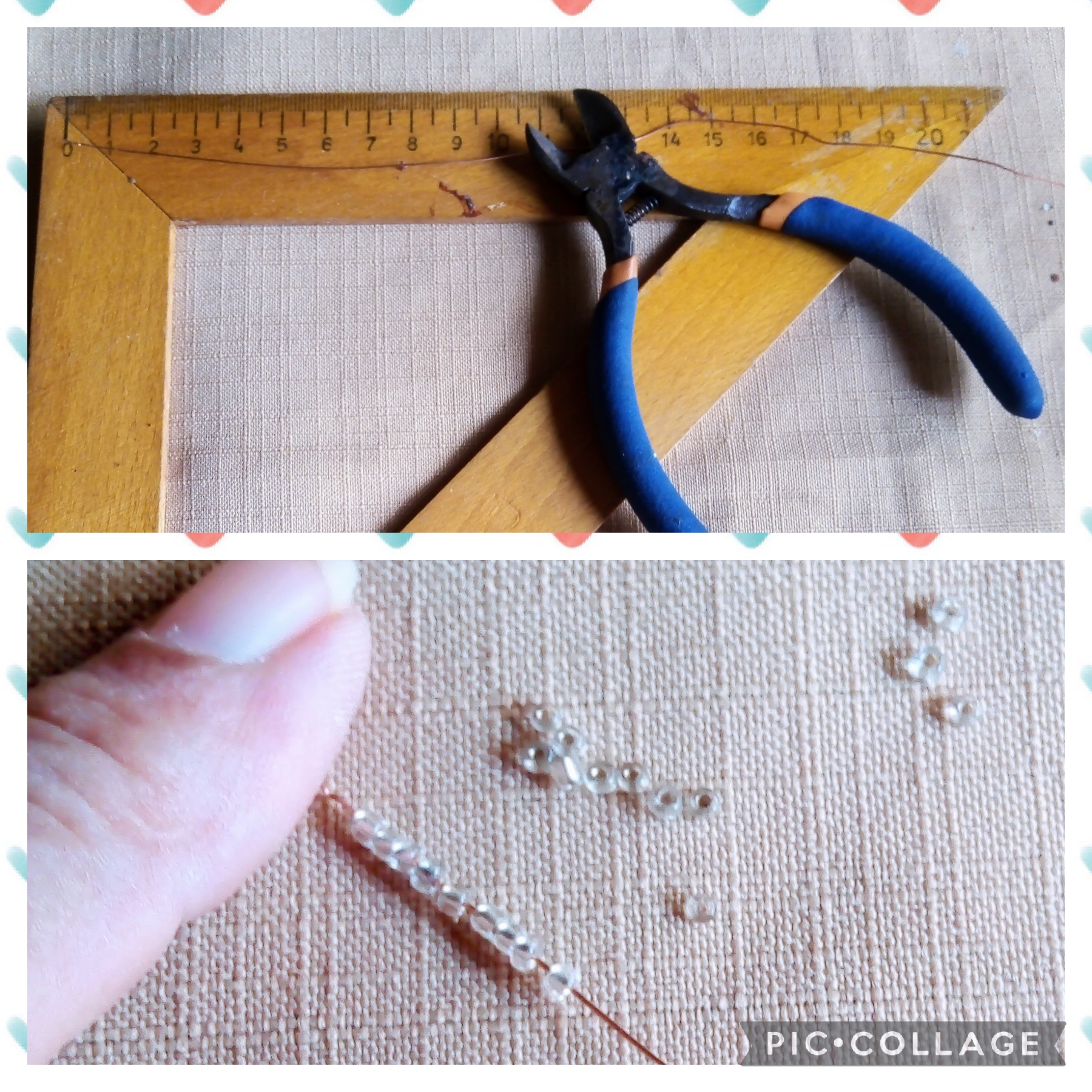 SEGUNDO PASO:
En este paso, inserto para terminar de llenar los diez centímetros del alambre veinte mostacillas del color ladrillo, ahora voy a empezar a elaborar mi letra "L" como puede verse en las fotos, comienzo doblando las mostacillas color ladrillo
en forma de una V para ir moldeando un corazón.
SECOND STEP:
In this step, I insert twenty brick-colored beads to finish filling the ten centimeters of the wire, now I am going to start making my letter "L" as can be seen in the photos, I begin by folding the brick-colored beads
in the shape of a V to shape a heart.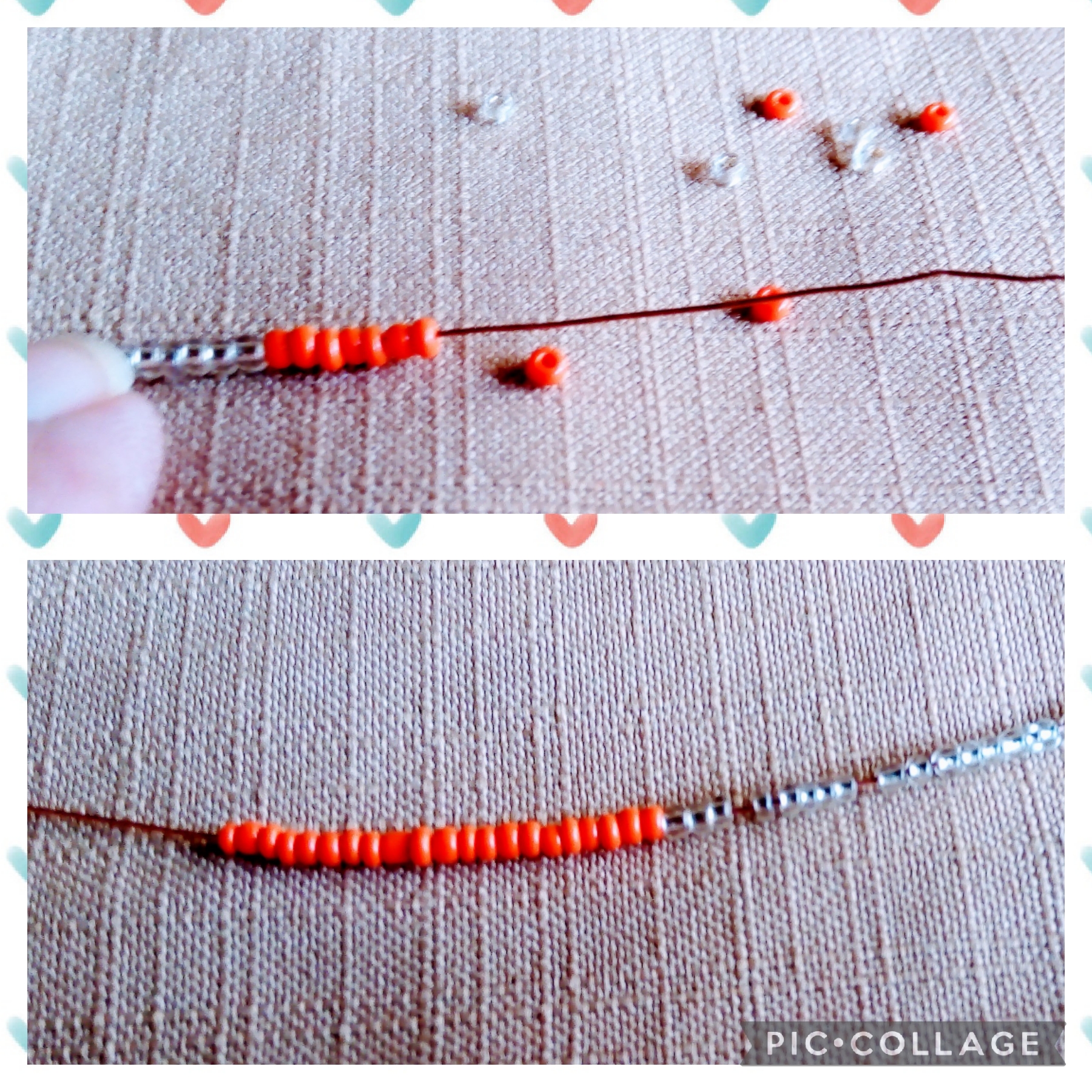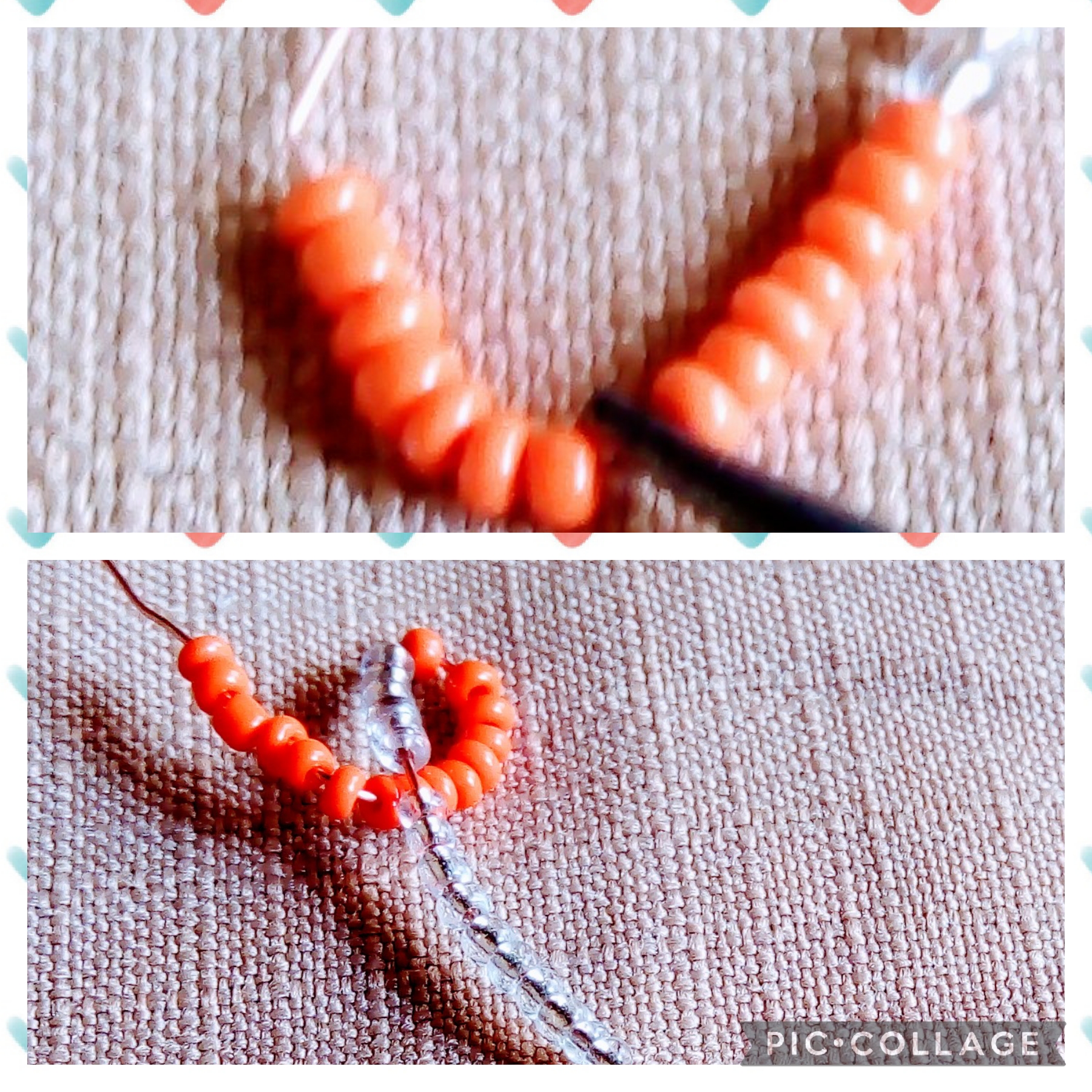 TERCER PASO:
Sigo elaborando la letra L, así como voy mostrando en las fotos, luego de formar el corazón, sigo con las Mostacillas transparentes delineando la letra ayudada con la pinza de punta redonda.
THIRD STEP:
I continue making the letter L, just as I show in the photos, after forming the heart, I continue with the transparent Mostacillas outlining the letter helped with the round tip pliers.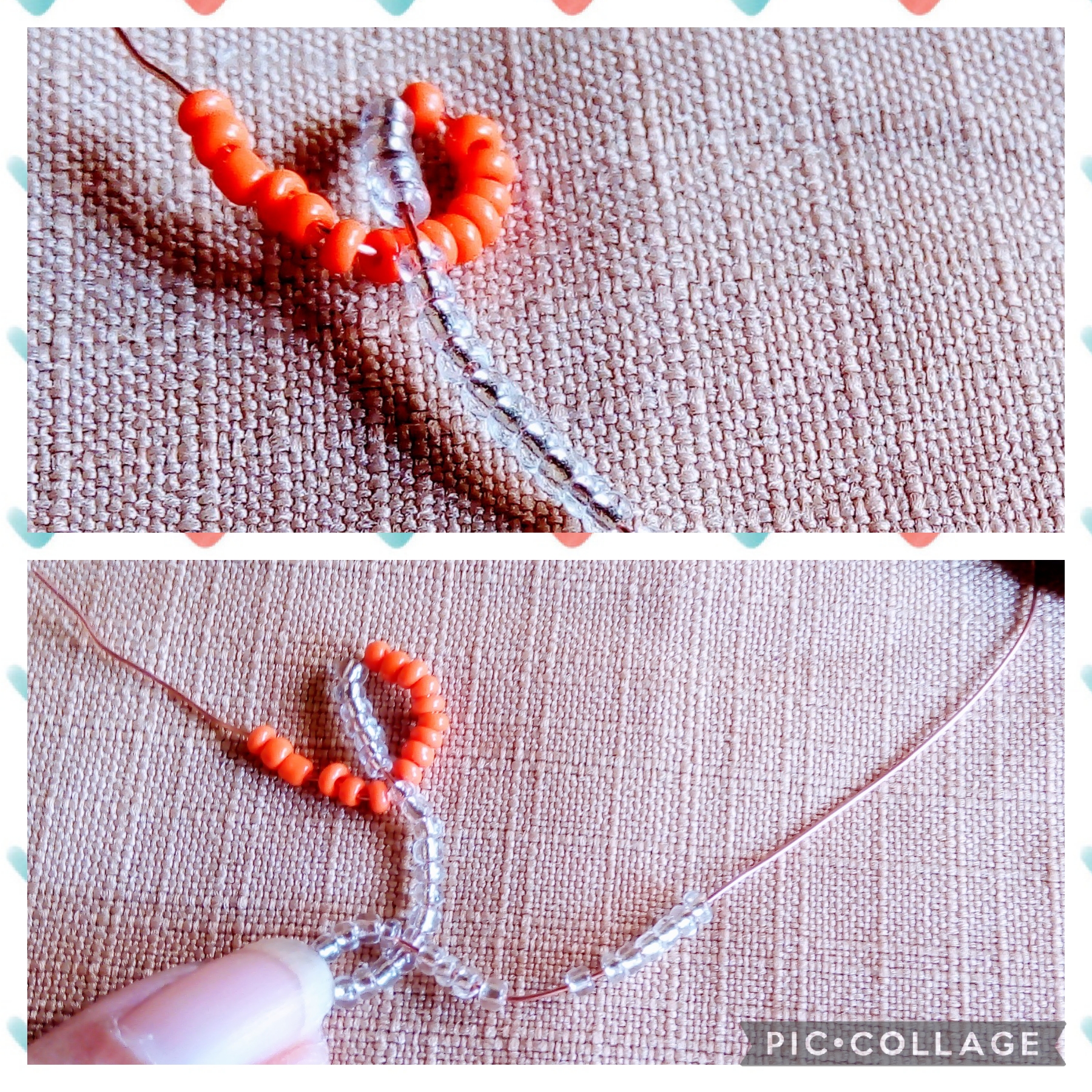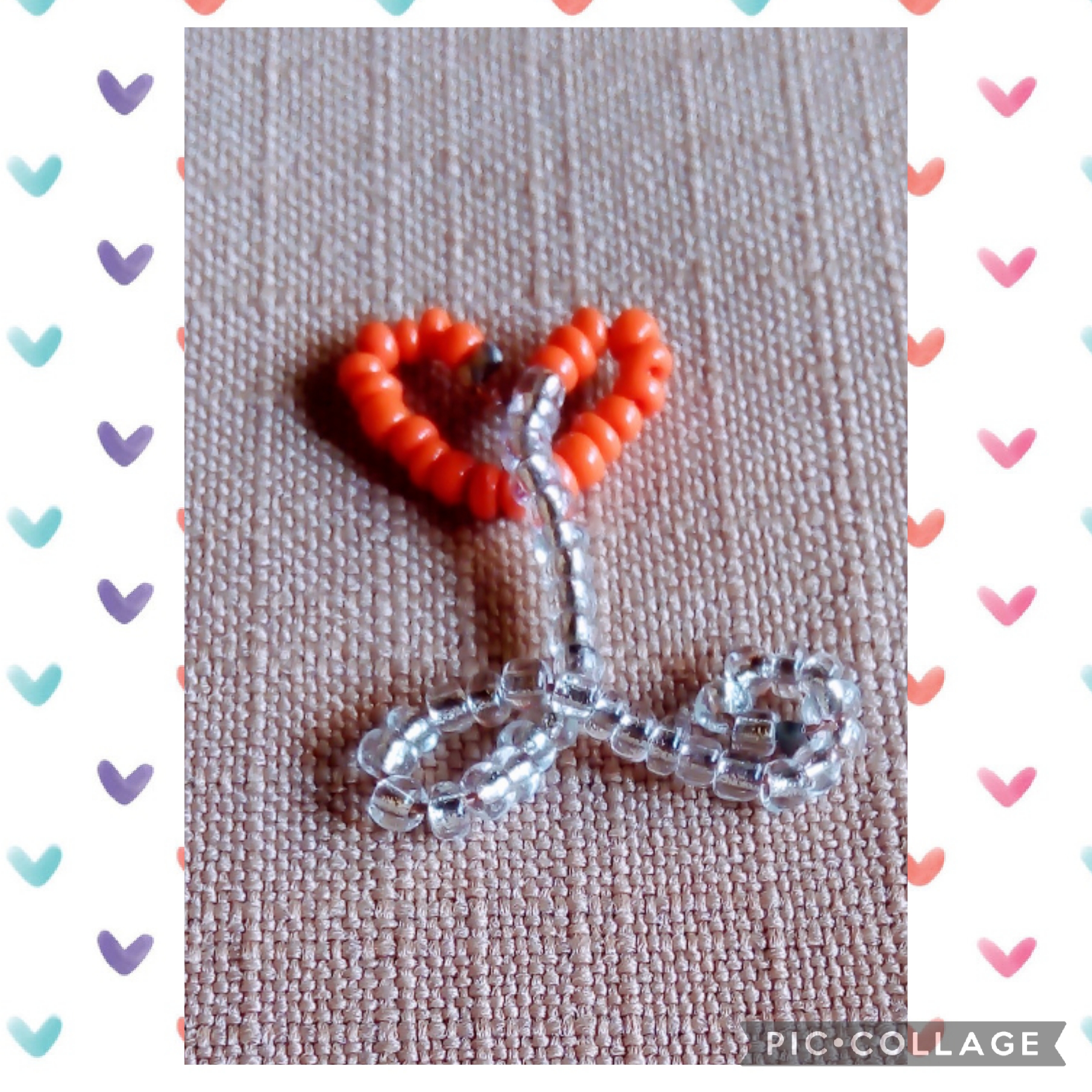 CUARTO PASO:
Coloco una grapa de presión en la punta dónde empieza el corazón y una al final del arito de mostacillas transparentes para fijarlas bien, esto lo hago con la ayuda de la pinza, así mismo coloco un pasador de plata para colgar el dije como en las fotos.
FOURTH STEP:
I place a pressure clip at the tip where the heart begins and one at the end of the earring of transparent beads to fix them well, I do this with the help of the pliers, likewise I place a silver pin to hang the pendant as in the photos .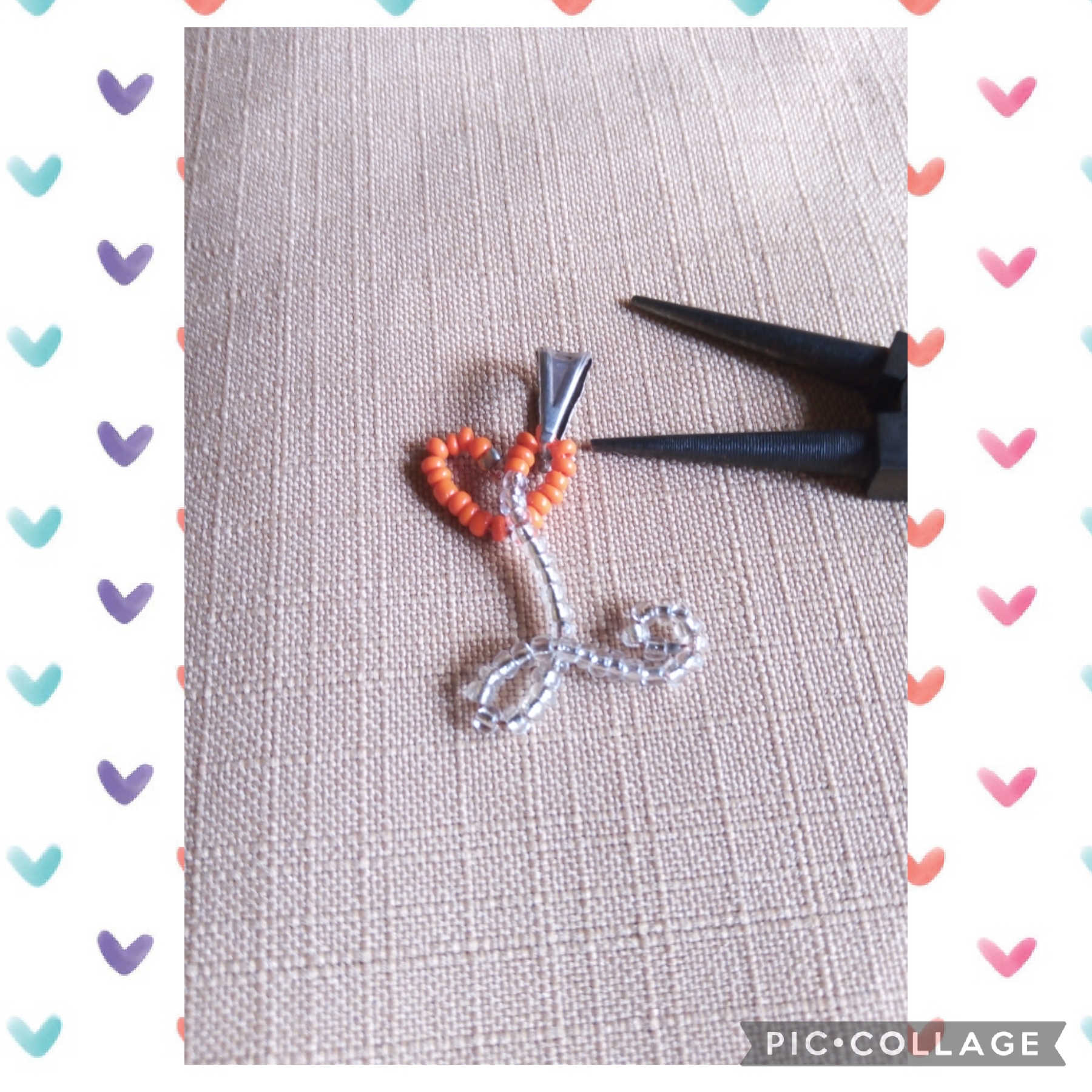 QUINTO PASO:
En este paso les voy a compartir como usando alfileres de plata elaboré unos pequeños corazoncitos para formar la gargantilla dónde colgaré el dije; hago solo una muestra por razones de las cuales siempre me quejo y son las señales, el internet no me permite mostrar dentro del taller y ahí es donde puedo soldar, pero engarzar un corazoncito dentro de otro es el único paso para armar la gargantilla y en las fotos muestro el proceso.
FIFTH STEP:
In this step I am going to share how using silver pins I made little hearts to form the necklace where I will hang the pendant; I only make a sample for reasons that I always complain about and they are the signs, the internet does not allow me to show inside the workshop and that is where I can weld, but setting a little heart inside another is the only step to assemble the necklace and in the photos show the process.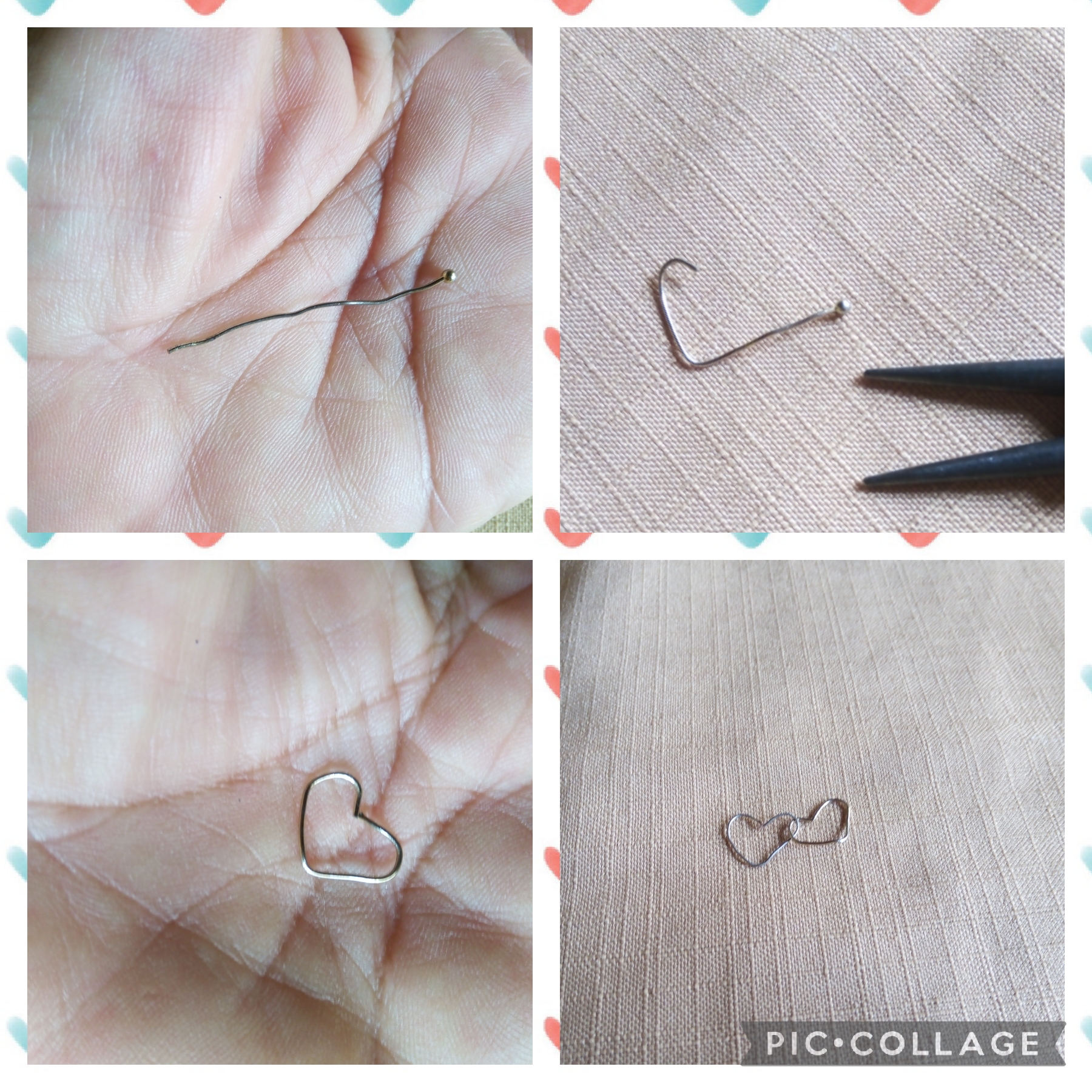 Artistas Creativos de la Joyería, este es el resultado final de mi manualidad, que realicé para este concurso con todo mi amor. Pues como les comenté es para el Ser mas especial en mi vida. Quiero invitar a las Hivers @lorennys, @delvallecedeno, @akzurevm; para que participen en este concurso y muestren sus espectaculares creaciones llenas de amor.
Muchas gracias para todos los que comparten, comentan y apoyan mis publicaciones, pido disculpas por las fallas del internet que no permite realizar un trabajo más nítido, y nos vemos en la próxima manualidad. Bye, bye.
Creative Jewelry Artists, this is the final result of my craft, which I made for this contest with all my love. Well, as I told you, it is for the most special Being in my life. I want to invite the Hivers @lorennys, @delvallecedeno, @akzurevm; to participate in this contest and show their spectacular creations full of love.
Thank you very much to everyone who shares, comments and supports my posts, I apologize for the internet failures that do not allow me to do a clearer job, and see you in the next craft. Bye bye.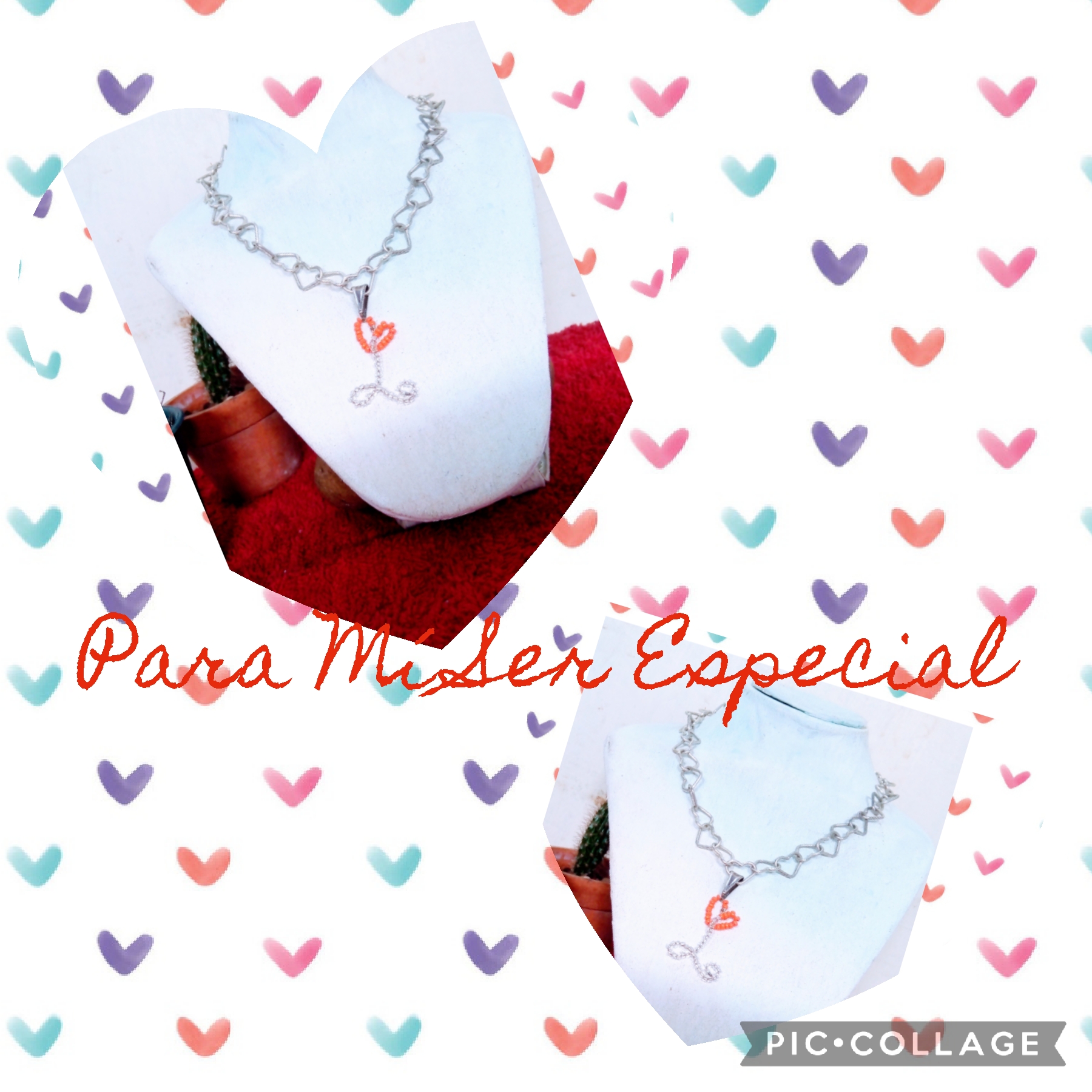 Las imágenes y redaccion de este tutorial son de mi propiedad, las fotos fueron tomadas con mi celular Motorola E6; y las edite con una aplicación gratis del mismo.
Para traducir texto usé geogle traduuctor
The images and wording of this tutorial are my property, the photos were taken with my Motorola E6 cell phone; and edit them with a free application of the same.
To translate text I used geogle translator