Nice night and a beautiful sunrise for all my creative people of @jewelry, it is a pleasure to have you once again on my blog, where I come to show you, today's project, which I have called, "Sweet Game of accessories", this Why, I have made it with small tubes, made of a lollipop stick. Dedicated to lovers of garments and accessories made with recyclable material and a great touch of costume jewelery and jewelry, I invite you to read me to the end and I will show you how easy to do and how surprising the result is. Without further ado, I will tell you how to do it.
Linda noche y un hermoso amanecer para toda mí gente creadora de @jewelry, Es un gusto tenerlos una vez más en mí blog, dónde les vengo a mostrar, el proyecto de hoy, al que he llamado, "Dulce Juego de accesorios", esto,ya qué, lo he realizado con pequeños tubitos, de palito de chupetas. Dedicado alos amantes de las prendas y accesorios hechos con material reciclable y un gran toques de bisutería y joyería, les invito a leerme hasta el final y les mostraré lo fácil de hacer y lo sorprendente de el resultado. Sin más les cuento, como hacerlo.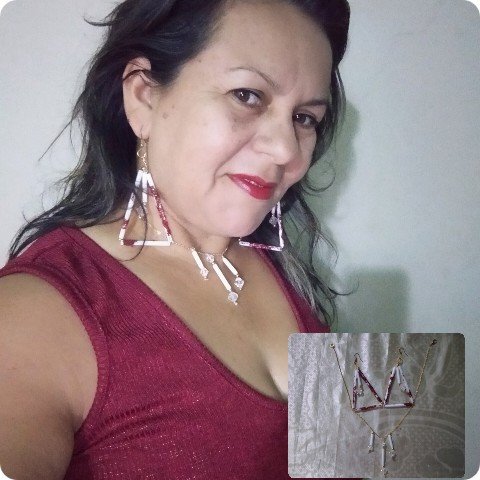 Materials/ materiales
White lollipop sticks (candy).
. Wine red frost.
. Glue.
. golden thin chain
. necklace barrette
. jewelery earrings
. jewelery tweezers
.nylon.
. Sewing needle.
. Clear Czech stones.
. Transparent nail polish.
. golden pearls
.wire n16.
. Palitos de chupeta (dulces) de color blanco.
. Escarcha vinotinto.
. Pegamento.
. Cadena delgada dorada
. Pasador para collar
. Aritos de bisutería
. Pinzas de bisutería
.nailon.
. Aguja de coser.
. Piedras checas transparentes.
. Espamalte para uñas transparente.
. Perlitas doradas.
.alambre n16.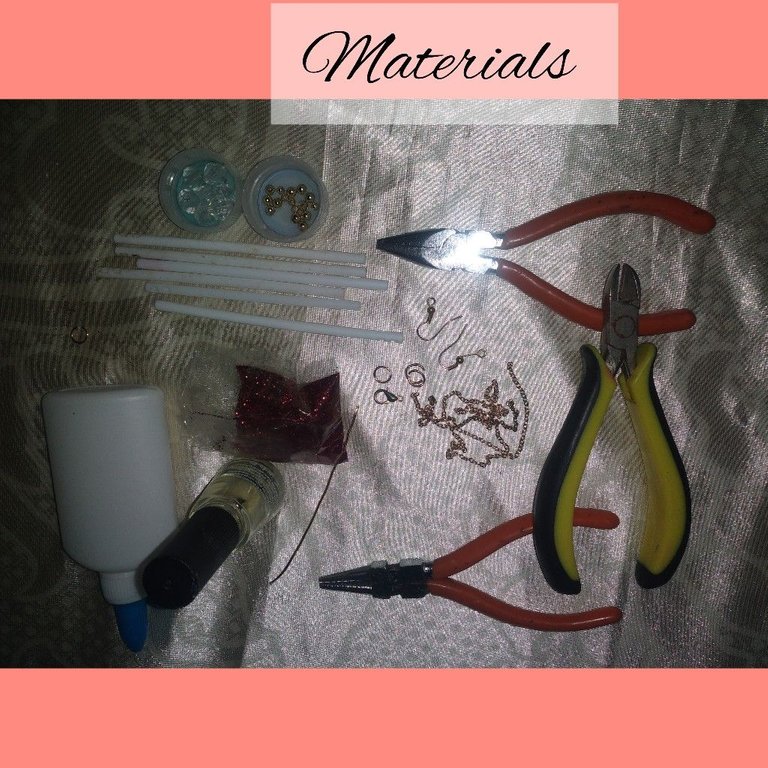 step/ Pasos
1.) I will start, using the jewelery cutting pliers and cut four tubes of the same size, continuous and cut four cubes of smaller size, thus obtaining eight little pieces of plastic lollipop tubes, different in size.
1.) Iniciaré, usando la pinza de corte de bisutería y corto cuatro tubos de igual tamaño, continuo y corto cuatro cubos de menor tamaño, obteniendo así ocho pedacito de tubos plástico de chupetas, diferentes en tamaño.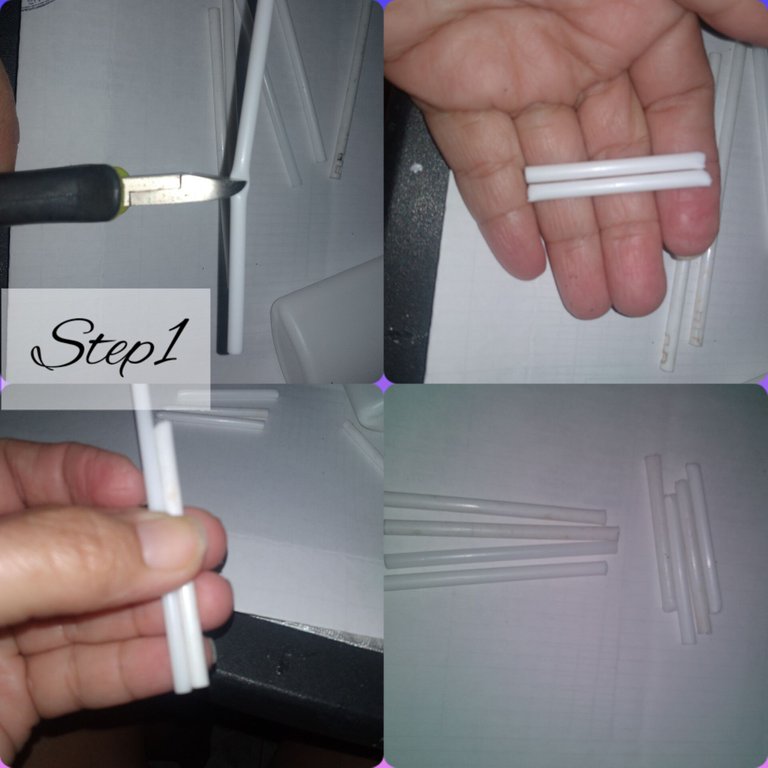 2.) In this step, I use my fingers to glue the tubes and sprinkle on some burgundy glitter. I let it dry for a prudent time.
2.) En este paso, pongo con ayuda de los dedos pegamento a los tubos y espolvoreo un poco de escarcha color vino tinto. Dejo secar por un tiempo prudente.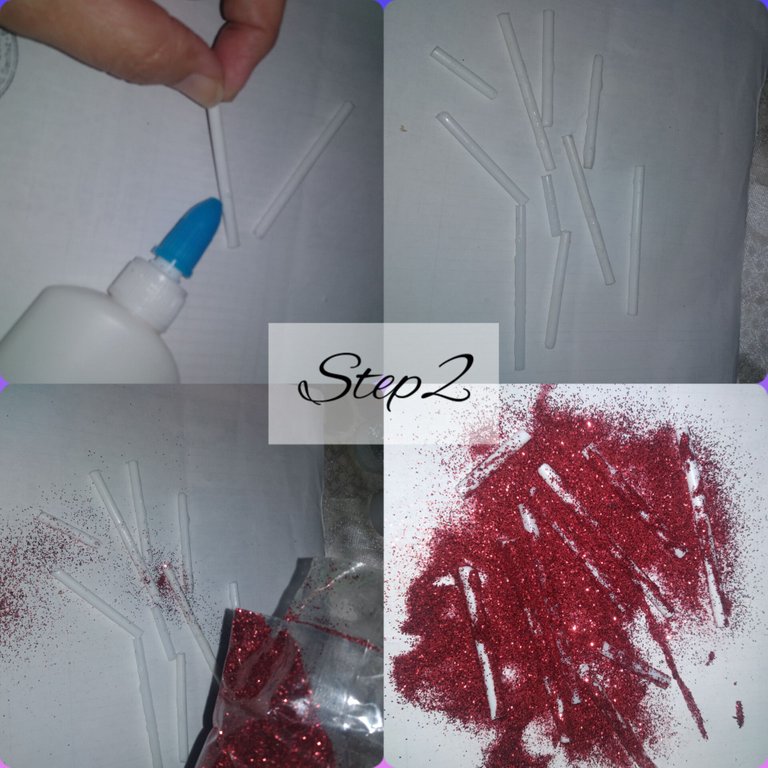 3.) Next, using the clear nail polish, I paint the tube bits one by one until cured. Again I let it dry for a prudent time
3.) Seguidamente usando el esmalte transparente para uñas, pinto hasta cubrir uno a uno los pedacitos de tubo. Nuevamente dejo secar por un tiempo prudente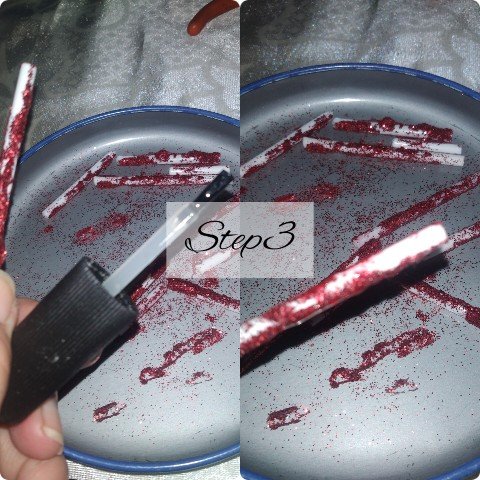 4.) With the needle and nylon thread, I start introducing a golden bead followed by a first cut of a larger plastic tube, a new golden bead and this time a plastic tube but of the largest size, a bead and a new tube, inserting it through its original hole in the tube and thus reached the beginning of this step, I return inside the tubes until I reach the upper cut formed by the larger tubes.
4.) Con la aguja e hilo nailon comienzo introduciendo una perlita dorada seguida de un primer corte de tubo plástico de mejor tamaño, una nueva perlita dorada y está vez un tubo plástico pero de los de mayor tamaño, una perlita y un nuevo tubo, introduciendo por su orificio originario del tubo y de esta manera llegó al inicio de este paso, me devuelvo por dentro de los tubos hasta llegar al corte superior que forman los tubos de mayor tamaño.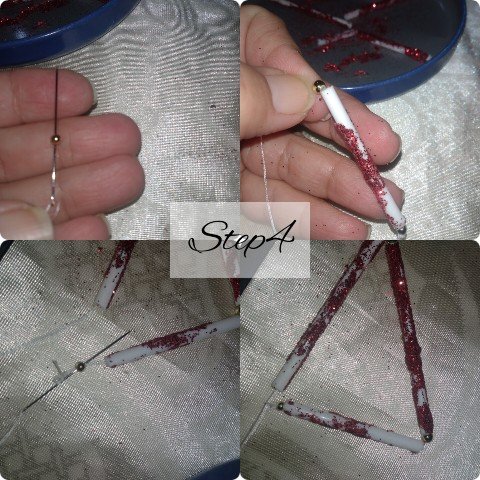 5.) Returning to the upper part, which forms the triangle, I introduce a new piece of plastic tube, to which I transfer a Czech stone followed by a golden pearl, in this way I return, to the starting point or where this begins He passed. So I have left a beautiful pendant inside the triangle, which will make it look very elegant and striking.
5.) Retornando a la parte superior , que forma el triángulo, Introduzco un nuevo trozo de tubito plástico, al cual traspaso meto una piedra checa seguida de una perlita dorada, de esta manera me devuelvo, hasta el punto de partida o donde inicie este paso. De manera que he dejado dentro de el triángulo un hermoso colgante, que lo hará lucir muy elegante y llamativo.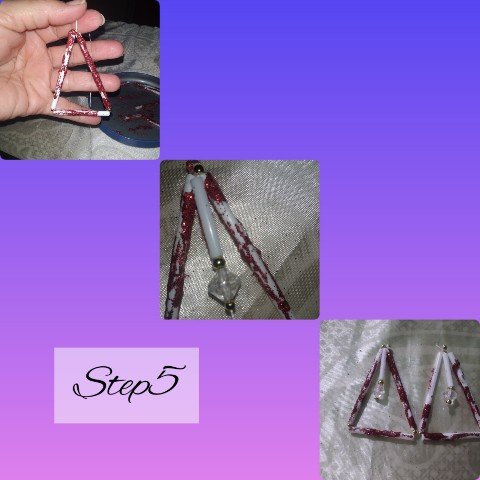 6.) Ready both pieces for the earrings, with the help of the pliers I tie a little piece of wire, before I introduce it through the hole of the golden pearl, today I pass through the two strands of wire and with the round nose pliers, I make a small hoop, then cut the residual wire. I continue introducing a costume jewelery earring through this earring, finally the hook for earrings and I close with the corresponding clamp.
6.) Lista ambas piezas para los aretes, con ayuda de las pinzas ato un pedacito de alambre, antes Introduzco por el orificio de la perlita dorada, traspasado hoy vueltas a las dos hebras de alambre y con la pinza punta redonda, hago un pequeño arito, corto seguidamente el alambre residual. Continuo introduciendo por este arito un arito de bisutería, por último el anzuelo para aretes y cierro con la pinza correspondiente.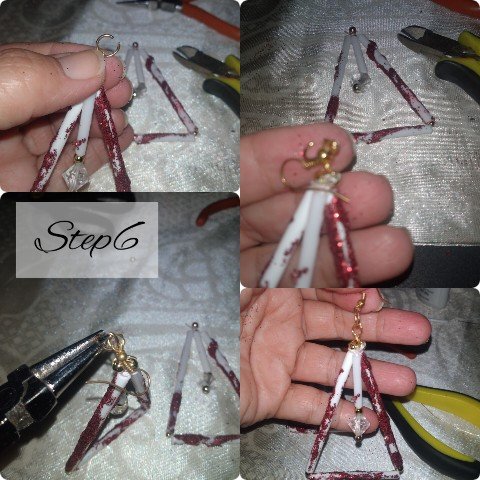 7.) For the necklace, I take the chain, place a small earring on each end and select one of them to place the pin. I use a piece of tube from the rest, center the necklace by folding it in equal parts, insert a golden pearl, a Czech stone and a new pearl inside the tube, returning it with the needle and nylon, ATI inside one of the circles to form the chain . So I repeat on both sides keeping the same distance, but varying the size of the tube. In this way I end the project today.
7.) Para el collar, tomo la cadena, coloco en cada extremo un pequeño arito y selecciono uno de ellos para colocar el pasador. Uso un ptrozo de tubo de los restantes, centro el collar doblando en partes iguales introduzco dentro de el tubo una perlita dorada, una piedra checa y una nueva perlita devolviendome con la aguja y nailon, ATI dentro de uno de los círculos de forman la cadena. Así repito en ambos lados manteniendo la misma distancia,pero variando en el tamaño de el tubo. De esta manera doy por terminado el proyecto de el día de hoy.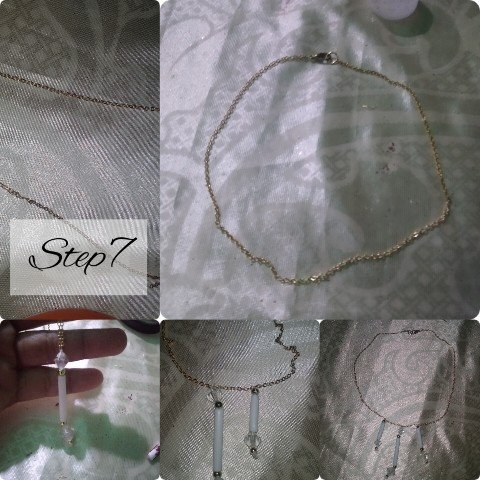 This is how the finished project looks like. I wish you liked it.//
De esta manera luce el proyecto ya terminado. Deseo des haya gustado.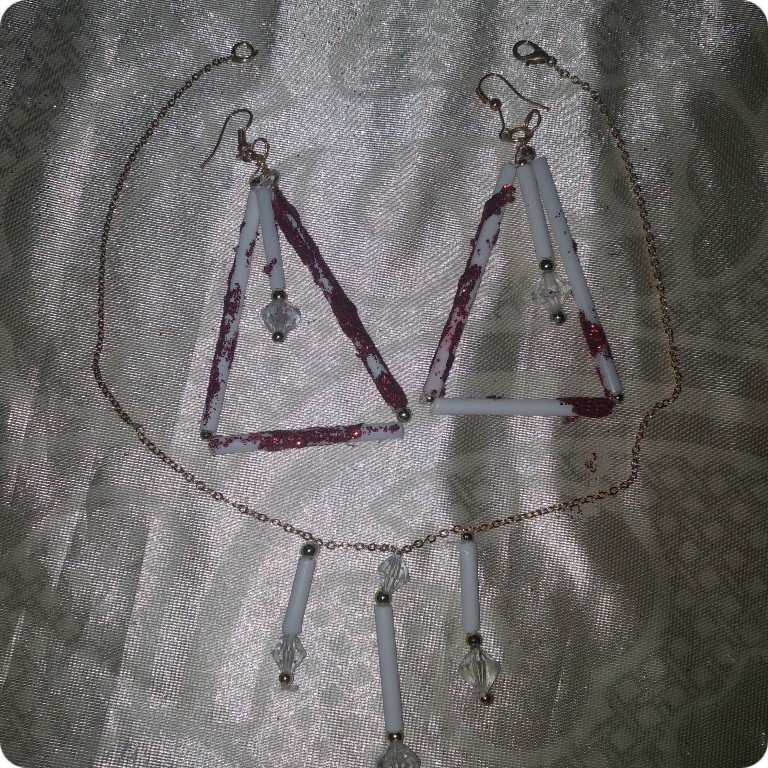 All photos are my property.
. Use InShot
.use Google translate
Thank you for coming this far, see you soon dear friends.//
Todas las fotos son de mí propiedad.
. Use InShot
.use traductor Google
Gracias por haber llegado hasta aquí, será hasta pronto queridos amigos.