Very good night to all of you dear friends, it is a great pleasure to participate in the "CREATING WITH LOVE" Contest proposed by the @jewelry community, this proposal in particular, has motivated me a lot, since my birthday is approaching , and since I am working on the preparations for this great day, I wanted to go ahead and make this beautiful necklace, which I will wear that day and which will precisely be the closing day of the contest, so I am super excited not only to participate , but because now I can wear a nice necklace made by me, on a special day like my birthday. Without further ado, I want to extend the invitation to my friends: @emmaris, @lesleiq78 and @alexanderflx. I look forward to seeing your great and beautiful creations. I wish you like it./
Muy buena noche para todos ustedes queridos amigos, es un gran gusto participar, en el Concurso "CREANDO CON AMOR" propuesta por la comunidad de @jewelry, está propuesta en especial, me ha motivado mucho, ya que se acerca el día de mí cumpleaños, y en vista de que trabajo en los preparativos de este gran día, pues he querido adelantar y realizar este hermoso collar, que justo lucire ese día y que precisamente será el día del cierre del concurso, así que estoy súper emocionada no solo de participar, sino porque ahora podré lucir un lindo collar hecho por mí, en un día especial como lo es el día de mí cumpleaños. Sin más quiero hacer extensiva la invitación a los amigos: @emmaris, @lesleiq78 y @alexanderflx. Espero ver sus grande y hermosas creaciones. Deseo les guste.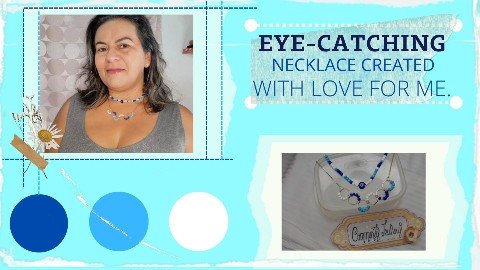 Materials/Materiales.
. Wire n26 and n18 gold.
. 36 cm thin gold chain
. 45 cm of Chinese thread, black color.
. Beads, colors (light and dark blue.
. Jewelry tweezers.
. 4 earrings
. A pin or quiet
. Plastic tube of sewing thread.
. Small Turkish eye.
. Alambre n26 y n18 dorados.
. 36 cm de cadena delgada dorada
. 45 cm de Hilo chino, color negro.
. Mostacillas, colores (azul claro y oscuro.
. Pinzas de bisutería.
. 4aritos
. Un pasador o tranquilla
. Tubito plástico de hilo de coser.
. Ojo turco pequeño.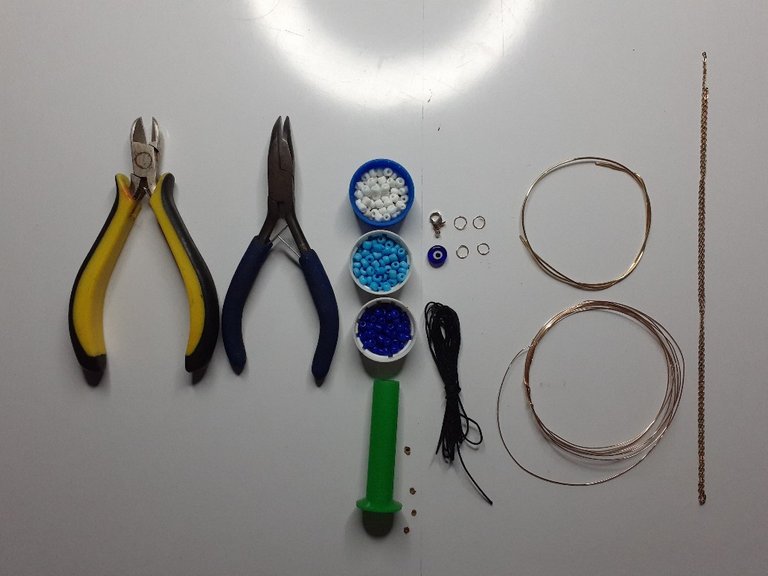 Steps/ Pasos
1.) I start by cutting a piece of #18 wire and using the plastic tubing described in the material list, I wrap the wire around six times.
1.) Inicio cortando un trozo de alambre n 18 y usando el tubo de plástico descrito en la lista de materiales, doy vueltas a el alambre,seis veces.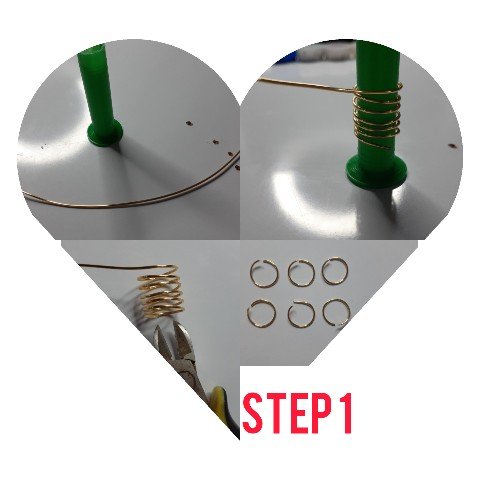 2.) In this step I will put 5 beads of the same color in the ring, how I will use three colors of beads, that is, I will use two rings for each color of beads and I will close the ring by joining the ends with the clamp.
2.) En este paso meteré en el aro 5mostacillas de mismo color, cómo usaré tres colores de mostacilla, es decir usaré dos aritos para cada color de Mostacillas y cerraré el arito uniendo las puntas con la pinza.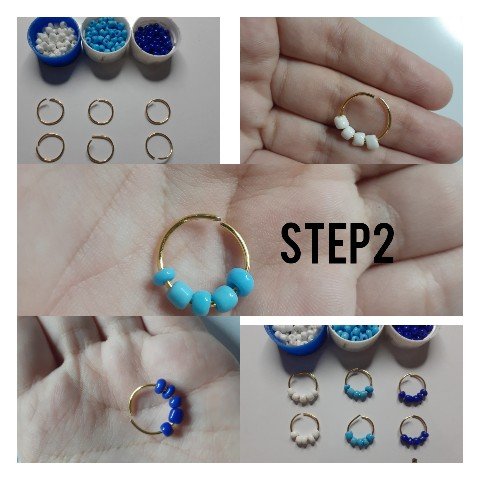 3.) Using the n18 wire, I begin to intertwine and join making several turns with it, first I will join or tie with n26 wire a ring with white beads, leaving you in the lower part of the ring and the blue one, leaving the beads in the upper part of the hoop, then I will tie the light blue hoop leaving the Beads in the lower part and in this way I repeat. Until I have tied the six hoops and giving shape.
3.) Usando el alambre n18, comienzo a entrelazar y unir haciendo dando con este varias vueltas, primero unire o atare con alambre n26 un arito con mostacillas color blanca quedando estás en la parte de inferior de el arito y la azul quedando la Mostacillas en la parte de superior de el aro, luego atare el arito de color azul claro quedando las Mostacillas en la parte inferior y de esta forma repito.hasta haber atado los seis aritos y dando forma.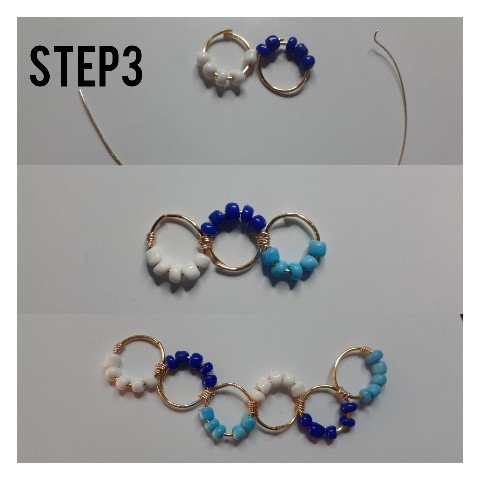 4.) In this step, I double the 36cm chain and cut it in equal parts, and using rings on both sides and with the help of the tweezers, I insert the rings with the Beads.
4.) En este paso, doblo la cadena de 36cm y corto en partes iguales, y usando un aros en ambos lados y con ayuda de las pinza, introduzco los aros con las Mostacillas.
5.) Using the small thread, I double the thread in equal parts, center the Turkish eye by inserting it into the thread, three white beads, separated by a dark blue one, three light blue beads, separated by a colored bead. white, three dark blue, separated by one light blue, and so I continue the sequence until I cover a large part of the Chinese thread, and in the same way I will do it at the next end.
5.) Usando el hilo chico doblo en igual partes el hilo, centro el ojo turco introduciendolo en el hilo, tres Mostacillas de color blanca, separadas por una de color azul oscuro, tres Mostacillas de color azul claro, separada por una Mostacilla de color blanca, tres de color azul oscuro, separada por una de azul claro, y así sigo la secuencia hasta cubrir una gran parte de el hilo chino, y de la misma forma lo haré en el siguiente extremo.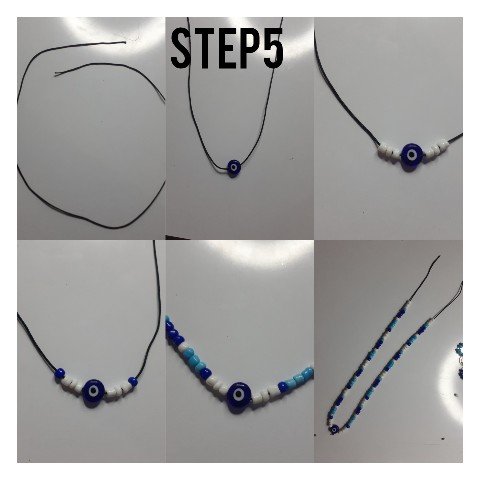 6.) In this step I make a small knot at both ends of the Chinese thread, leaving a small hole at each end and hiding the residual thread under the mustacilla.
6.) En este paso hago en ambos extremos del hilo chino, un pequeño nudo dejando un pequeño agujero, en cada extremo y oculto por debajo de la mostacilla el hilo residual.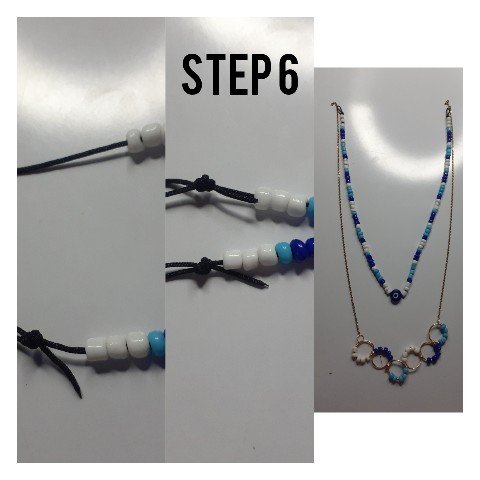 7.) Using the earrings, I put the holes of the Chinese thread and those of the chain, likewise I will insert the pins, and then with the pliers tighten and completely seal the earrings. Terminating the project.
7.) Usando los aritos, meto los agujeros de el hilo chino y los de la cadena , así mismo meteré los pasadores, para luego con la pinza apretar y sellas por completo los aritos. Dando por culminado el proyecto.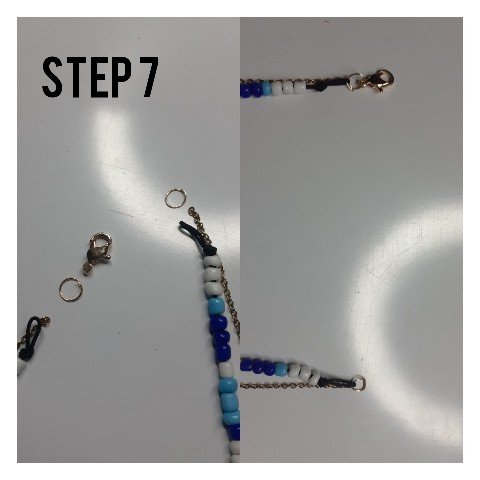 I'm very excited about the final result, it's almost time to wear this beautiful necklace created with a lot of love for me./
Estoy muy emocionada con el resultado final, ya falta poco para lucir este lindo collar credo con mucho amor por mí para mí.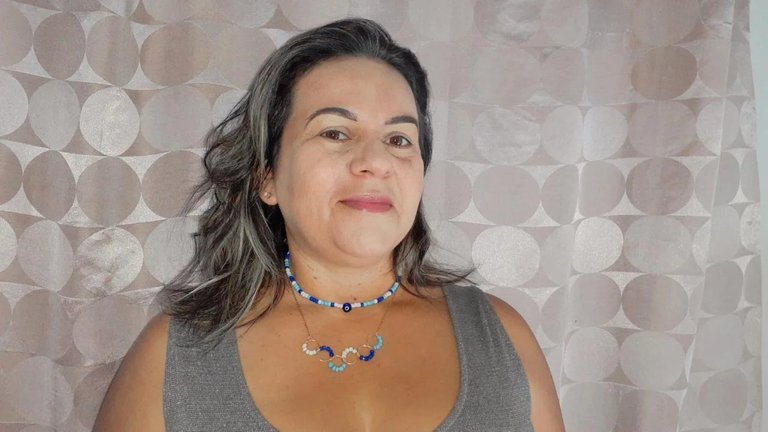 . All photos are my property, taken with my smartphone./
. Todas las fotos son de mí propiedad, tomadas con mí telefono inteligente.
. Edit the cover photo with canva./
. Edite la foto de portada con canva.
. For step by step demonstration use InShot, for the collapses./
. Para demostración del paso a paso use InShot, para los colaps.
Use google translate./
.Use traductor Google.
It is a great pleasure that you have visited my blog, do not forget that I will always value a well-intentioned comment that allows me to improve and learn more from you. See you soon./
Es un gran gusto que hayas visitado mí blog, no olvides que siempre valorare algún comentario bien intensionada, que me permita mejorar y aprender más de usted. Hasta pronto.