Very nice weekend night, for all of you my dear creators of @jewerly, once again welcome to my blog. Today I will show you a very simple tutorial, on how to make a set of bracelets and dangling earrings, with Mostacillas and beads, ideal to look elegant and distinguish at any time and occasion. Since the materials used give a lot of shine, highlighting our feminine beauty. I hope you enjoy it and it is to your liking. Follow me and I'll show you how to do it.//
Muy linda noche de fin de semana, para todos ustedes mí querida gente creadora de @ jewerly, una vez más bienvenidos sean todos a mí blog. Hoy les mostraré un muy sencillo tutorial, de cómo hacer un juego de pulsera y aretes colgantes, con Mostacillas y canutillos, ideal para verse elagante y distinguir en cualquier momento y ocacion. Ya que los materiales usados dan mucho brillo haciendo resaltar nuestra belleza femenina. Espero lo disfrutes y sea de su agrado. Sigueme y les mostraré como hacerlo.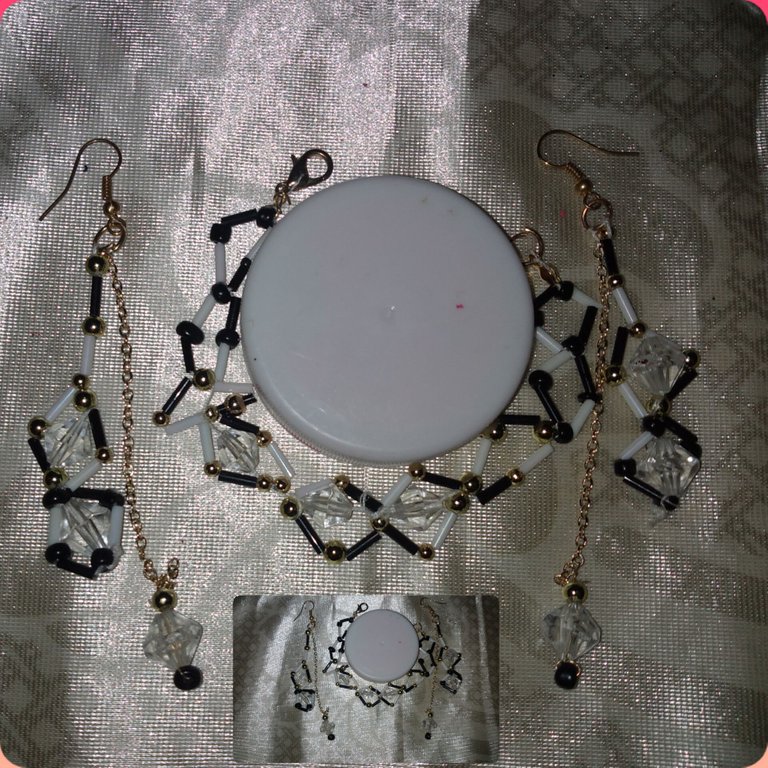 Materials/ Materiales
. Color beads (black and white).
. Golden beads.
. Thread
. thin needle.
. bracelet clip
. jewelery earrings
. hook for earrings
. jewelery tweezers
. Pair of scissors
. Bit of wire n16.
. Clear Czech crystals.
. Piece of thin gold-colored chain
. Cover knots.//
. Canutillos colores ( blanco y negro).
. Mostacillas doradas.
. Hilo
. Aguja delgada.
. Pasador para pulsera
. Aritos de bisutería
. Anzuelo para aretes
. Pinzas de bisutería
. Tijeras
. Pedacito de alambre n16.
. Cristales checos transparentes.
. Pedacito de cadena delgada color dorado
. Tapa nudos.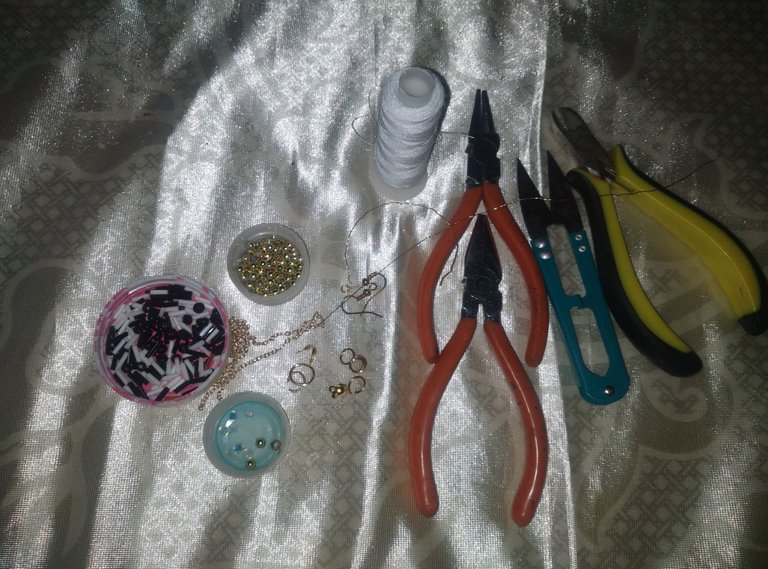 Step/Pasos
1.) I will start by introducing a black colored Mostacilla inside the needle and thread, then a black colored tube, separated from a new black colored tube, I introduce a white colored Mostacilla, in this way I will introduce four Mostacillas two of black color and two of white color , both separated by a black tube, then completed, I insert the needle into the first tube inserted, forming a geometric Rhombus figure when joining them, I insert a Czech crystal to continue, leaving it in the center of the diamond. I repeat the step, but this time, I will not separate the beads with golden beads, but with golden pearls. thus obtaining two consecutive diamonds.
1.) Comenzaré introduciendo una Mostacilla color negro dentro de la aguja e hilo, seguidamente un canutillo color negro, separado de un nuevo canutillo color negro introduzco un Mostacilla color blanca, de esta manera introducire cuatro Mostacillas dos de color negra y dos de color blanca, separadas ambas por un canutillo de color negro, seguidamente completados, introduzco la aguja en el primer canutillo introducido formando al unirlos una figura geométrica Rombo, Introduzco para continuar un cristal checo, quedando este en el centro de el rombo. Repito el paso, pero está vez, no separaré con canutillos, sino con perlas doradas a los.mostacillas. obteniendo así dos rombos consecutivos.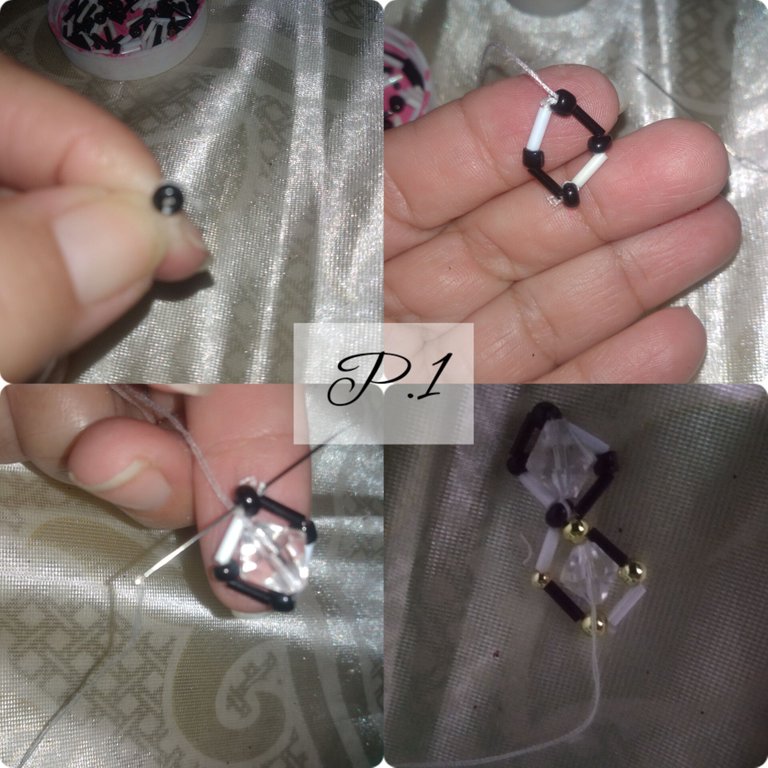 continuous, inserting into the needle, a golden pearl, followed by a white tube, a new golden pearl and a black tube. I place a small earring on the earring hook, use the corresponding jewelry pliers and close the earring.
continuo, entremetiendo en la aguja, una perlita dorada, seguida de un canutillo color blanco, una nueva perlita dorada y un canutillo color negro. Coloco a el anzuelo para aretes un pequeño arito, uso la pinza de bisutería correspondiente y cierro el arito.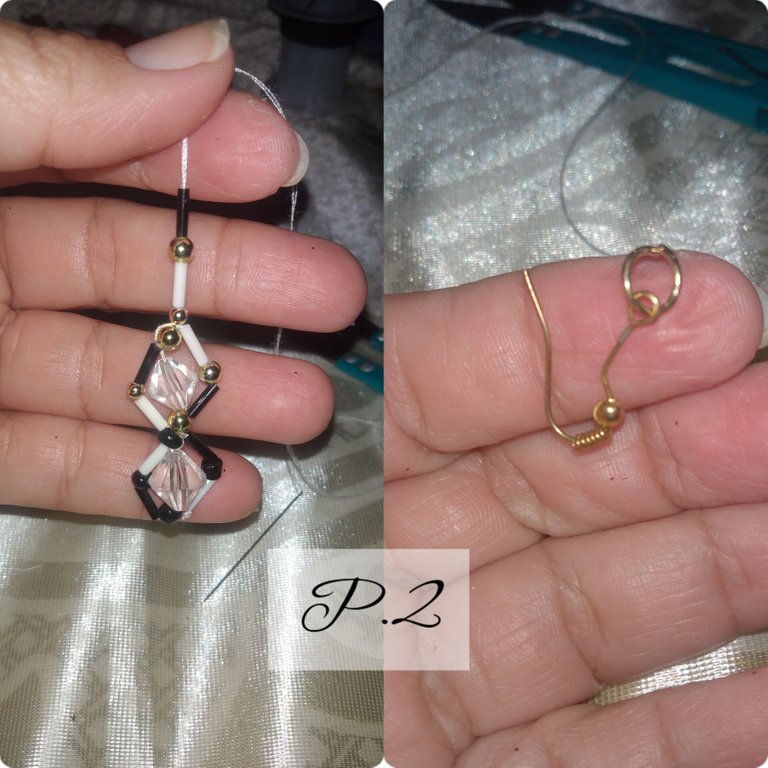 3 and 4) I introduce a little piece of chain inside the needle and finally, I tie inside the earring with the nylon thread, securing it as much as possible. I cut the thread with scissors. I cut a piece of wire, I introduce a black Mostacilla, a transparent Czech Cristian and then a golden pearl, with the remaining wire I introduce into one of the small earrings that form the chain, I secure and cut the residual wire. I repeat and in this way I get the pair of hanging arts, ready to be worn.
3 y 4) Introduzco un pedacito de cadena dentro de la aguja y finalmente, ato dentro de el arito con el hilo nailon, asegurando lo más que se pueda. Corto el hilo con las tijeras. Corto un trozo de alambre, Introduzco una Mostacilla color negra, un Cristian checo transparente y luego una perlita dorada, con el alambre restante introduzco en uno de los aritos pequeños que forman la cadena aseguro y corto el alambre residual. Repito y de esta manera obtengo el par de artes colgantes, listo para ser usados.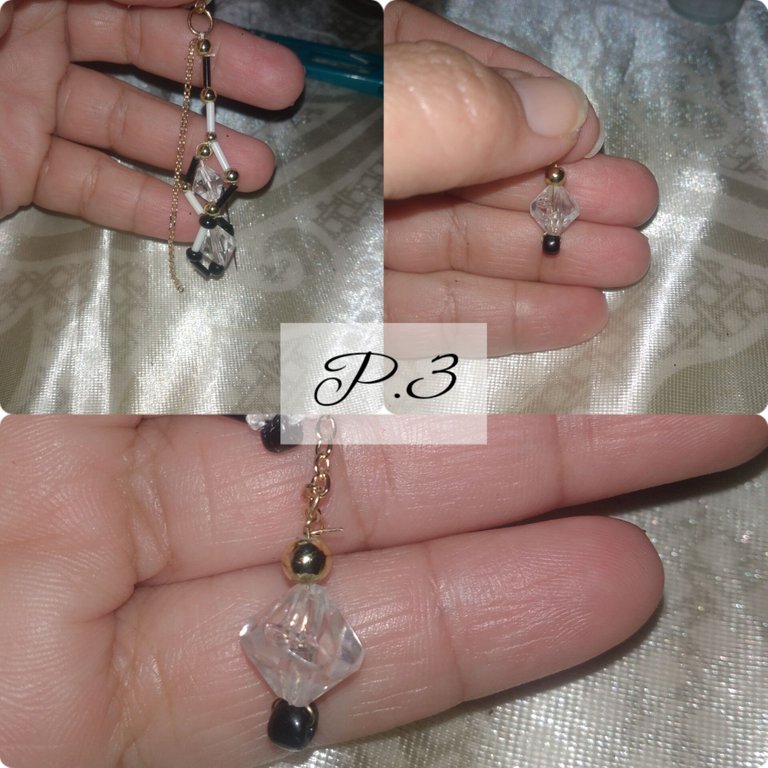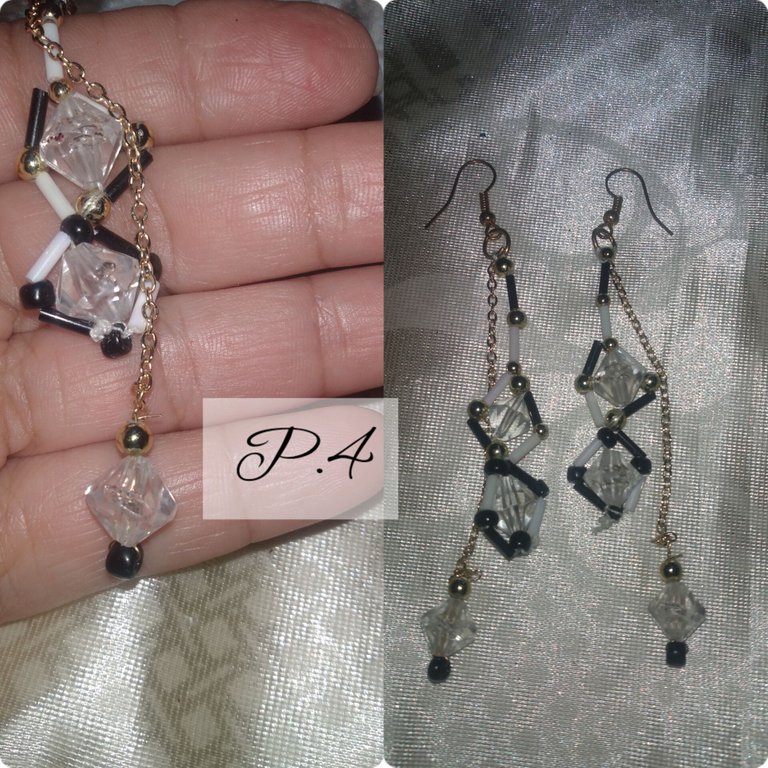 5.) For the bracelet, I introduce the thread inside a knot cover, in which I also close and put a costume jewelery ring, opening and closing using the corresponding clamp. I repeat steps one, made for the earrings but this time I will not use Czech crystals, but after the third rhombus figure. After the three figures I begin to make three more figures, but this time I will introduce the crystals, I repeat twice, also taking the wrist of my hand as a measure, I make three more figures without crystals, and at this end, I will place a new earring followed by the barrette.
5.) Para la pulsera, Introduzco el hilo dentro de un tapa nudos, en el que además cierro y pongo un arito de bisutería, abriendo y cerrando usando la pinza correspondiente. Repito los pasos uno, hecho para los aretes pero en esta oportunidad no usaré cristales checos, sino después de la tercera figura de rombo. Luego de las tres figura comienzo a hacer tres figuras más, pero está vez si ire intriduciendo los cristales, repito dos veces das tomando además como medida, la muñeca de mí mano, hago tres figuras más sin cristales, y en este extremo, colocare un nuevo arito seguido de el pasador.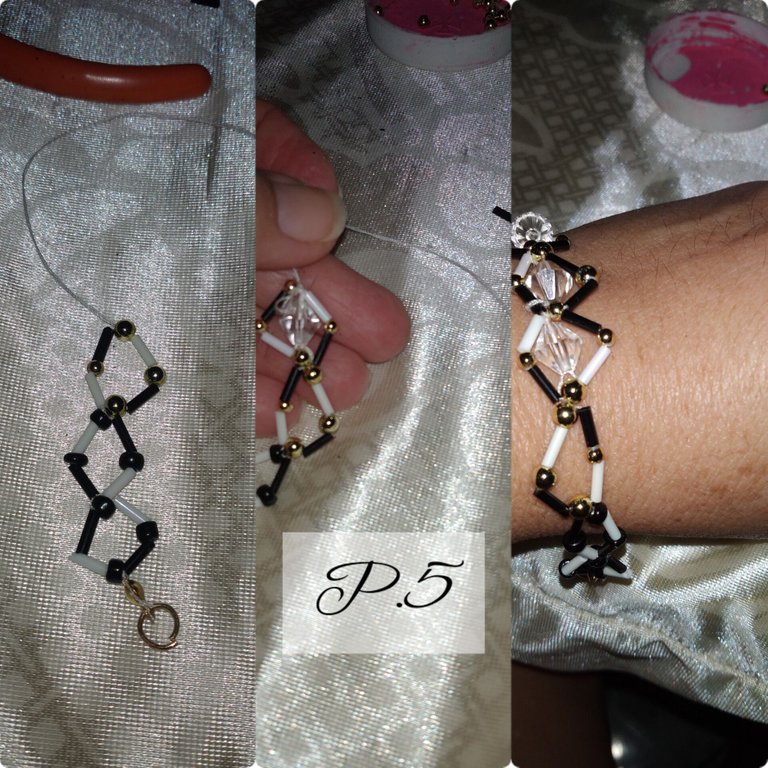 In this way I conclude the project of today. I am very happy with the result.//
De esta forma doy por culminado el proyecto de el día de hoy. Yo muy contenta con el resultado.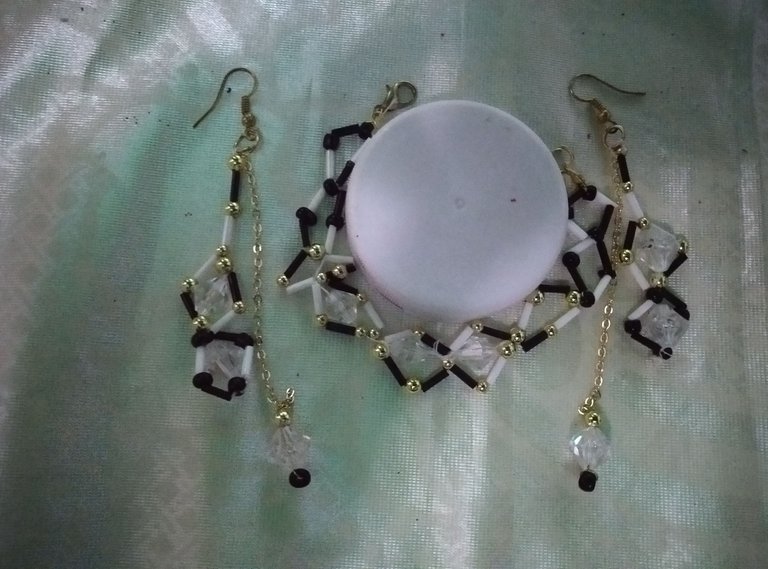 . All the contents of this publication are my property.
.use InShot to show the steps.
. Use Google translate.
It is always a pleasure to show you my most recent creation, and much more pleasure to follow me until the end, not to mention the great joy of your visit to my blog, grateful for all this. See you soon dear friends.//
. Todos los contenidos de esta publicación, son de mí propiedad.
.use InShot para mostrar los pasos.
. Use traductor Google.
Siempre es un gusto mostrarles mí más reciente creación, y mucho más placer me sigas hasta el final sin mencionar la gran alegría de tu vista a mí blog, agradecida por todo ello. Será hasta pronto queridos amigos.