Hola mis estimados amigos , feliz tarde para todos , espero se encuentren bien , que estén pasando un excelente día , hoy les quiero compartir un lindo y elegante tutorial ,les quiero compartir unos zarcillos que realice con foamis colores pasteles ,una combinación sencilla y delicada ,estos zarcillos los realice únicamente para una noche de fiesta ,espero puedan llegar hasta el final de este post y puedan aprender y realizarlo
Hello my dear friends, happy afternoon to all, I hope you are well, you are having a great day, today I want to share a nice and elegant tutorial, I want to share some tendrils that I made with foamis pastel colors, a simple and delicate combination, these tendrils I made only for a night out, I hope you can get to the end of this post and can learn and make it.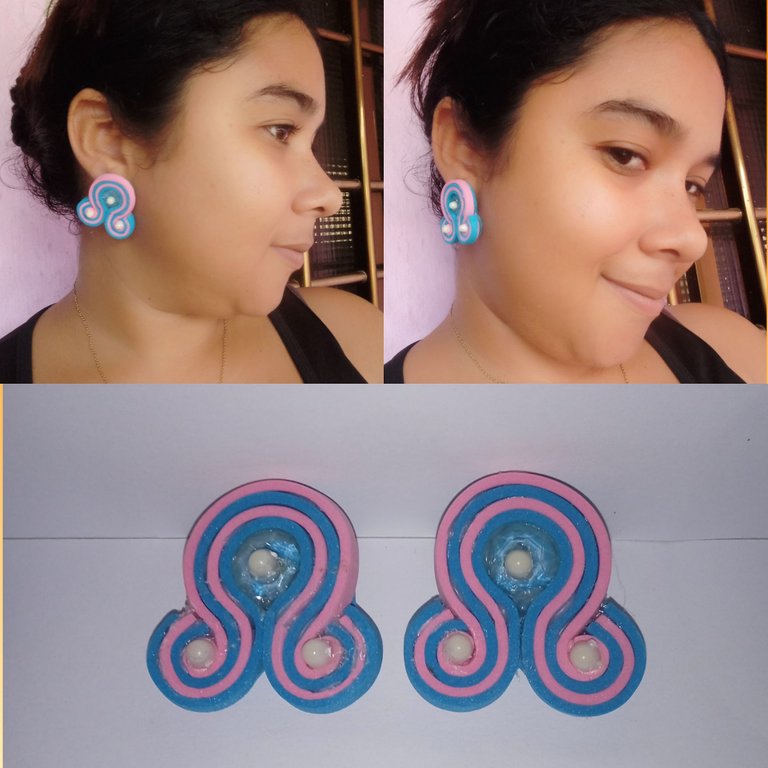 Materiales que utilice para mi linda y elegante creación :
-Foamis
-Tijera
-Silicón en barra con su respectiva pistola
-Botones transparentes
-Peloticas blancas
Materials I used for my beautiful and elegant creation :
-Foamis
-Scissors
-Silicone stick with its respective pistol
-Transparent buttons
-White balls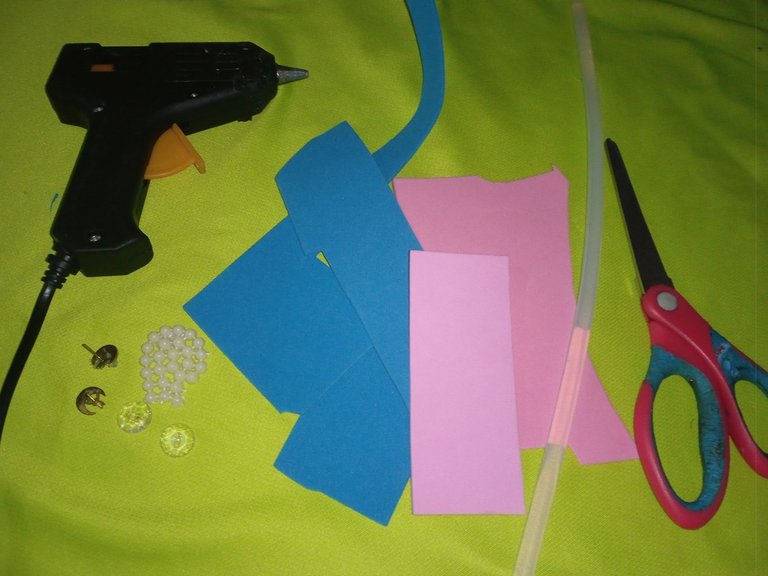 A continuación los pasos a seguir:
Iniciaremos recortando ocho tiras de foamis , que va dividida en dos colores distintos es decir , cuatro tiras color azul y cuatro tiras color rosado para poder realizar el pars de zarcillo completo , las medidas que utilice para que mis zarcillos no quedaron extravagante fueron de medio centimetros de ancho y nueve centímetro de largo cada tira , si ustedes desean que los zarcillos queden más grueso y grande aumentan la medida de cada tira
Here are the steps to follow:
We will begin by cutting eight strips of foamis, which will be divided into two different colors, four blue strips and four pink strips to make the complete tendrils, the measures I used so that my tendrils were not extravagant were half centimeters wide and nine centimeters long each strip, if you want the tendrils to be thicker and larger increase the size of each strip.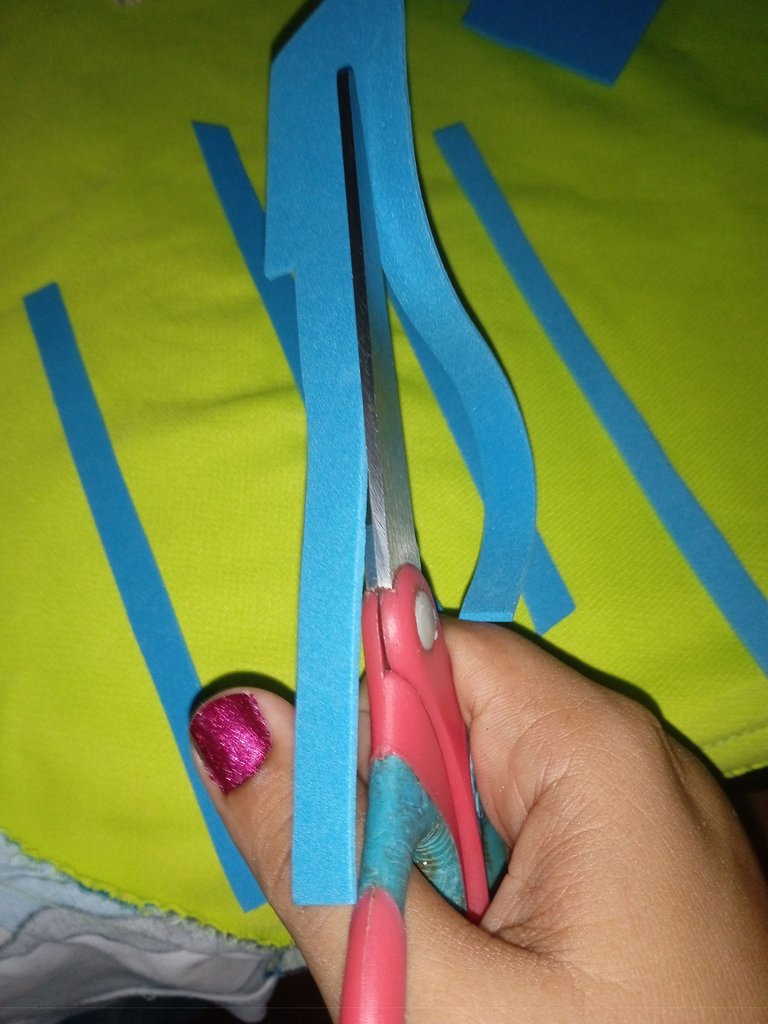 Luego continuaremos tomando un cuadro de foamis para realizar una base con el ,preferiblemente les recomiendo que sea del mismo color que estén utilizando para que combine ,en el centro del cuadro continúe pegando un botón transparente
Then we will continue taking a square of foamis to make a base with it, preferably I recommend that it is the same color you are using to match, in the center of the square continue pasting a transparent button.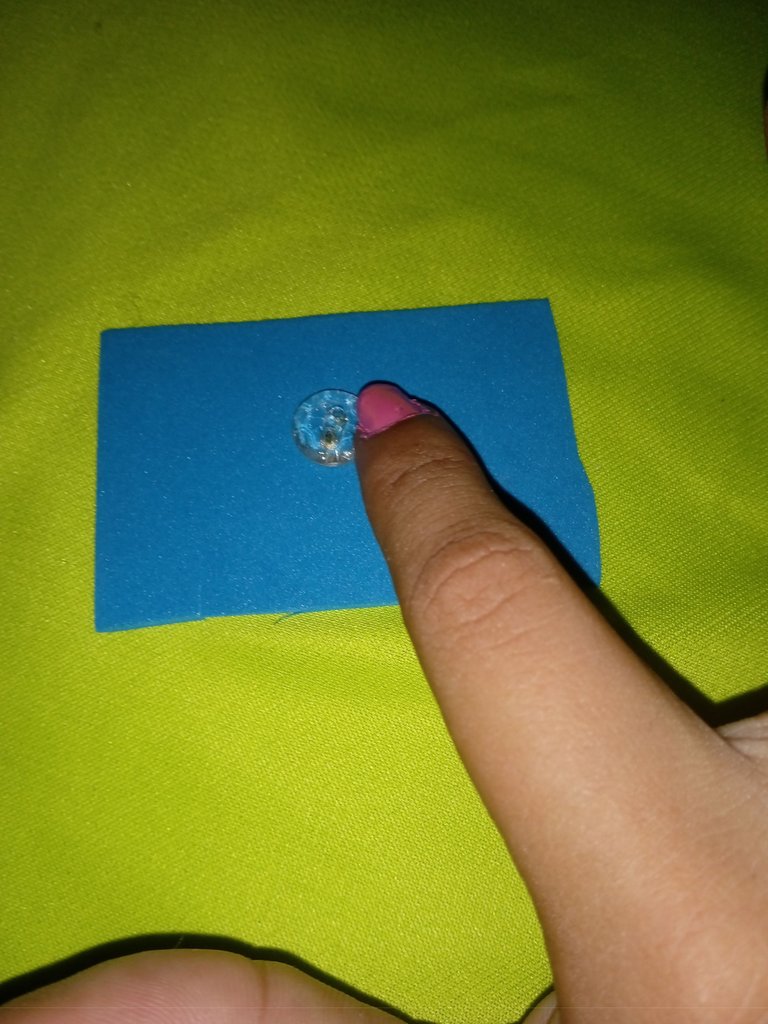 Luego continúe calculando la medida del centro de cada tira y la pegue por todo el alrededor de el botón transparente ,dejando las tiras sobrantes sueltas sin pegar ,primero pegamos el azul y luego el rosado para entre meter los colores pasteles y quede una excelente combinación
Then continue calculating the measure of the center of each strip and glue it all around the transparent button, leaving the excess strips loose without gluing, first we glue the blue and then the pink to put the pastel colors and get an excellent combination.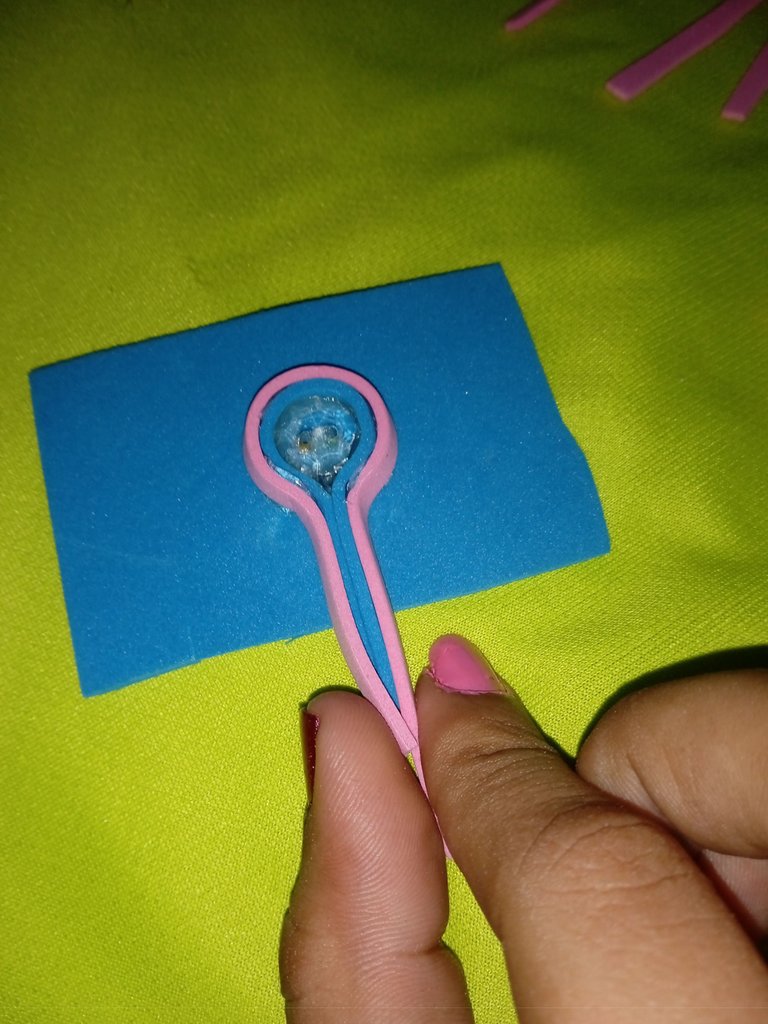 Una vez que finalicemos de pegar cada tira hasta el tamaño adecuado , continuaremos llevando cada tira hacia los lados enrollando lo y pegando cada tira al lado de la otra
Once we finish gluing each strip to the right size, we will continue to roll each strip sideways and glue each strip next to the other.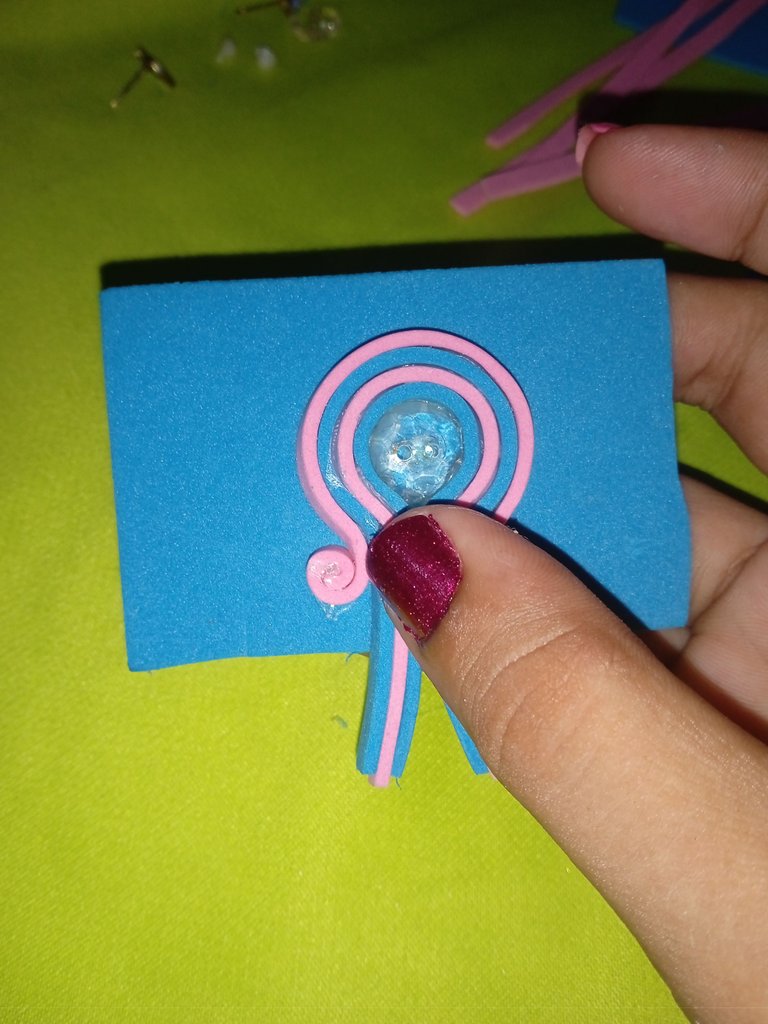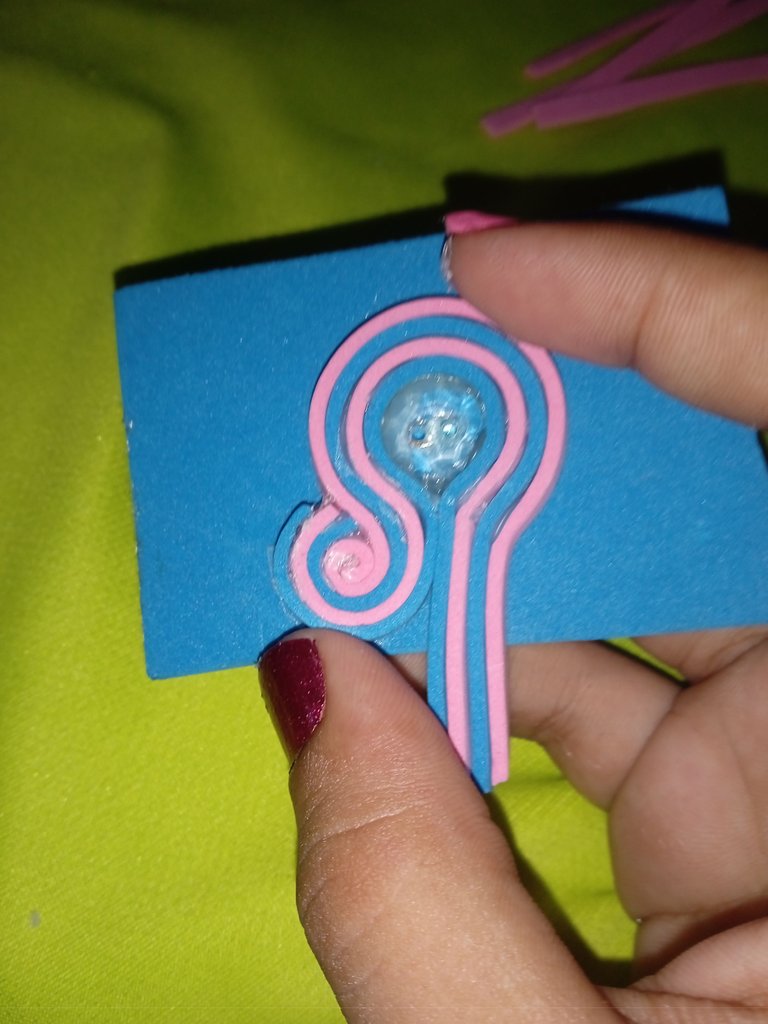 Luego continúe realizando el mismo procedimiento que el que realizamos en el paso anterior, enrollamos la primera tira hacia el lado contrario y continuamos llevando las demás tiras hasta terminar con la azul
Then continue with the same procedure as in the previous step, roll the first strip to the opposite side and continue with the other strips until the blue strip is finished.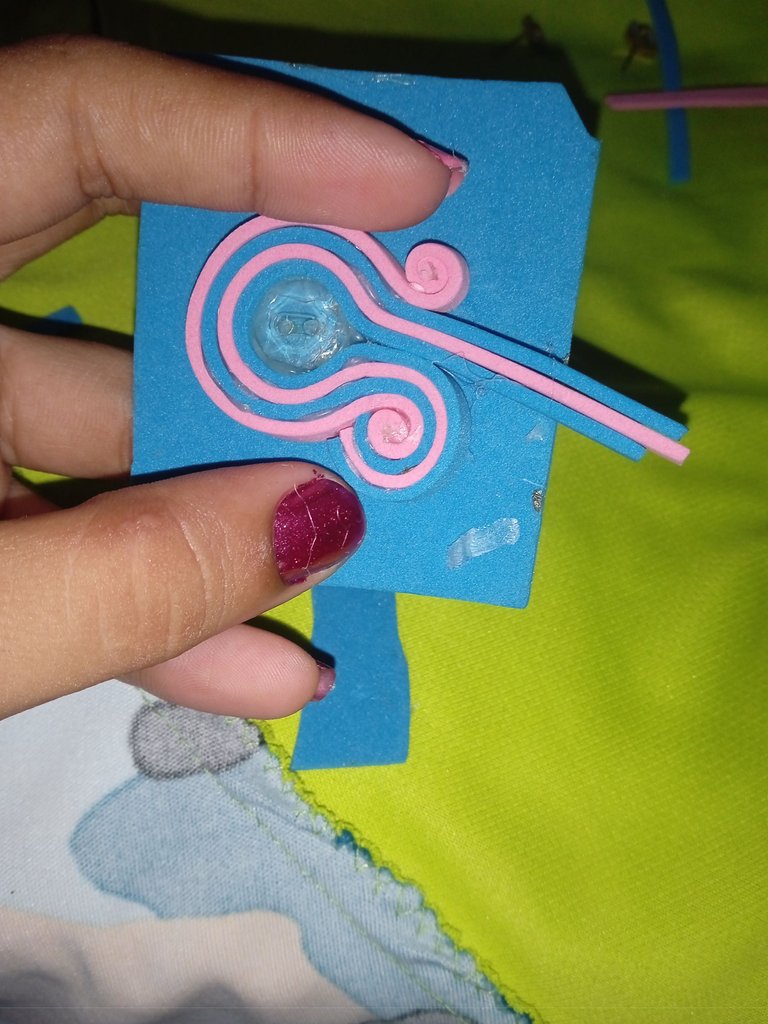 Luego continúe decorando con unas pelotitas blanca ,utilizando tres en cada zarcillos que todas juntas hacen seis para que de este modo queden más elegantes y llamativas
Then continue decorating with white balls, using three in each tendrils that together make six to make them more elegant and eye-catching.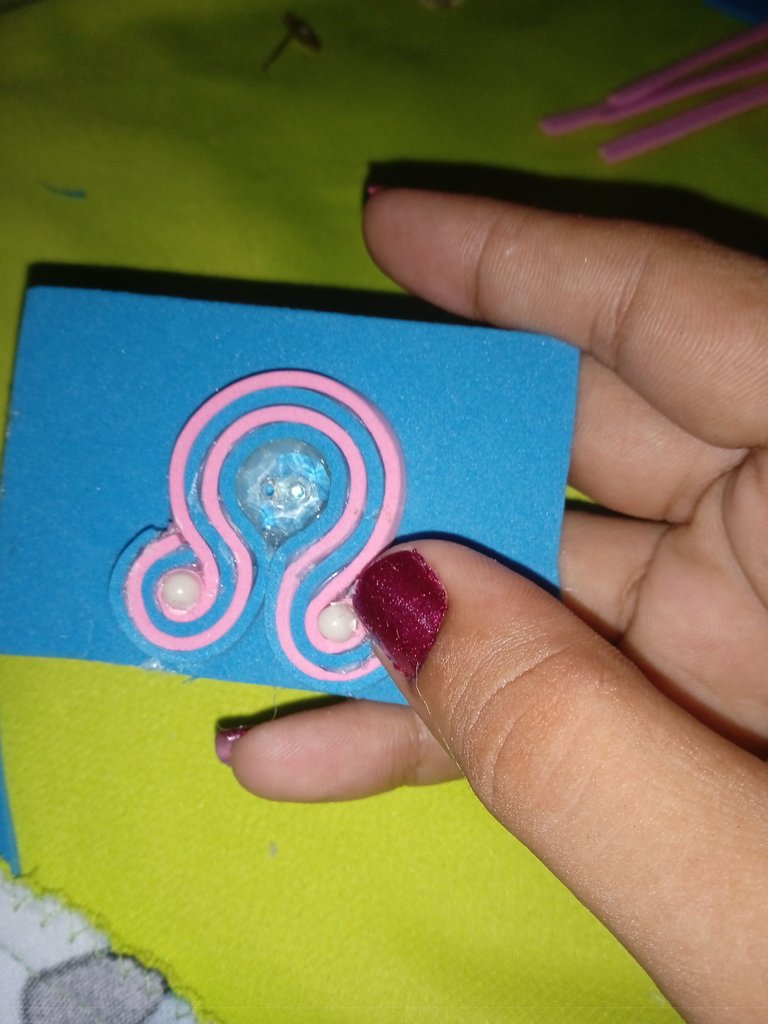 Luego que nuestros zarcillos se encuentren listos , vamos a continuar tomando la tijera y recortando los sobrantes de la base ,recuerden algo muy importante debemos recortar la base de el mismo modelo que quedaron los zarcillos para que esté no se observe feo .
After our tendrils are ready, we will continue taking the scissors and trimming the excess of the base, remember something very important we must trim the base of the same model that the tendrils were left so that it does not look ugly.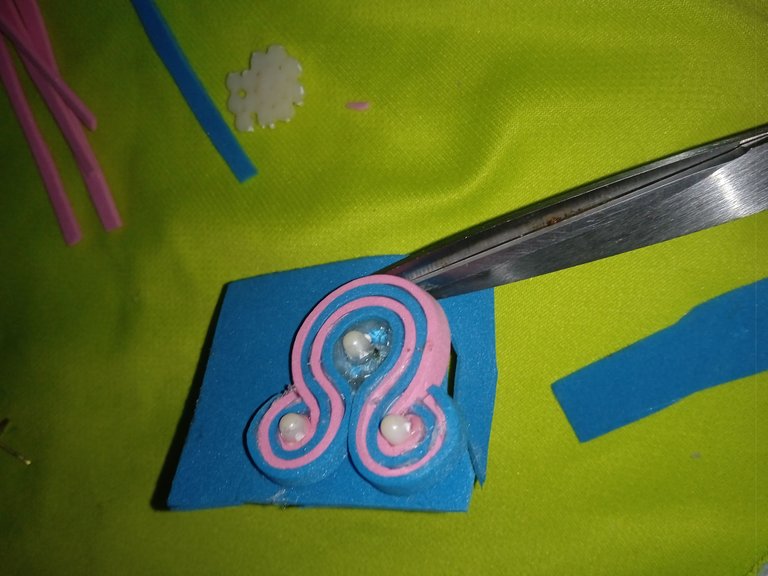 Para culminar con esta decoración y hermosa creación de zarcillos elegantes vamos a proceder a tomar la base de zarcillos y pegarlas en la parte de atrás de el diseño que realizamos ,les recomiendo que no lo peguen tan arriba para que esté no pese a la hora de colocarlos ,es preferiblemente pegarlo casi llegando al medio
To finish with this decoration and beautiful creation of elegant tendrils we will proceed to take the base of tendrils and paste them on the back of the design that we made, I recommend that you do not paste it so high so that it is not heavy when placing them, it is preferable to paste it almost reaching the middle.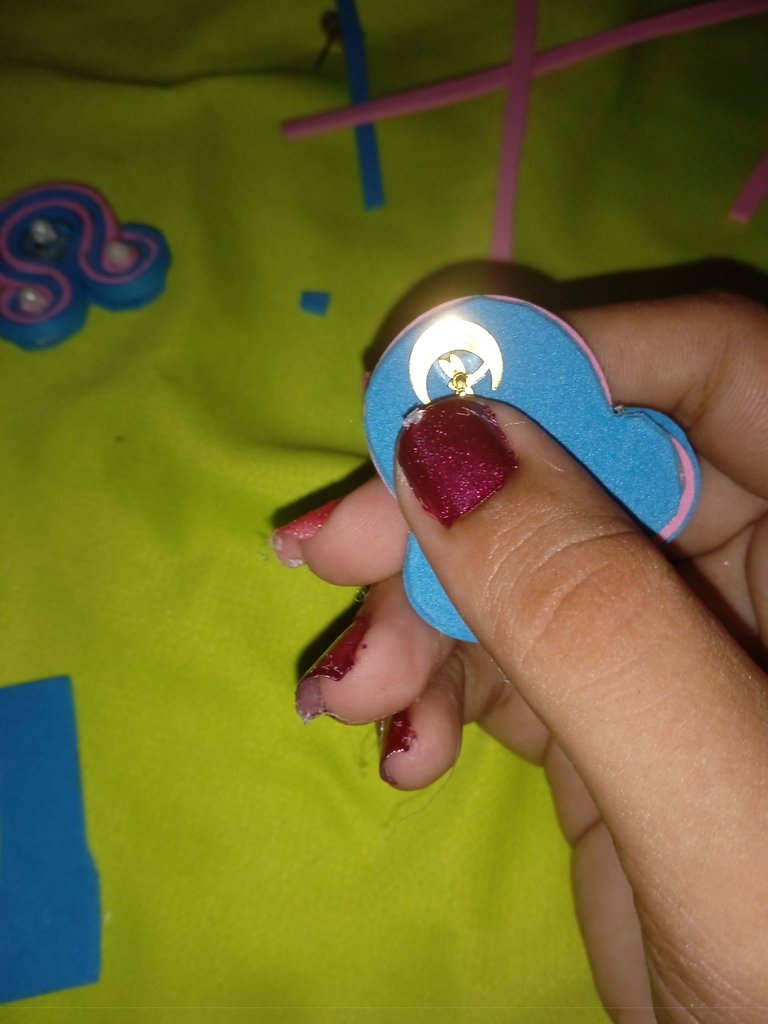 Este es el resultado de mi linda creación, les invito ha que puedan realizarlo ,contarme su experiencia y lucir estos pendientes en una fiesta elegante , las fotos las tomé desde mi celular Redmi 9C y los textos los traduje con el traductor DeepL , gracias por revisar mi publicación, les mando un abrazo y un beso desde la distancia ,nos vemos en el siguiente post
This is the result of my beautiful creation, I invite you to make it, tell me your experience and wear these earrings in an elegant party, the photos were taken from my Redmi 9C cell phone and the texts were translated with the translator DeepL, thank you for reviewing my publication, I send you a hug and a kiss from afar, see you in the next post.