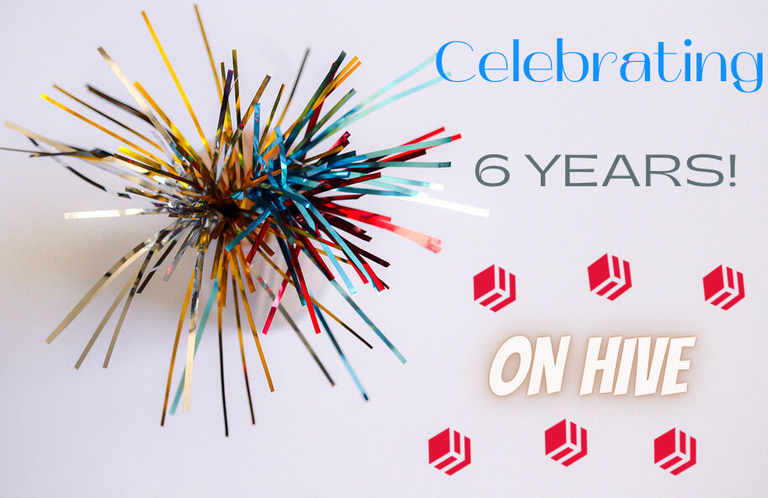 Wow 6 years! It's been a fun ride being on this blockchain. So much growth and learning has benefited me on and off chain.
You can take a look at one of my first posts and see for yourself how much being on Hive has taught me and shaped me into the writer I am today. My posts used to be very short and simple and maybe I'd share a photo or two. I was first learning how to use our camera when taking those photos of the grasshopper...which explains the out of focus blurriness lol.
Yea, I'd say I've come a long way but still have more improving to do. I don't think I will ever say I've learned enough.
If you would have told me back in July of 2016 that I would be here for the next six years I would have straight up laughed out loud. I said this before but in the beginning I came and tried this out, felt overwhelmed and went in hiding from Hive for the next six months. 😂
I decided I wanted to give it another go and that's when I started taking the steps I recently shared in this Hive Tips post and it changed the course of my involvement and enjoyment. I haven't looked back ever since. 😌
I can't imagine not blogging here. As @sanjeevm put it, it's like my social diary. I write about my personal life and feelings, thoughts that come to mind, let the goofiness in me roam free and play around. I post about the good and the uglies I face and all the things I'm passionate about.
Yea, I'm here to stay folks! 😎
I recently received a Congratulations message from @arcange and @hivebuzz on becoming a dolphin!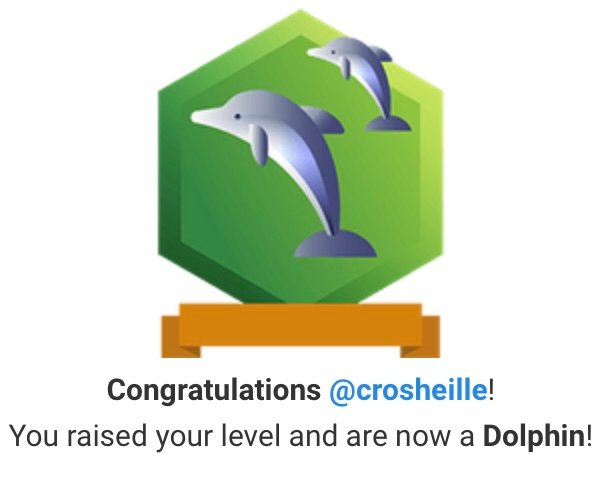 To be honest I wasn't keeping track or looking for it to happen.
At first I used to keep track of my numbers and set goals for when I would become the next level of fish. I realized it was more stressful than fun and decided to just enjoy the ride and when it comes it'd be a surprise…and that it was.
It could of happened a lot sooner but my family was in need of things which resulted in a few power downs. I remember the last time I had to do that I was pretty close to this dolphin stage. I have no regrets though and thankful for this outlet that helped my family during some tough financial times.
It would however be cool if I ever reached Orca level. I would love giving bigger upvotes to everyone! 🤩
---
You ask what my roles are on Hive?
Guide
If anything this is what I like to do the most. After my own experience with getting through the learning curve and almost giving up on it completely, I don't want others to have to go through that or feel they aren't capable of doing well here.
Every opportunity I get to teach I take it. If I see a need, then I make a post about it. If I know several people are confused about the same thing watch out cause here comes another post 😆.
We all want to see Hive continue growing and expanding so why not work together to keep retention high? I'd like to see everyone do well and have fun here. Making their journeys lighter and less confusing is a sure way to achieve that.
Manual Curator
I have never been part of a curation/upvote trail and don't ever plan on it. For one, I like reading posts and making the choice on my own whether to support it or not. Secondly, I've never been comfortable with the thought of someone else having the ability to make my account upvote a post.
Like what if something glitches and my voting power goes down to 0? 😳
Okay that may be a little far fetched but hey. 🤷🏽‍♀️😄
Anyhoo, I know those voting trails are helpful to those who can't be around as they still gain curation rewards for their accounts. It's just not for me that's all. Manual curating is what I do every time I'm online here and this is how I've gained new friendships, new found knowledge and a love for things I never thought I'd be interested in.
I also currently curate for OCD and the Stock Images Community which has been a really cool experience. I've learned quite a bit about how curation works and investigating for spammers, fraudulent accounts and such from working in OCD. There's some very knowledgeable people there and I love picking their brains to learn more. 😁
Leader
People have called me their Hive Mom and Hive Mentor and that I am very grateful for. To be seen in this way confirms a lot for me and I don't take that for granted.
However, where I see myself most as a leader is with the NeedleWorkMonday Community. This is my baby and has been since 2017 when I first started the #needleworkmonday tag. Sharing my needlework and reaching out to find others was one of my first goals upon joining.
I had no clue it would have turned into the community it is today. I remember when it was just a handful of us sharing what we loved to do and showing off our little projects ☺️. It didn't seem we would get a lot of support with what we were trying to do but as time went on…WOW!
Not only did we get more support and recognition for our work but many more needleworkers started appearing and showing their skills. It was quite amazing to witness and I still get excited about it today.
The needlework community is the first community I led challenges in with the freedom and liberty to create rules and rewards as I wished. I've put the most into this community because it's what I am most knowledgeable about and where I feel I can contribute the most.
I gained so much confidence and learned more about leadership while building up this community (I owe a lot of that learning to @shanibeer whom I look up to in a lot of ways 😘). I never thought it possible for this type of niche to be so loved and supported but I was wrong. Much of this credit goes to all the supporters and to the needleworkers who make life in the community. 💓
Stay tuned because we're about to celebrate NeedleWorkMonday's Hive Birthday!! 🥳
---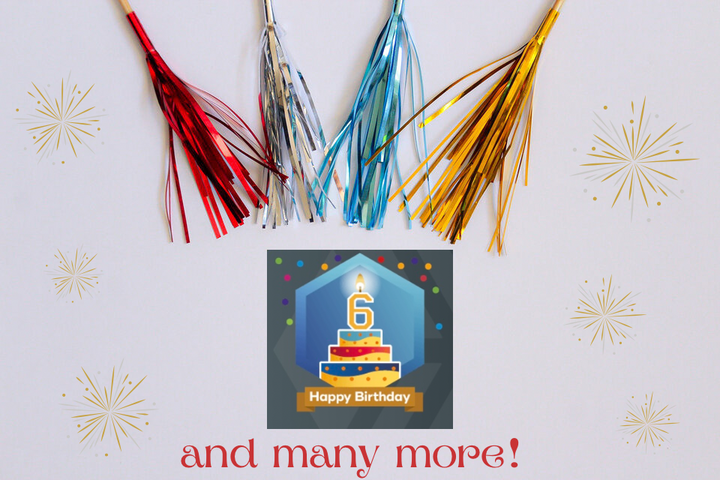 Oh Yea!! For many more years I plan to stick around as long as the good Lord allows!
Thanks for the engagement and interaction on my posts that each of you do. It would be really boring without being able to have conversations and discussions. I value the time you give to my writings and the love you show me in the comment section.
Thanks to those who verbally show appreciation for my guidance and take in the advice I give. I know you don't have to follow up with me but when you do it serves as a motivation for me to keep doing what I'm doing, so thank you. 🤗