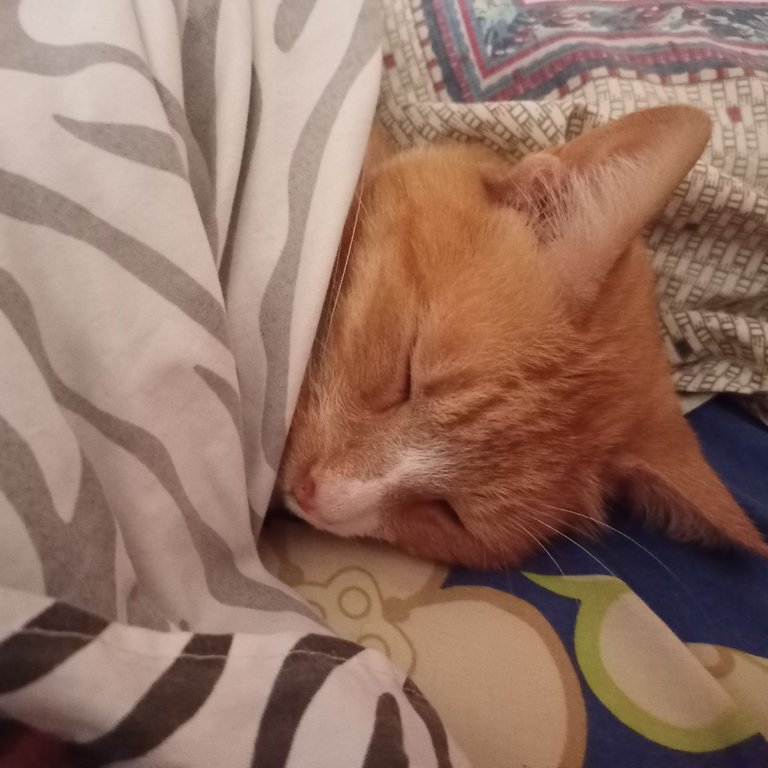 Own photo, taken with Infinix Zero X Neo/ Foto propia, tomadas con Infinix Zero X Neo
Cats are animals that are usually surrounded by myths, mysteries and many beliefs, some of them from my perception and experience, are true and others are mere speculations, that many times have harmed them, as you know I love cats and that is why I have six of them at home, I also feed two community cats and as far as possible I help as many as I can.
On the other hand, many of you know that this Tuesday my mother died, a 74 year old woman, who had cardiac pathologies and suffered from blood pressure, she was retired, lately I noticed that she got very tired, but when I asked her she did not give any explanation, another constant in her was to be cold, even if the rest of us who lived under the same roof were warm.
Los gatos son animales que suelen estar rodeados de mitos, misterios y muchas creencias, algunas de ellas desde mi percepción y experiencia, son ciertas y otras meras especulaciones, que muchas veces les han perjudicado, como saben yo amo los gatos y por ello tengo seis de ellos en casa, además alimento a dos comunitarios y hasta donde me es posible ayudo a todos los que puedo.
Por otro lado, muchos de ustedes saben que este martes murió mi madre, una mujer de 74 años, que tenía patologías cardiacas y sufría de la presión arterial, estaba jubilada, últimamente note que se cansaba mucho, pero cuando le preguntaba no daba mayor explicación, otra constante en ella era tener frío, así el resto de los que habitáramos bajo el mismo techo tuviéramos calor.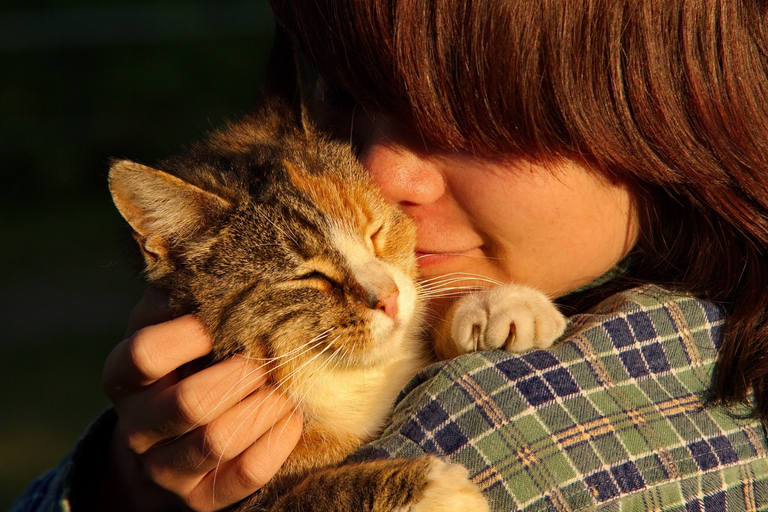 from PxHere
Now, of the six cats at home, three of them were specially affected by my mother, the first one Manchita, a calico cat, who arrived home I don't even know how long ago, accompanied by the grandfather of one of my current cats and since her arrival at the door of the house she loved my mother and was always by her side, the other is a tuxedo kitten, 5 years old named Kapüy, who also enjoyed her company and would approach her especially to demand caresses and to be held for a while, lastly Akiles a yellow kitten who enjoyed spending many hours at her side sleeping and would climb on her to be held like a child.
Ahora bien, de los seis gatos en casa, tres de ellos eran especialmente efectos por mi madre, la primera Manchita una gata calicó, que llego a casa hace ya no sé ni cuanto tiempo, acompañada del que fuera el abuelo de uno de mis gatos actuales y desde su llegada a la puerta de la casa se inclinó por mi madre la amaba y siempre estaba a su lado, la otra es una gatita tuxedo, de 5 años de edad de nombre Kapüy, que también disfrutaba de su compañía y se acercaba a ella especialmente para demandar caricias y que la cargaran un rato, por último Akiles un gatito amarillo que disfrutaba pasar muchas horas a su lado durmiendo y se le trepaba para que lo cargara como un niño.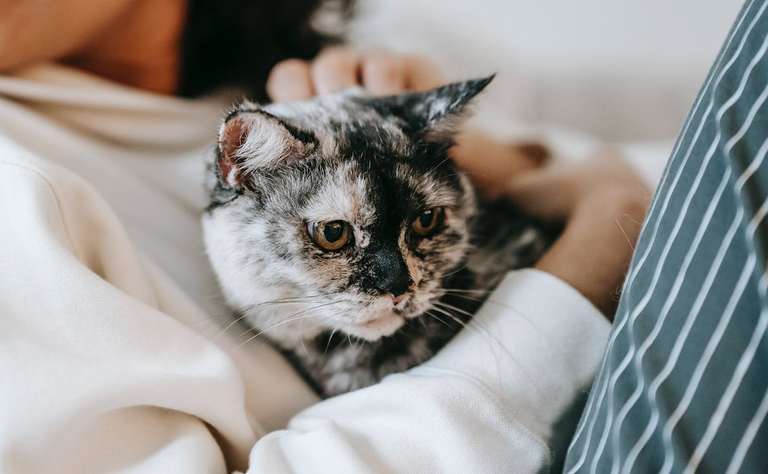 Pexels
The night before my mother's death, all the cats were placed around her, they looked for a way to be next to her, one on one side, others on the other, some on her legs and others on her bedside and so on, the truth is that I did not give it much importance and I attributed it to the cold that night, but I did notice my mother was more tired.
My cats already felt that something was happening and decided to surround her and accompany her, giving her not only warmth, but also affection and energy, because they are spatial beings that can feel and see things that we cannot, when my son called me alarmed to tell me that something was wrong with my mother, when we got to her they were still there and they only left when we were forced to remove her body from the sofa.
La noche antes del fallecimiento de mi madre, todos los gatos se colocaron a su alrededor, buscaron la manera de estar junto ella uno de un lado, otros del otro, algunas en sus piernas y otros en su cabecera y así, la verdad yo no le di mayor importancia y se lo atribuí al frío que hacía esa noche, pero si note a mi mamá como más cansada.
Mis gatos ya sentían que algo ocurría y decidieron rodearla y acompañarla brindándole no solo calor, dándole su cariño y energía, pues ellos son seres espaciales que pueden sentir y ver cosas que nosotros no, cuando mi hijo me llamo alarmado para decirme que a mi madre le pasaba algo, al llegar junto a ella todavía ellos estaban allí y solo se retiraron cuando nos vimos obligados a retirar el cuerpo del sofá.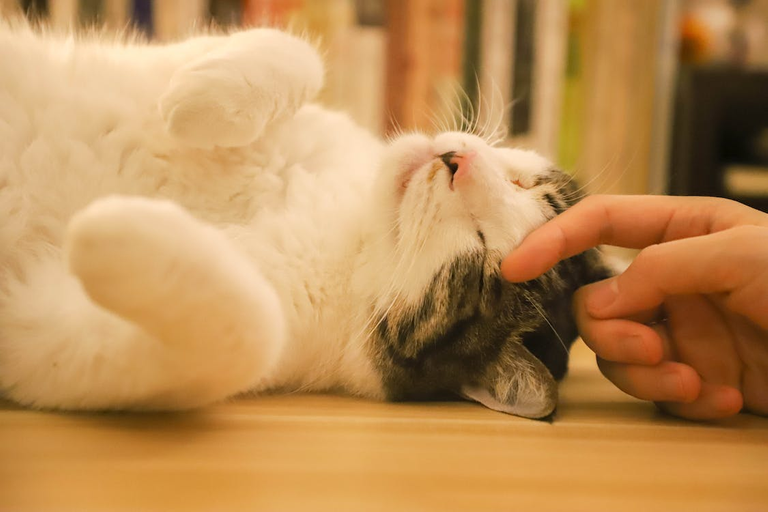 Pexels
To see how these kittens surrounded and accompanied her in her last hours and how today they still stand behind the door of what was her room, sometimes even meowing waiting to see if she will come out of there, is very touching and for me it is another example of how they are capable of giving and receiving love. Since that day for some of them to get comfort and calm down I had to take one of the blankets with her scent to put it on the sofa and there they have slept peacefully.
Ver como estos mininos la rodearon y acompañaron en sus últimas horas y cómo hoy todavía se paran detrás de la puerta de la que era su habitación, incluso a veces maúllan esperando a ver si ella saldrá de allí, es muy conmovedor y para mí es una muestra más de como ellos son capaces de dar y recibir amor. Desde ese día para que algunos de ellos consiguieran consuelo y se tranquilizaran tuve que sacar una de las cobijas con su olor para colocarla sobre el sofá y allí han dormido tranquilos.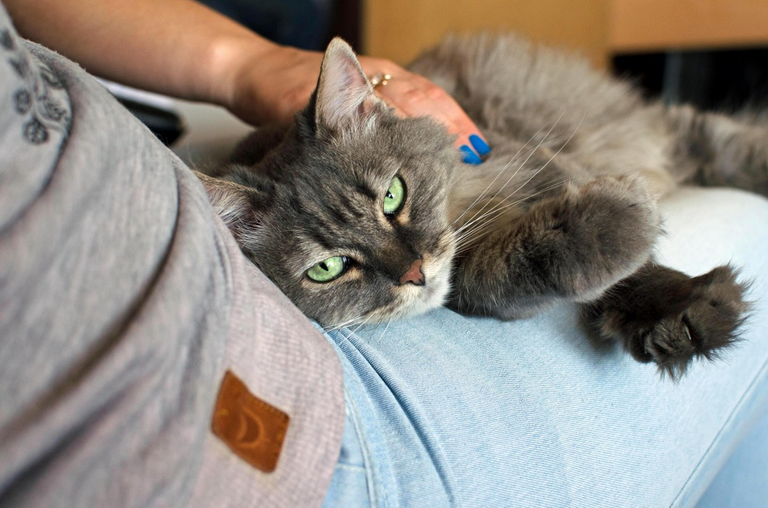 from PxHere
In summary, our cats, dogs and other animals can sense that there is something different in us, be it sadness, illness, or even if death is stalking you, maybe it is a sixth sense or their sense of smell that is more powerful than ours, but what is most surprising to me is their fidelity and love, an animal would not leave you lying in the middle of a road because it is tired of you or because it is tired of you or because it is tired of you or because it is tired of you, because they are tired of you or because they don't want to have the responsibility of taking you for a walk or changing your litter or they don't want more expenses, they will be with you forever in good times and bad, so I say goodbye, hoping that this publication encourages you to love your pets more, a hug for everyone and happy #caturday.
En resumen, nuestros gatos, perros y otros animales pueden sentir que hay algo distinto en nosotros llámese, tristeza, enfermedad, o incluso si la muerte te acecha, tal vez sea un sexto sentido o su olfato que es más poderoso que el nuestro, pero lo que para mí es más sorpréndete es su fidelidad y amor, un animal no te dejaría botando en medio de una carretera, porque ya está cansado de ti o porque no quiere tener la responsabilidad de sacarte a pasear o de cambiar tu arena o no quiere más gastos, ellos te acompañaran para siempre en las buenas y malas, así me despido, esperando que esta publicación les anime para amar más a sus animales de compañía, una abrazo para todos y feliz #caturday.

Translat with www.DeepL.com/Translator (free version)
Original content created by @actioncats for HIVE, total or partial reproduction in any form is prohibited/ All rights reserved/ © Copyright 2023 Cristina Turmero Nuitter | | Contenido original creado por @actioncats para HIVE, prohibida la reproducción total o parcial bajo cualquier forma/ Todos los Derechos Reservados / © Copyright 2023 Cristina Turmero Nuitter
Gif created with Canva/ Gif creado con Canva