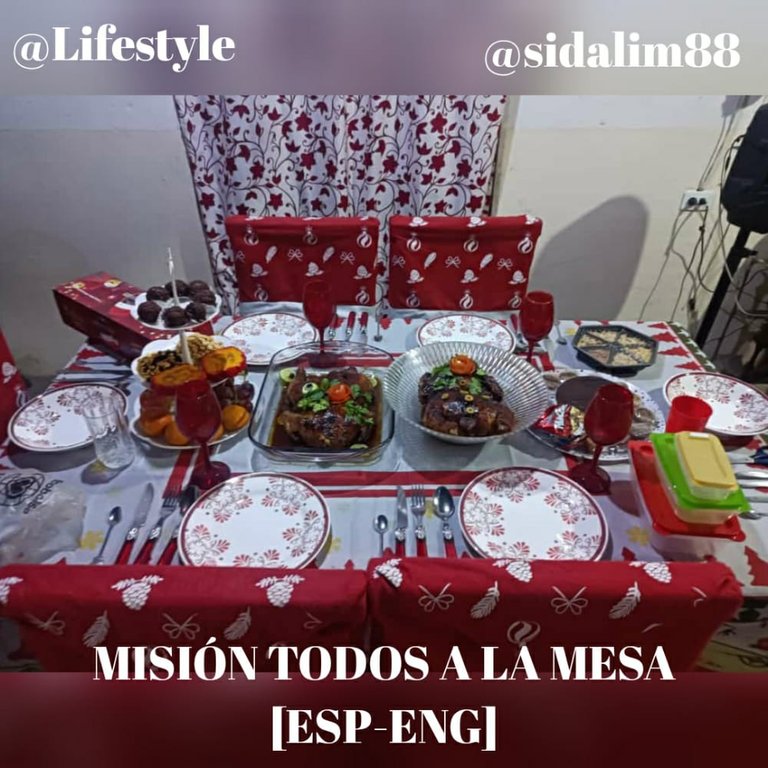 Imagen de portada realizada por @sidalim88, utilizando fotos de mi propiedad y tomadas con la cámara del teléfono Redmi Note S10.
---
---
VERSIÓN EN ESPAÑOL
---
---
Saludos y bendecidas fiestas navideñas mis apreciados amigos.
Hoy quiero compartir con todos ustedes un hermoso trabajo que he venido desarrollando desde hace un año y el cual me tiene muy complacida, esta labor consiste en preparar desayunos los días sábados y compartirlo con un número cercano de 100 personas, esto es muy gratificante mi gente yo les puedo dar fe de ello.
Como les comente esta actividad la desarrollo todos los días sábados junto a un grandioso equipo y la tarde del 24 de diciembre no iba ser la excepción de esta actividad, ya que la necesidad y el hambre no tiene fecha de expiración en el calendario, por lo que decidimos implementar una misión denominada todos a la mesa, la finalidad de ella era bendecir a algunas familias conformadas por padres, hijos y abuelos con sus alimentos y que juntos compartieran de su cena navideña como todos queremos en familia y armonía. Seleccionamos este tipo de familia para rescatar los valores y tradiciones familiares que se han ido quedando en el olvido con el pasar de los años.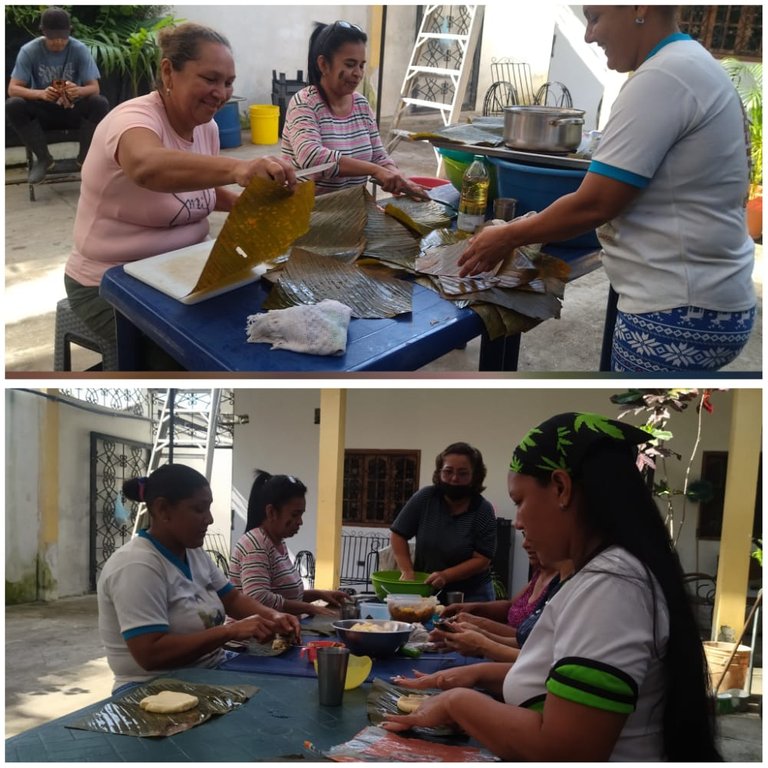 Para ello previamente nos reunimos para la preparación de las hallacas y los demás alimentos que ellos iban a degustar, aquí yo estaba muy atenta para aprender el mas mínimo detalle de este arte de la preparación de las hallacas, ya que necesitaba ganar experiencia y conocimiento para las que iba a preparar en casa junto a mi amado esposo.
Después que estuvieron las hallacas cada quien se fue hasta su casa y al día siguiente solo un pequeño grupo sacamos el tiempo y disposición de acompañar a la familia Portillo Salazar, quienes son los pioneros de esta hermosa labor de bendecir a los más necesitados, al principio dude de poder asistir, ya que era la tarde del 24 de diciembre y necesitaba atender a mi familia, pero luego dije porque no llevar a todos conmigo y enseñar a mis niños desde pequeños el don de compartir y dar a los demás.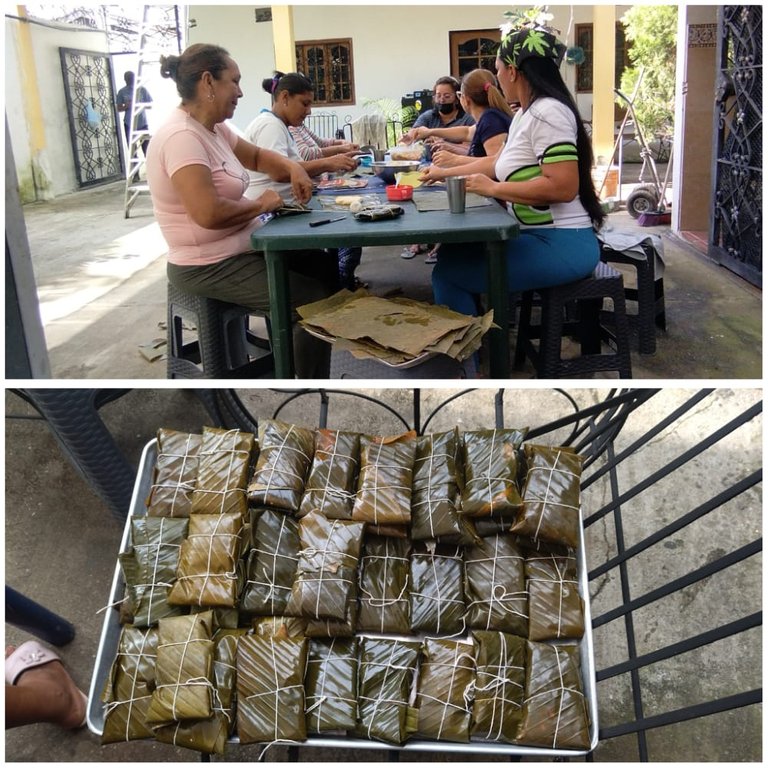 Cuando se lo plantee a mi esposo le gustó mucho la idea y sin pensarlo mucho nos adentramos a esta gran aventura la cual fue de gran aprendizaje para todos los que asistimos, ya que veíamos la alegría de las familias cuando llegábamos a vestir y servir su mesa con motivos y alimentos navideños y sobre todo porque iban a poder disfrutar de una rica comida en familia como estoy consciente que muchas familias lo querían hacer y por diferentes circunstancias no lo hicieron.
Iniciamos nuestro recorrido a las 6:30 de la tarde y aun cuando no contábamos con servicio eléctrico, esto no fue un obstáculo para que cumpliéramos con nuestros objetivos, visitamos 5 familias entre las cuales quiero resaltar el de un buen amigo que está pasando por una situación económica difícil y quien nos recibió con lágrimas de emoción en sus ojos cuando les llevamos sus alimentos hasta su casa, no puedo negar que esto me conmovió muchísimo, pero a su vez me hizo sentir feliz de poder ser una fuente de ayuda para él y su familia quienes han sido muy trabajadores y buenas personas con todos los que tenemos el gran placer de conocerlos.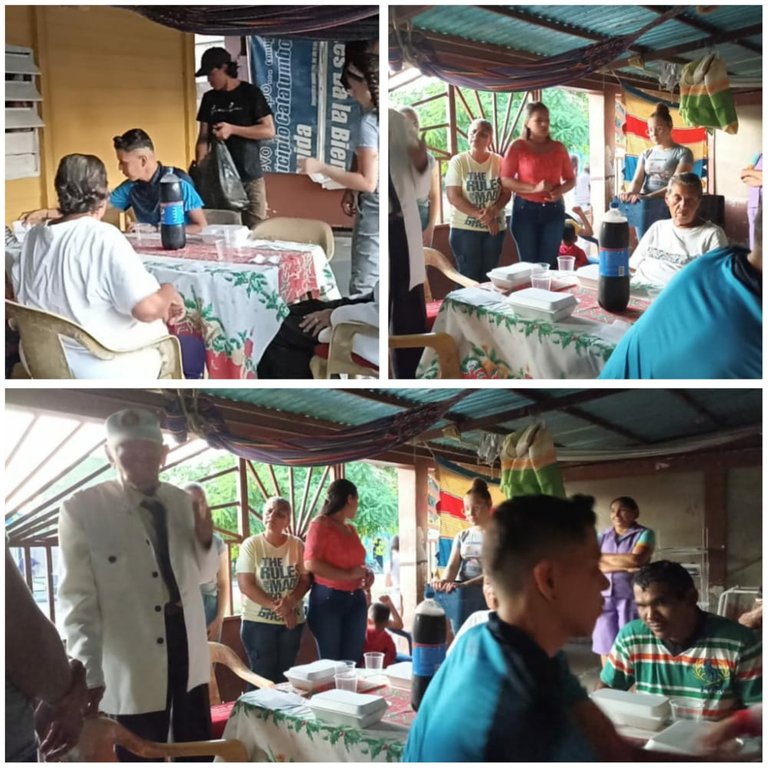 Mi aprendizaje de esta actividad y es el verdadero motivo de la escritura de este post es que todos tenemos la decisión de poder compartir con los que necesitan y el de involucrar a nuestros hijos en esta hermosa labor fomenta en ellos valores y hábitos de servicios que son tan necesarios rescatar en la sociedad actual, es por ello que quiero aprovechar la ocasión de invitar a todos aquellos que se interesen por leer este contenido en que aún no es demasiado tarde para que puedas compartir con un vecino, amigo o hasta un desconocido parte de tus alimentos o algo más que tengas en casa y quieras dar, todos podemos aportar un granito de felicidad a quien lo necesite, en mi caso yo quiero hacer de estas actividades un estilo de vida familiar y que mañana más tarde pueda salir con mi familia a compartir con los que necesiten de una mano ayuda.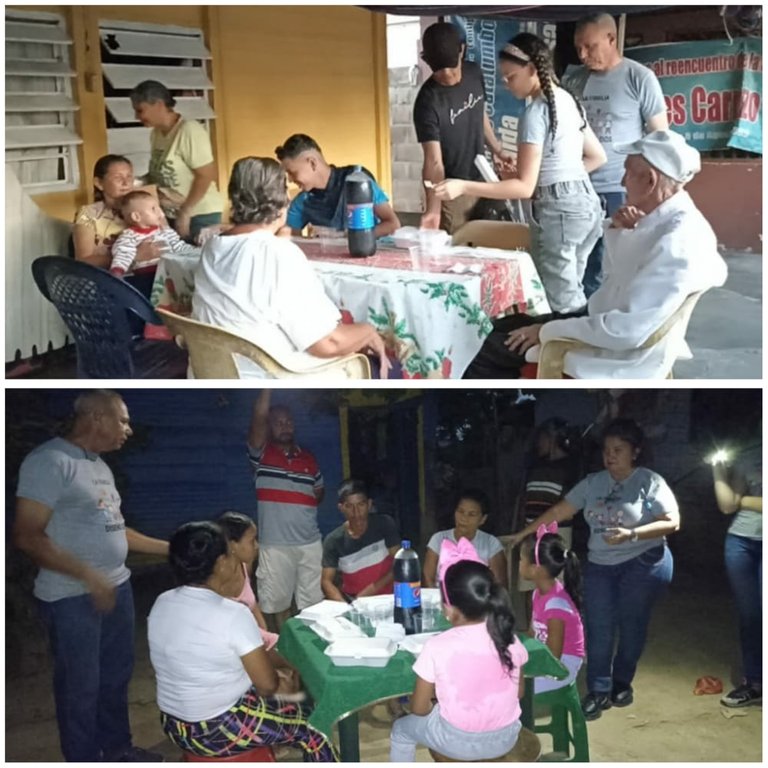 ---
---
De ante mano agradezco el que dediques parte de tu valioso tiempo para leer mi trabajo y que Dios te multiplique el apoyo que le aportes a mi publicación. Bendiciones
---
---
Todas las fotos aquí utilizadas son de mi propiedad y fueron tomadas con la cámara de mi teléfono Redmi Note 9T. El diseño fue realizado con la aplicación GridArt.
---
---
VERSIÓN EN INGLÉS
---
---
MISSION ALL AT THE TABLE
---
---
Greetings and blessed Christmas holidays my dear friends.
Today I want to share with all of you a beautiful work that I have been developing for a year and which has me very pleased, this work is to prepare breakfast on Saturdays and share it with a number close to 100 people, this is very gratifying my people I can attest to it.
As I told you this activity is developed every Saturday with a great team and the afternoon of December 24 was not going to be the exception of this activity, since the need and hunger has no expiration date on the calendar, so we decided to implement a mission called all at the table, the purpose of it was to bless some families made up of parents, children and grandparents with their food and together share their Christmas dinner as we all want in family and harmony. We selected this type of family to rescue the family values and traditions that have been forgotten over the years.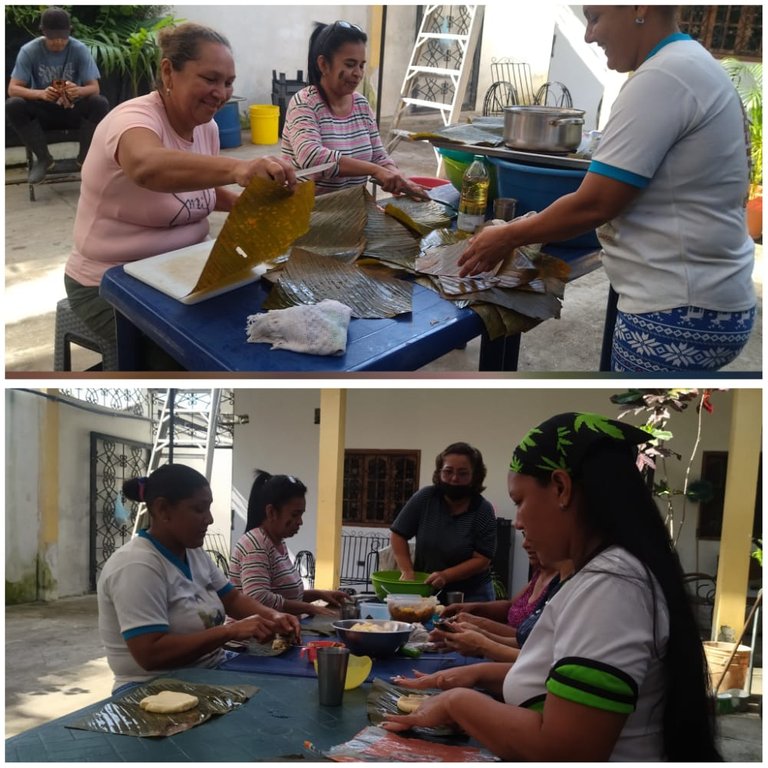 For this we previously met for the preparation of the hallacas and other foods that they were going to taste, here I was very attentive to learn the smallest detail of this art of preparing the hallacas, as I needed to gain experience and knowledge for the ones I was going to prepare at home with my beloved husband.
After the hallacas were ready, everyone went home and the next day only a small group of us took the time and disposition to accompany the Portillo Salazar family, who are the pioneers of this beautiful work of blessing the most needy, at first I hesitated to attend, since it was the afternoon of December 24 and I needed to attend to my family, but then I said why not take everyone with me and teach my children from an early age the gift of sharing and giving to others.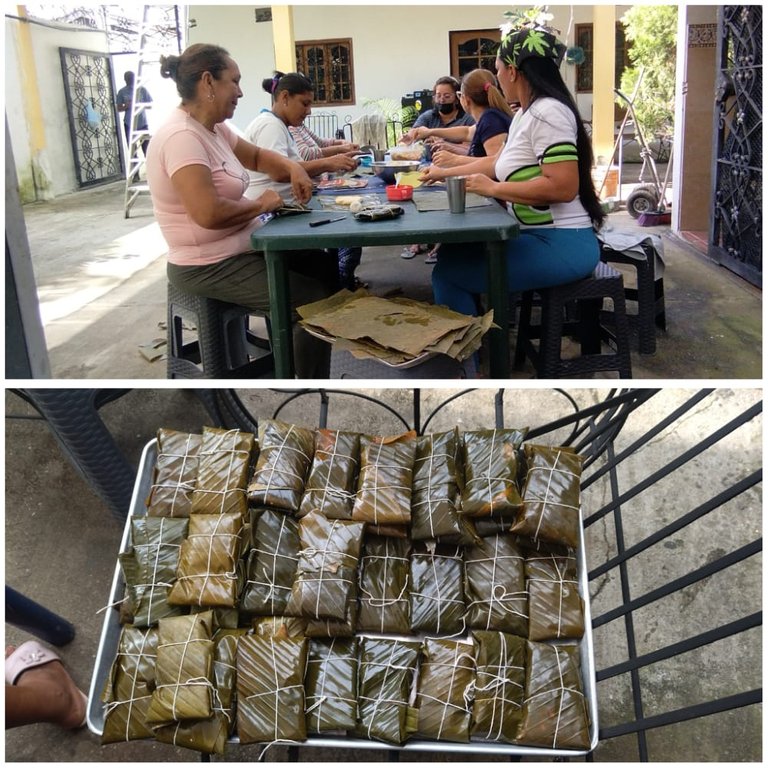 When I told my husband about it, he really liked the idea and without thinking much about it, we entered into this great adventure which was a great learning experience for all of us who attended, since we saw the joy of the families when we arrived to dress and serve their table with Christmas motifs and food and above all because they would be able to enjoy a delicious family meal as I am aware that many families wanted to do it and for different circumstances did not do it.
We started our tour at 6: 30 in the evening and even though we did not have electricity service, this was not an obstacle for us to meet our objectives, we visited 5 families among which I want to highlight that of a good friend who is going through a difficult economic situation and who received us with tears of emotion in his eyes when we took their food to their home, I can not deny that this moved me very much, but in turn made me feel happy to be a source of help for him and his family who have been very hardworking and good people with all those who have the great pleasure of knowing them.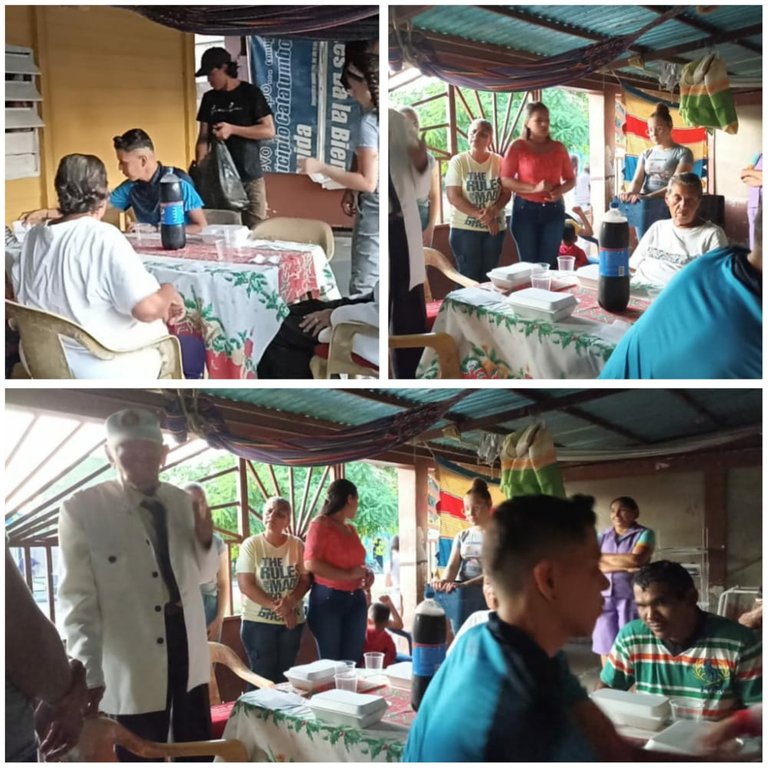 My learning from this activity and is the real reason for writing this post is that we all have the decision to share with those in need and to involve our children in this beautiful work encourages them values and habits of service that are so necessary to rescue in today's society, which is why I want to take this opportunity to invite all those who are interested in reading this content that it is not too late for you to share with a neighbor, In my case I want to make these activities a family life style and that tomorrow I can go out with my family to share with those who need a helping hand.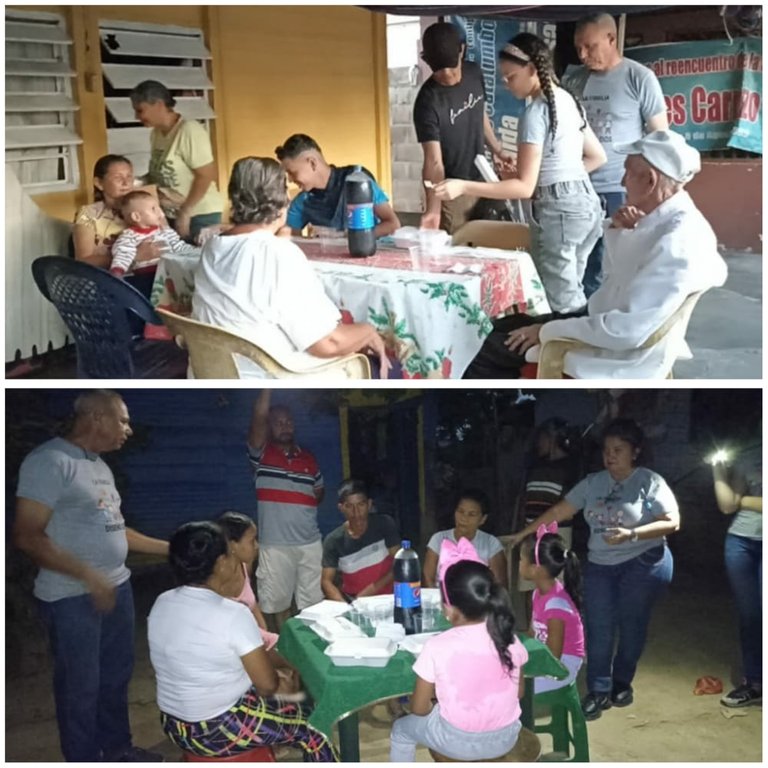 ---
---
Thank you in advance for dedicating part of your valuable time to read my work and may God multiply the support you give to my publication. Blessings
---
---
All photos used here are my property and were taken with the camera of my Redmi Note 9T phone. The design was made with the GridArt application.
---
---
---
---

---
---
---
---

---
---
---