Original Source Web Address (URL):
Archived Source Web Address (URL): https://archive.ph/FhYLh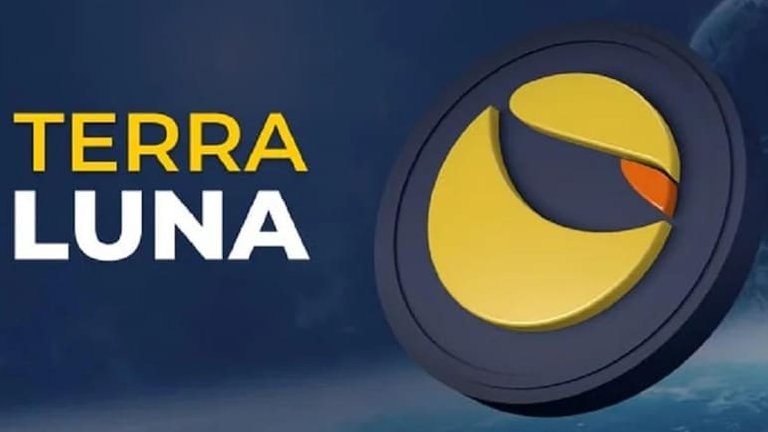 Description
---
In light of recent events relating to the recent crypto crash and the highly suspicious situation surrounding the Do Kwon UST/LUNA situation, we have been seeing a lot of unusual information and claims surfacing on Twitter as to what may have been the cause of the crash and who may have been responsible.
The The 64 billion bitcoin question that everyone is asking is Who Done It?
Was UST attacked by extremely cunning, billionaire crypto ninjas?
Did investment firms such as Blackrock and Citidel have an involvement?
Perhaps Justin Sun, well known for aggressive tactics, made moves to pave the way for his own new Stable Coin USDD?
Or maybe it was all caused by extreme incompetence on the part of Do Kwon and his team?
There are many theories and ideas circulating as to what may have been the cause and maybe you also have a few of your own. If you do we would really love to hear them! Worthwhile upvotes are on offer for the best ideas and evidence that you can put forward.
Claims Made By Source
---
Below are some of the most interesting and compelling ideas that we have come across so far to get the ball rolling.
The warning that was given to Do Kwon on Twitter by Freddie Raynolds in November 2021:
A step by step guide as to how a well-funded person may bring down the almighty UST while making a very tidy profit in the process.
The deleted Charles Hoskinson Blackrock/Citidel tweet quoting the mysterious 'Anna' post on Telegram: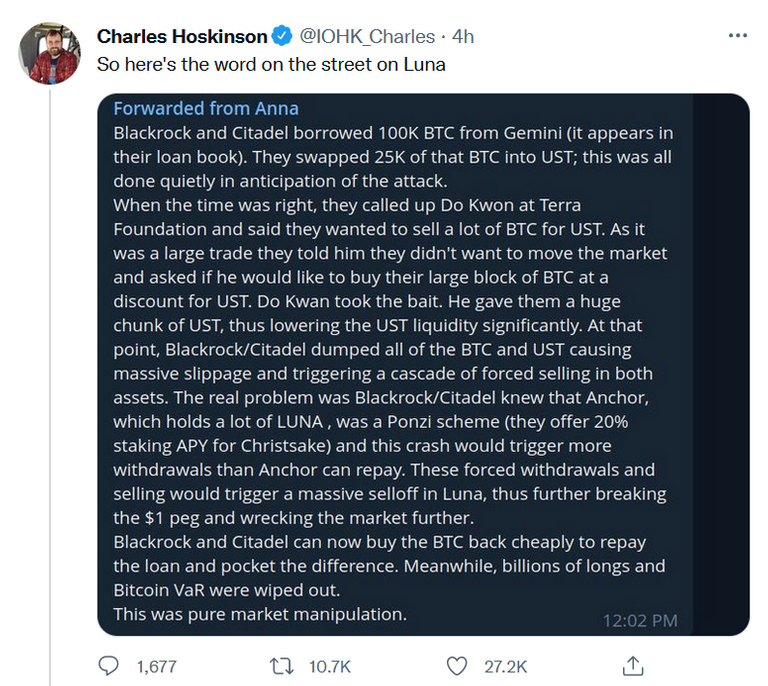 The incompetence tweet from CZ at Binance sharing his experience in dealing with the UST/LUNA team during the crash:
Justin Sun's Secret Plan tweet between him and Do Kwon: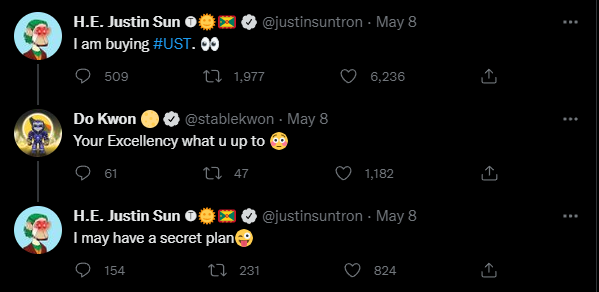 So what do you think?
Relevant Sources
---
---
| | |
| --- | --- |
| | Crowd Facts is a collaborative project powered by the Hive blockchain that aims to empower and reward YOU as you participate in the checking, researching and sharing of claims/information that are published to the internet. Start Reading Here To Learn More! |