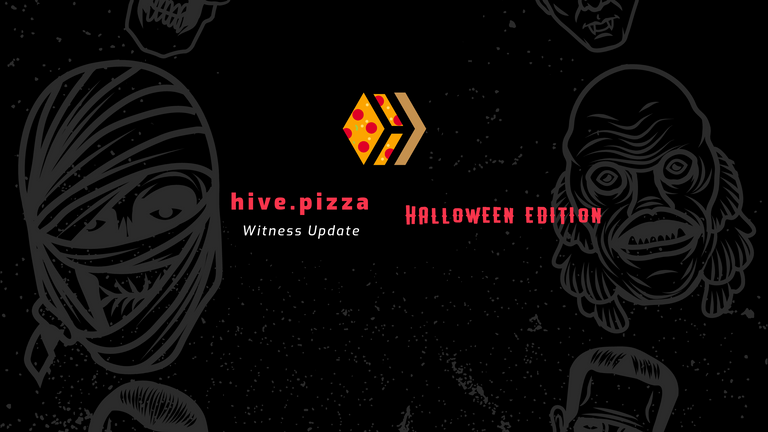 Happy Halloween everyone!
It's been an extremely fun and exciting week over at PIZZA and the momentum continues to climb as people are starting to realize that the PIZZA project is building some serious awesomeness on the blockchain!
We hope that your weekend was full of more treats than tricks! Our Discord community sure enjoyed some treats as we had our first annual Pizza Trick or Treat night! Our community members enjoyed dozens of liquid HIVE airdrop treats sprinkled all throughout the night and throughout our Discord channels and hosted music trivia competitions.
If you havn't joined the hive.pizza Discord yet, you are missing out!
Thank you to everyone who participated and trick or treated with us!
Let's check out a few screenshots!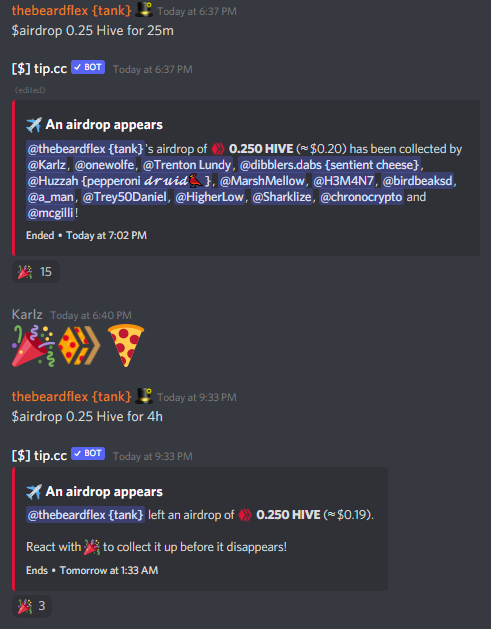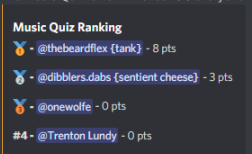 HIVE Witness Update
Let's do a quick Witness Update and we'll get back to the festivities!
Rank: 71/66
We are closing in on dbuzz! Can we beat them!?
Please consider voting pizza.witness as one of your HIVE witnesses! You can vote for up to 30 HIVE witnesses here!

Hive-Engine Witness Update
We host an active Hive-Engine node and have been one of the first to response to all incidents that have occurred that year that required action from Witnesses!
Our active node has climbed to rank 19 and is closing in on top 15 on Tribaldex!
You can vote for us as Hive-Engine Witness on Tribaldex here.

First Annual Pumpkin Contest
We had some really epic entries and we need a little time to decide! Let us know what you think in the comments below and we'll post the winners on Wednesday!
Pizza-Engine Upgrades
Pizza-Engine underwent a few more upgrades this week that will increase our ability to grow the PIZZA community (and facilitate additional partnerships or promotional items later in the future).
HiQ Magazine Feature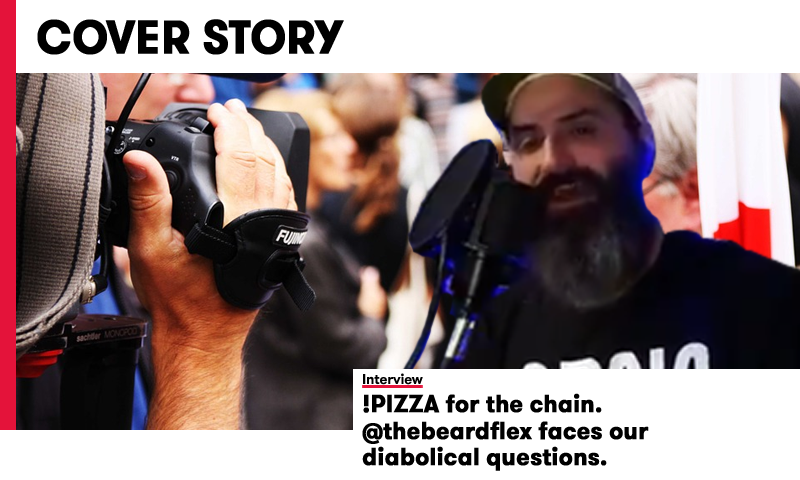 We're excited to announce our interview with HiQ about @thebeardflex and the PIZZA project! If you're interested in learning more about myself or the PIZZA project, check it out! There is even an awesome raffle in the magazine that requires a few answers from my interview ;)

You can read the entirety of the interview and the rest of the epic magazine edition here!
Announcing NFTs
That's right! NFTs are coming to PIZZA stakers! We have a metric ton of ideas around how these will be used and we have a few series that will be released with various limited prints and rarities. We highly recommend staking tokens and taking advantage of the PIZZA sales lately to get ready! The various Discord ranks and total staked amount will lead to various rewards through the NFT system! Join our Discord to get a head start on some of the rewards!


Tip:
If you've been considering Baron rank (10k or more staked) I woudn't wait too much longer!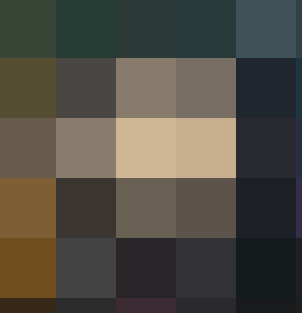 Discord Community & Games
We have one of the most active Discord communities in the HIVE ecosystem and it continues to grow every day! Our Discord community enjoys daily airdrops, games, rewards, and get to experience a true gamer and creative arts driven community with finance and pizza at the heart of it.
To support our growing community we introduced more games and more activities to give everyone something to do. From trivia games to pokemon to our beloved numbers game, you'll find something to keep you entertained!
We also have a score system where you can earn engagement points by joining in or starting conversations! These rewards can be anything from PIZZA to HIVE to NFTs!


Discord Giveaways for Stakers
On-top of our weekly and daily reward drawings, we also have several giveaways that take place in our Discord specifically for our staking PIZZA holders!
Stakers can earn anything from liquid HIVE to PIZZA to video game keys for PC!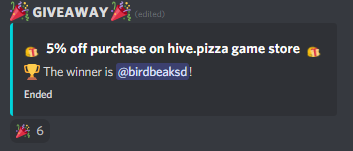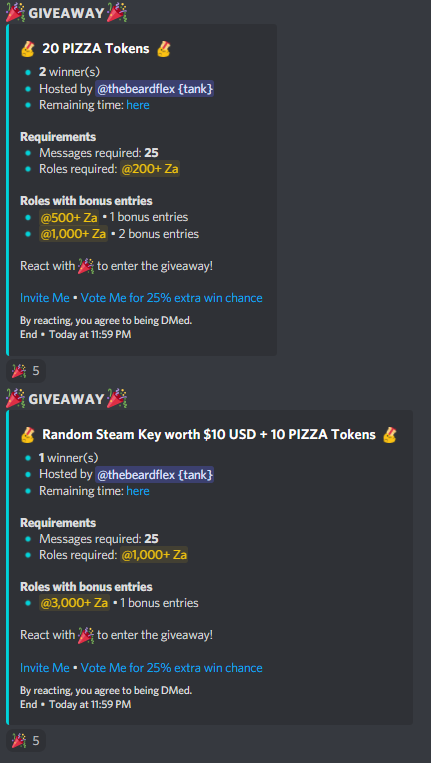 HIVE PIZZA Video Game Servers
Rust

Updated to facilitate Halloween drops

7 Days to Die

Updated to most recent version

Minecraft

World Wiped and randomly generated. Grief Prevention and Dynmap added

DayZ

Tons of updates here

Added more food
Added more guns and melee weapons
Added more airdrop loot and harder drops
PIZZA Cine Account / CINE Curation Proposal
We have created a new curation account specifically for CINE at @hive.pizza.cine!
If you are a CINE holder we would like your help! We have an active proposal in over at CINE to receive 70k CINE for power-up for curation. The rewards from curation will be split between CINE power-up (to continue increasing power for curation), HP power-up (to give HP along CINE during upvotes), and a rewards pool that will be used for PIZZA / CINE contests!
You can vote for the proposal here.

TOKENOMICS
| Circulating Supply | Staked | Burned | Max |
| --- | --- | --- | --- |
| 689,569.07 | 558,943.18 | 900,430.930 | 100,000,000.00 |

---
Wallet Status


5747 wallets hold $PIZZA
0464 wallets hold >= 20 $PIZZA (bot access level 1)
0081 wallets hold >= 200 $PIZZA (bot access level 2)
0030 wallets hold >= 1000 $PIZZA (badass level)
0013 wallets hold >= 10,000 $PIZZA (baron level)


REWARDS


Note: There will be some changes coming to rewards in the coming days that will see more opportunities for holders to earn through staking! Make sure you're locking your tokens up!


Discord Photo Engagement
| 1st - @cryptoniusrex |2nd - @drunksamurai |3rd - @shauner|
1st Place Winner - 10 PIZZA
2nd Place Winner - 7 PIZZA
3rd Place Winner - 5 PIZZA
Top 10 Staked Leaderboards


Date: 10/25/2021
Token: #PIZZA
This weeks bonus: 8%


Want to get in on the action and secure your own weekly bonus rewards?
You can buy $PIZZA on LeoDex, TribalDex, or Hive Engine!


You can earn up to 10% back in the form of $PIZZA and other tokens by knocking our current leaders out and claiming your spot among the top!
@pizzaconnection @cooperclub @stickupboys @dadspardan @dibblers.dabs @pizzapool @shauner @hykss @pockettrader @brofundholdings
Lucky 5 Weekly $PIZZA Holders
(randomly chosen weekly from all holders with >= 1 $PIZZA in their wallet)
These lucky winners have won 3% of their staked $PIZZA holdings value back!
Remember, the more you have staked the more you can increase your lottery winnings! You can also secure guaranteed weekly winnings by being in the top 10 staked holders list! The rewards are up to 10% back weekly for our top 10!
@flemingfarm @cryptoniusrex @wizzitywillican @asterkame @drutter
BONUS 5 Weekly 500 $PIZZA Holders
These 5 bonus winners are drawn from holders with >= 500 $PIZZA
Remember, the more you have staked the more you can increase your lottery winnings! You can also secure guaranteed weekly winnings by being in the top 10 staked holders list! The rewards are up to 10% back weekly for our top 10!
Congratulations and thank you for locking up your tasty za! Enjoy your bonus rewards of 3%!
@ghostlyxknight @kobusu @birdbeaksd @huzzah @torrey.blog
Daily Winners
Congratulations! You have won an instant 4% APR of your $PIZZA holdings back in additional $PIZZA!
@trentonlundy1 @samsmith1971 @efastromberg94 @papilloncharity @an-man @atma.love @lologom

DELEGATE TO PIZZA
You can also delegate your HP to our @hive.pizza curation account and farm your share of the daily $PIZZA rewards pool! The reward pool increases 10 tokens every 10k HP that is delegated to the account!



You can also check out the HIVE.PIZZA website here.
Buy $PIZZA
Leodex
Tribadex
Hive-Engine

Join the Discord and $PIZZA NATION

Join our curation trail here
Vote for us as Hive-Engine witness here
Vote for us as HIVE WITNESS HERE