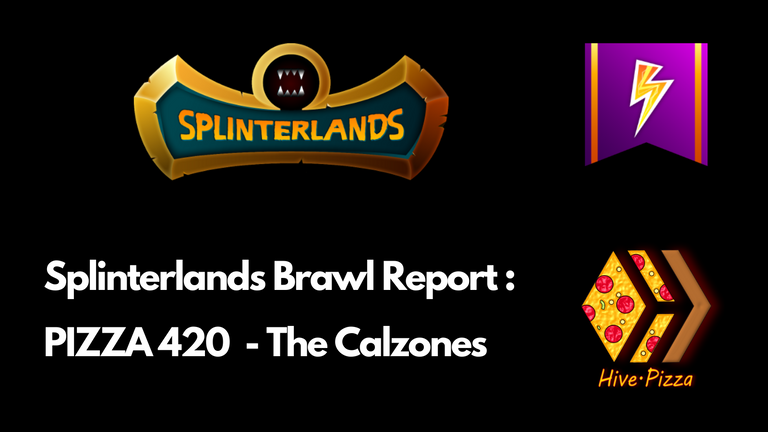 Splinterlands brawl report with The Calzones


🐲 Brawl Report 🐲
This will be a much quicker report today for two reasons. First I was only slated for three battles this time around. Secondly our house is finally COVID free, but it's taking a few days to get back to normal.
Big news for me, I made the jump from the Bronze Chaos only fray to the Silver Chaos only fray. This opens up the Bronze spot for another guild member but means I need to step up my game. I have three of the Chaos summoners up to level three now so I feel ready for the challenge.

Quickest Report Ever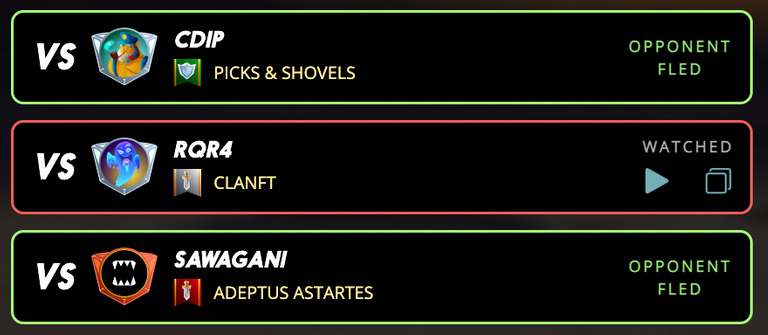 I wasn't joking when I said it would be a quick report 😂. I'll take the free two wins, but I was looking forward to getting a better feel for the Silver fray and seeing where I may need to improve my collection to better compete.
| Battle Link and Highlights | Pre-Battle Screen Shot |
| --- | --- |
| Tarsa v Obsidian — With the Explosive Weaponry ruleset I choose Keyla for the extra armor. I had a decent team but ran up against two poorly timed RNG misses and of course Quora stomped me at the end. Loss (0-1) | |

🎉🎉 Two and one! Even if the wins were opponents fleeing, I'll take it 🎉🎉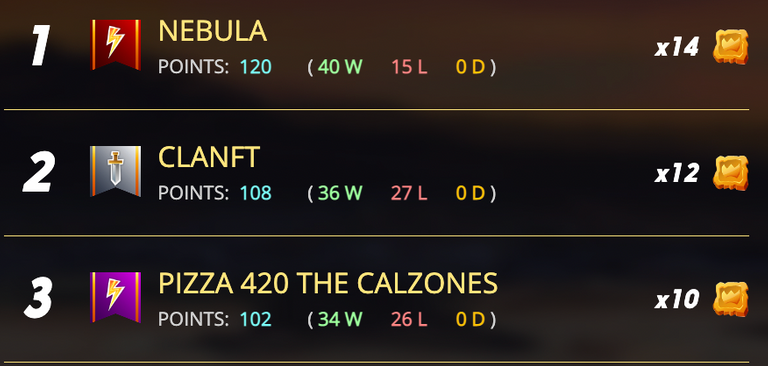 A nice showing for the Calzones with a third place finish. The 10 crowns means we only need four more crowns to complete the upgrade of the Barracks and we can start using Gladius cards!!!! This is going to be a major upgrade for the guild and I am excited to see how we start stomping teams and finishing at the top of the leaderboard.

Other Pizza Guild Brawl Reports
@relf87 — Guild Brawls with Pizza 2
@marcinxyz — Pizza Brawl Report #1
@vanyard86— Social Media Challenge

Let it Ride Giveaway Update
I had planned on getting the giveaway up and going again this report but COVID slowed me down a bit and I need another Brawl to get back to normal.

🍕🍕🍕 What is PIZZA? 🍕🍕🍕
As with most activities connected to Hive, and the crypto world in general, I discovered PIZZA because of Splinterlands. Also like most Hive connected activities I discovered a world of possibilities beyond what I expected. So what exactly is PIZZA?
1️⃣ PIZZA is a tradeable token that can be staked for rewards and tipping, used to purchase games or traded for other tokens.
2️⃣ PIZZA is also an active Discord community for gamers and creatives. (I personally frequent the foodies-lounge, splinterlands and rising-star channels)
What are you waiting for, come check out the PIZZA Discord and join in the fun 🎉