---
Yesterday was a really great day here in Boise, Idaho. A few important events happened that really excited me! First off, I needed water and I found out that the local Co-Op, Boise Co-op North End, was only a two minute walk from the place I am living at. This place had filtered water that I needed to get.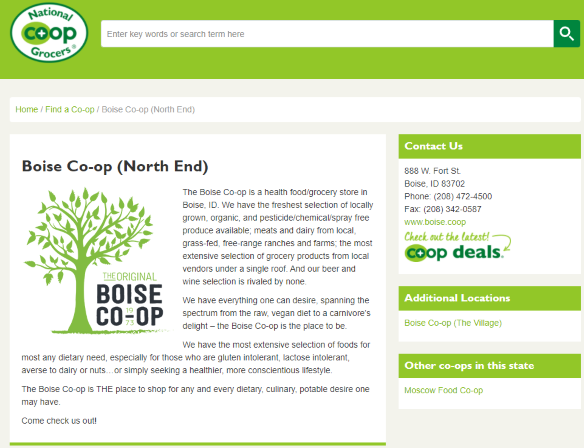 Having this store so close to where I was living was ideal since I would be carrying my water containers by hand from the store. This store also sells local raw milk and has conscious food products that I prefer to buy as opposed to the normal corporate stores I am used to in Las Vegas, NV, where the food is typically not local, machine manufactured and chemical laden. I also found there was not much of a price difference with the food products I am used to buying!
I told @earthpurse777, who I am living with, that in the near future I would want to buy a bicycle to travel to the farms and local churches near by in my quest to onboard local people to Hive. I think having a form of transportation that would allow for me to get to places faster might be ideal as I do have ambitious plans and maybe my schedule will not allow me to simply walk 3-5 miles from location to location, while still doing daily Vlogs on Hive. @earthpurse777 informed me that there was a local coffee shop in town that sold used bicycles and boutique coffee! This place was called Bikes and Beans Boise. After Earthpurse would get off work, she said we would go and explore this place and grab a cup of coffee in the afternoon. There they had a bicycle shop where they repaired bicycles and had single origin coffee which was prepared using a scale and exact water temperatures required to make the perfect cup of coffee!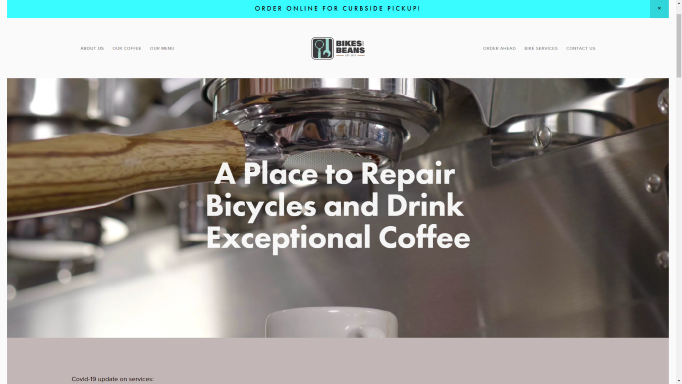 Source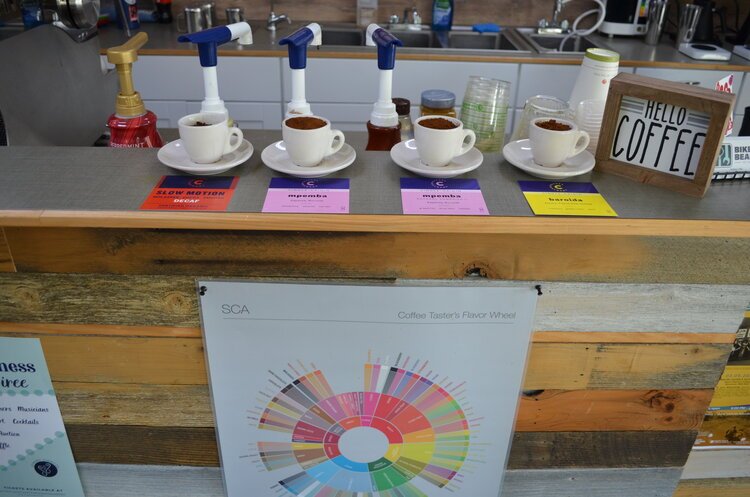 Source
After I made a vlog on Threespeak, Earthpurse made her way back home and ushered us to this coffee place that also sold bicycles. When we arrived I saw there was bicycles for sale from $200 usd-$5000 usd. The $200 usd bicycle looked very sufficient for my needs but did not buy it for lack of funds and really I would not need a bicycle until the weather warmed up. I am still getting the feel of this town and have been hesitant to start filming and taking pictures of everywhere I go, the last thing I want to do right now is look like a star struck tourist and stick out like a sore thumb. Earthpurse showed me the bicycle shop and how there was used coffee grounds she would pick up for her garden. The bulk coffee here was very affordable and worth getting at $60-70 usd for 5 pounds of single origin coffee beans.
After a little tour of the coffee shop that sold bicycles, we ordered our coffee. The lady making our coffee was very friendly and helpful. As she made our coffee, using the pour over method, she told us about her travels through Spain and even the local area where I could find cool spots to hang out at and meet locals. I found out that her partner was also a ballet instructor in town for a performing arts center. The conversation was fast paced so I didn't have a chance to talk about Hive initially.
With our coffee in hands we left the store and explored the local German Deli and went to the fish market next door. I had quickly drank my single sourced Ethiopian pour over during these quick visits. I requested we travel to the coffee place again, something told me I needed to go back. Earthpurse agree to travel back to the coffee shop. I felt I needed to promote Hive and tell this lady about a way for her partner and herself to use Hive to own content that they surly had to share.
So off we went back to this coffee place! I was determined to promote Hive and start this journey of Onboarding conscious and smart individuals to Hive. Earthpurse and I ordered the same types of coffee but only this time I told the barista lady all about Hive. I was trying to tell her about how Hive is not algorithm based, it is decentralized and you can own your content! This sparked her interest. She was actually quite interested it seemed. As we were talking her partner showed up! This was where I really lean in heavy on promoting Hive! I explained to him that there was a video sharing platform called @threespeak based off Hive. I went over the future Peer2Peer applications of peerplays and a general overview of how threespeak worked with earning cryptocurrency and sharing video content that you could actually own. He had some concerns but was excited as he had 100s of hours of unreleased content that he could share. His main concern was the music in his content. So I promised I would find out about music publishing rights and how that would be addressed with threespeak. We exchanged emails. Apparently, according to Earthpurse, this person I had just met was the main guy to talk to for onboarding artists and making connections in town for them. Way cool! The first person in town I talked to about Hive were these major influencers for artists and performers locally?! This encounter made me want to get buisness cards for Hive. I really need to build my discord again and get some buisness cards!
We made our way back home after our second cup of coffee. I admittedly have a bad tobacco habit. I love organic tobacco. In Las Vegas my nerves were shot and tobacco offered a relief to my anxiety. This was something I did not fully enjoy however as most of my life since 12 years old I have been physically active and very fit. So finding myself getting older, 37 years old next month on February 5th, I have been wanting to start to get back into better cardiovascular shape. Physically, thanks to my keto diet and a lifetime of exercise, I am very slim and muscular but my cardio is lacking big time. I have a window facing the street where I see people jogging all day. This is very motivating. So I threw away my pack of smokes and went to the local gas station to get some vapor cartridges to help my nicotine addiction. So I starting walking to the gas station.
On my walk to the Gas Station down 13th street, I saw all the young college kids full of life. There was a lot of converted houses that were converted into stores and the area had a very vibrant feel to it. From antique shops, chocolate stores, pubs and even Fish taco spots; I got a San Francisco vibe that I really do miss. I spent lots of time in San Francisco in my 20s. I really do miss those times. The smells of chocolate, coffee and young kids who are in the prime of their life. I felt like I was in the right place and made the right choice in choosing Boise to start living my life again in a healthy way. I was feeling young again and not like some old fart of a man who was feeling 20 years older than I was.
I feel I rambled on with this post a bit longer than I wanted to. I want to say @bhattg I danced one out in this video for this post for you! Dancing for me is a big part of me. I love to dance all night next to subwoofers as big as me and being one with the night and music. So instead of generic gifs I bring you some goofy moves. I am no professional dancer by any means. Enjoy my good friend!

The Terminal Discord

The primary goal of The Terminal is to answer questions about Hive/Steem, blockchain, cryptocurrency, and Discord. We aim to help folks learn, grow, and find communities where they can thrive. We are like a travel terminal for destinations on the blockchain!
https://discord.gg/qsy9XCHy


Pimp Your Post Thursday's at 12pm EST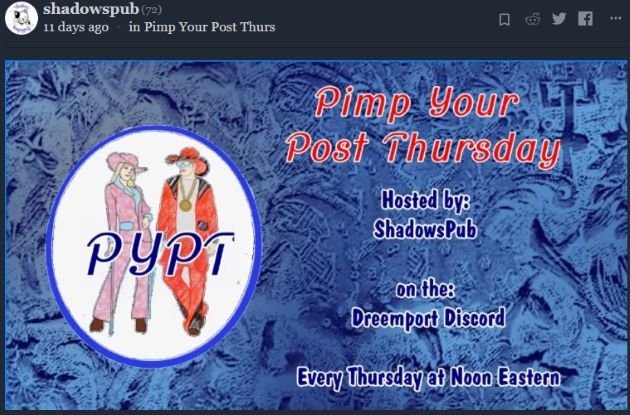 What can I say about Shadowspub other than she is the best host on HIVE with the most influence. Shadow only loves to support other people and their hard work. She does a great job hosting this show called, Pimp Your Post Thursdays. I encourage you visit us weekly there at dreemsteem's discord and share your post or other people's ( or bots why not?) posts every Thursday at 12pm Eastern Standard Time!
The purpose of PYPT is to build community, give people opportunity to share posts with their peers and to get to know each other on voice and in text. Anyone who creates content is welcome to participate.
https://ecency.com/hive-171372/@shadowspub/its-pimp-your-post-thursday-today-at-12pm-est

Hive SBI: Social Experiment to provide every Hiver with Stake Based Income help us change the world
---
@josephsavage has an amazing program called HSBI aka @steembasicincome. Please check it out! I highly recommend! I have around 5000 shares as a member with his Amazing program that will add support to my curation posts on HIVE! He is my most trusted friend on HIVE!
---
HSBI discord
---
https://discord.gg/gsaDGnKXrC

https://ecency.com/@steembasicincome/blog

Who does not love NFTs?
---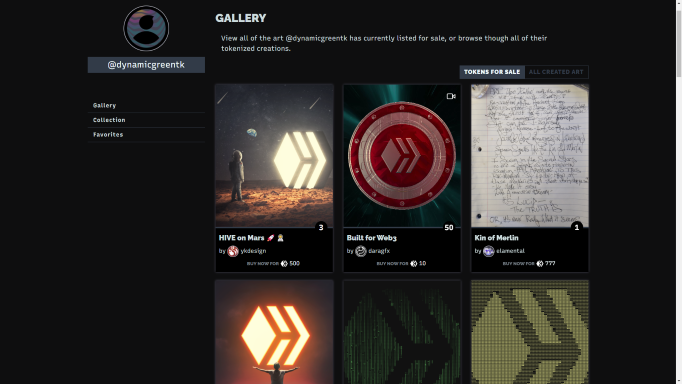 Do you love art and want to get you some NFTs or mint them? Do not be afraid to use my referral link for @nftshowroom or just travel directly to their site!
https://nftshowroom.com/?r=dynamichivers

Did you know that @hivebuzz has a shop on that sells HIVE Merchandise!?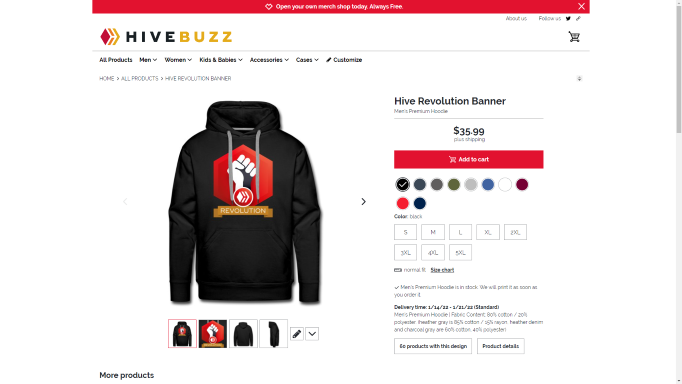 HIVEBUZZ's Shop for Hive apparel!

Sure, I will take your token donations. Why not?
https://hivelive.me/donate/dynamichivers
---
▶️ 3Speak
---
▶️ 3Speak