AI, Automation and Existential Dread
Everyone's talking about ChatbotGPT which was released recently, and while it doesn't exactly have a mind of it's own, it's pretty much shown us that AI is ready to start reshaping the world in it's image.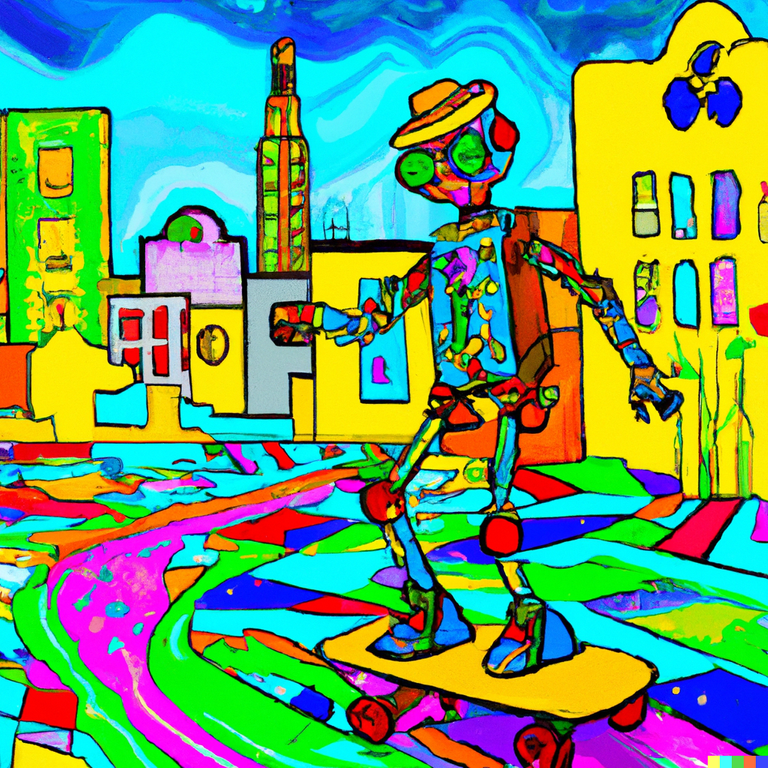 (image created, unironically, with AI)
For those who don't know Chatbot GPT is, think of it as somewhere between Alexa, and the virtual assistant from the movie Her. You can ask it to do things like rewriting the last 3 seasons of Game of Thrones in the style of Quinten Tarentino. It can write a paper on the similarities between different deities from different religions or write code for an app or website.
It's companion Dall-E can generate images based on word prompts and the results are equally impressive.
If we just look at the technological advancement that we're on the precipice of, it's pretty exciting, but if we think about all the societal implications, it really shakes at the foundation of how we organize our world.
I'm an ultra positive and optimistic person, but I like to base my optimism in reality and that requires that I face my fears and all potential unwanted outcomes in order to focus entirely on the pragmatic things I can do, then put my energy towards better outcomes. I want to focus on the positive in this situation too, but first I have to come to terms with the potential negative outcomes of this earth shattering technology.
The biggest question I have is…What happens if society doesn't need any of us humans in order to function?
Sure the jobs won't all disappear overnight, but even at this very moment, there are surely companies that are thinking about how this technology can reduce their labor costs. By the end of the year, we may start to see jobs in design, translation, programming, writing and copywriting all cut by a significant amount, and a lot of those jobs will be entry position.
At the same time automation is making cashiers, waiters and factory workers less in demand. Within 2-3 years it may do the same to drivers, chefs and a variety of other jobs.
Jobs disappearing isn't the only thing to worry. Misinformation is going to have a whole new meaning with deepfakes becoming more and more advanced, and without the ability for us to tell what was created by humans and what was created by machines. We won't know if our textbooks or favorite films or hotel reviews are real or generated by AI. It will become almost impossible to know what is real.
Add to that the ease with which information can be conjured up and it's easy to imagine people becoming lazy and discouraged from working hard when AI can do everything better than us anyway. Why learn to play piano when we can push a button to generate the music of our dreams and then edit and rearrange it just as easily?
It's completely understandable if people are a bit freaked out about the future. I feel these worries tugging at my back of my mind too.
For the last few years I've been doing a thought experiment though. This wasn't originally about AI at all. It was a test I did on myself to make sure that I actually wanted to succeed at my goals and that I wasn't just afraid of change. I asked myself, "What if everything was perfect as it was and didn't need me to change it?" This may sound like it has nothing to do with AI but bear with me for a minute.
Since I was young I always dreamed about helping the world in some way. I felt that we were heading towards disaster and I needed to do something, we all needed to do something to save it. The very thought led me to push my conclusions onto others and preach what I believed in. The preaching led me to draw lines between myself and others based on ideology, because I had identified what I believed were solutions to the worlds problems, and so the people working against these were obviously part of the problem.
At the end of this path was either nihilistic hopelessness or a fanatic near fascist view that others had to see the world the way that I did, otherwise it was destined to end, or at the very least bad things would happen. Ironic that I considered myself anti-fascist because I believed those with different ideologies to be evil and even less than human.
Through my own failures though, I learned to swallow my pride and accept that perhaps I didn't know everything. I started to see how I derived a sense of identity from the struggle. I hid this from myself but I actually reveled in the idea that the world was collapsing because trying to fix it gave my life purpose. When I took that away, I ended up having to face a deep sense of emptiness and longing. I realized I longed for meaning and purpose, but slowly I became aware that none of this meaning and purpose needed to be absolute. It could be light, optional even.
If the world didn't need me to save it, then maybe I should focus more on having fun and spreading good vibes, whether or not people really needed them. Might as well, especially if I could enjoy it.
Whether or not the world actually needs saving, and what to do about it is a huge issue for another day, but this exercise helped me get to the core of my fears and my desires, as well as the struggle that many other people are going through in this transitionary period.
If life didn't need me, then I could let go of the urgency and focus less on motivation and more on inspiration. I could open myself up to all kinds of possibilities that were off limits to me before.
I didn't forfeit my values. I merely took a lighter stance and realized that I didn't have all the answers. I surrendered to life, just enough to let it teach me, and found that life is the greatest of all teachers. The lessons aren't always straight forward but they are exactly what we need in the moment to help us grow.
So with regards to A.I., sure there are dangers, and sure it will likely be misused. But I don't see the point in worrying about any of that unless there is a situation where I can make a positive change, and I don't want to make endless speculation when some things we really need to see play out a bit first.
It's very easy for me to imagine all the horrible ways that AI and automation can and likely will be used, even easier than it is for me to imagine how it could lead to abundance. There are always people who seek to take advantage of powerful technology without regards to how it impacts the world, or those who seek to use it to control.
But when I forfeit my own fears and look at things neutrally, all I can say about AI is that it's here and it's probably not going away and it will change things. There isn't really anything to gain from being fanatic or nihilistic about it. We're all just here for the ride and can only do the best with what we have.
We still have agency, and the direction this technology takes will reflect the energy we put into it. If we let our fears dominate us, it'll surely be used as a tool for destruction. If we let delusions cover our fear, we invite coercion. But if we face our fears first and then let curiosity and excitement guide us, we may find ourselves stepping into a new age of abundance.
New systems and agreements may emerge that allow us to prioritize our relationships and creativity over monotonous work that we dislike. Things that took years of hard work and toil can be generated with the push of a button, so that means our ability to solve problems may increase exponentially.
We don't need to treat what AI says as gospel either, but what together with AI, we could come up with new ways to create clean energy or come to new solutions for long held disputes that satisfy both sides of a conflict. What if it's able to identify and expose corruption and suggest ways to promote accountability? What if it helps us cure diseases while also helping us avoid complications around overpopulation and aging societies?
What if humans, with the help of AI, come up with ways to negate all the issues that AI may potentially create?
I know it sounds a bit overly idealistic, but nothing I'm saying here is impossible, and just as things usually don't play out in the best possible scenario, they also don't usually play out in the worst possible scenario either. So we are most likely to land somewhere in the middle. The reality we find ourselves in will likely be somewhere in between our greatest dreams and our worst nightmares, and how far they lean in one direction or another depends entirely on us. We still don't know exactly how that will play out, but we can audit the energy we put out there.
None of us know where this will lead and if we can't admit that, we won't be able to make the most of it and will most likely shoot ourselves in the foot.
I'm fully equipped with awareness of all the terrible changes that could come about from AI, but at the same time, I now have a new and incredible tool to work with in my pursuit of freedom, fun and meaningful connections with people.
Rather than focus on the negative potential, I will keep seeking to create something positive, regardless of what the future holds.
Edit: Video version out
When AI makes me irrelevant…