This is a very popular recipe so I suppose most of you have already tried it before. But it is usually made with meat (mince) and this recipe offers you a vegan alternative of this meal. 🍛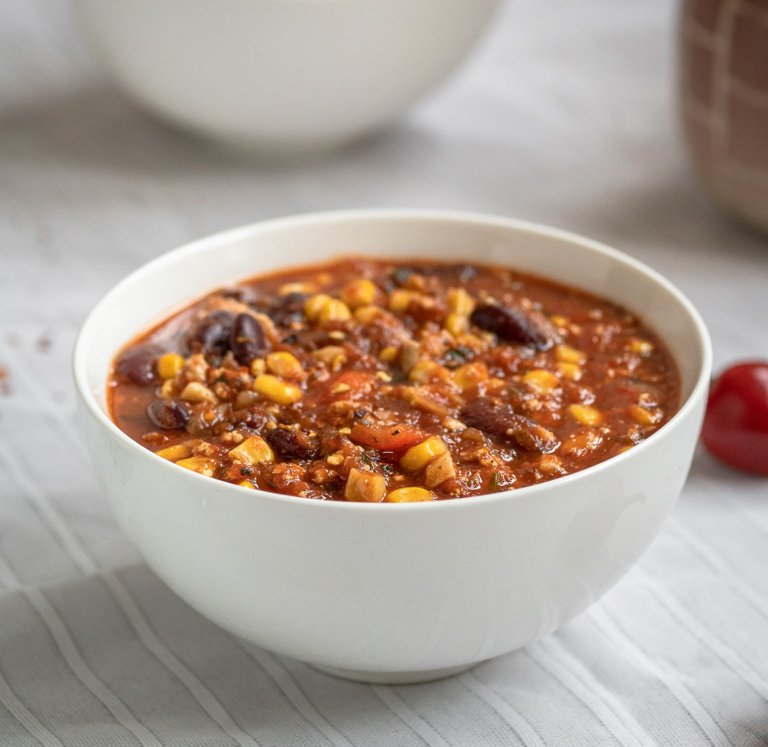 It is usually called "Chili con carne" and it's actually very easy to make. It is basically a stew with beans, corn, tomatoes and some veggies 🍅 Of course, this meal is very easy to modify according to your needs and likes.
For example, although it is called chilli and is usually made spicy, I never actually make it as spicy as it originally should be - I like to eat it without tears 😂
So, if you are a fan of spicy food - feel free to add as much chilli to this recipe as you can tolerate 😁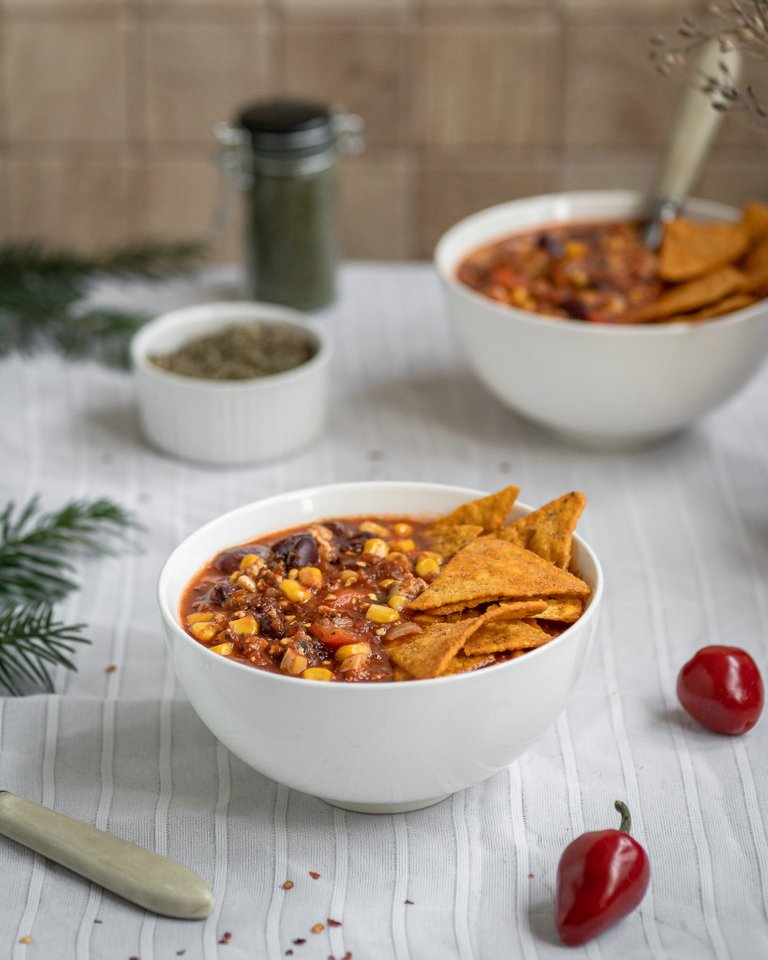 My favorite way of making this chilli is to simply replace meat with soy mince, buuut it is super expensive in my country and the cheap alternatives are not as good, so in this case I made this chilli simply with tofu. And it was just as tasty! 😍
Also, I highly suggest to sprinkle some nutritional yeast or vegan parmesan on top when you serve the chilli. Fresh herbs such as parsley are also great!
You will need:
This made me about 4-5 servings
1 onion
4 cloves of garlic
1 tablespoon of olive oil
1 tofu ("marinated" type) (can be replaced with soy mince)
1 red pepper
2 cans of canned chopped tomatoes with oregano (can also be plain tomato puree without spices)
1 can of canned red kidney beans
1 can of canned corn
150 ml. water
0.5-1 teaspoon of salt
About 0.5 teaspoon of pepper
1 teaspoon of ground sweet pepper
1 teaspoon cumin
1 teaspoon of dried basil
A pinch of ground cayenne (you can choose the amount according to how spicy you want it)
2 tablespoons frozen parsley (or fresh)

---
Preparation
Chop the peeled onion and garlic.

Add about 1 tablespoon of oil to the pan, add the onion and garlic and fry for a few minutes until soft and golden.

Chop the red pepper.

Then add hand-crushed tofu to the pan with onion and garlic. I simply crush with my fingers directly to the pan.

Add finely chopped bell pepper and mix everything. Fry for 5-8 minutes or until the tofu is lightly browned. Mix continuously.

Pour the canned chopped tomatoes from both cans into a large container and blend them with a manual or other blender to a more or less smooth mixture. If you just use tomato puree which is already smooth, you can skip this step.

Pour the tomato puree and water into a bigger pot for boiling.

Wash and add the canned red kidney beans to the same pot.

Wash and add the canned corn.

Then add all the spices - salt, cumin, ground red pepper, dried basil, pepper.

Then add fried tofu with red pepper and onion, garlic from the pan.

Then mix everything well and bring to a boil. Mix everything continuously.

I also suggest you to taste if you want more saltiness.
Once the mixture starts to boil, cook it over low heat for about 5-10 minutes. Add some fresh or frozen parsley at the end.

Once served, it goes very well with some nutritional yeast or vegan parmesan on top. I even tried adding some tortilla chips on the side and it was a nice new flavor. I also always love to eat it with some white bread. 🥖
Enjoy!