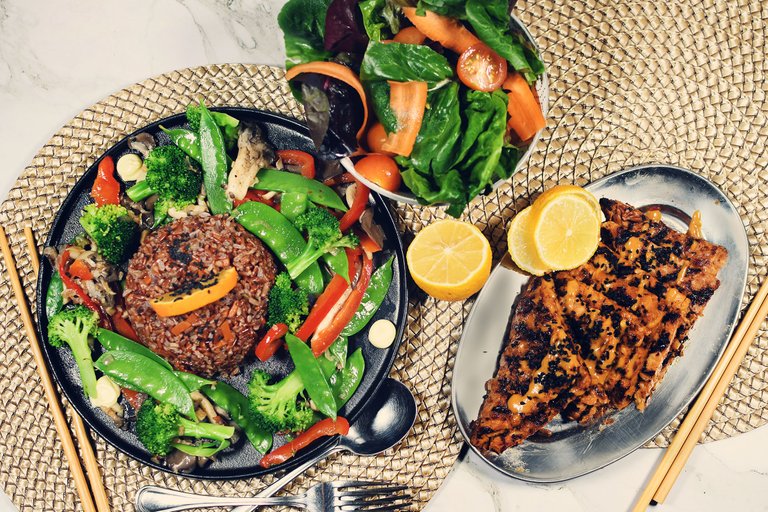 I first discovered tempeh in Toronto Canada. I was in a trendy vegetarian restaurant lounge where we almost felt like we weren't cool enough to get in. I had no idea what tempeh was so I gave it a shot. It came fried like a little chicken appetizer. I loved it.
After a year we went back to Toronto to this restaurant and ordered it again. I didn't like it this time. I never saw or had tempeh again until many years later, when my partner and I got a job with a vegan company making tempeh from scratch in large amounts. I liked tempeh again.
After 5 months we were moved to their new central kitchen to cook the tempeh with their sauces, for retail. I got so much tempeh to take home that eventually I couldn't eat it for a while.
Then in 2019 we found ourselves in Bali Indonesia. We discovered that this was the best tempeh ever. I can't describe why. Indonesia is the original inventor of it. Now it's become extremely popular in plantbased communities and Japanese are enjoying it as well. I wasn't able to find it at all in Thailand which was strange to me.
The tempeh I have made in this recipe, has some Japanese notes to it. It really absorbs flavors well, so as far as I'm concerned it can go into any direction.
I personally enjoy tempeh more if it's been marinated. I happen to have a giant bottle of sake that was given to me, and I will never drink it, so it is used for cooking. I added it to the marinade.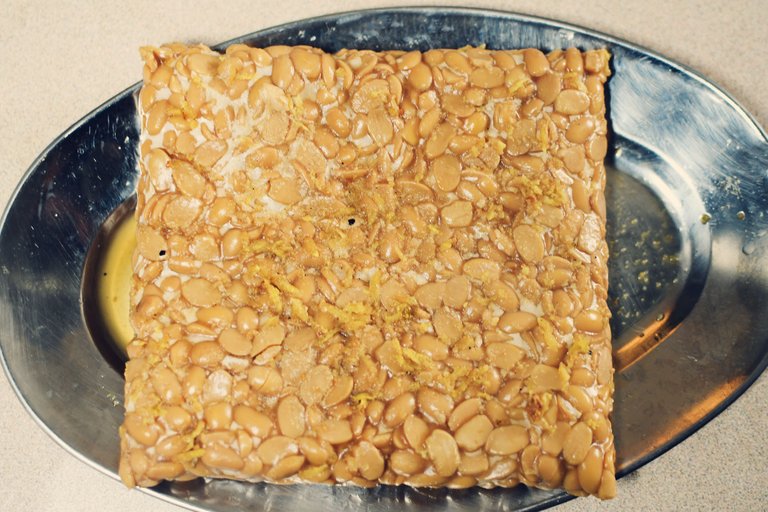 Tempeh marinade
2 cups vegetable broth
3 tablespoons tamari
1 tablespoon sake (optional)
Marinate for an hour. I left mine over night.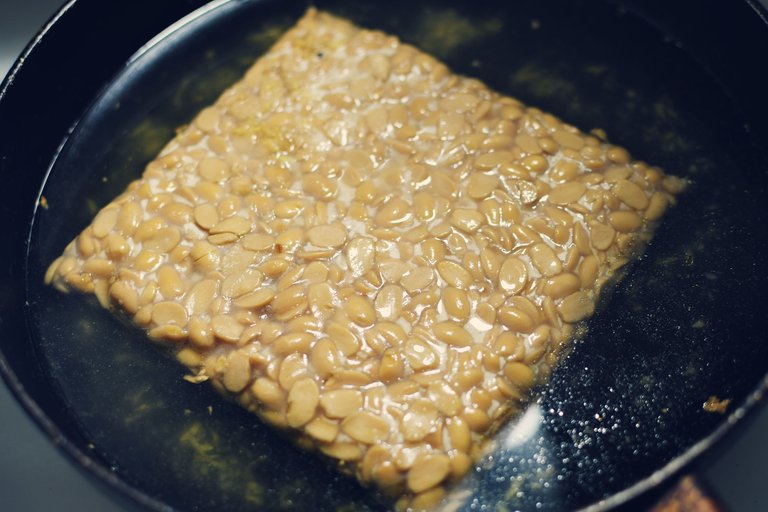 Put the marinated tempeh in a pot and add enough water to cover. I used a shallow pan but it doesn't matter. Boil, then simmer on low until all of the liquid has evaporated. I didn't add salt because of the sauce that will be applied during the grilling.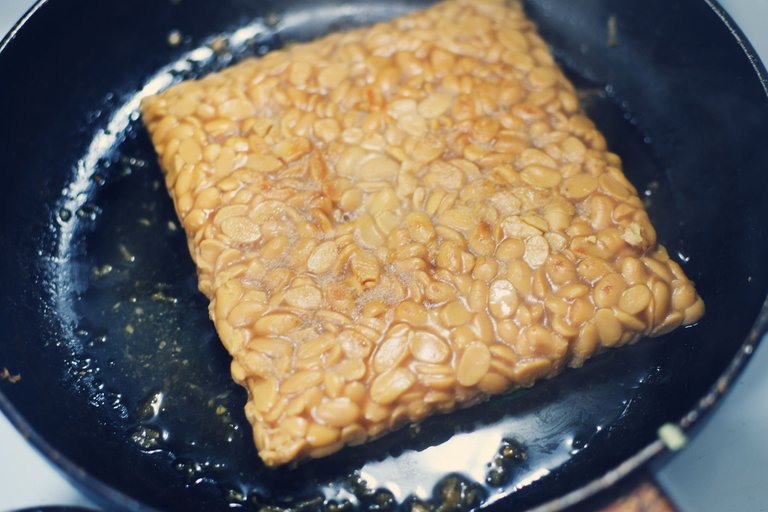 Sauce for tempeh
15 g garlic
10 g tamari
20 g sake (optional)
20 g rice vinegar
70 g miso paste
20g chili paste
10 g sesame oil
15 g minced ginger
20 green onion
30 g maple syrup or agave
150 g water or vegetable broth
20 g cornstarch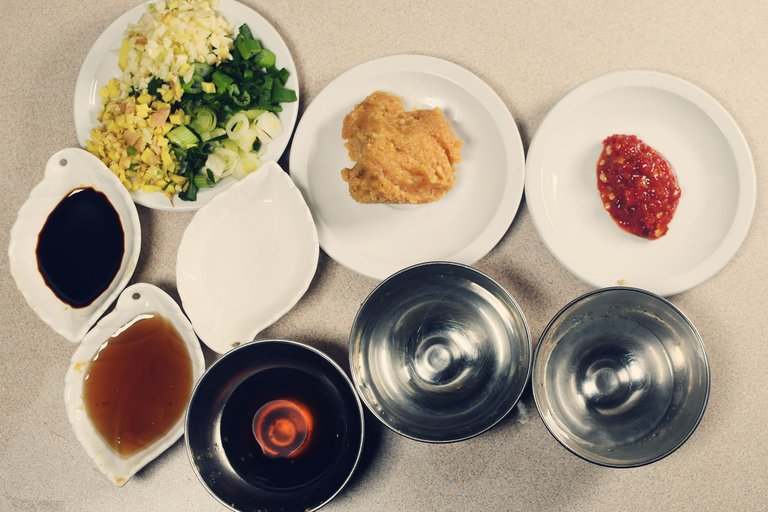 Saute garlic, ginger and onion.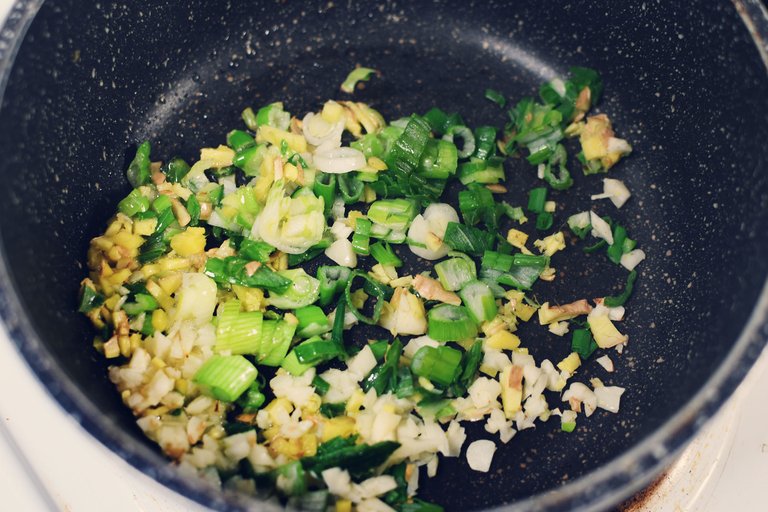 Add chili paste and mix.
Add all liquid reserving a little to mix with the cornstarch.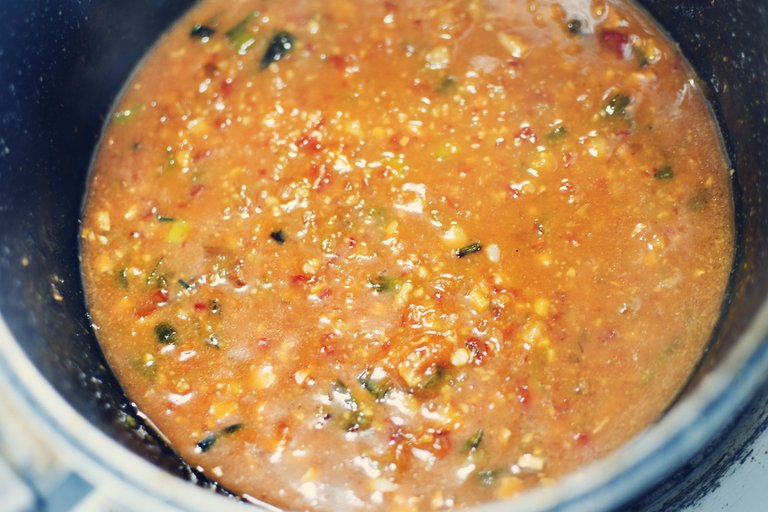 I added the cornstarch at the end. First I simmered the sauce for 20 minutes then cooled. It was blended until smooth, put back in the pot, then had the cornstarch slurry added to it. Mix and simmer until the sauce has thickened.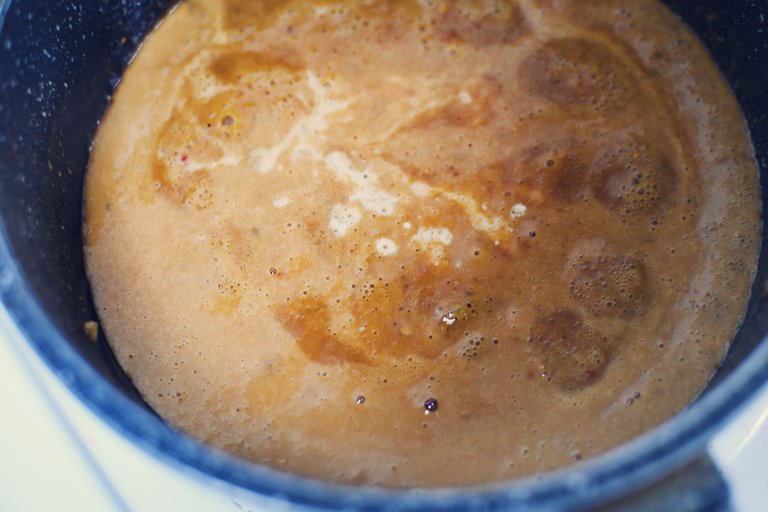 Meanwhile take the tempeh and cut it into desired shapes. I wanted to take a 240 g block of tempeh and turn it into 8 pieces.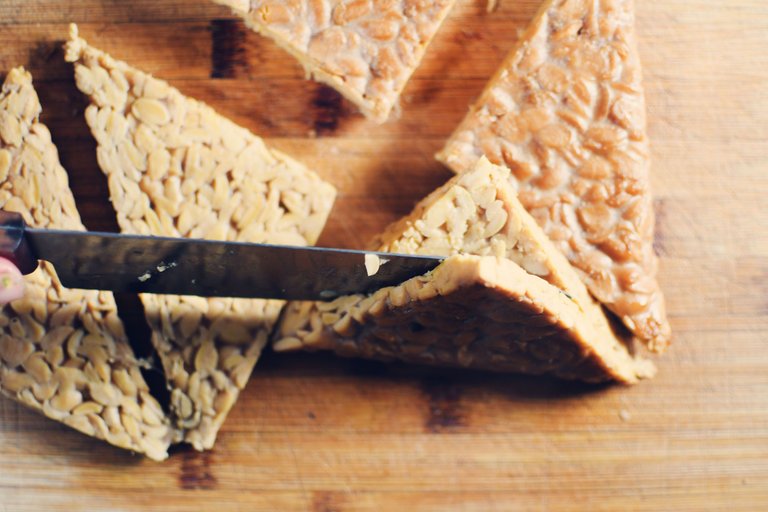 First I cut four pieces of triangles. Then I cut each triangle into two cutting it in the middle. I happen to have had quite a bit of practice in my former workplace, but if you haven't done this before, you may botch up the first piece. Perhaps you'll be a natural, unlike me. I have botched up many many pieces. No harm done since it can be ground up and treated like mince.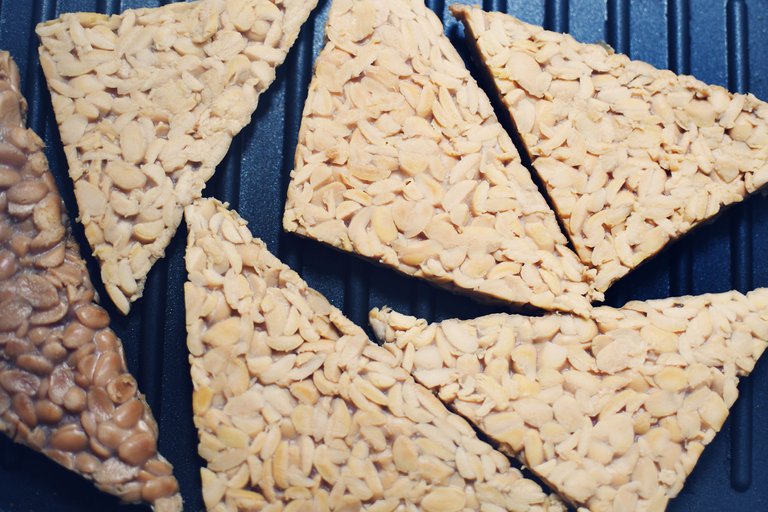 The only way I can grill something is with my electric grill so after adding the slices on the hot grill, I flipped each side and slathered the miso ginger sauce then pressed gently with the grill to brown each side.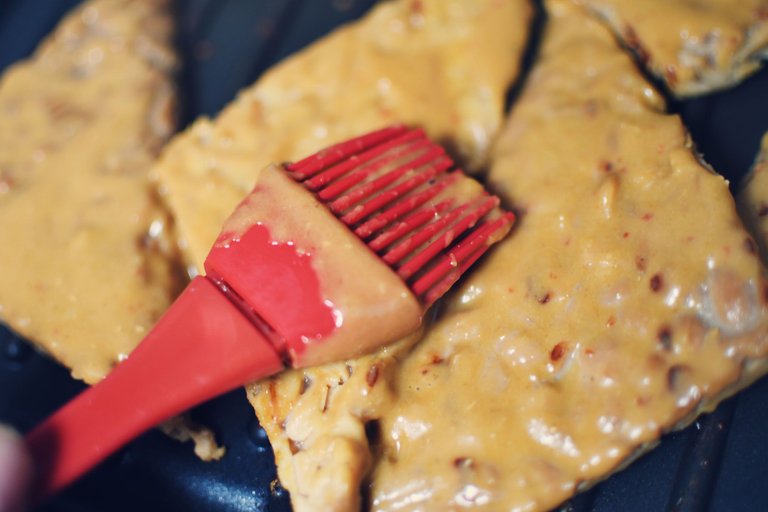 I coated with black sesame seeds.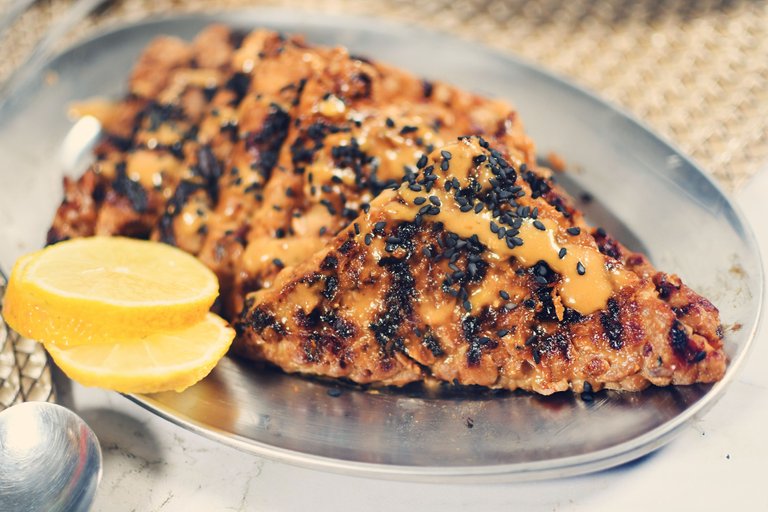 I almost always eat jasmine or basmati rice but I wanted a grainier rice. I happened to have a bit of red rice left that I bought last year. It's nuttier and to me it's like a combination of wild rice and brown rice.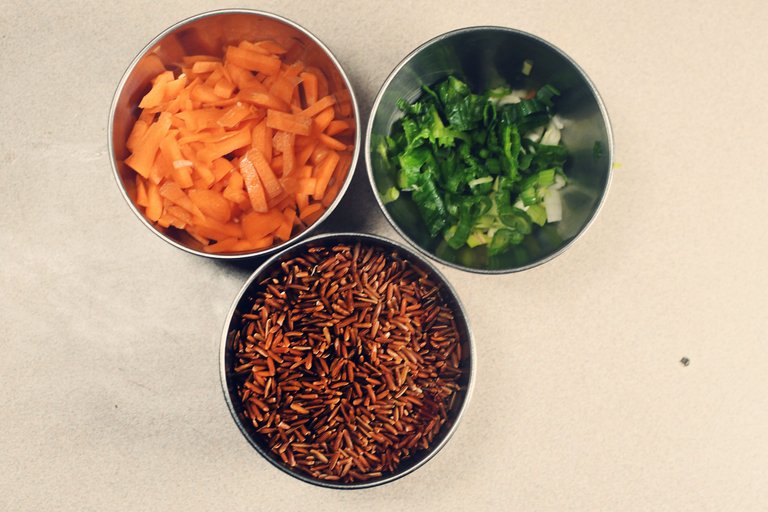 Instead of boiling it on it's own, I decided to add a couple of items to it. I was using what I had in the fridge.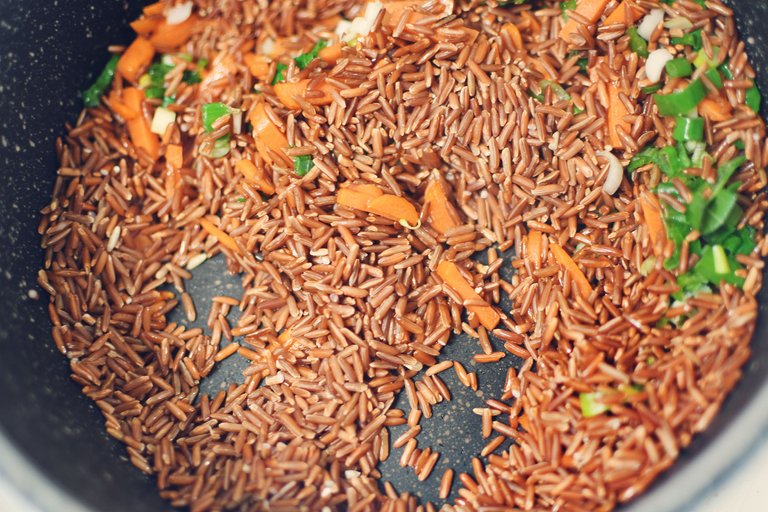 Red rice
130 g red rice
70 g chopped carrot
180 g water or more if nessary
Oil to cook
Heat some oil in a pot and add rice, carrot and onion. Brown then add water and simmer until liquid has absorbed. You may want to add more water depending on how soft you want it.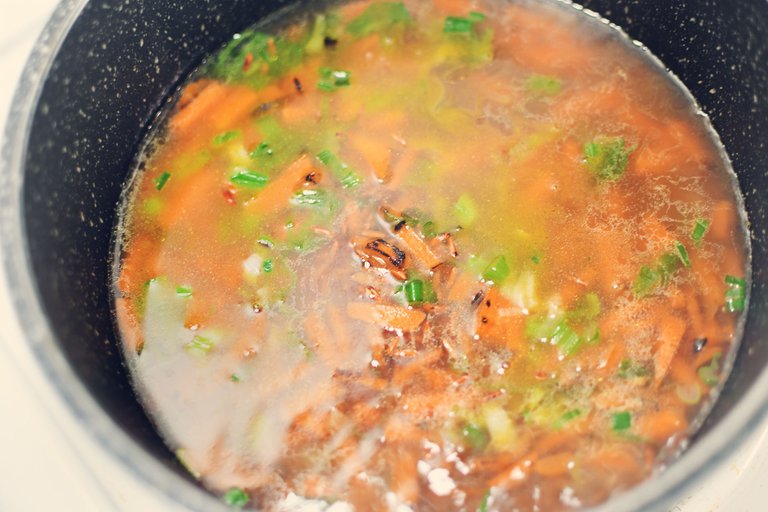 Vegetable stir fry
100 g oyster mushrooms
90 g bell pepper
100 g broccoli
100 g snow peas
70 g chopped onion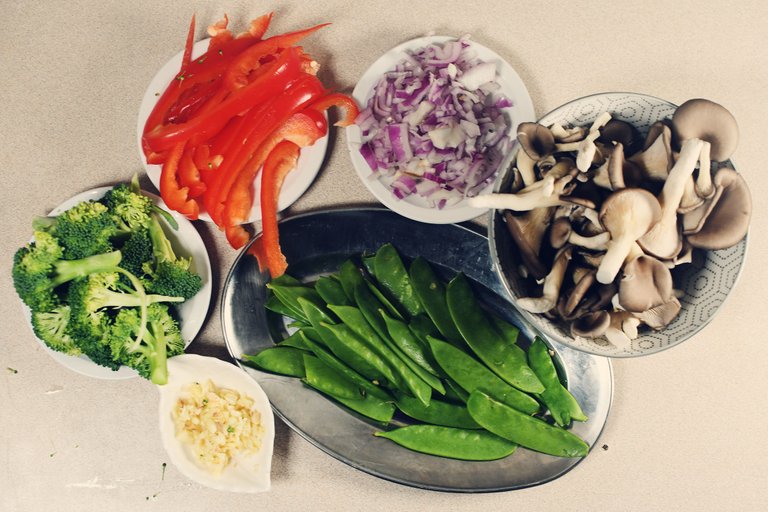 I kept these veggies simple since the marinade on the tempeh was where the flavor was. The mushrooms garlic, onion and peppers were fried in a bit of hot oil, until the mushrooms were done. The peas and broccoli were cooked separately. I blanched them for 30 to 40 seconds in boiling water that had a small pinch of baking soda in it. I find that it helps to keep the colour. After draining I rinsed in cold water to stop the cooking. I added them to the mushroom mix before serving and heated everything together.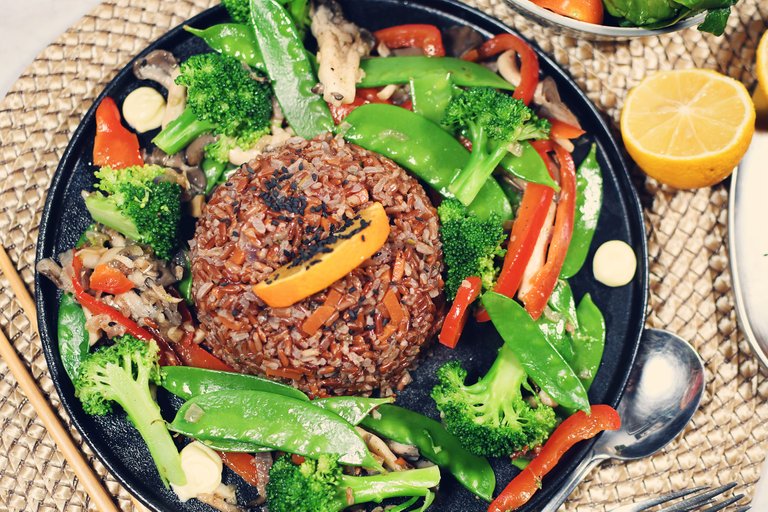 I felt like having more vegetables so I added a green salad.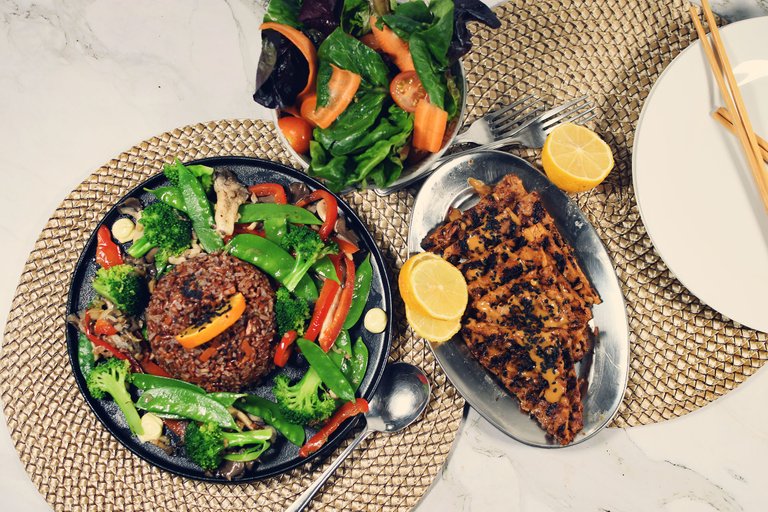 Even though this has Japanese notes to it, I wouldn't imagine this being on the table of a Japanese restaurant but here in Canada we are influenced by many cultures so our foods tend to become fusion. I call it "con-fusion", however when you eat it, it becomes clear.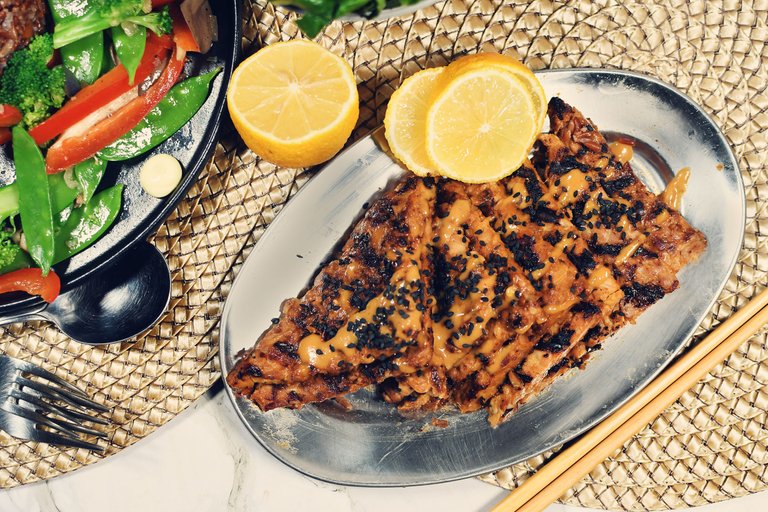 One thing about tempeh if you've never cooked it before, is that it swells up, so even though one block of tempeh may seem only enough for one person, it really is enough for two with other items on the side.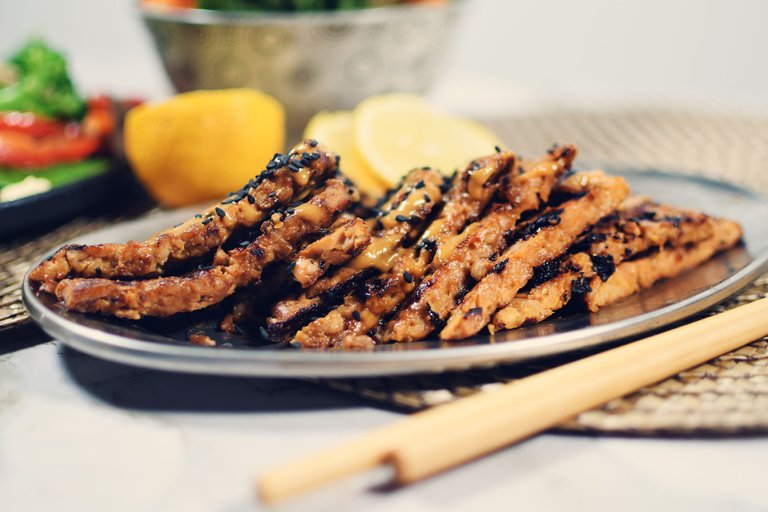 It may seem strange but I like to squeeze citrus on many savoury dishes and this is one of them.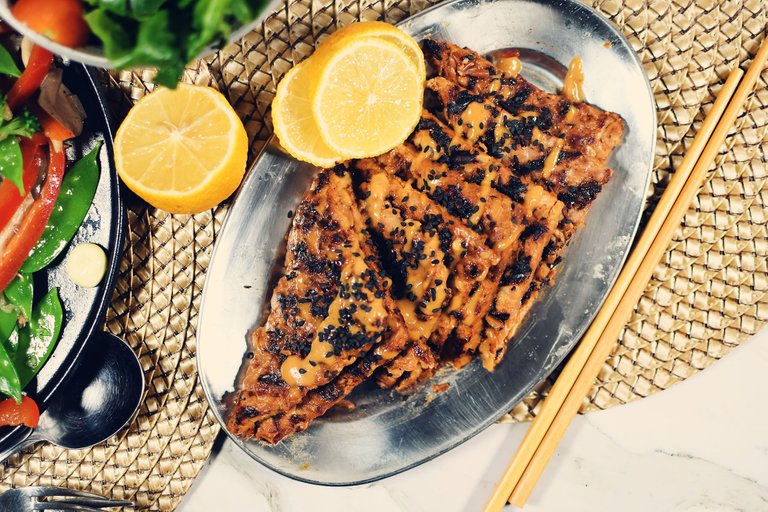 Thanks for dropping by and have a great day.
Photos taken with a Nikon D7500


design by: @KidSisters