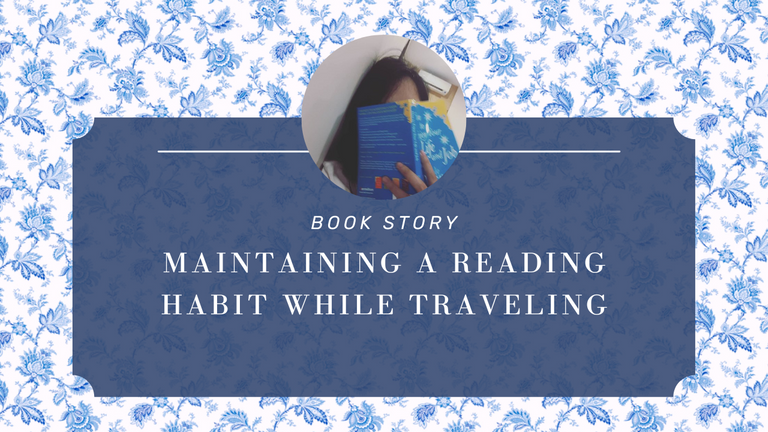 Over the last couple of years, I've been on the move quite a lot and many of my life's routine, habit, and things are catered to my nomadic life. That also includes my love of reading. You might say that there's Ebook and audiobook but in the age of everything digital, I simply despise it;
I. Solemnly. Hate. Reading. E-book version.
Sadly though there are times when I have to rely on E-book simply because I can not bring more than four books on a long trip as I like to keep my belongings minimal. During such hardships, I obviously have to resort to Ebooks to get my reading addiction fixed. While on the move, adding reading into the habit is yet another challenge. Picture this, you're new, wanting to explore places, maybe make new friends, and sometimes twenty-four hours can't seem to be enough. How can I make myself read?
The thing is, I have built this habit from a young age so it's pretty easy for me to get into a reading state but what about people who hate/dislike reading? Can they build a reading habit? Obviously. Like many things in life, it all comes into wants, needs, and motivation. I believe that there has to be something that motivates us to read or wants to know something — curiosity plays a role in it for sure. Reading does not have to be something heavy, start with something you like, maybe it's newspaper, manga, comics, or even a simple column. In the end, just start.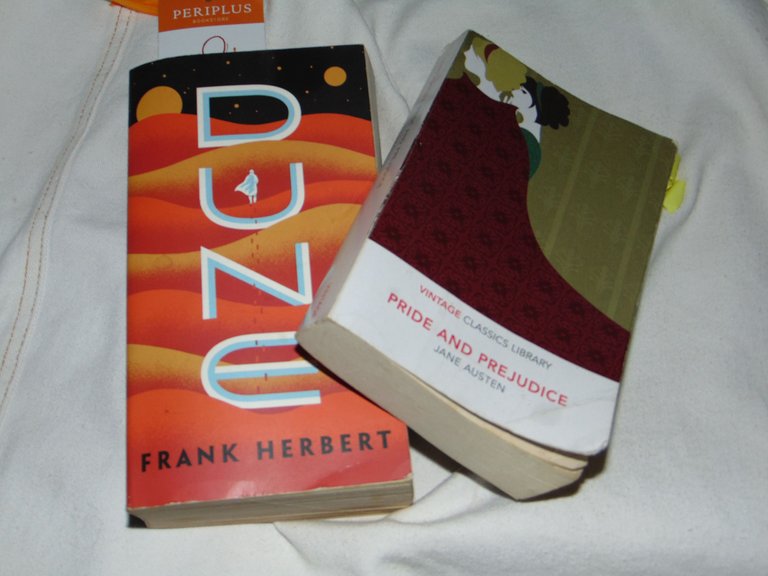 As for myself, in a day I usually allocate 60-120 minutes for reading. The amount of pages I read depends a lot on the book and the subject of the book. For example, I can only read 2-5 pages of a medical book because they require a bit of understanding and some memorization. Yet for a light chick-lit or a popular literature, I can read more than 20 pages in that span of minutes. I know of fact that many out there read a book a day but that simply does not fit with my life. Even while on the move, those 60-120 minutes are also non-negotiable. Perhaps, you can also do a time block if you want to get into a reading habit — spare a few minutes or even an hour just to read. Now that I try to read once every week, I added another 120 minutes before bed time or during my winding down to read until I get tired. Usually during this time, it is the perfect state to read as I don't have a lot on my mind and many things have already been cleared out from my life. So, I get to read in peace.
Another important thing is that, there is a distinction between what I read when I am not traveling vs when I am traveling. When I am on the go, what I read mostly consist of classics, anything from beat generation, self-help, entrepreneurship, and some economy and philosophical books to balance things out. Meanwhile when I am not traveling, I can read 1000 pages of history either of literature or of anything I fancy. That also includes some politicals and non-fictions book.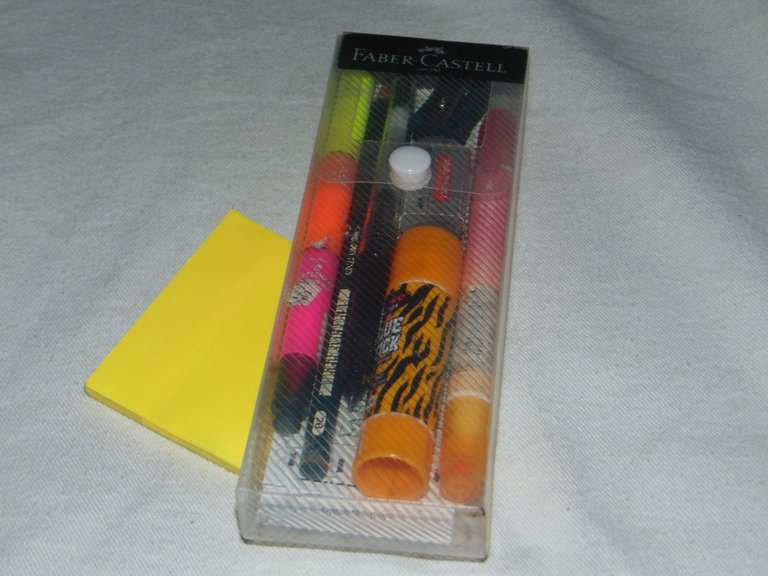 Another thing that I like to do during reading is have my highlighters and sticky notes around. This does not change at all even when I am on the go. I have to show you on the right side, what my pencil case looks like. It has everything I need from pen, pencil, sharpie, and everything else. I also include some sticky notes that will help me with my reading session. I am pretty old-fashioned as I like to write out the things I learned from a book or simple quotes that I find resonating with my life. Even with classic literature, there are certainly many beautiful quotes that I like to write down. However, during my travels and when I am with an e-book I simply use my evernote. I keep track of the things that I ponder/curious/ the things I learned using evernote. I am sure that notion is probably best for things like these but so far evernote does the job. In the past, I even used an old style notepad on my laptop to summarize the book that I read.
What do you think about audiobooks?
I have to say that it's not for me. I tried listening to audiobooks while walking on the treadmill and even randomly but it's just not my way of learning and reading. Although, listening to an audiobook can be a fast-track of reading a book but my comprehension was less than when I read the book physically through flipping pages or even screen. But I know that audiobooks are the way for some people and that's OK.
If you're constantly changing the environment, can you even focus on reading?
Reading for me is like blocking the outside world. I can read anywhere, anytime. As soon as I immerse myself in a book, I care a little about the outside world and everything. I will only focus on the book in front of me and that is all there is. Ever since I was a kid my parents traveled quite often too, I always brought books and would read inside the car while the adults were arguing and that carried on until now — It's just the best way to shut and distance myself from whatever was going on.
Do you really always read?
I have to be honest, there are days when I missed reading just because I was exhausted or my gadgets weren't nearby. But that only happens once in a blue moon, especially when I have a traveling companion. Otherwise, I certainly have all the time in the world to read, especially when it is only a fraction of my 24 hours.
Do you discuss what you read?
Yes! Big yes. It's a part of my reading routine that I will never miss. I think if you read, you also have to tell it to others. You have to discuss the ideas that you just learned and perhaps that would intrigue another person to read the book or learn about it. I personally have a few friends who I can come up and talk to about all the books I read. We usually have a few discussions or two and my favorite topic is certainly politics and anything philosophical. Although at times, I enjoy some lighter topics. It's just that my friends are mostly reading philosophical, heavy classic literature or complex fantasy. But if you need any friends to talk about a book, feel free to reach out on the server of Hive book club. If not me, there are others who may listen to your rants about a book you just read.
That being said, those are some of my reading routines that I have while on the move. I certainly don't think that it changes a lot except being physically in one location certainly has its own advantages. For example, it's easy to create a condition that helps with reading and also availability of books within reach. But once you love something, there's nothing that can stop you!

Don't hesitate to upvote for more content like this ! You can also support me below!

---
𝘔𝘢𝘤 𝘪𝘴 𝘢 𝘴𝘦𝘭𝘧-𝘦𝘮𝘱𝘭𝘰𝘺𝘦𝘥 𝘯𝘪𝘯𝘫𝘢 & 𝘤𝘰𝘧𝘧𝘦𝘦 𝘤𝘰𝘯𝘯𝘰𝘪𝘴𝘴𝘦𝘶𝘳 . 𝘈 𝘵𝘺𝘱𝘪𝘤𝘢𝘭 𝘪𝘯𝘵𝘳𝘰𝘷𝘦𝘳𝘵 𝘪𝘯 𝘭𝘰𝘷𝘦 𝘸𝘪𝘵𝘩 𝘭𝘪𝘵𝘦𝘳𝘢𝘵𝘶𝘳𝘦, 𝘣𝘰𝘰𝘬𝘴, 𝘵𝘦𝘤𝘩𝘯𝘰𝘭𝘰𝘨𝘺 𝘢𝘯𝘥 𝘱𝘩𝘪𝘭𝘰𝘴𝘰𝘱𝘩𝘺. 𝘛𝘩𝘪𝘴 𝘪𝘴 𝘩𝘦𝘳 𝘱𝘦𝘳𝘴𝘰𝘯𝘢𝘭 𝘣𝘭𝘰𝘨, 𝘢 𝘳𝘦𝘧𝘭𝘦𝘤𝘵𝘪𝘰𝘯 𝘰𝘧 𝘩𝘦𝘳 𝘸𝘢𝘯𝘥𝘦𝘳𝘭𝘶𝘴𝘵 𝘢𝘯𝘥 𝘵𝘩𝘪𝘳𝘴𝘵 𝘧𝘰𝘳 𝘬𝘯𝘰𝘸𝘭𝘦𝘥𝘨𝘦. 𝘚𝘩𝘦 𝘰𝘧𝘵𝘦𝘯 𝘤𝘰𝘷𝘦𝘳𝘴 𝘣𝘰𝘰𝘬𝘴, 𝘮𝘰𝘷𝘪𝘦 𝘢𝘯𝘥 𝘴𝘦𝘳𝘪𝘦𝘴 𝘳𝘦𝘷𝘪𝘦𝘸𝘴, 𝘵𝘦𝘤𝘩 𝘳𝘦𝘷𝘪𝘦𝘸𝘴 𝘢𝘯𝘥 𝘵𝘳𝘦𝘯𝘥𝘴, 𝘱𝘩𝘰𝘵𝘰𝘨𝘳𝘢𝘱𝘩𝘺, 𝘢𝘯𝘥 𝘱𝘦𝘳𝘴𝘰𝘯𝘢𝘭 𝘥𝘦𝘷𝘦𝘭𝘰𝘱𝘮𝘦𝘯𝘵. 𝘖𝘯𝘤𝘦 𝘪𝘯 𝘢 𝘣𝘭𝘶𝘦 𝘮𝘰𝘰𝘯, 𝘺𝘰𝘶 𝘤𝘢𝘯 𝘧𝘪𝘯𝘥 𝘩𝘦𝘳 𝘵𝘳𝘢𝘷𝘦𝘭𝘪𝘯𝘨, 𝘪𝘮𝘮𝘦𝘳𝘴𝘪𝘯𝘨 𝘩𝘦𝘳𝘴𝘦𝘭𝘧 𝘪𝘯 𝘭𝘰𝘤𝘢𝘭 𝘤𝘶𝘭𝘵𝘶𝘳𝘦𝘴 𝘢𝘯𝘥 𝘵𝘳𝘢𝘥𝘪𝘵𝘪𝘰𝘯𝘴, 𝘢𝘯𝘥 𝘵𝘢𝘬𝘪𝘯𝘨 𝘱𝘪𝘤𝘵𝘶𝘳𝘦𝘴 𝘰𝘧 𝘵𝘩𝘦 𝘣𝘦𝘢𝘶𝘵𝘪𝘧𝘶𝘭 𝘴𝘪𝘨𝘩𝘵𝘴 𝘴𝘩𝘦 𝘦𝘯𝘤𝘰𝘶𝘯𝘵𝘦𝘳𝘴 𝘢𝘭𝘰𝘯𝘨 𝘵𝘩𝘦 𝘸𝘢𝘺. 𝘚𝘩𝘦'𝘴 𝘢𝘯 𝘰𝘤𝘤𝘢𝘴𝘪𝘰𝘯𝘢𝘭 𝘧𝘰𝘰𝘥𝘪𝘦 𝘢𝘯𝘥 𝘭𝘰𝘷𝘦𝘴 𝘵𝘰 𝘦𝘹𝘱𝘭𝘰𝘳𝘦 𝘯𝘦𝘸 𝘢𝘯𝘥 𝘥𝘦𝘭𝘪𝘤𝘪𝘰𝘶𝘴 𝘤𝘶𝘭𝘪𝘯𝘢𝘳𝘺 𝘦𝘹𝘱𝘦𝘳𝘪𝘦𝘯𝘤𝘦𝘴. 𝘍𝘰𝘭𝘭𝘰𝘸 𝘢𝘭𝘰𝘯𝘨 𝘰𝘯 𝘩𝘦𝘳 𝘢𝘥𝘷𝘦𝘯𝘵𝘶𝘳𝘦𝘴 𝘢𝘯𝘥 𝘫𝘰𝘪𝘯 𝘵𝘩𝘦 𝘤𝘰𝘯𝘷𝘦𝘳𝘴𝘢𝘵𝘪𝘰𝘯! 𝘋𝘰𝘯'𝘵 𝘩𝘦𝘴𝘪𝘵𝘢𝘵𝘦 𝘵𝘰 𝘶𝘱𝘷𝘰𝘵𝘦, 𝘭𝘦𝘢𝘷𝘦 𝘢 𝘤𝘰𝘮𝘮𝘦𝘯𝘵 𝘰𝘳 𝘢 𝘧𝘦𝘦𝘥𝘣𝘢𝘤𝘬. 𝘈 𝘳𝘦-𝘣𝘭𝘰𝘨 𝘪𝘴 𝘢𝘭𝘴𝘰 𝘢𝘱𝘱𝘳𝘦𝘤𝘪𝘢𝘵𝘦𝘥 𝘵𝘰𝘰.