He decidido escribir en décimas una historia que espero convertir en un libro infantil ilustrado (libro álbum, como algunos lo llaman) con la ayuda y el talento de @manujune. En este momento, ella está trabajando en el diseño del personaje y esta imagen es el primero de sus bocetos.
No estoy seguro que tan larga será la historia. Posiblemente unas 10 décimas con sus respectivas ilustraciones. He aquí la primera parte de la historia.
I

've decided to write a story in decimas (ten-verse rhymes) that I hope to turn into a picture book with the help and talent of @manujune. Right now, she is working on the character design and this image is the first of her sketches.



I

'm not sure how long the story will be. Possibly about 10 decimas with their respective illustrations. Here is the first part of the story.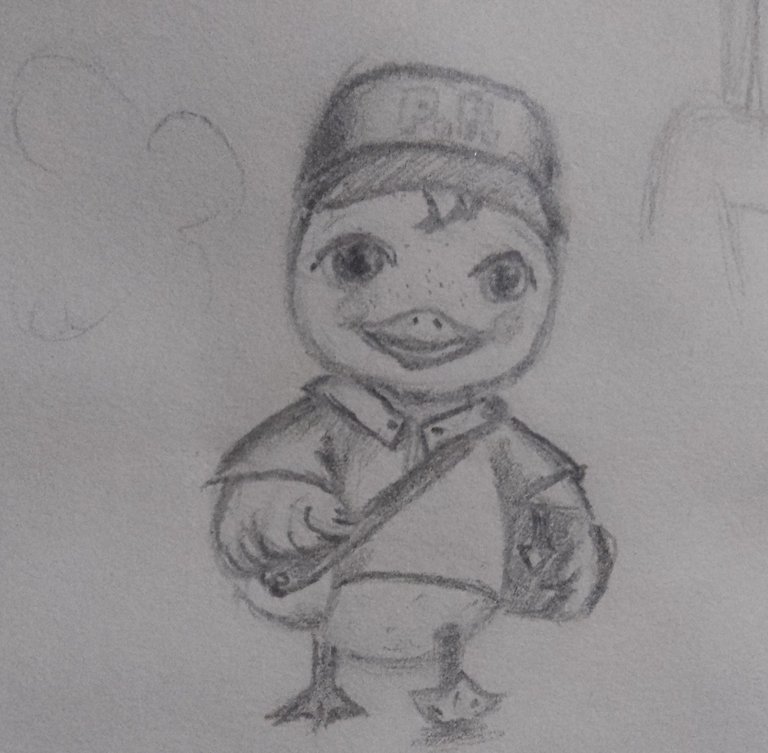 El patito mensajero
---
I
Pati-Pati era un patito
curioso e inteligente.
Agradaba a mucha gente
por su lengua y su piquito.
Se veía tranquilito,
pero era chicharachero.
Siempre contaba primero
lo que veía en la calle.
Grababa cada detalle
con sus ojos de jilguero.
Pati-Pati was a curious 

and

 intelligent duckling.          
Many liked him because he could tell 

long

 stories 

with

 his 

short

 beak. 
He looked quiet, but he was a chatterbox.     
He was always first 

to

 tell what he saw 

in

 the streets.       
He recorded every detail 

with

 his goldfinch eyes.     

II
Como en toda sociedad,
y esta no era la excepción,
después de harta diversión
viene Doña seriedad.
Tal responsabilidad
Pati-Pati la asumió.
Por profesión escogió
la de excelso mensajero,
recorriendo el mundo entero
y el pueblo donde nació.
As 

in

 every society, and 

this

 was no exception, 
after a lot of 

fun

, comes Madam Seriousness.            

Pati-Pati assumed such responsibility.          
When the  time came to choose a profession, he chose           
to become a first-rate messenger. He would connect the whole world
with the village 

where

 he was born.        


Contunuará
To be continued...