It's interesting what you end up doing when you're stuck at home on a gorgeous sunny day because you're forced into isolation. My daughter tested positive for Covid-19 on Friday and the rest of us have no symptoms but obviously are expected to quarantine at home.
My daughter's fine with only head cold symptoms and, as most teenagers do, is spending her days in her room alone on tik tok and watching all the movies that Netflix has to offer. The rest of us are getting cabin fever already!
So back to my blog. I've been bored with my lounge and bedroom and needed a change. The house was a mess and it felt like as much as I did laundry and cleaning I just haven't been able to catchup lately.
I knew that I wanted to switch around some art and the changes weren't too big as I can't change the physical layout of the furniture due to space constraints and the position of the fireplace in the lounge and wardrobes in the bedroom. So I did my best to use soft furnishings and the repositioning of lamps and rugs to make the biggest changes.
---
The Lounge Makeover
Before
A mess right? I had actually already switched the curtains from a heavier curtain to this light cotton with a fine print to allow more of the summer light into the room.

I love my Acapulco Chair that I got second hand. It adds beautiful texture and shape to the space
RUGS
I switched the pale turquoise rug to the bedroom (wait til you see it!) and pulled this older jute rug out of storage. I gave it a good amount of beautiful smelling powder and left it out in the sun for a while before giving it a good brush and putting it in position.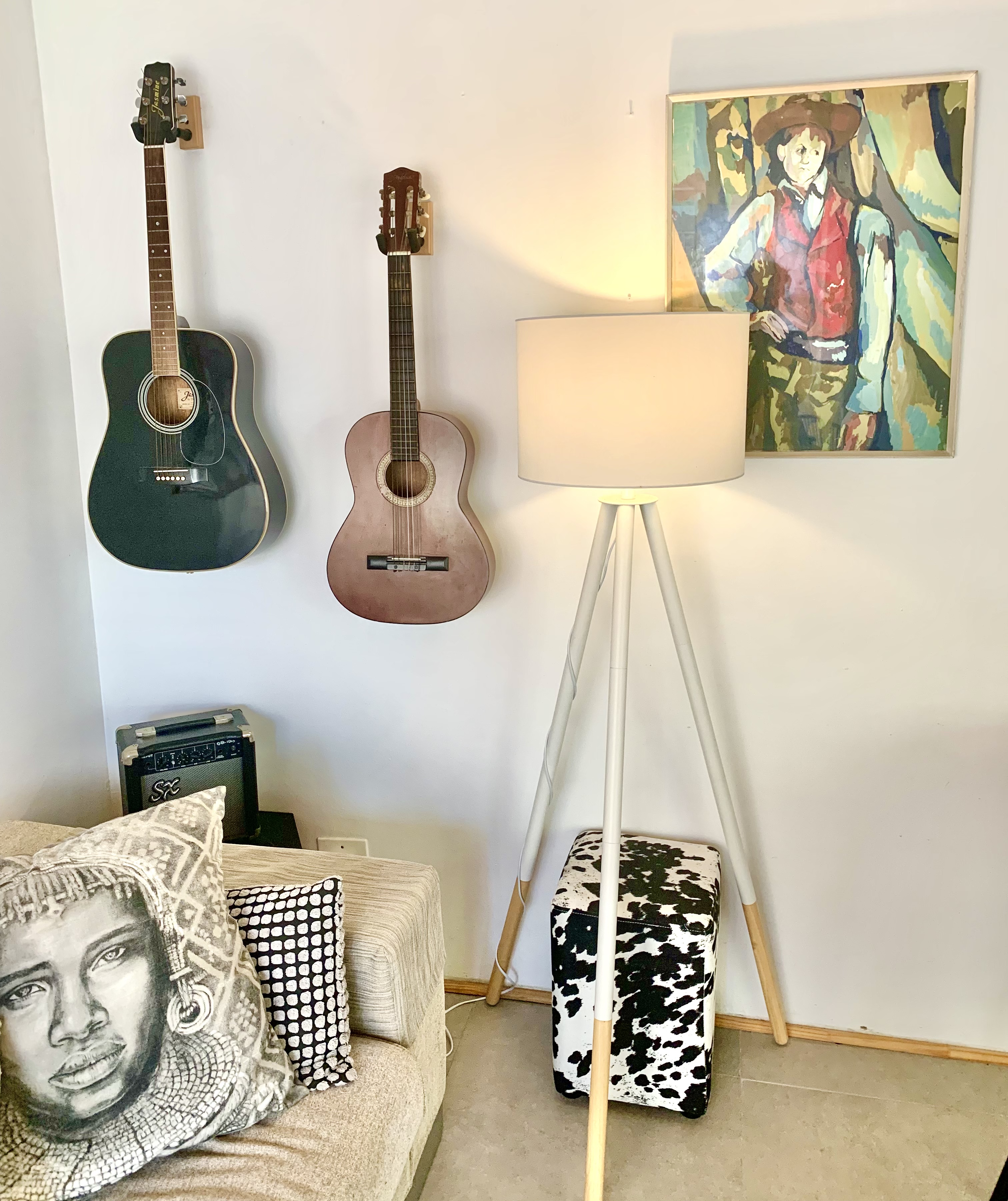 LIGHTING
I moved one of my bedroom lamps into the corner of the lounge and shifted the tall tripod lamp into the music zone of the lounge. In the future I would love to switch out the white wire light fitting for a basket weave shade that will create interesting shadow textures in the evening.
In this small room I have had to make sure that every part of it functions well for a family of four. I'm dreaming of extending the lounge out towards the yard and adding a dedicated dining area, but for now we have to make it work to our advantage.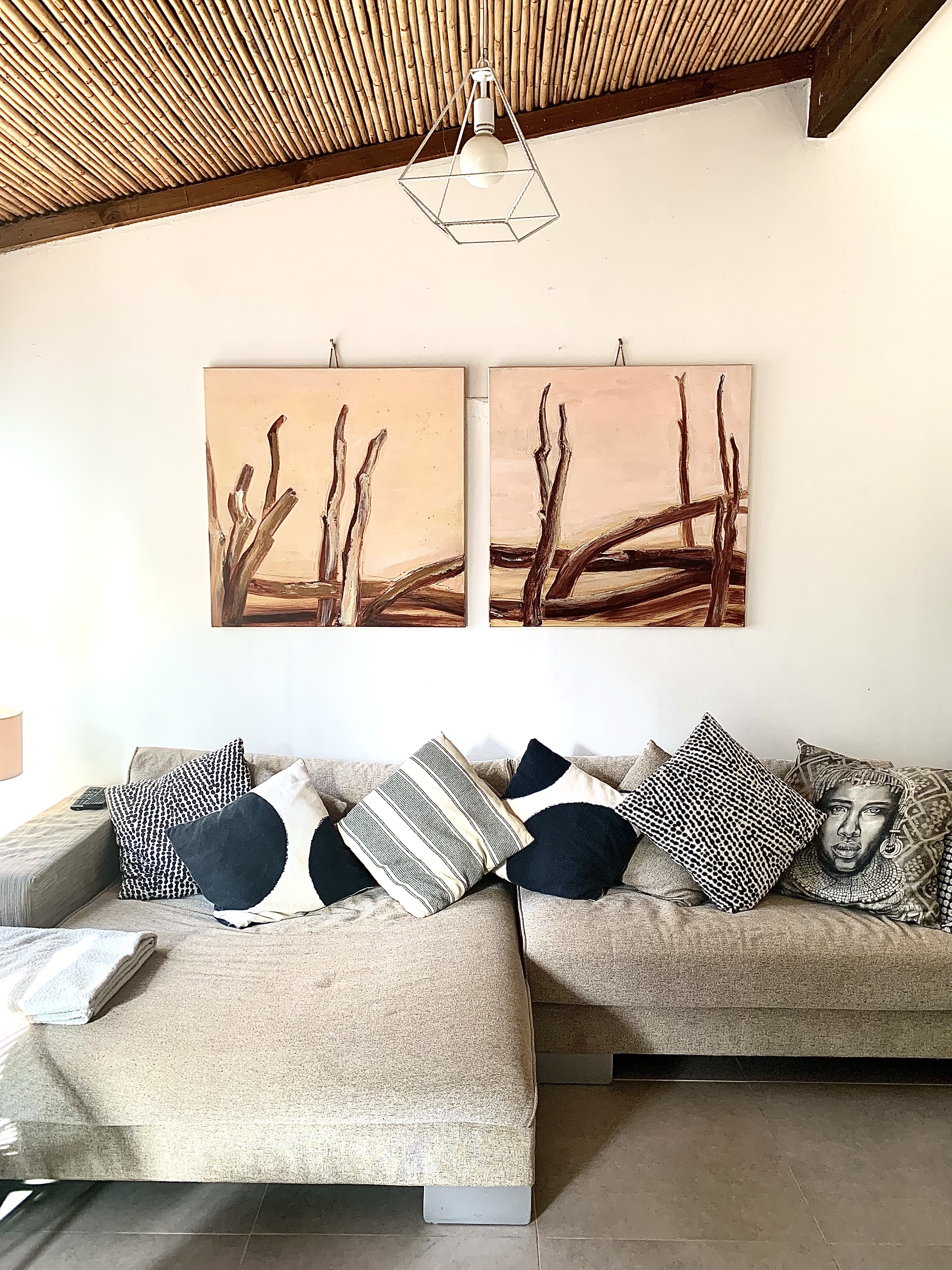 ART
I moved the large painting of the Golden Lady from the lounge to our bedroom and replaced it with the Twin Desert Sticks paintings. This together with the jute rug completely changed the feel of the room from a more feminine feel to neutral.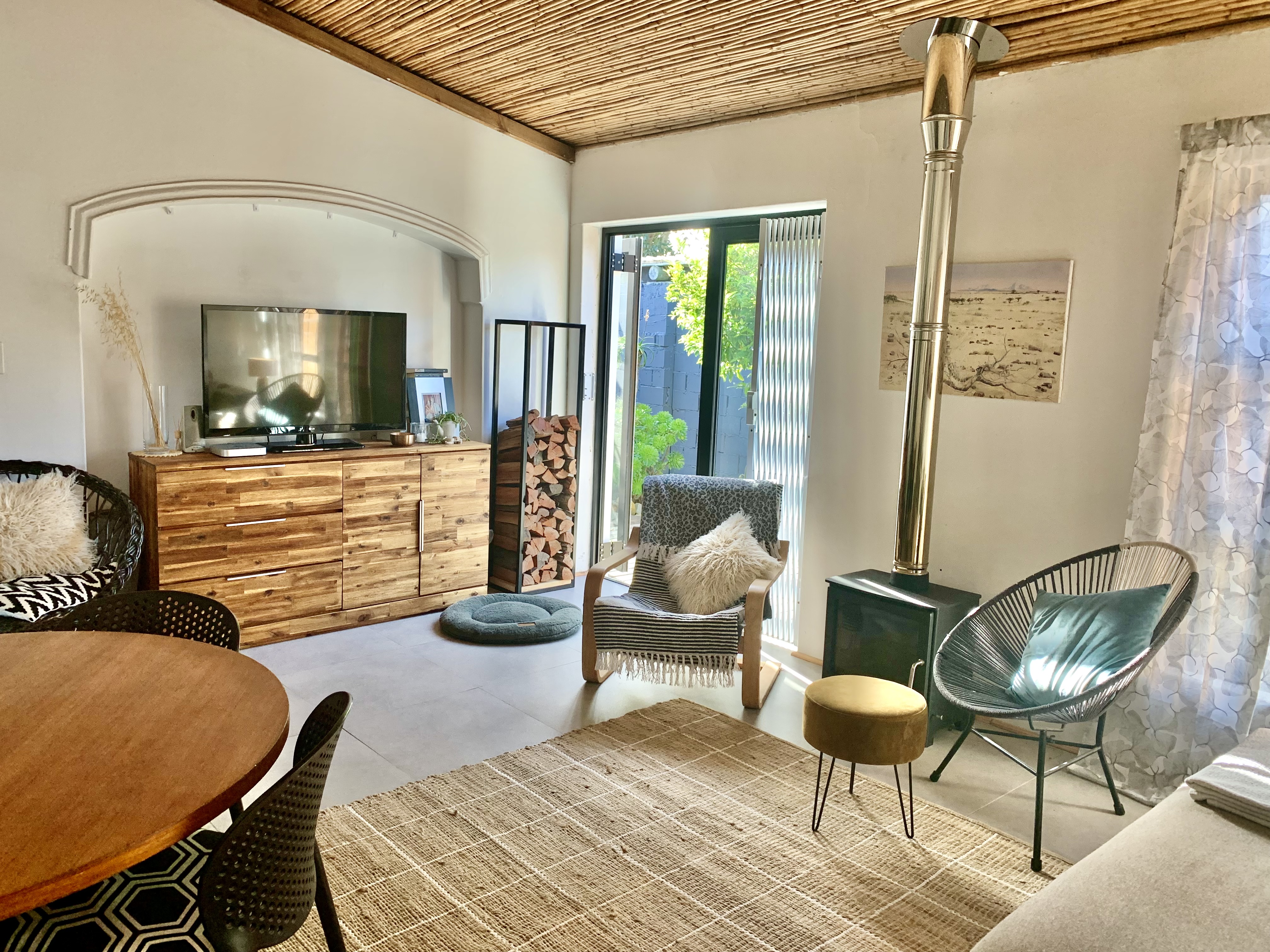 My next big addition will be an indoor tree of some kind as I feel it's missing the freshness that it needs.
---
The Bedroom Makeover
Before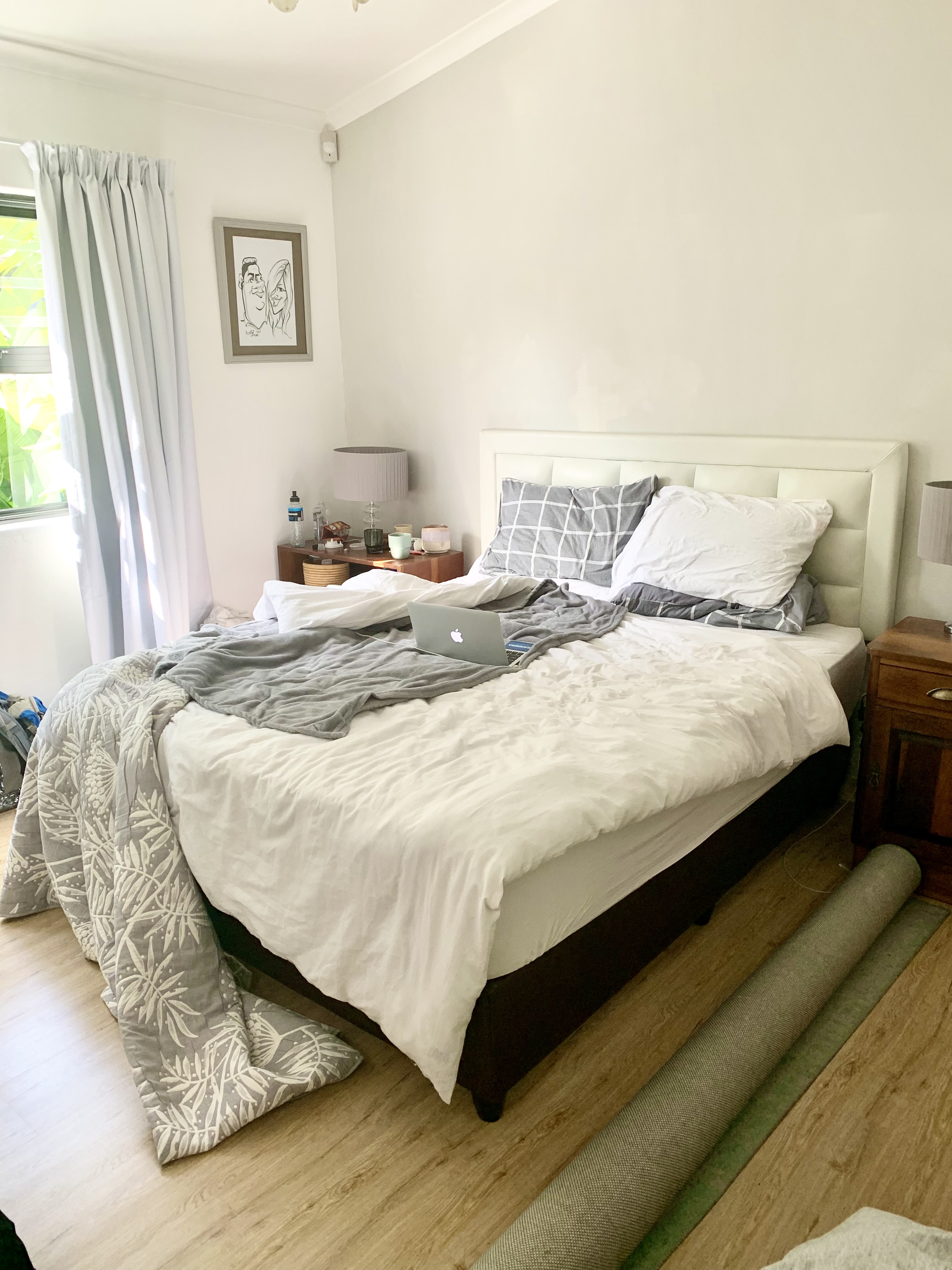 Another big mess and you can see where I've been spending my time with my laptop in bed. This is mainly because my son does homeschool during the week on the daybed couch in the lounge and tends to hog the whole space!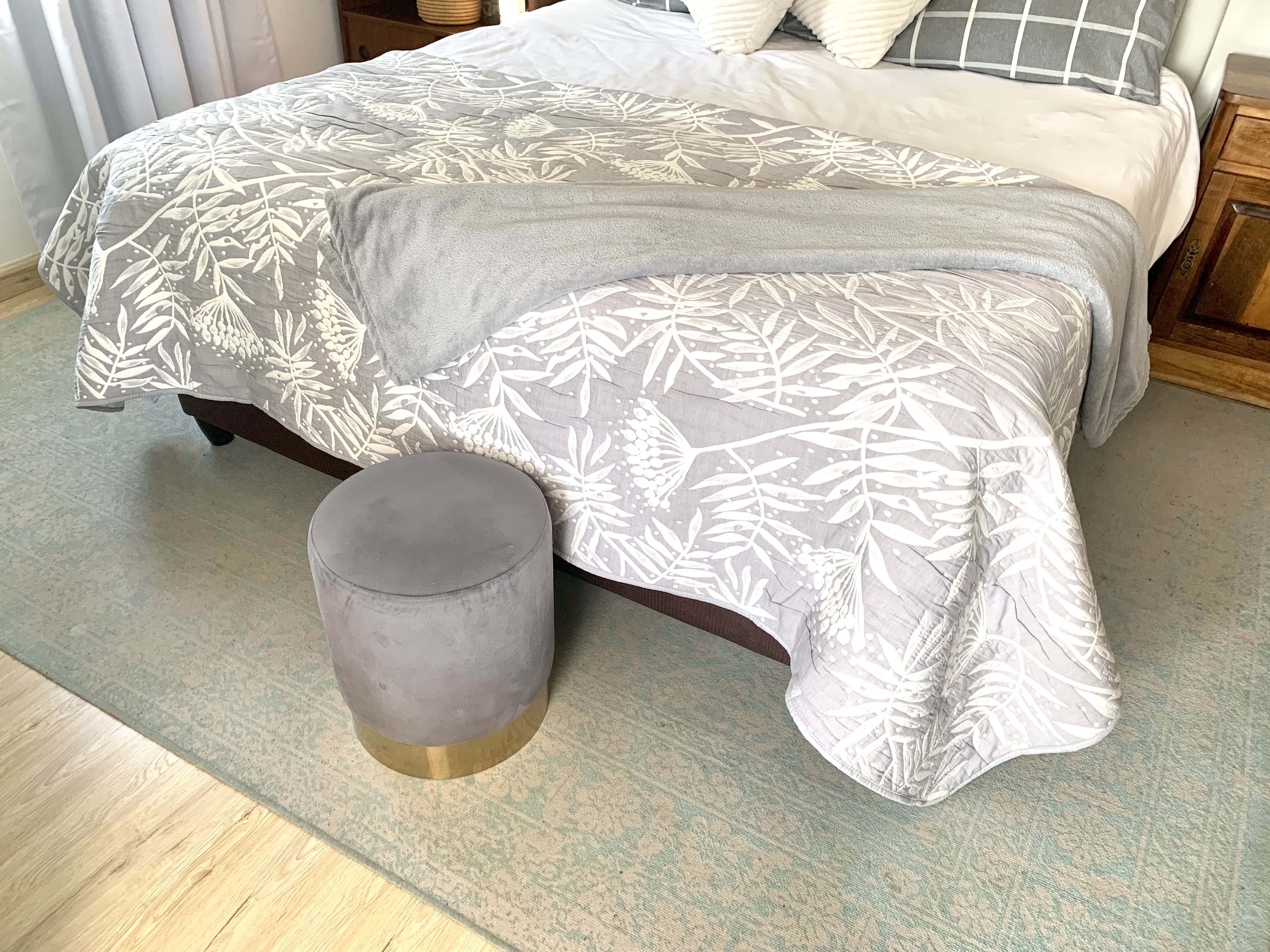 RUGS
We only had a small throw rug on the floor here before and the laminate floor exposed which has been easier to clean since we have dogs. Our two chihuahuas tend to spend a lot of time in our room with me and initially they would have some accidents, but now they are fully housetrained and we can enjoy the luxury of a decent area rug.
This rug has been in the lounge and is still in great condition so I was really a happy to move it to our bedroom. It's a more feminine print in the very pale turquoise which you will see works well with the painting that we hung above the bed.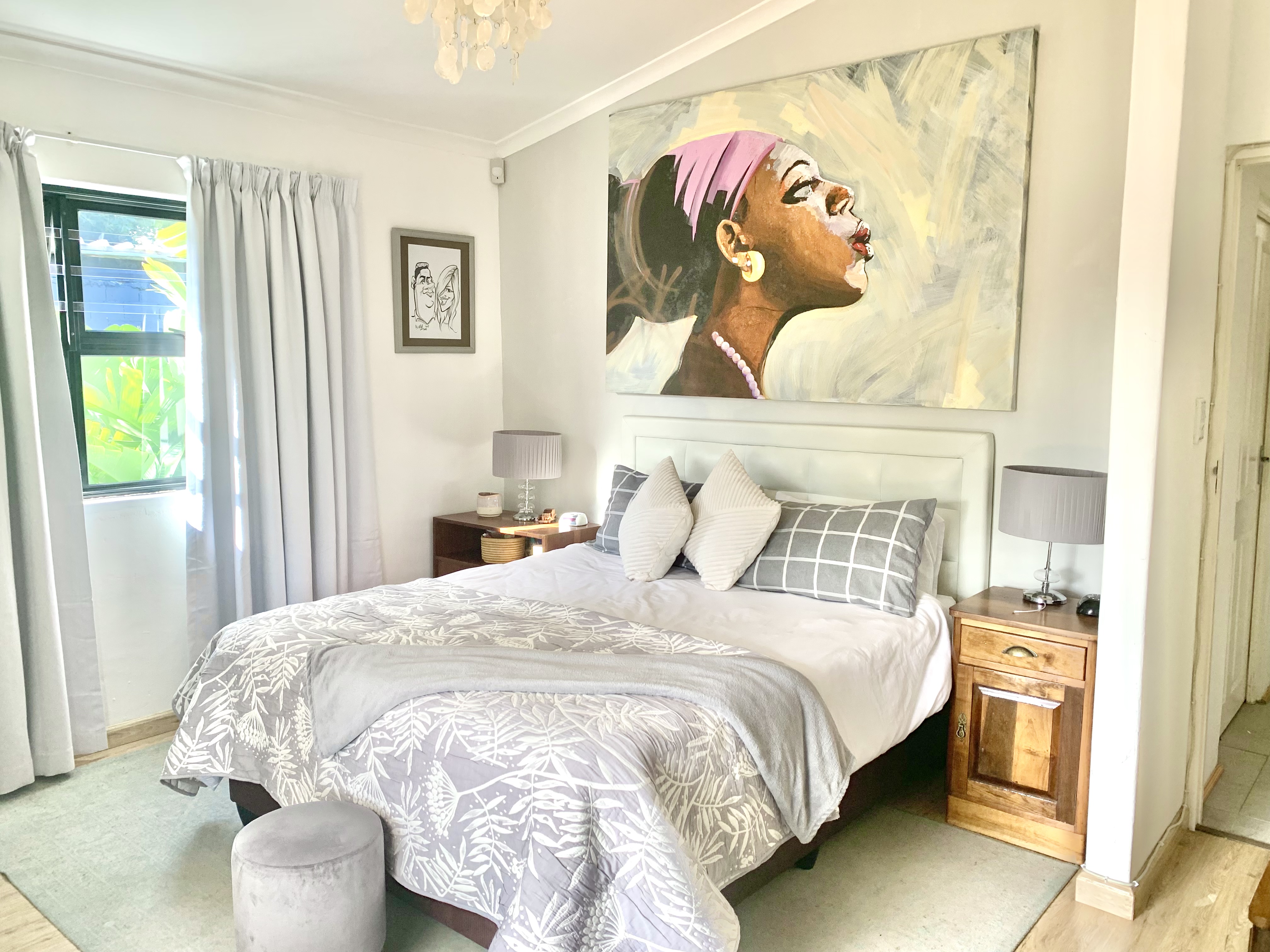 BEDDING
I switched our bedding to a crisp white set that had been shoved in the back of a cupboard (and I forgot that I had!) and added my favourite grey and white dandelion quilt and grey cross hatched pillow cases as accents.
I don't know if I'm the only one but as a parent I feel like white bedding is a luxury. Luckily my kids are now teens and don't mess quite as much as they used to when they were tiny (and every parent said, "Hallelujah!").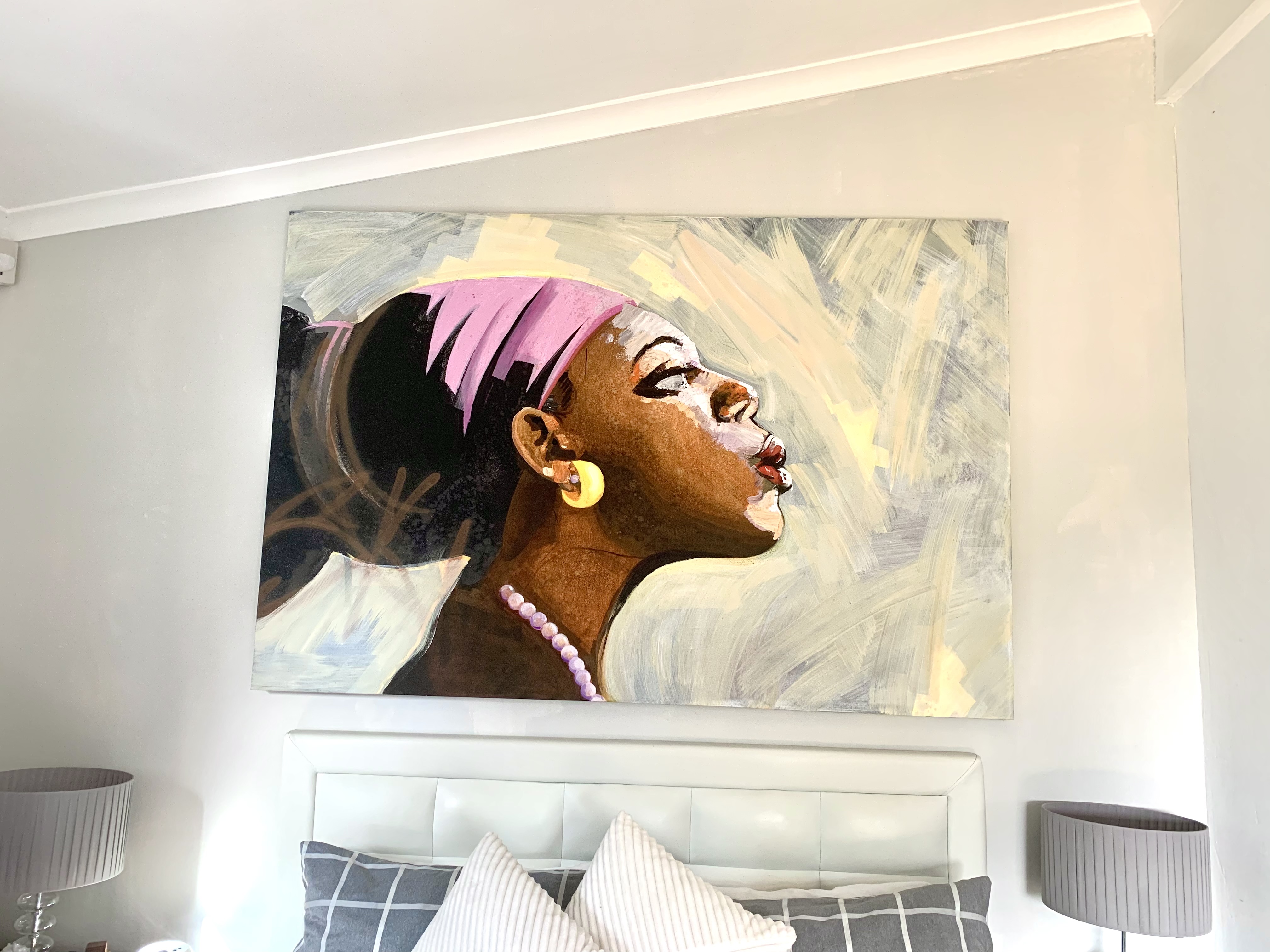 ART
My beautiful Golden Lady was relocated from the Lounge to the head of my bed on the wall that I recently painted grey. I did a pretty terrible job of the second coat and ran out of steam, but the paint effect on the background of the painting actually seems to work really well with my mottled paint job on the wall. The colour on the wall is called wrought iron and maybe if I have the energy again soon I'll give it another proper coat.
All of the art in my home is painted by my father and I sometimes search his house for pieces that are sitting around without a home and swop them out. Nothing like new art to make a room feel fresh!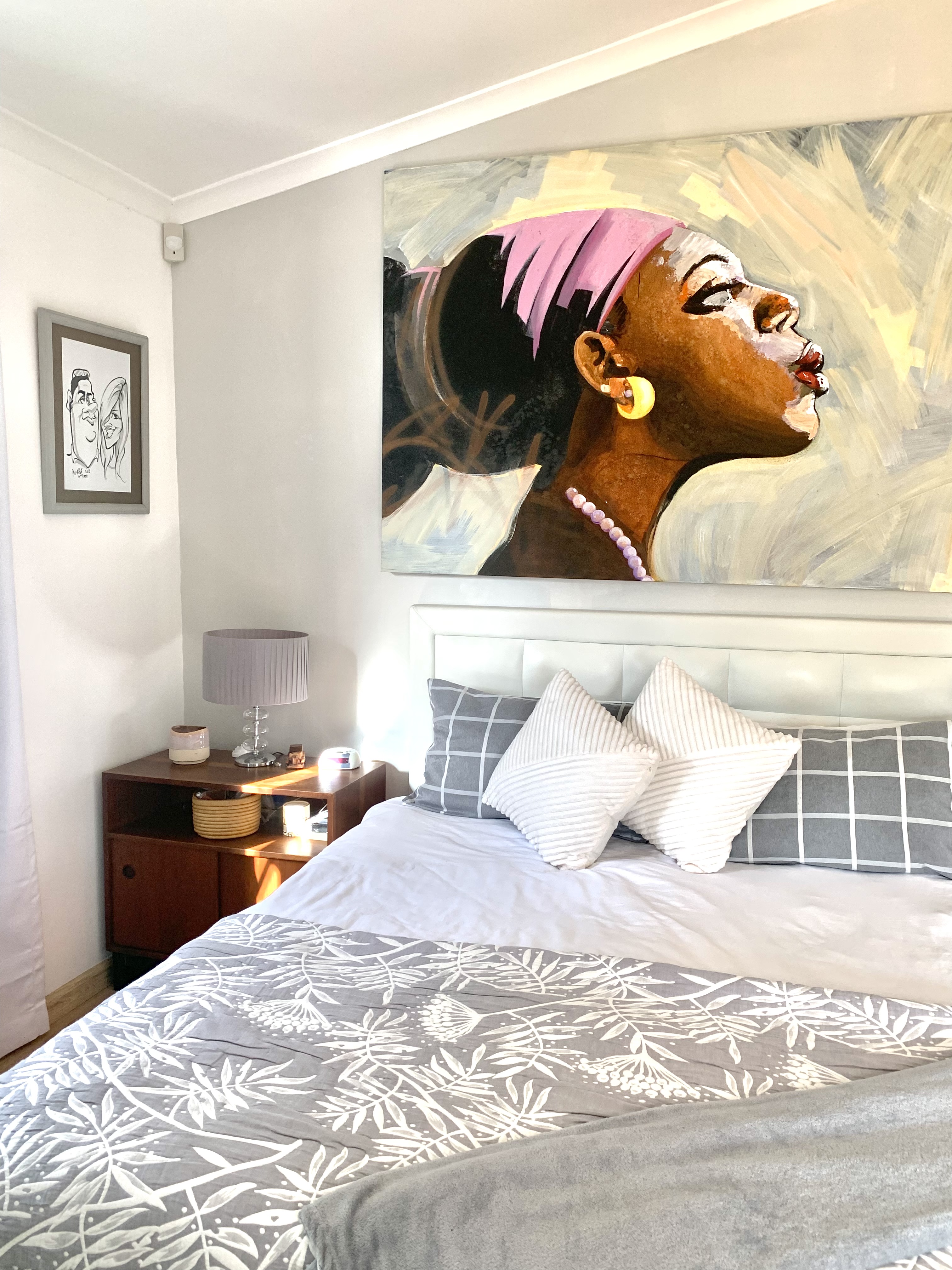 Again I'd love to add some indoor plants to the space but otherwise I'm quite happy with the result of the small changes. We also cannot change the layout of this room due to the position of the built-in wardrobes and doors and windows.
Overall I'm really a happy with Lounge and Bedroom freshen ups and best of all - it cost me NOTHING.
I ended up with a few extra things left over that I had removed from the spaces to de-clutter and they will be going into the shed to be stored. Who knows, I might just pull them out again in a few months and make some more changes. But for now I'm loving it.
Why not do a spring clean and pull out the linen stuff that is currently stuffed in the back of a cupboard and see how you can change things up to give your home a fresh "new" feel!
Now I can enjoy being stuck at home again.