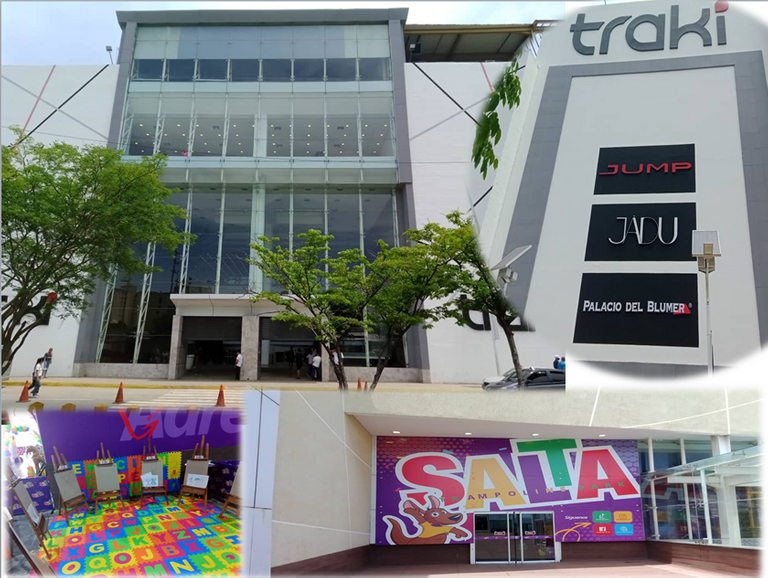 ---
INGLÉS
Hello #hive friends, it is a pleasure to greet you, I hope you are well together with your loved ones and God's blessing abound in your lives; today I want to share with you my visit to the Cumaná Shopping Center, is the largest and most modern shopping center in the city and the newest, despite being a few years old it has been renamed several times, initially its name was Traky Mall, then it was designated Hipergalerias, currently the name is Centro Comercial Cumaná (information provided by a security agent).
ESPAÑOL
Hola amigos de #hive, es un placer saludarles, espero se encuentren bien en unión de sus seres queridos y la bendición de Dios sobreabunde en sus vidas; hoy deseo compartir con ustedes mi visita al Centro Comercial Cumaná, es el centro comercial más grande y moderno de la ciudad y el más nuevo, a pesar de tener pocos años se le ha cambiado el nombre varias veces, inicialmente su nombre era Traky Mall, luego lo designaron Hipergalerias actualmente el nombre es Centro Comercial Cumaná (información suministrada por un agente de seguridad).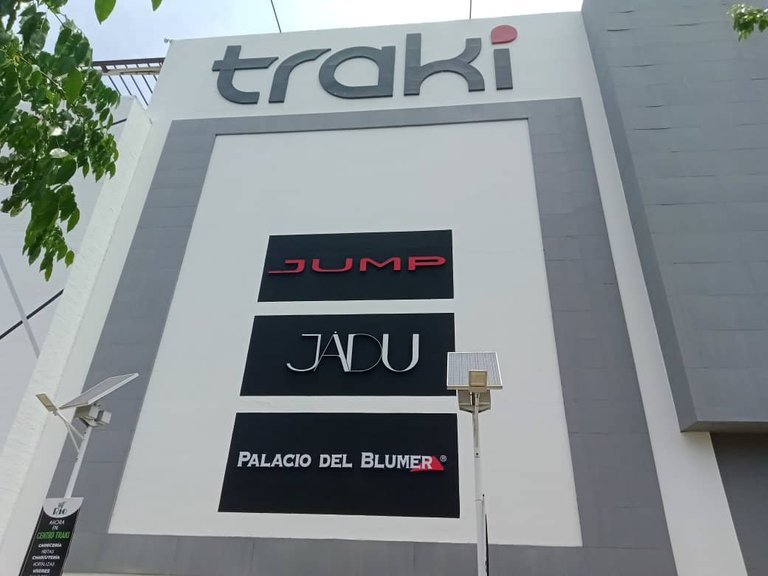 ---
It is located on Humboldt Avenue and has easy access, from downtown, just walk 5 minutes and you arrive; if you prefer you can also access by public transportation, there is a bus line that passes in front of the mall; it is divided into three levels, also has a basement (where the parking is located) and terrace; you can enter the parking lot near the fountain or by elevator that takes you directly to the levels and terraces.
Está ubicado en la Avenida Humboldt y tiene fácil acceso, desde el centro de la ciudad, solo caminas 5 minutos y llegas; si prefieres también puedes acceder en transporte público, hay una linea de buses que pasa por el frente del centro comercial; está dividido en tres niveles, además posee un sótano (donde se ubica el estacionamiento) y terraza; puedes entrar por el estacionamiento cerca de la fuente o por ascensor que te lleva directo a los niveles y terraza.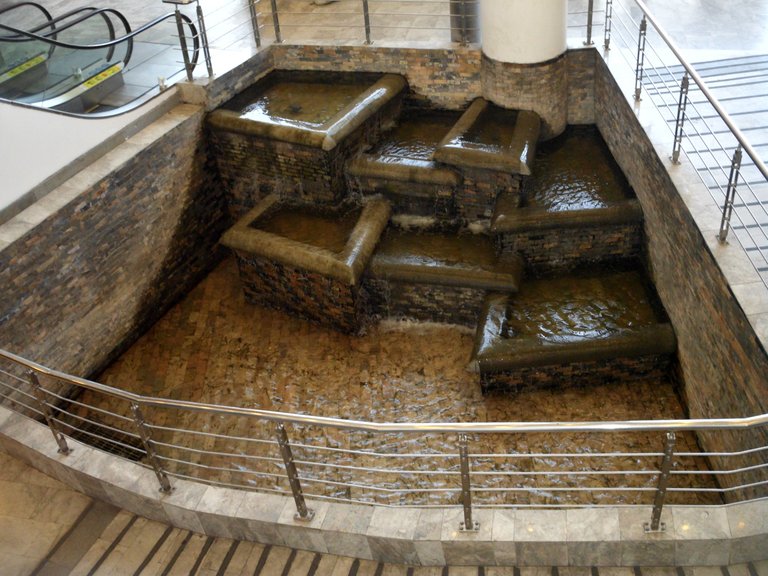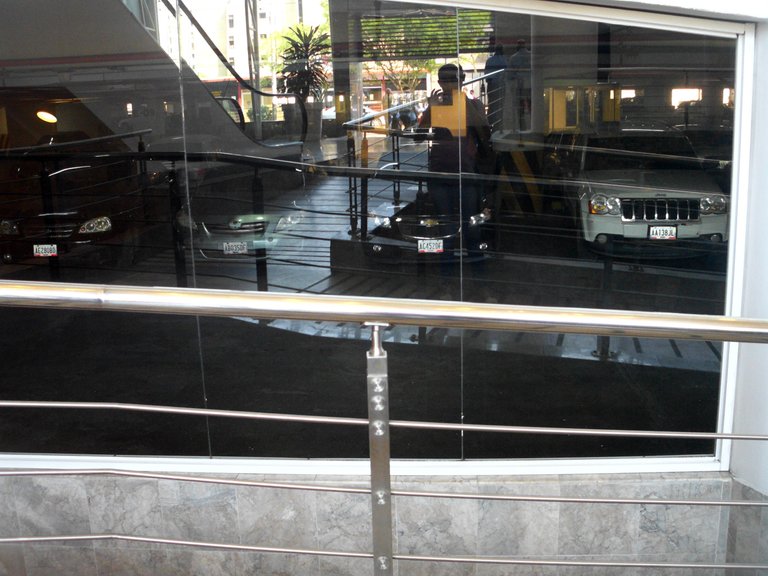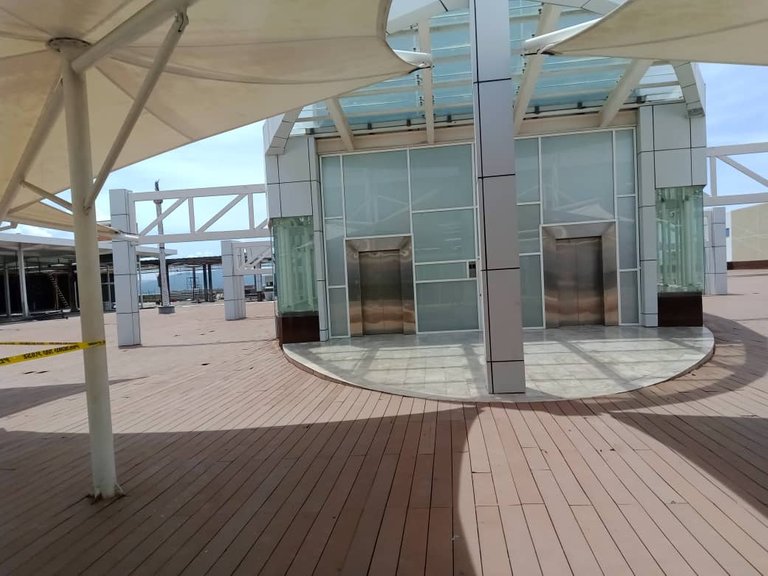 ---
Already in the first level called Sucre, there are several clothing stores, food and a very new "Rio", a supermarket that is very popular due to the variety of products offered and low prices, plus some very curious benches with a palm tree in the middle where you can rest and contemplate the interior of the mall; On this level are also located the escalators that give access to the next level and a very special space in the mall, which at Christmas is decorated with great care for the family to enjoy and take beautiful pictures for the memory of your visit to the mall at Christmas time.
Ya en el primer nivel llamado Sucre, existen varias tiendas de ropa, comida y una muy nueva "Río", un supermercado muy concurrido debido a la variedad de productos que ofrece y los precios bajos, además unos bancos muy curiosos con una palmera en el medio donde se puede descansar y contemplar el interior del centro comercial; en este nivel también se ubican las escaleras eléctricas que dan acceso al siguiente nivel y un espacio muy especial en el centro comercial , que en navidad es decorado con mucho esmero para que la familia disfrute y tome hermosas fotografías para el recuerdo de su visita al centro comercial en la época decembrina.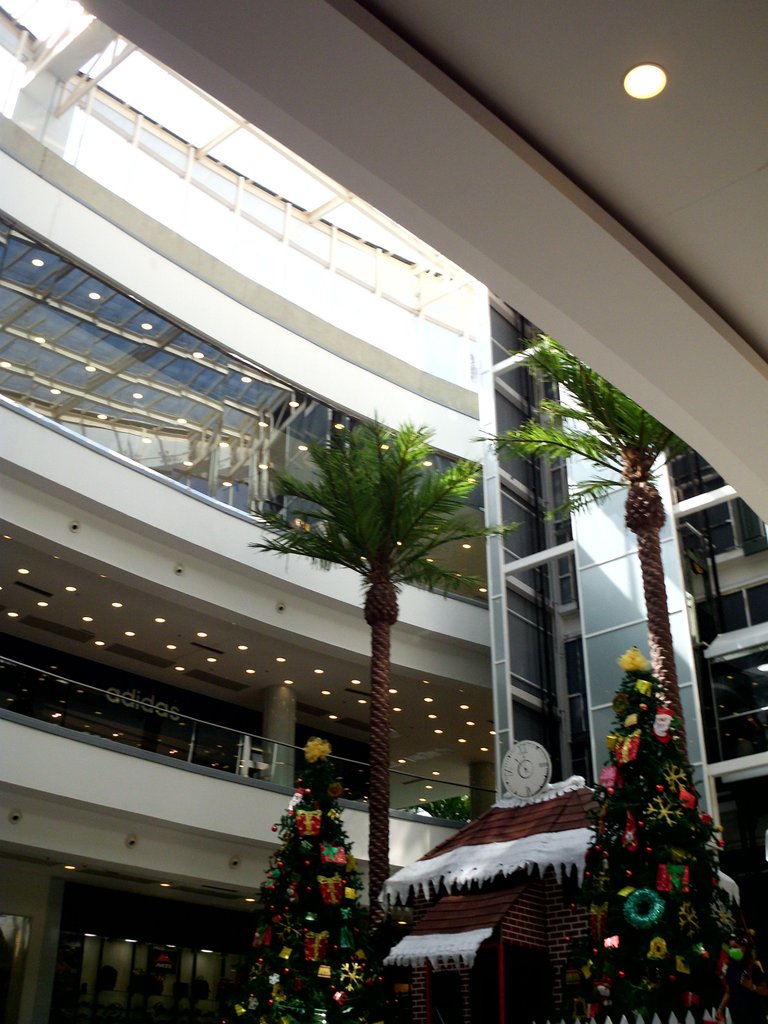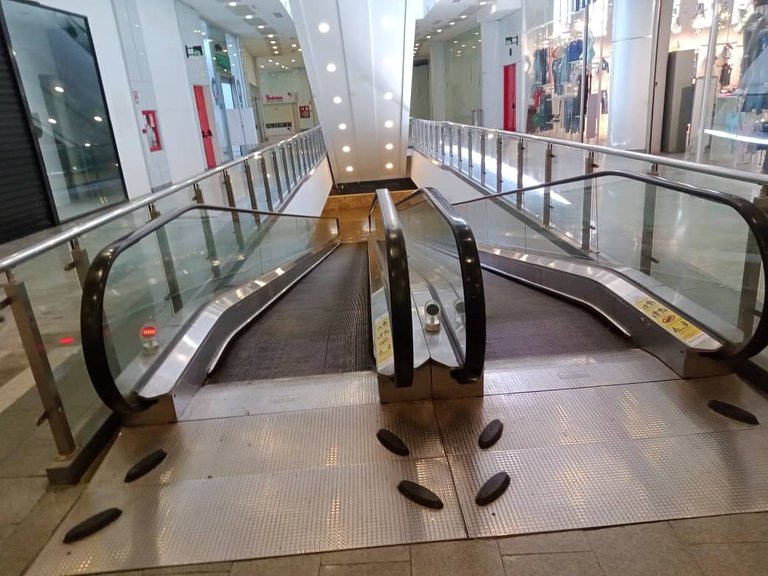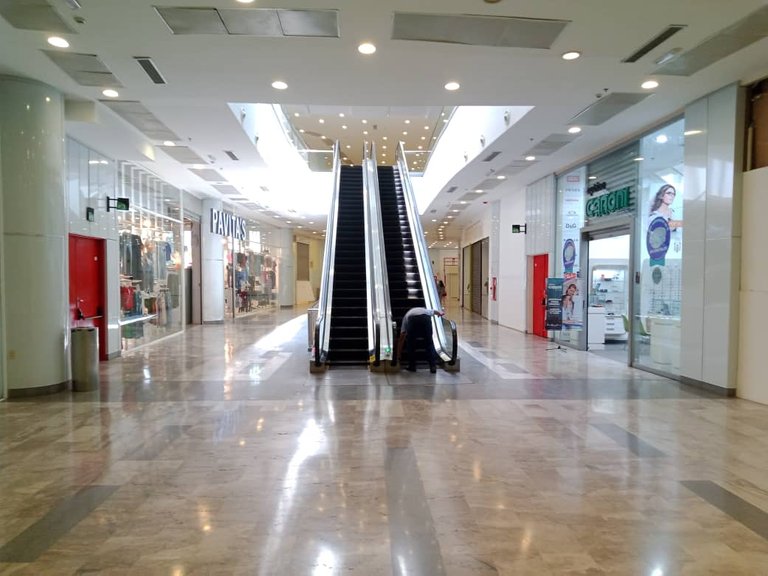 ---
On the second level Ayacucho you will find several clothing stores, food, bookstore and the largest appliance store in the city. To share and enjoy a walk with the family this mall offers all the options and most importantly you can use public transportation to get there.
En el segundo nivel Ayacucho se encuentra varias tiendas de ropa, comida, librería y la tienda de electrodomésticos más grande de la ciudad. Para compartir y disfrutar un paseo en familia este centro comercial ofrece todas las opciones y lo más importante puedes usar el transporte público para llegar a él.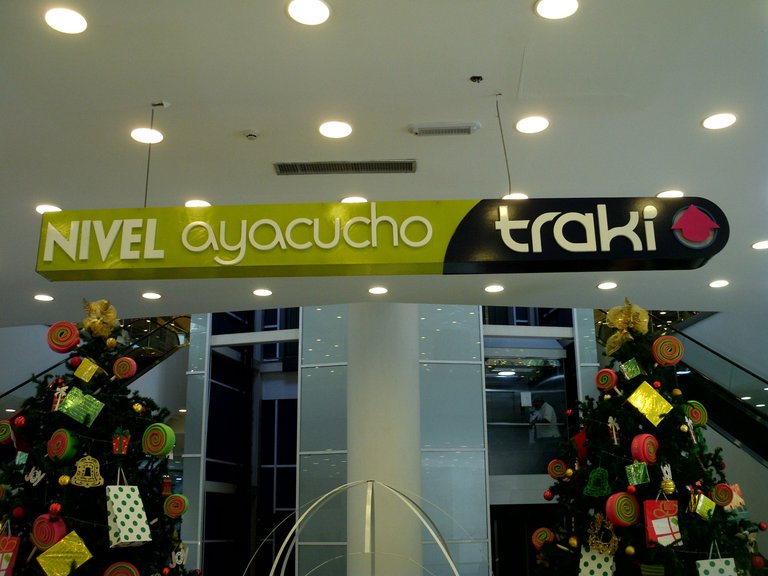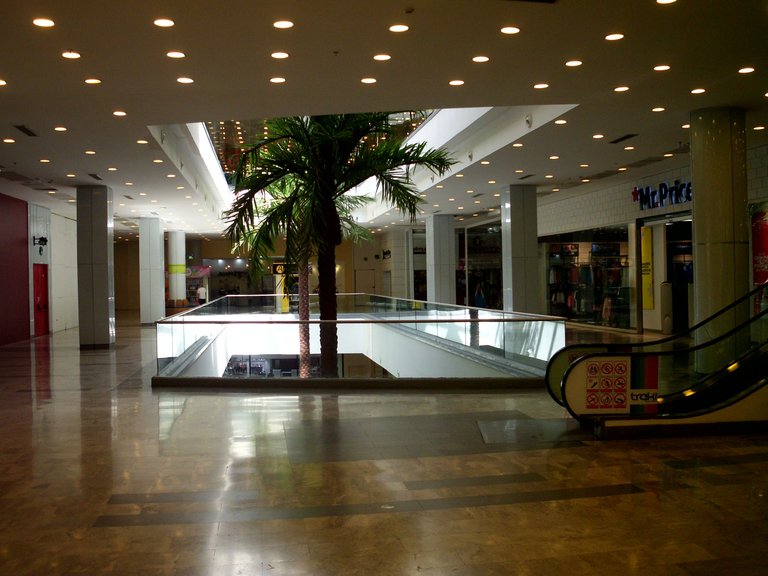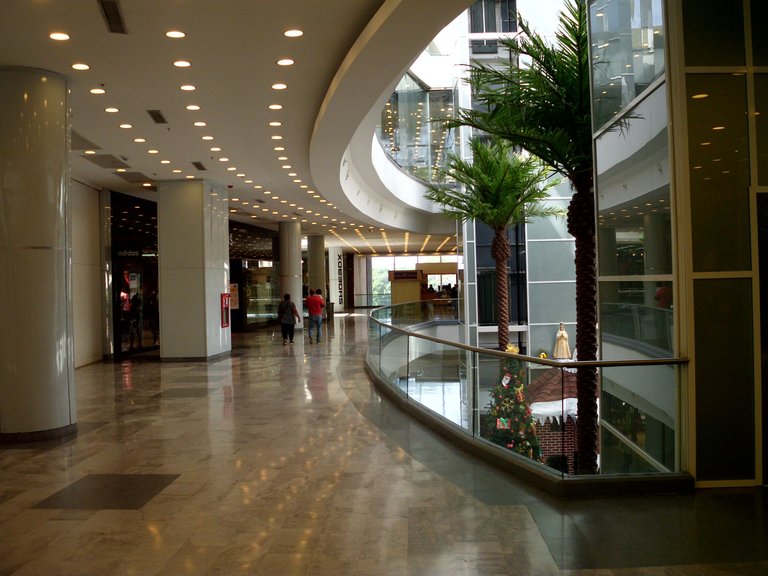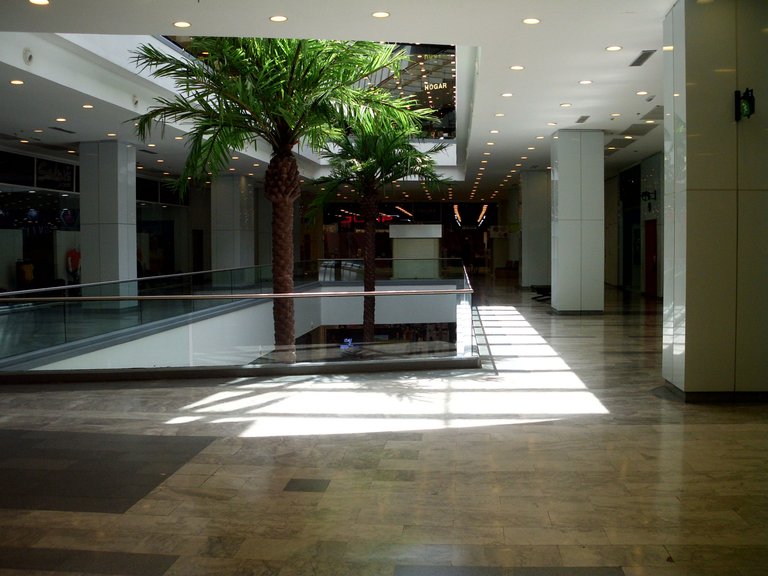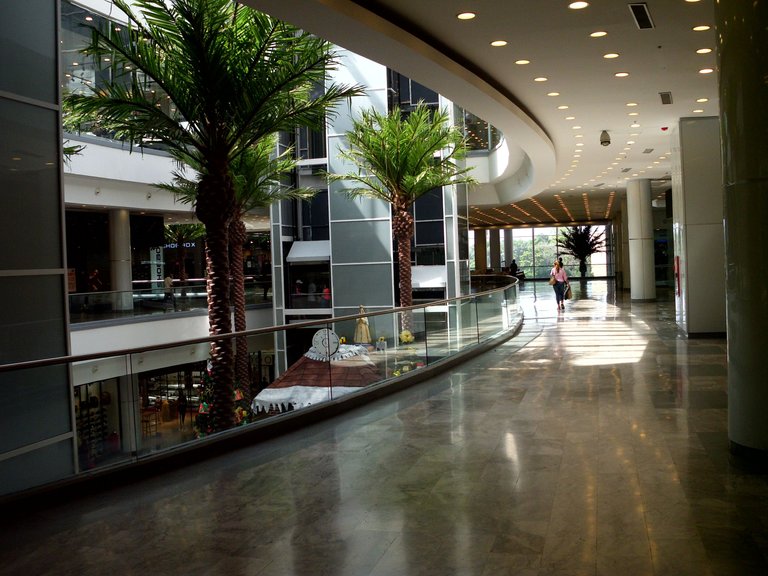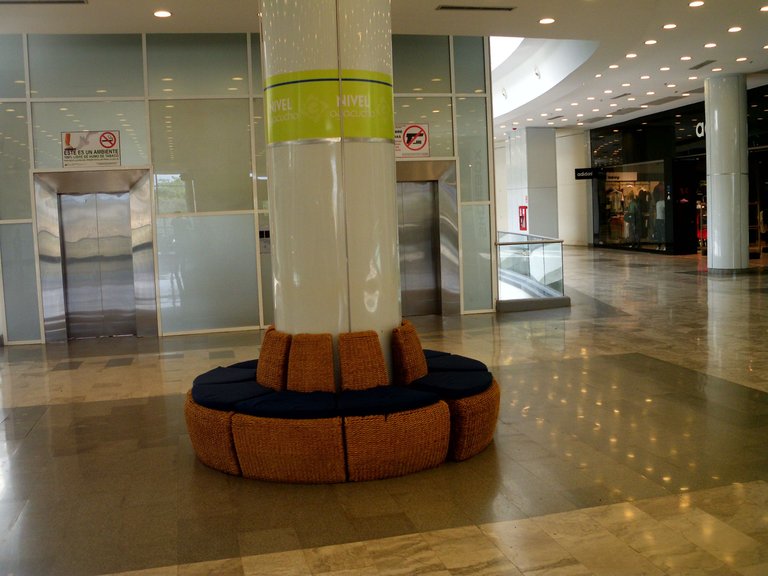 ---
On the third level is located the Traky store, a department store that is the largest in the mall, this was the destination that my family and I had when visiting this mall; the Traky store, to buy uniforms and school supplies; since the school year is about to start, checking this store requires a lot of time at least 6 hours, there is so much to see that if you lose focus of the objective you end up buying what you had planned, if you go to the home department there is so much to choose from that I preferred not to go and keep my goal in the uniforms and supplies for my son, to our surprise we could not buy the uniform because the sizes were too small, we still went on our way and enjoyed the ride.
En el tercer nivel se ubica la tienda Traky, una tienda por departamentos que es la más grande del centro comercial, este era el destino que teníamos mi familia y yo al visitar este centro comercial; la tienda Traky, para comprar los uniformes y útiles escolares; ya que el año escolar está próximo a iniciar, revisar esta tienda requiere bastante tiempo al menos 6 horas, hay tanto que ver que si te desenfocas del objetivo terminas comprando lo que habías planificado, si vas al departamento de hogar hay tanto por escoger que preferí no ir y mantener mi objetivo en los uniformes y útiles de mi hijo, para nuestra sorpresa no pudimos comprar el uniforme porque las tallas eran muy pequeñas, igual seguimos nuestro camino y disfrutamos el paseo.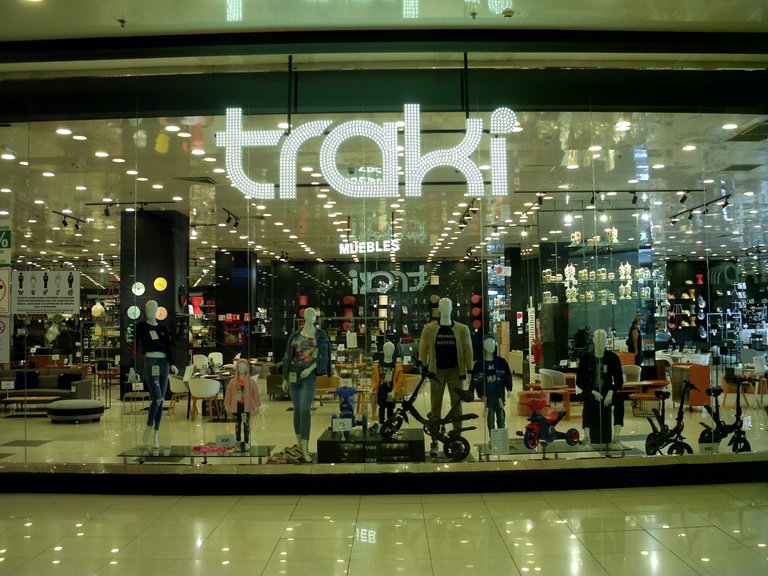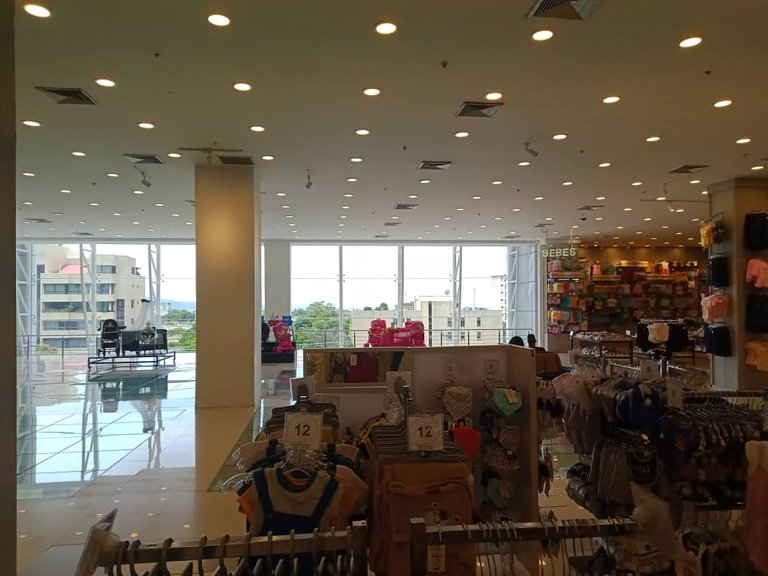 ---
We continued our tour and arrived at the terrace or food fair, where they offer a great gastronomic variety with dishes from different countries, the most requested menu are those of Arturo's, which is generally based on pieces of very crispy chicken accompanied with salad and arepas, plus delicious ice cream and cakes to share with family, in this particular area there is a terrace in a northwest direction, with tables and chairs that is very busy for meetings in groups or family and also to take the best photos; Since from there you can see the peninsula of Araya (located in front of Cumana) and various sectors of the city; in the peak hours (4 to 6 pm is a little difficult to capture the best photos, because several groups of young people come to this place to share and take the best selfies).On this visit I did not miss the opportunity to take these beautiful pictures, taking advantage of the fact that there were not many people in the place, we also enjoyed a delicious dessert.
Continuamos nuestro recorrido y llegamos a la terraza o feria de comida, donde ofrecen una gran variedad gastronómica con platillos de diferentes países, los menú más solicitados son los de Arturo's, que está basado generalmente en piezas de pollos muy crocante acompañados con ensalada y arepas, además deliciosos helados y tortas para compartir en familia, en esta zona en particular hay una terraza en sentido nor oeste, con mesas y sillas que es muy concurrida para reuniones en grupos o familiares y también para tomar las mejores fotos; ya que desde allí se puede avistar la península de Araya (ubicada al frente de Cumaná) y varios sectores de la ciudad; en las horas picos ( 4 a 6 de la tarde es un poco difícil, capturar las mejores fotos, debido a que varios grupos de jóvenes se dan cita a este lugar para compartir y sacar las mejores selfies). En esta visita no perdí la oportunidad de tomar estas hermosas fotos, aprovechando que no habían muchas personas en el lugar, también disfrutamos unos deliciosos postres.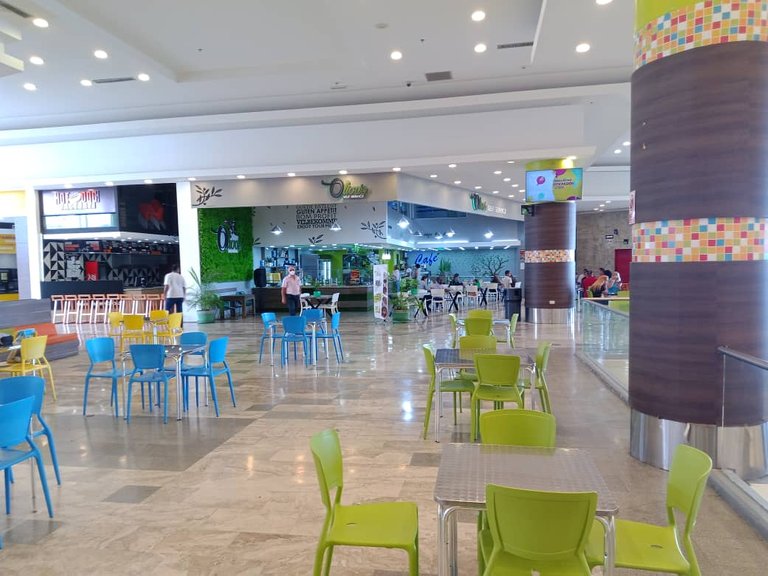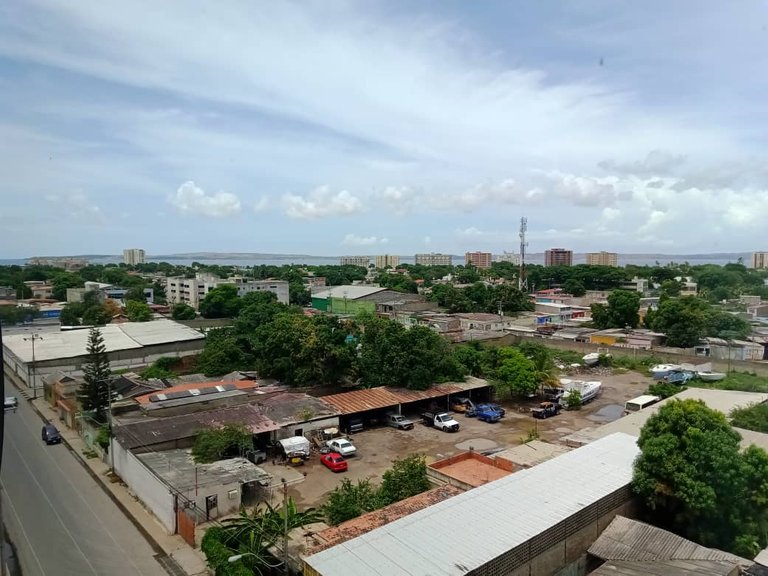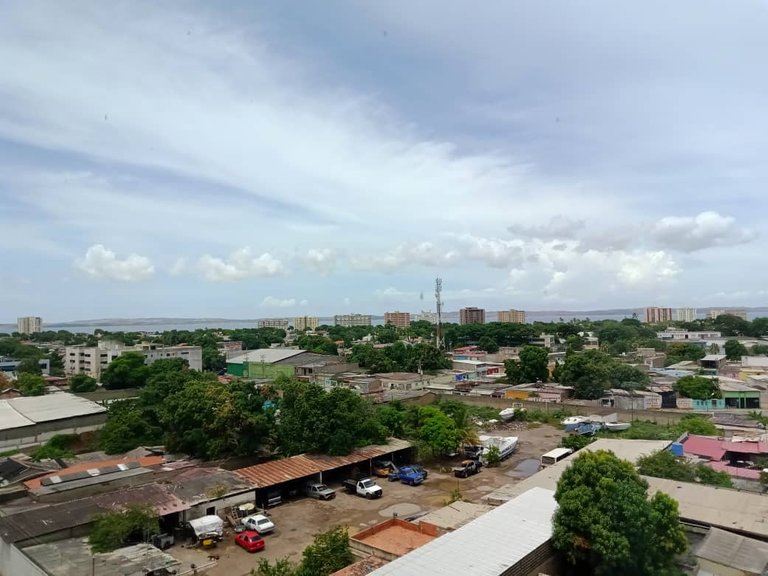 ---
And if it's about fun for the little ones, the mall has a beautiful park Salta Park, which offers children a wide range of attractions and fun, such as the climber, which consists of several nets and vertical sense and with the help of the guide and their respective safety belt the child climbs, if there is no guide available for these networks the child must wait his turn, Another attraction is the Pony ride, it is ideal for the little ones, parents have the option to accompany them on this tour, also the foam rubber pool, for the enjoyment of the little ones, accompanied by the guides and usually only three children per round; It also has a drawing area, with all the implements for the child to develop their creative power to the maximum, the legos area where they can create their favorite characters and the tennis area where they can play and share with their friends, this park is very complete and the guides are responsible for the child to enjoy their stay to the maximum.
Y si de diversión para los pequeños se trata, el centro comercia cuenta con un hermoso parque Salta Park,el cual ofrece a los niños una amplia gama de atractivos y diversión, como el escalador, que está formado por varias redes en sentido vertical y con la ayuda del guía y su respectivo cinturón de seguridad el niño sube, si no hay guía disponible para estas redes el niño debe esperar su turno, solo se le permite al niño escalar acompañado de un guía, Otro de los atractivos es el paseo en Pony, es ideal para los más pequeños los papás tienen la opción de acompañar en este recorrido, también la piscina de goma espuma, para el disfrute de los pequeños, acompañados de los guías y por lo general solo entran tres niños por ronda; cuenta además con una zona de dibujo, con todos los implementos, para que el niño desarrolle al máximo su potencial creativo, la zona de legos donde pueden crear sus personajes favoritos y la zona de Tenis donde pueden jugar y compartir con sus amigos, este parque es muy completo y los guías se encargan de que el niño disfrute al máximo su estadía.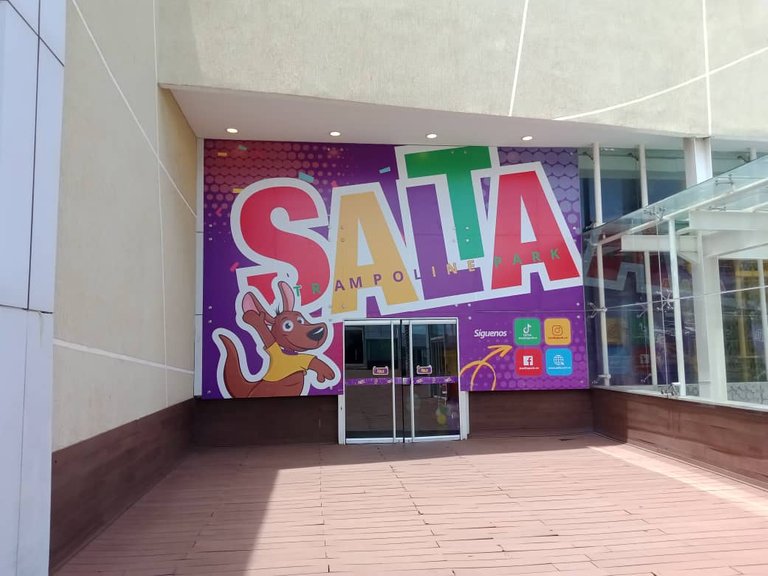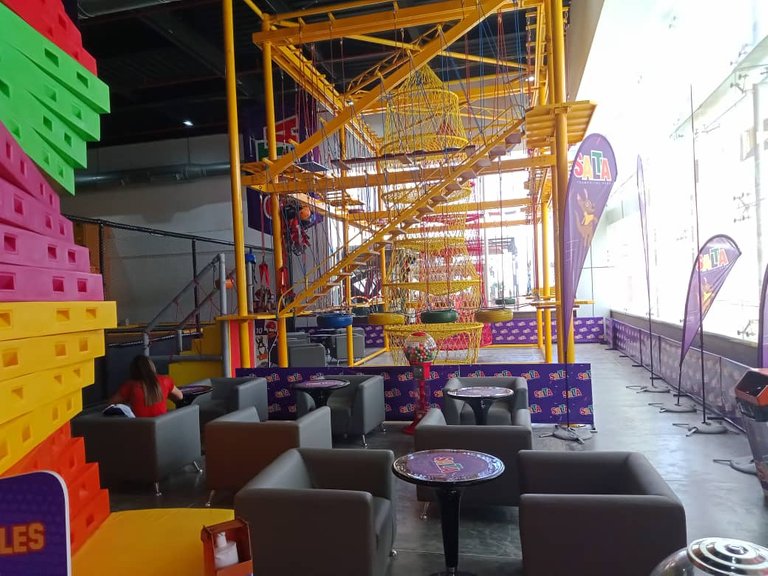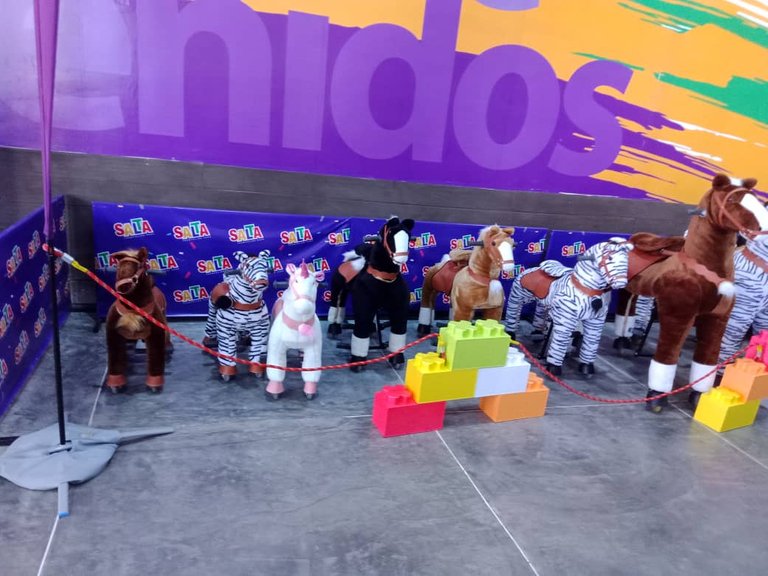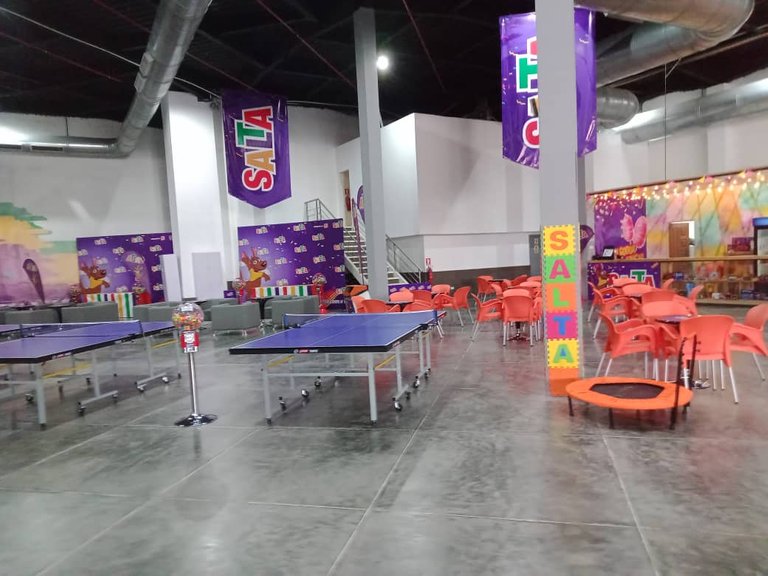 ---
We ended our tour, in the south west part of the mall, from there you can see a panoramic view of the city and the perimeter avenue, in the background you can see a wine-colored building, which is another shopping center of the city, our walk was fun and we spent a very nice time with our family; although we did not achieve our goal was to buy the uniform of my son, we took advantage of our walk to see different parts of the city and enjoy the gentle breeze on the terrace.
Finalizamos nuestro recorrido, en la arte sur oeste del centro comercial, desde allí se aprecia una panorámica de la ciudad y la avenida perimetral, al fondo se observa una edificación color vino, que es otro centro comercial de la ciudad, nuestro paseo fue muy divertido y pasamos un rato muy agradable en familia; aunque no logramos nuestro objetivo que era comprar el uniforme de mi hijo, aprovechamos nuestro paseo para avistar diferentes partes de la ciudad y disfrutar la suave brisa en la terraza.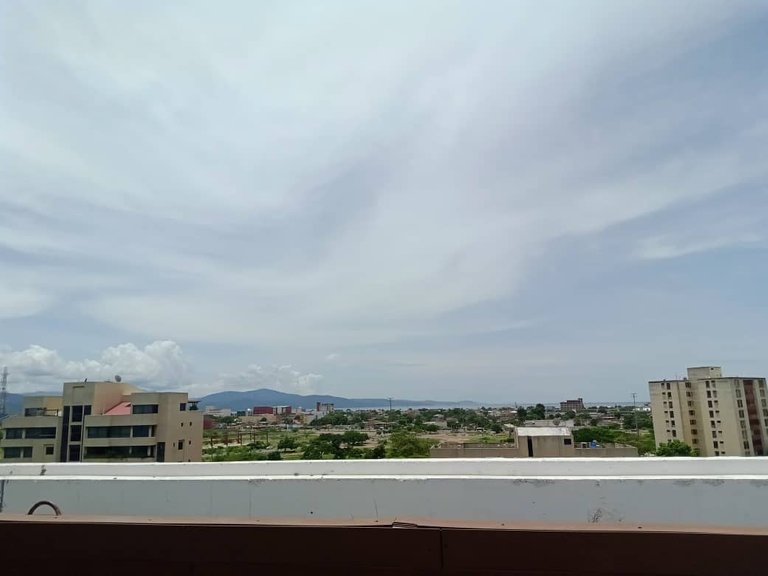 ---


---
---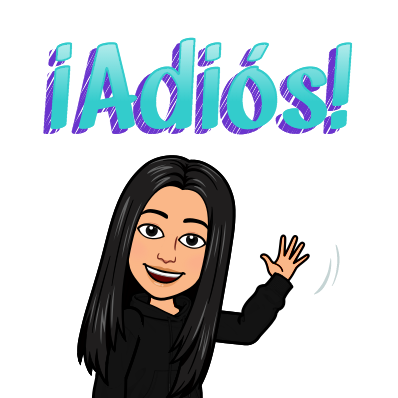 ---
Translated with https://www.deepl.com/translator
          

All

 images are my own, captured by 

a

 Síragon LC-

3000

 camera. 
                                                               
   Todas las imágenes son de mi autorí

a

, capturadas por una cámara Síragon LC-

3000

.