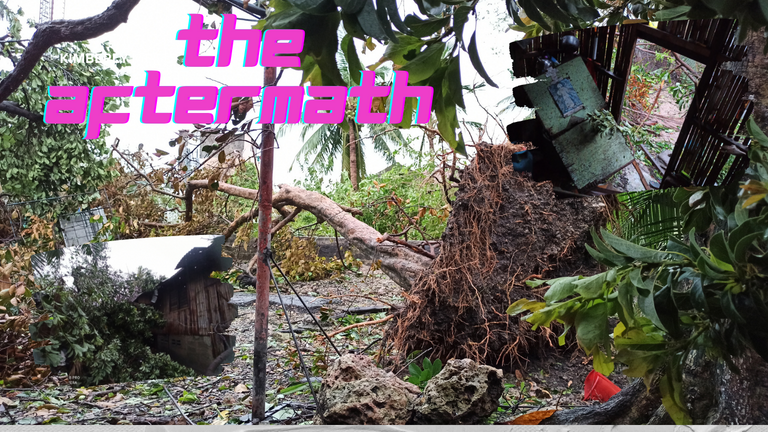 It was early Thursday morning when I heard that Cebu was already in signal 3. I was kind of questioning it, like really?? It was just a very light rainfall to nothing when I decided to leave home and head to work. My umbrella was ready but I was not able to use it. I was kind of relieved thinking this typhoon couldn't do too much damage.
While I was inside the office doing all the usual stuff I do and assisting some of our crew, I noticed the heavy rain outside. Though it did not bother me too much.
At 2 in the afternoon our branch manager told me that I can just head home early because of the typhoon. But, I did not listen. I just told her that I'll just stay a little longer and wait for the rain to at least stop. At almost 4 pm, the cadets were slowly heading home so I also did.
When I arrived home, I saw that a big branch of the avocado tree was already leaning in our balcony roof and damaged it. But yet again, it did not bother me much. Just like the usual days, I called my brother to open the door but my father opened it instead. I asked where my brother was and my father told me that my they(my brother and mother) went to our neighbor's house to have a stronger shelter while the typhoon has not yet landed.
The foundation of our house is concrete but majority is made up of wood. This is also a very old house. We have been renting this house since I was in grade 1. So, if you can just imagine how old this house is.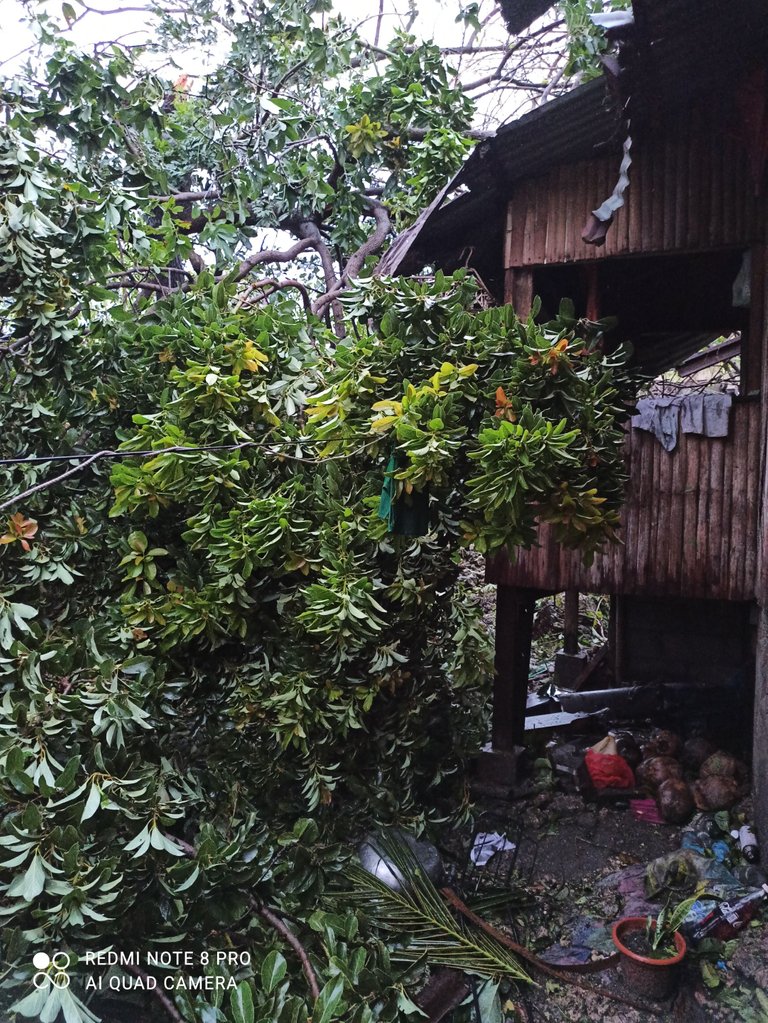 See the big branch of the tree that landed in our balcony roof? It made a big damage too but somehow, I got used to it because even during ordinary days, there were really branches falling from the trees around our house.
For more than 20 years, this has been my safe place especially my room. But sad to say this is our home now.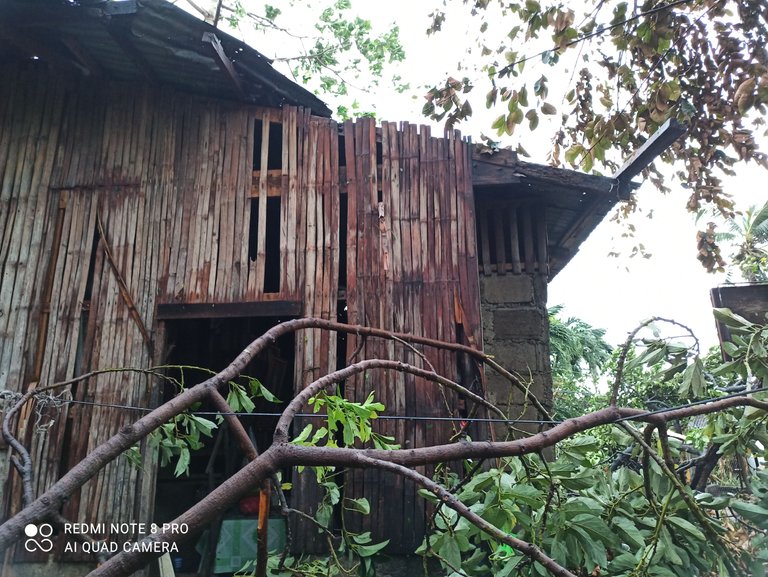 Our place is surrounded with different trees and plants. During good weather, we always feel cool and very much thankful because even though we are in the city, we still see greens around and not just buildings. We still feel that nature is just very near. But, during typhoons, we always get nervous and anxious. Afraid that trees might fall and damage the house. I remember during typhoon Haiyan or the Typhoon Yolanda, it was categorized as a super typhoon but it did not caused too much damage in our area. But now, look at these photos. Branches everywhere. The strong wind has made the trees around surrender.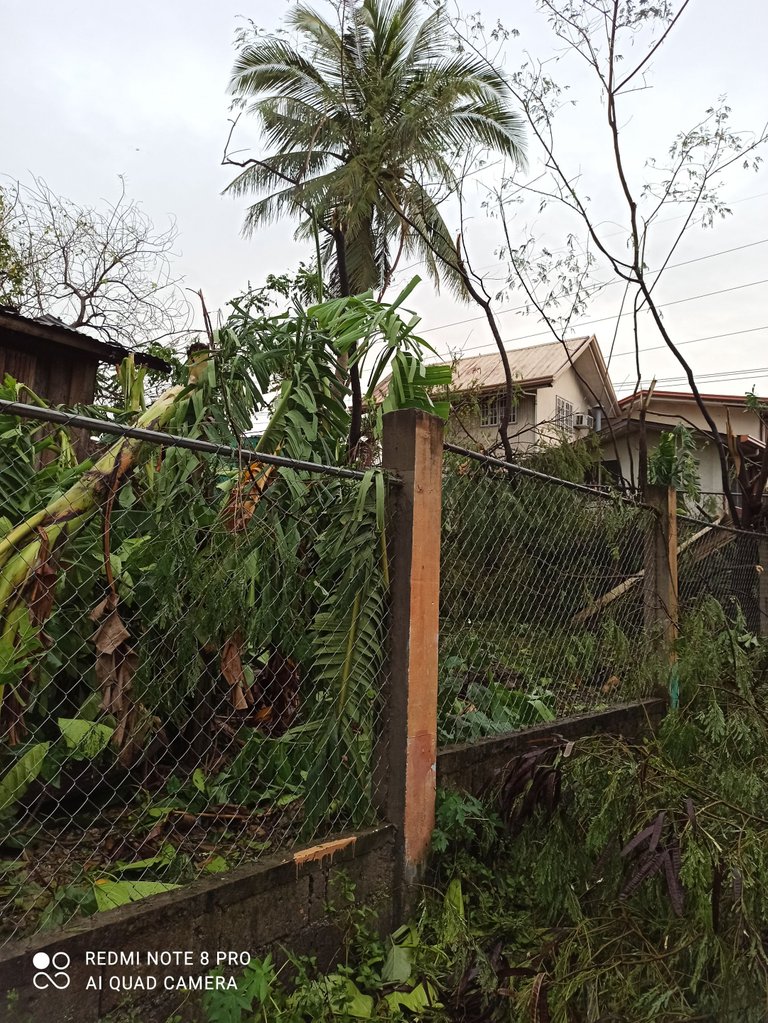 The back portion of the house.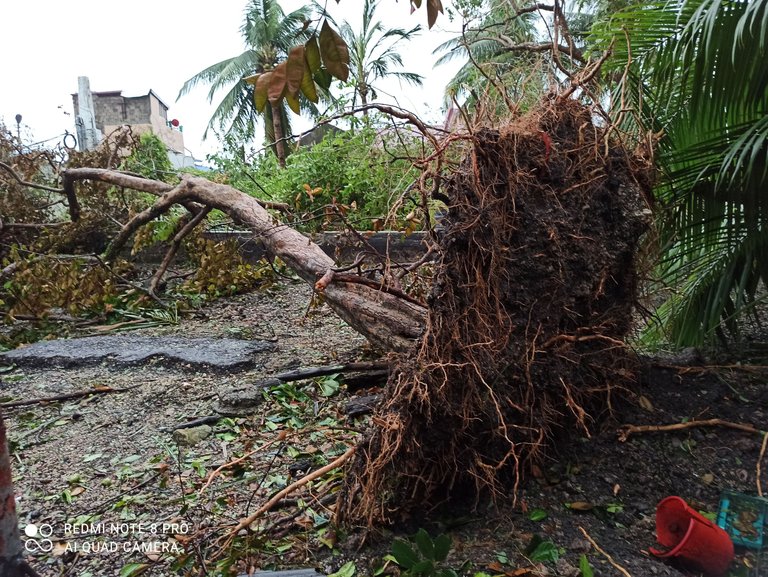 The big star apple tree beside our house. Glad that it did not land on the side part of the house because if it did, our whole kitchen will be destroyed.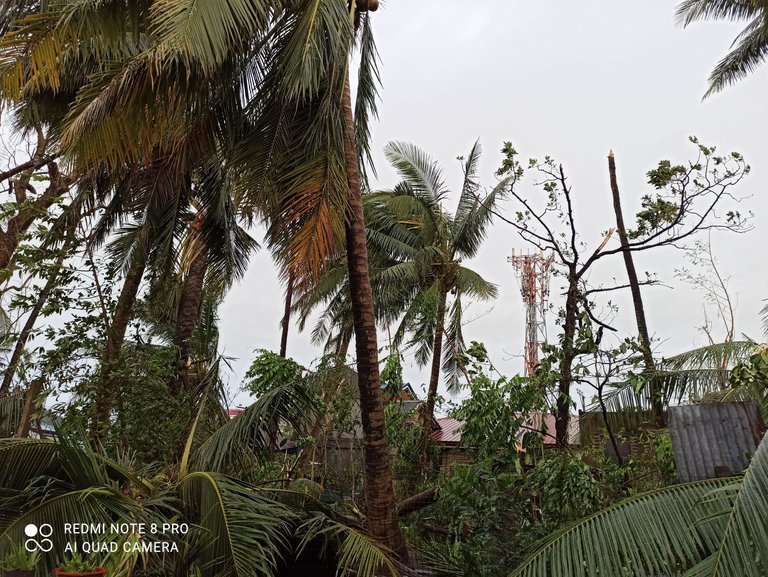 Most of the coconut trees where damaged by the strong winds.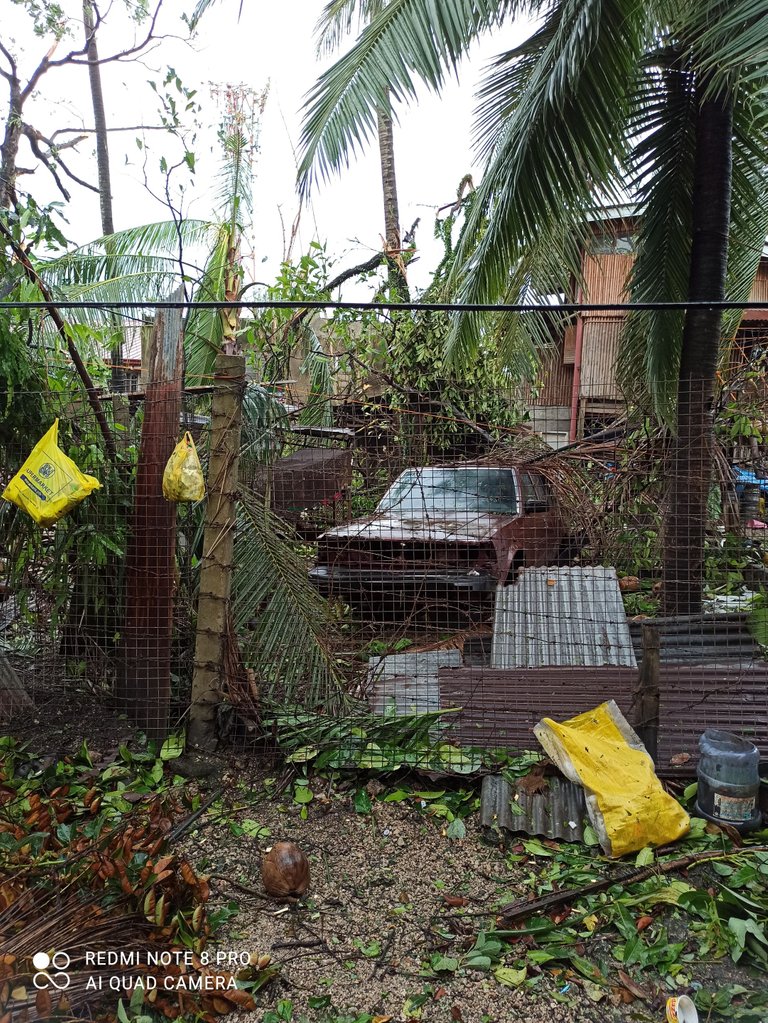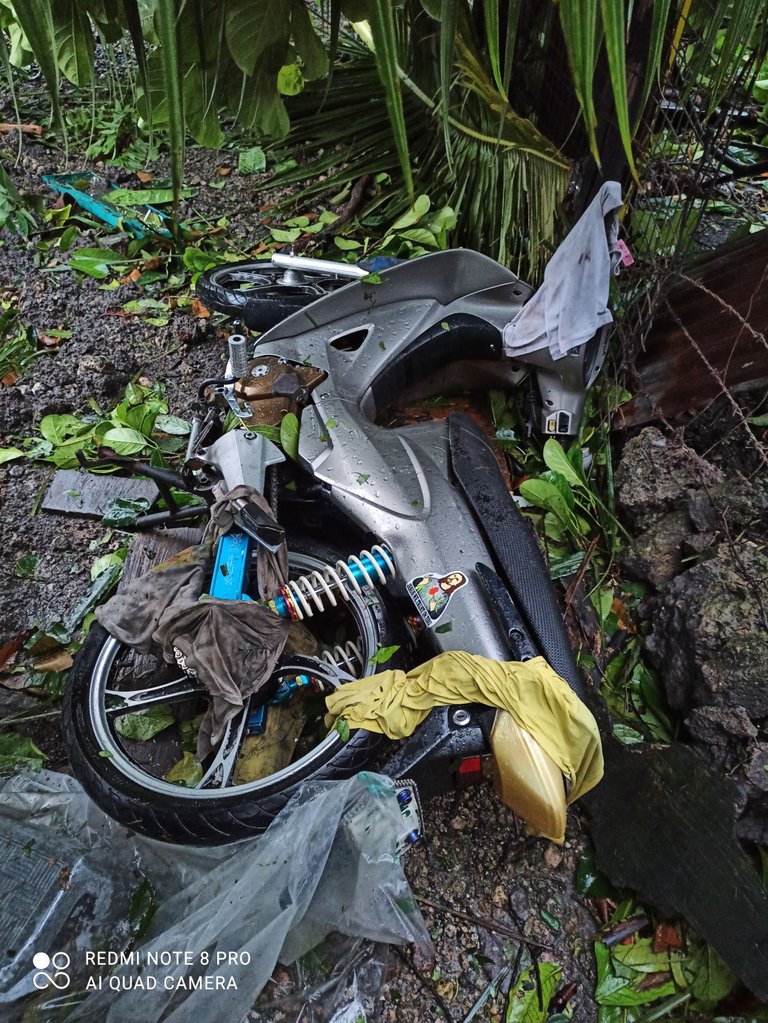 This motorcycle has played a big role in our life. This became our service when we are in a hurry. But, now, I don't know if this can still be used.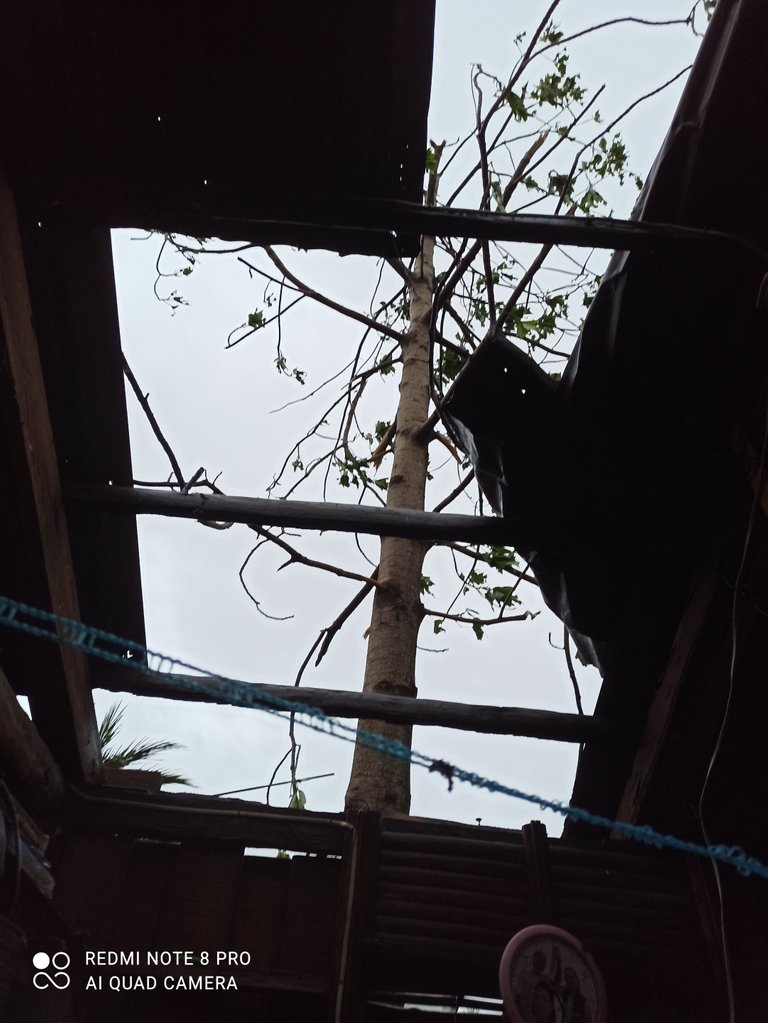 My room. Few days ago I did a general cleaning in my room. Disposed all the things I was not using anymore. But, now, everything is a mess. The wallpapers I attached, my make ups, my clothes, the documents, the roof. I never saw this coming. I was too complacent that its just l8ke all other typhoons I have experienced. But no, this is by far the worst.
I am really sad right now. I know these are only minor damages compared to those who have lost a lot. But, still, my heart aches at the sight of this mess. I don't know how are we going to fix all these things. I am sad that my last memory this year for this place is something like this. But at some point, I am still thankful because these are only material things. We can just replace these. That we are safe. Most of us in this neighborhood are safe.
I hope you are all safe too. I hope we can stand again soon. I hope something better will happen to us.