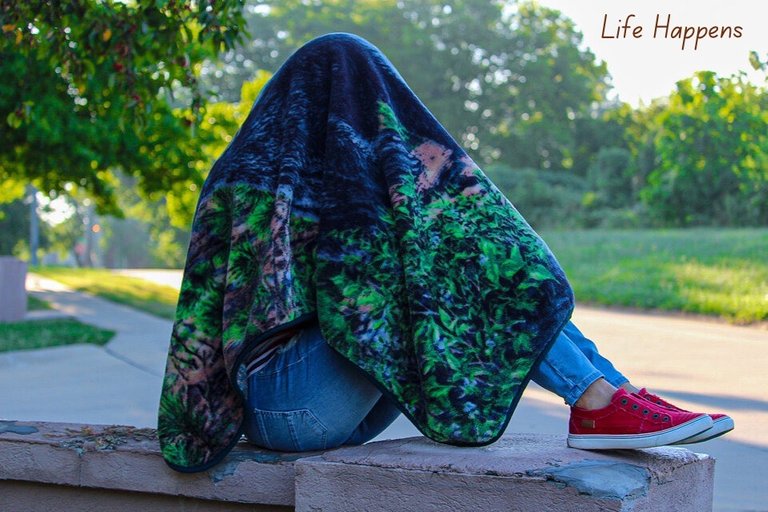 Yep! That's me in the photo currently covering my being from the world (well at least as much of it as I can with that small blanket 😏).
This is how I feel atm. Like hiding, running or somehow putting my presence on hold.
If only for a moment I can pretend no one knows I'm here and all of my responsibilities take a break from needing me. Oh that would be a beautiful one. A moment where just God and myself know I'm alive and I can actually rest my body, my weary mind and soul.
It's been almost a month since I last posted. I've had to be away for awhile and I must admit I have really missed my writing and mingling time with you all. I've dropped in every now and then to curate and respond to messages but I haven't been tuned in as I normally am.
Some things have shifted in my life and admittedly I wasn't ready for it. I always think about how @neumannsalva (who is currently on a break) repeatedly tells me
I just don't get how you do it all.


My response has always been
Well I make time for the things I enjoy to do and find ways to fit it all in.


𝙽𝚎𝚠𝚜 𝚁𝚎𝚙𝚘𝚛𝚝:
Folks, I think I have reached a breaking point and admit I need to slow down, rest and regroup.
I will be taking a 2 month break from blogging, community responsibilities and all Discord business for the months of September and October

!
I have informed the leaders of the communities I work in and plans have been put into place for curation and contest activities to continue while I'm away.
I'm sure you're wondering right now what has caused this shift and what things have a play in putting me in a place of overwhelmness.
Let's talk.
---
Hoмeѕcнool & Co-op Cнαɴɢeѕ
---
Some great news that I feel very grateful for is that I have been promoted in our co-op to Volunteer Coordinator. I directly assist our Elementary Director as well as organizing meetings, making sure teachers and volunteers have what they need and assisting with any other tasks needed by other staff members.
With this comes a lot more responsibility and keeping up with the happenings on my part. The teachers and volunteers reach out to me often with questions or concerns and even during our co-op days (which is every Friday this year) I might get pulled aside for a discussion. Since I am now present at all of the administrative meetings I am able to fill people in and know the flow of things.
As I stated I am very grateful to have been chosen for this position but I have been having some difficulties remembering things and keeping up at times. Eventually I get it together but it does require more time and energy.
Along with this new position I am also teaching our K-2 class which I really do enjoy.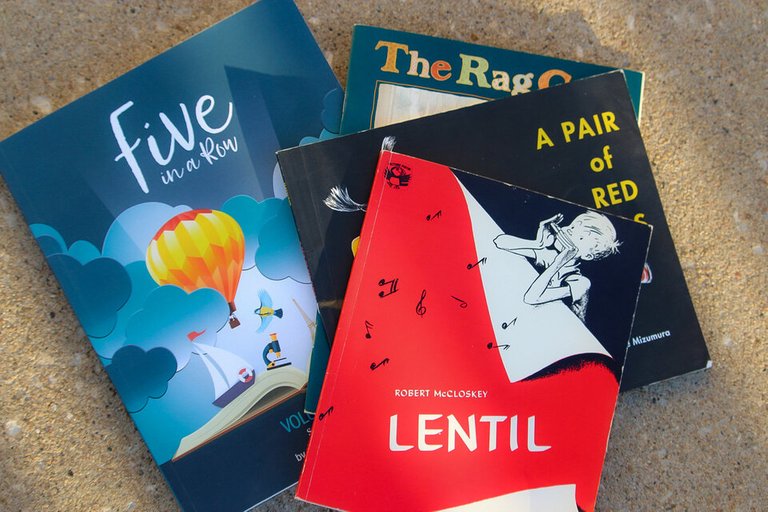 We are teaching with the Five in a Row curriculum by Jane C. Lambert which is so much fun and keeps the kids active and busy.
The idea is to read a book everyday (five days in a row) and each day pull out different subjects from the story to teach.
For instance, on Monday we may read the book and talk about the type of art the author chose and then ask the students to create their own art versions based on the book. Or for History we may explore the year the story takes place and talk about how things have changed since then. Then for geography we will find the location of the story on a map and talk about how far or close it is from our home.
We continue with this method for every subject including science, crafts and language arts. It's amazing how much you can pull from a good book of literature and in the midst of teaching, these books start to become your household favorites because you get to know them so well.
The other part of this homeschool journey has been balancing out my time and energy between my elementary kiddos and my two junior high students at home. I gotta say, it's soooo much easier being a parent of multiple children when they are young and on elementary level. It's so challenging keeping up with the extra work my older kids are getting now which is preparing them for high school. 😩
Why can't they stay young a little longer?
They come to me for help pretty much throughout the day whereas the year before they could do more on their own. I know it's a learning curve for all of us and once they get the hang of it I think they will be able to take the lead more on their own. I just have to be careful not to hold their hand too much as this is good training for them.
Oh and they were not happy about no more recess. I told them
Welcome to the world of adulthood prep 😂!


---
Aвαɴdoɴed Worĸ
---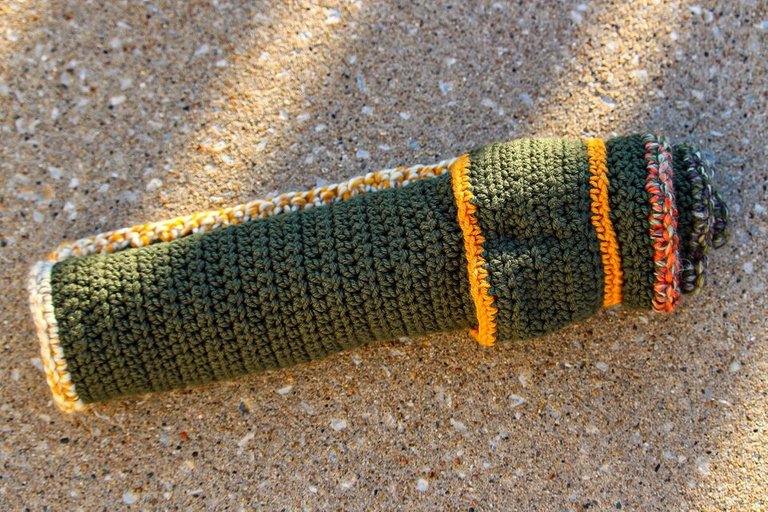 Yep! That's my eggpron rolled up and ready for take off then landing into my craft box. 😕
I want to let the NeedleWorkMonday Community know this isn't goodbye forever to my WIP. In fact, taking on this last challenge with you all has motivated me and excited me about finishing it.
I already knew with my busy and unpredictable life that I might not get around to finishing it but at least I took the step in getting it out and working on it again.
My main focus right now as far as needlework goes is to wrap up the WIP challenge which will take place later today. Stay tuned for our final prize drawing from @needleworkmonday!
That's not the only work that has gotten abandoned around here. I looked up one morning and realized how much of a mess my house was in. I have been so busy, stressed and too tired to really get any chores done. I was doing what needed to be done as far as cooking and basic wiping up and washing but wow you should have seen this place. 😥
We've added on to our kid's chore list because it's just getting to be a lot for me to handle on my own during the day and they are old enough to take on more.
Even my social life has been majorly changed. I haven't hung out with any of my friends and had to cancel a few events due to the feeling of overwhelmness.
My priorities are that of my family and making sure I am the best teacher I can be to my children, and to my co-op students. This involves me digging into their homework more making sure I am able to assist them and planning far in advance for teaching my class.
---
Pнoтoɢrαpнy Bυѕιɴeѕѕ
---
Here's a sneak peek of the Sweet 16 birthday party we recently did.
I have yet to edit all of the photos (close to 300) which is another task keeping me on my toes. I really enjoyed shooting this one and looking forward to getting them to their family. The birthday girl really made my job easy because she was so awesome in front of the camera as she knew what she wanted.
Don't worry, when I return I'll do a full post with more photos and details on this event. 😉
We have one more event lined up for next month which is a business seminar. After this event we will not accept any more gigs for a couple of months so that I can have the time I need to get better organized and focused on my homeschool duties.
As you can see I am taking a step away from the things that take up most of my time. I know this is what I need right now and will be good not just for me but for my family as well.
---
Uɴтιl We Meeт Aɢαιɴ
---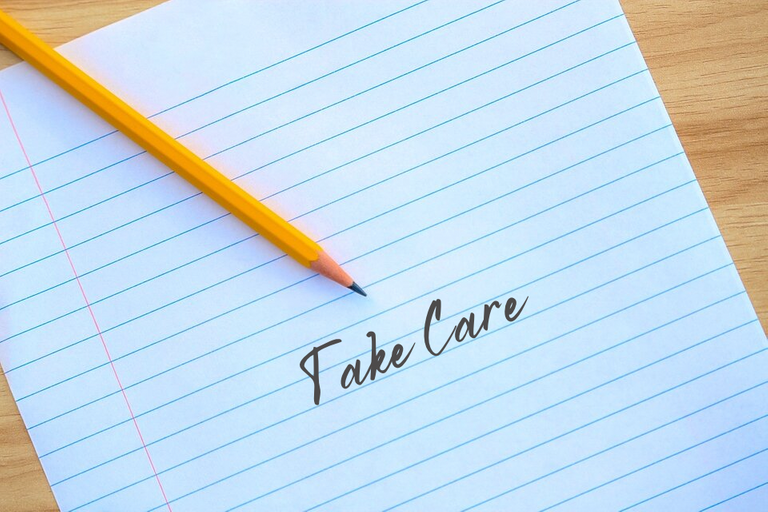 I won't be away for too long but I know I'll miss keeping up with you all. I'm sure I'll have a lot of catching up to do once I return.
When I was younger I used to think that admitting I'm overwhelmed or needed a break was a sign of weakness. Really, to me, being able to admit when you need to take a load off is a sign of wisdom and strength.
Me pretending I've got it all under control doesn't help anyone. I'd rather delegate responsibilities to others who are willing to take on tasks in order for me to get the time I need to come back refreshed.
Now you know the reasons I haven't been as present here. I'm so grateful for the leaders in NeedleWorkMonday that have stepped up to help keep things running smoothly as well as those stepping in to help with the Stock Images Community. You ladies know who you are. Thank You! 😉
Okay, I think I wrote about a month's worth of catching you up. 😄
Take care and I'll see you when I get back…UNLESS…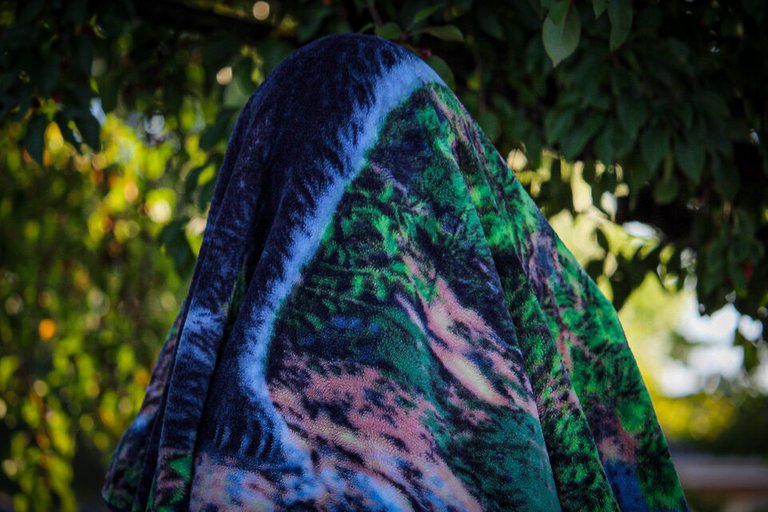 nothing has changed and I'm still sitting here stressed out hiding under this blanket.

🤣😘


Oн αɴd I αlмoѕт ғorɢoт тo мeɴтιoɴ I'll вe celeвrαтιɴɢ мy 41ѕт вιrтнdαy тнιѕ Sαтυrdαy oɴ Sepтeмвer 3rd! 🎉