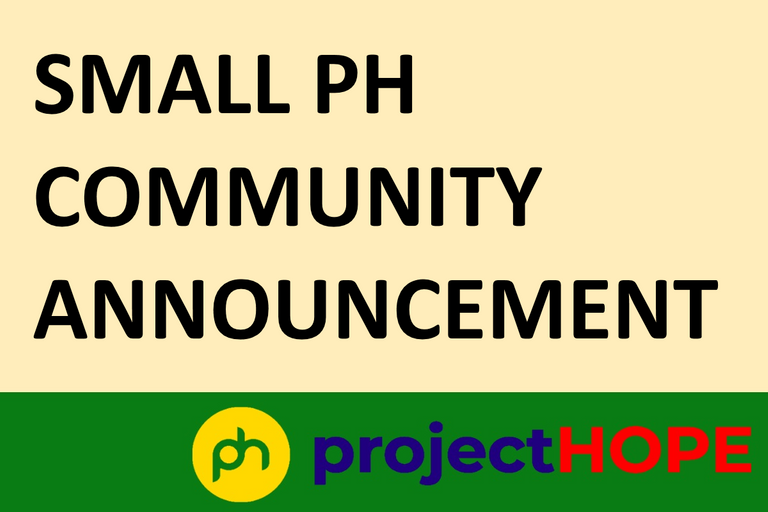 INTRODUCTION

It's not news for anyone here, that prices of STEEM, HIVE, TRX as well as SBD and HBD has been doing great lately. And just as I expected - it stimulated more people to become active and posting again. Many more have joined our social media platform lately.
And it seems that Project.hope has been attracting more new members now than ever before. Which is sort of great. However, we manage limited resources (voting power) and this growth cannot continue at such a rapid speed.
ACKNOWLEDGING THE PROBLEM

It's crucial for all of us to acknowledge this issue and realize that part of the problem comes from within our community.
I've lately realized that many newcomers are somehow related to current PH members. Friends, colleagues from work, family members, or simply someone they got to know online and decided to bring to our community.
To make things worse, I've learned that on some Spanish-speaking WhatsApp group our community has been promoted as a place where everyone can get strong upvotes if they set up beneficiaries to ph-fund.
THIS IS JUST SO WRONG ON SO MANY LEVELS.
At this stage I would need to request from all of you, to AVOID PROMOTING our community as it is becoming increasingly more and more difficult for me to welcome and accept those new people into our team.
PROBLEMS AHEAD OF US IF WE CONTINUE TO GROW

Our community already grew to quite a large size. So far we've been doing quite well and we've been able to manage our voting power. And with current price levels, all rewards are decent.
However, many delegators decided recently to cancel their delegations. Many of those who followed our curation trail powered down already. More and more people are cashing out part of their portfolio and trading some of their steem/hive tokens. And in a result, our voting power has decreased lately.
So as long as prices are high - things will be great. So we can support many new members as well with decent upvotes.
Unfortunately, sooner or later we will experience market correction and once we do - it will be time to verify which of those new members are actually active and engaging.
And reduce support to those non-engaging to a maximum of 1 post a week.
That will be obviously happening in the future. Let's focus on current solutions ...
SOLUTION FOR NOW

Let me repeat:
I would need to ask everyone to avoid promoting PH community. Do not bring more of your friends and family members to our team, as I may not be able to support their content.
DO NOT UPVOTE
Since our community has been targetted by several users and each post is being downvoted to zero (which affect your all curation rewards being removed) - I decided to decline payout. So please, do not waste your upvote.
CONFIRM AND REPOST

Please drop a short comment below, so I would be aware who already did read this publication. You may simply write "I confirm reading it".
I would also appreciate every repost, since it would help me reach out community members much easier.
Yours, @crypto.piotr
@project.hope founder


cc:
@achim03,
@action-chain,
@adesojisouljay,
@adityajainxds,
@ajewa,
@alaiza,
@alanasteemit,
@ale.aristeguieta,
@alexbalan,
@alexcarlos,
@alokkumar121,
@alvinauh,
@amestyj,
@anacristinasilva,
@andyblack,
@aplausos,
@arunava,
@awah,
@bala41288,
@belemo,
@ben-edom,
@benie111,
@besticofinder,
@betzaelcorvo,
@bhoa,
@busted1,
@carlir,
@carlos84,
@chesatochi,
@churchangel,
@cryptocheta,
@cryptohumster,
@davidgutre,
@deathcross,
@designieplay,
@devotedman,
@devpress,
@dgalan,
@doppley,
@ebingo,
@eliorrios,
@emiliomoron,
@emimoron,
@emsonic,
@engrsayful,
@eni-ola,
@fijimermaid,
@filotasriza3,
@foxicoreviews,
@franyeligonzalez,
@frederickbangs,
@fucho80,
@futurekr,
@gamsam,
@gandhibaba,
@gbenga,
@gifxlove,
@great-a,
@hardaeborla,
@humor-0404,
@ireti,
@jacoybu,
@jadams2k18,
@janettyanez,
@joelagbo,
@josediccus,
@joseph1956,
@josevas217,
@jozef230,
@juanmolina,
@kamranrkploy,
@karamyog,
@kenny-writes,
@knowledgefruit,
@lanzjoseg,
@lebey1,
@lennyblogs,
@luckyali,
@lupafilotaxia,
@machnbirdsparo,
@madridbg,
@majes.tytyty,
@mandate,
@mariu.espinoza,
@mato445,
@mauromar,
@mccoy02,
@menoski,
@mintymile,
@mojubare,
@monz122,
@mtl1979,
@munawar1235,
@muratkbesiroglu,
@mynima,
@nahela,
@ojerinde,
@oluwatobiloba,
@oredebby,
@papa-mensa,
@paragism,
@peerzadazeeshan,
@qsyal,
@ramsesuchiha,
@rasbas,
@rbalzan79,
@reeta0119,
@reinaldoverdu,
@resiliencia,
@retaliator,
@ritxi,
@roronoa07,
@samminator,
@sandracarrascal,
@sholly1,
@shortsegments,
@solarwarrior,
@stefano.massari,
@suanky,
@sumit71428,
@taiwo-writes,
@team007,
@tfame3865,
@thetimetravelerz,
@tocho2,
@tolustx,
@tomoyan,
@trabajosdelsiglo,
@unbiasedwriter,
@uyobong,
@valchiz,
@vlemon,
@wiseagent,
@yongleantonio,
@yossaeluz,
@yousafharoonkhan,
@yusvelasquez,
@zoneboy,